Pros
VIP Program
Big Live Casino
NetEnt and Betsoft Games
Mobile-Friendly
Fiat Currencies and Cryptocurrencies
Cons
A Little Soulless
Slow Withdrawals
Withdrawal Limit
*Update LadyHammer Casino has changed to Fight Club Casino. Click the link to see the review. We have kept the LadyHammer Casino review below as it is referenced in our new review of the site.
LadyHammer is an online casino that launched in 2017 and primarily targets players in Northern Europe, Canada, and Australia. It has support for multiple currencies, four languages, and is licensed by the authorities of Curacao. Like so many top online casinos, LadyHammer is owned by DAMA NV, the same brand behind Slotum Casino and other classics.
It has support for multiple currencies, four languages, and is licensed by the authorities of Curacao.
The casino has a connection to the German boxer Christina Hammer, who has 27 fights on her record at the time of writing and has fought for several world title belts. How she is connected is not entirely clear, as discussed below, but it's the casino we're focusing on here and not the fighter, so let's take at LadyHammer Casino and see how it fairs.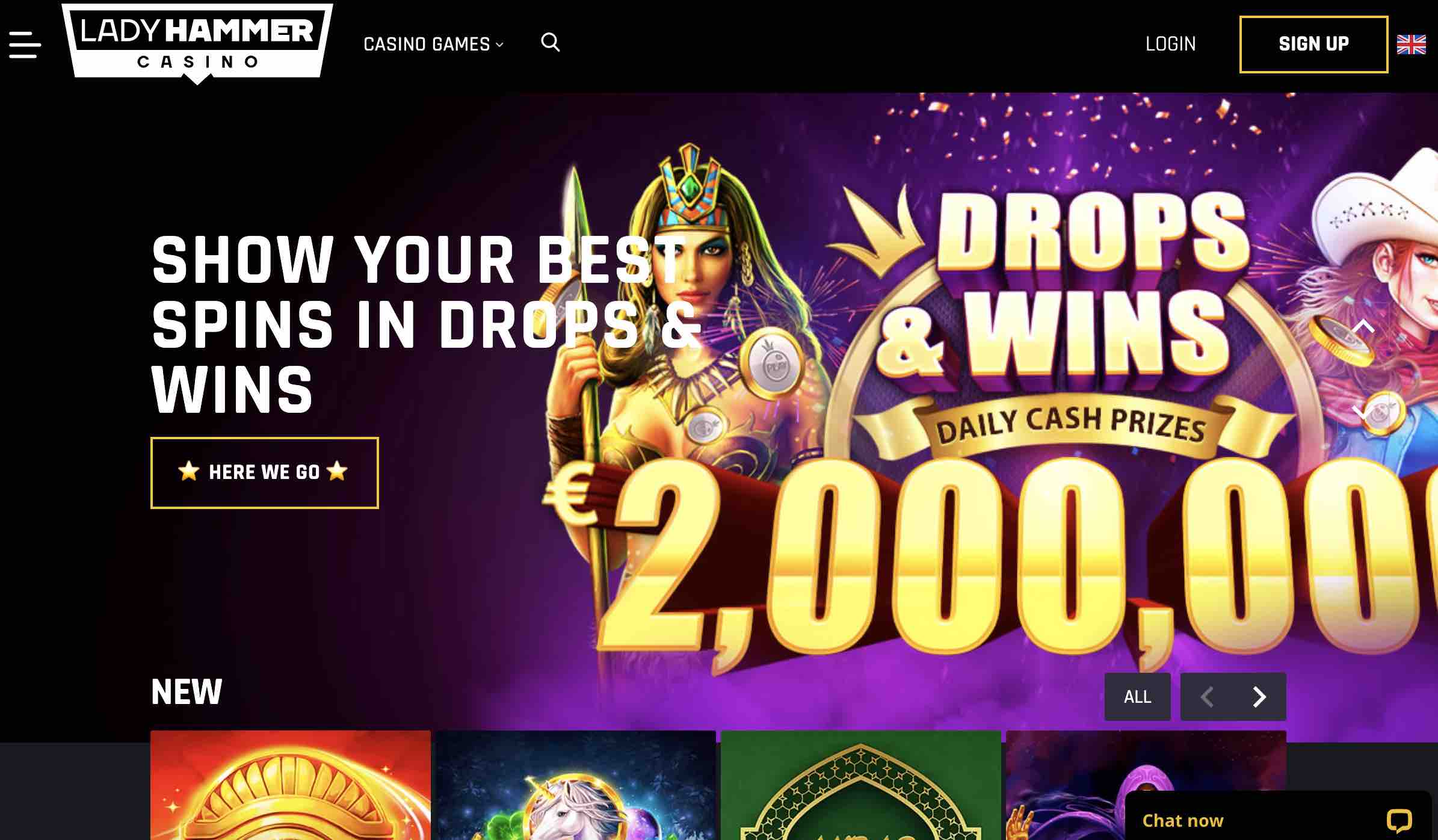 Basics
The online casino industry ran out of relevant names over a decade ago. It has been scraping the barrel ever since, which is why we get weird names like YOJU Casino, which doesn't mean anything and has no explanation whatsoever.
We can also add LadyHammer to the list of weirdly named online casinos.
It's the sort of name you'd expect to find on Urban Dictionary, right above an explanation filled with curses and terms that make no sense to anyone over the age of 60. Our research told us that the site has a connection to Christina Hammer, also known by the nickname "Lady Hammer".
Hammer is an incredible boxer and a great choice to endorse a casino, but if that's the case, why does nothing on the LadyHammer website have anything to do with Christina or even boxing in general?
The only hint that it has something to do with the sport of boxing are the following words at the top of the About Us, "The first casino where the legends of boxing are integrated", which just isn't enough.
Imagine if Green Giant didn't have its iconic mascot, logo, or its famous Jolly Green Giant adverts. You'd be left wondering what the hell those words meant and how they were connected to food. It's the same story here, only it feels like they have gone to the trouble of finding a relevant connection, prepared to tell a brand story, and then forgot to inform their content creators.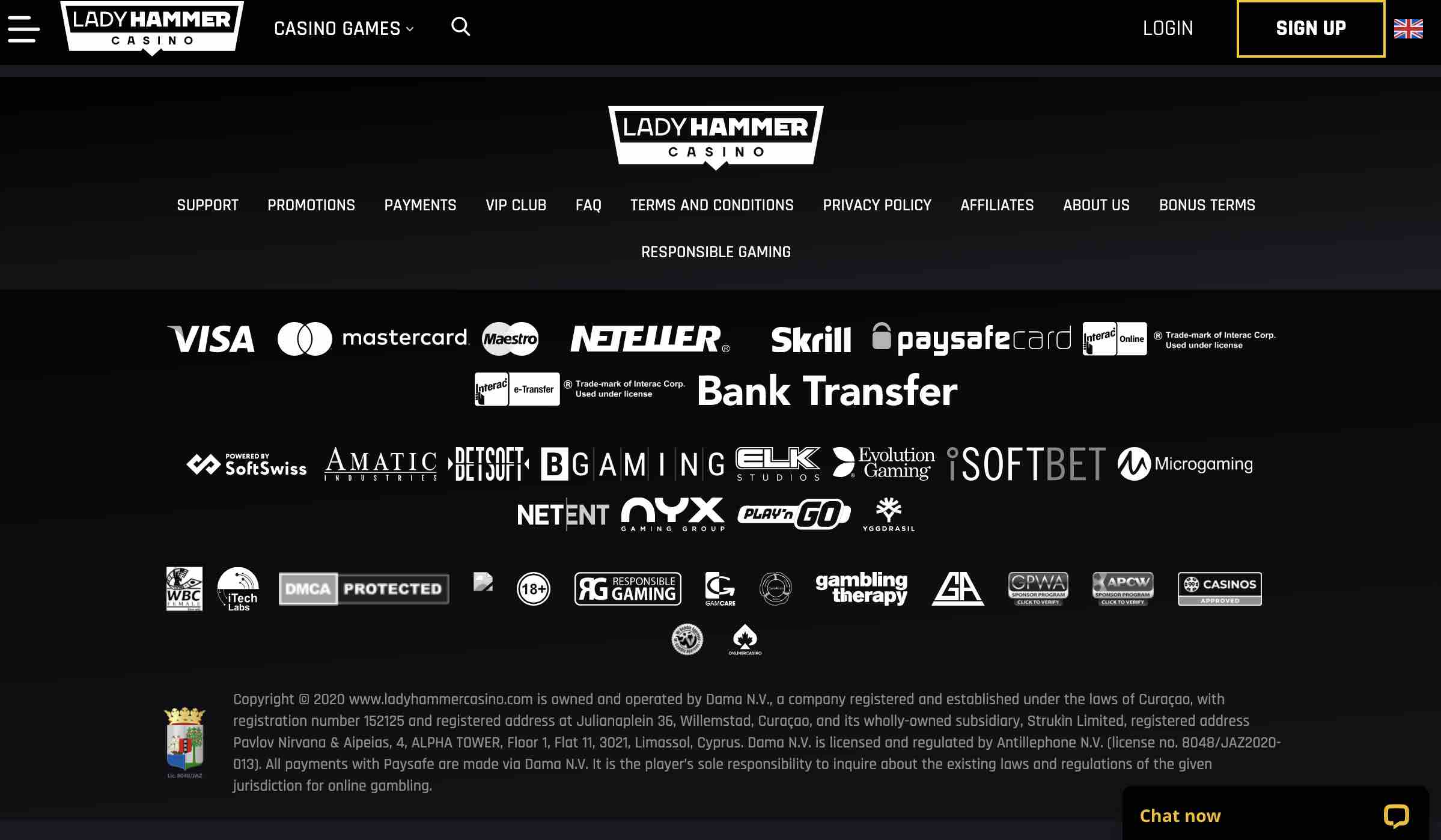 Software and Games
Betsoft Gaming is one of the biggest names in the LadyHammer games room and it is closely followed by Big Time Gaming, Wazdan, Yggdrasil, and NetEnt. It's a little disappointing not to see Blueprint Gaming, Playtech, or Microgaming on that list but it's a decent selection on the whole.
It does mean that the jackpot games are very limited, as the developers they omit have some of the biggest and best jackpot games in the world, but there is no shortage of 3D slots and feature-rich video slots.
The games room is a little lacking when it comes to filters and categories and this makes it hard to find the games you're looking for, but there is a section for "Bonus Buy" games, whereby you can skip straight to the good stuff by paying to activate the bonus.
What's more, LadyHammer Casino works with Evolution Gaming to provide an expansive Live Casino, with games that include the Lightning series, Crazy Time, and premium versions of Blackjack, Roulette, Baccarat, and more. Platipus, Mascot, and Luckystreak also help to pad out the Live Casino section and ensure there are plenty of great games to play.
In fact, while the slot selection can be a little limited, the Live Casino definitely isn't.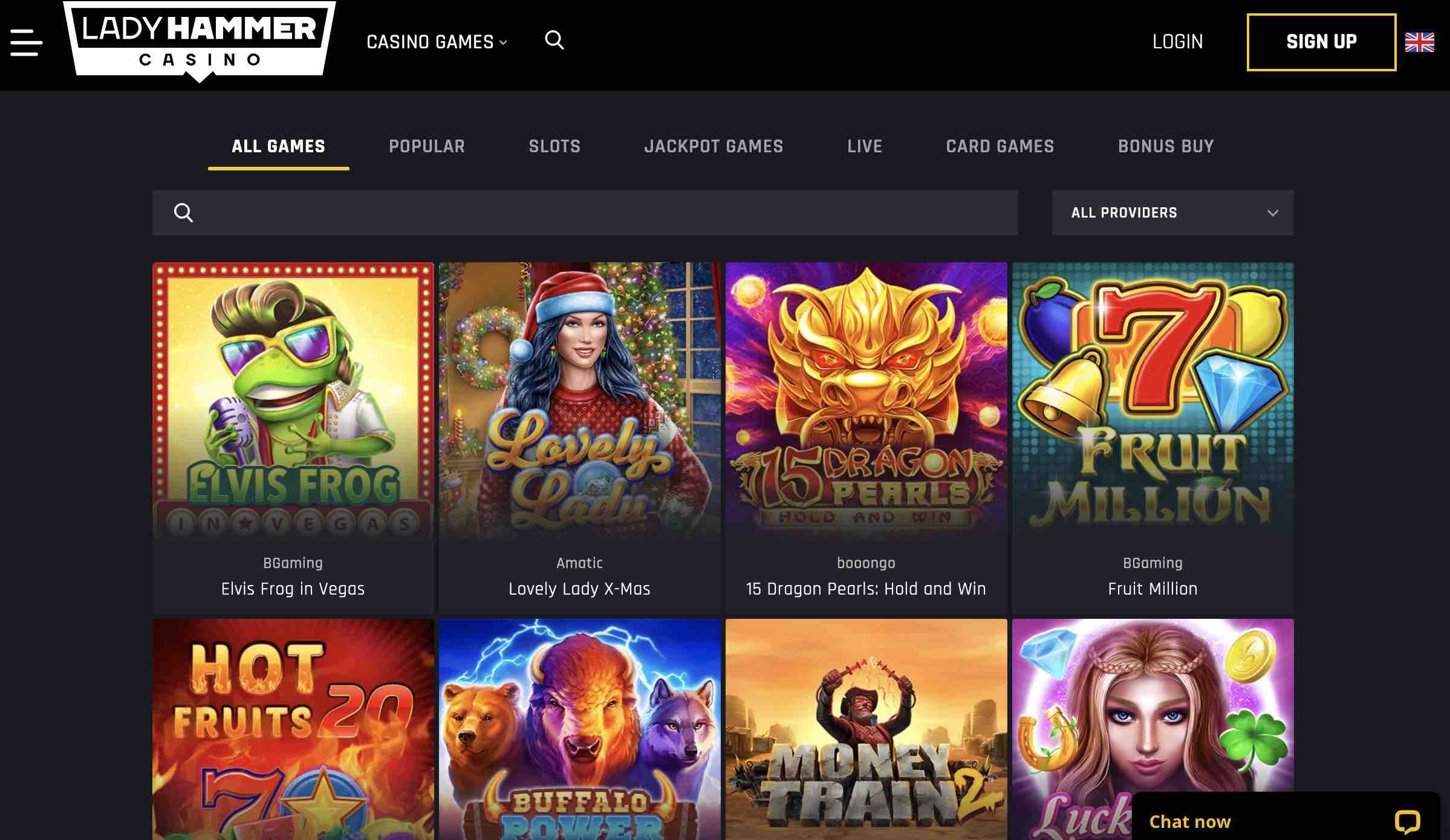 Bonuses and Promotions
Many Bitcoin-friendly casinos go all out when it comes to bonuses, offering several Bitcoins to all new players. These bonuses are structured more like Loyalty Schemes, but they still appeal to a wide variety of players and 1xBit is a great example.
Others take the old-school route, insisting on several deposits and very limited maximum payouts. These bonuses are relatively pointless if you're a high roller but they are perfect for small stake players and other casual players.
LadyHammer falls firmly into the latter category. It offers a total of €300 spread across three deposits, along with 130 Free Spins. If you're the sort of player who deposits €500 at a time, this is pretty disappointing, but if you're not exceeding those deposit caps it's great.
You need to deposit a minimum of €20 to qualify and there is a wagering requirement of 50x. This applies to both the bonus credits and any cash that you win from the Free Spins.
This isn't the only bonus to collect, either. There are new offers appearing all of the time, with Reload bonuses and Free Spin offers currently available every Wednesday and Sunday.
One of the best promotions available at LadyHammer is the Loyalty Scheme, which all players can join. The Loyalty Scheme awards you with points every time you wager real money and these can then be used to unlock a host of rewards and prizes.
Every €20 that you wager earns you 1 Punch Point and 1 Status Point. If you advance through a certain number of rounds, you will increase the Punch Points and Status points that you earn and can collect more prizes as a result.
There are 12 rounds in total and once you make it all of the way through, you'll be declared Champion, and this is the final level of the program.
The Loyalty Scheme is probably the only part of the site that actually makes sense with regard to the casino's supposed boxing connection. But even here, the boxer after which it is supposedly named doesn't make an appearance. Still, with so many rewards on offer, and a Loyalty Promotion that is structured in a similar way to King Billy Online Casino, we're not complaining.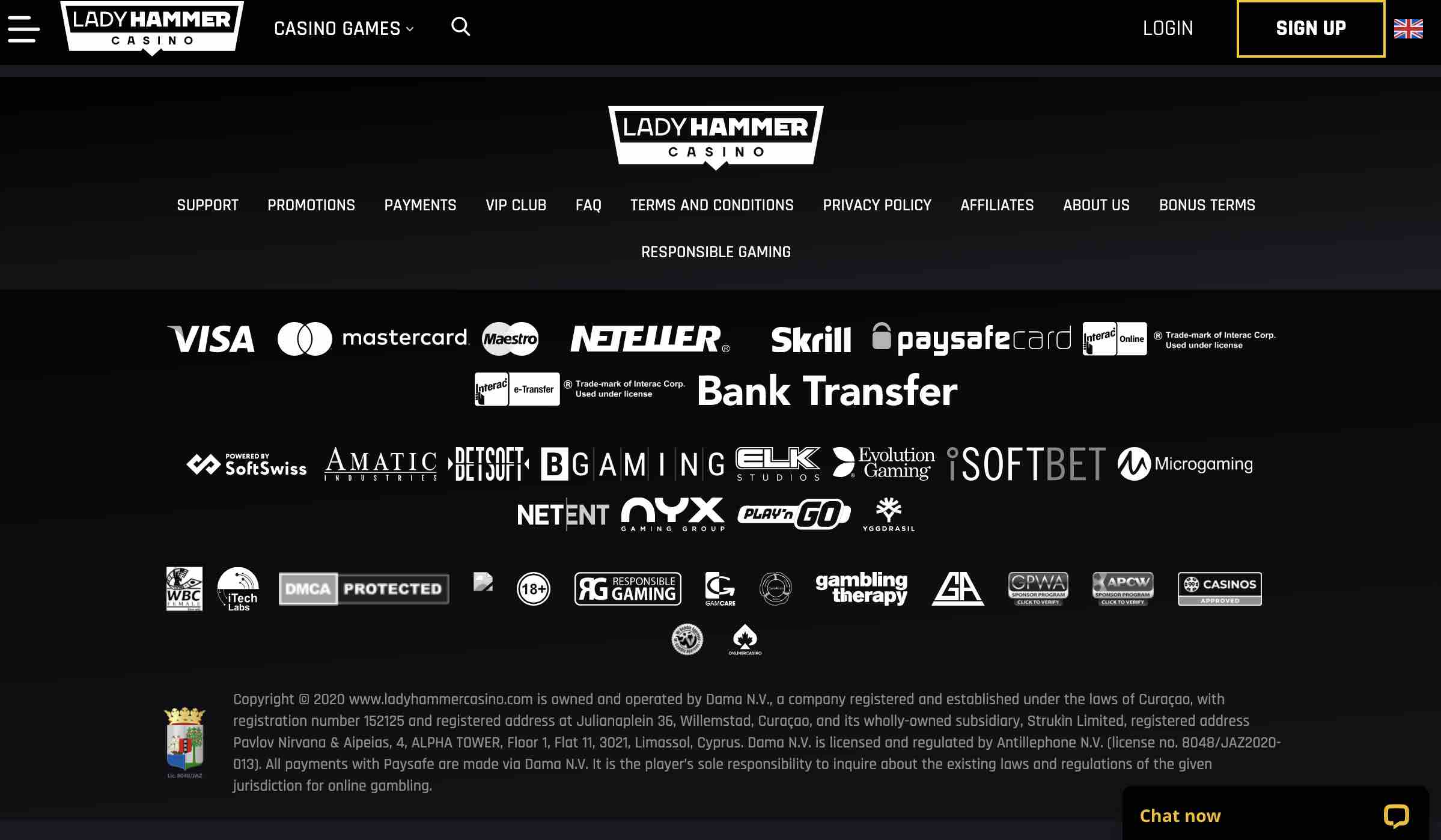 Payment Options
Approximately 6 months ago, we wrote a review for WooCasino, which is owned by the same brand as LadyHammer Casino. In that review, we made a passing tongue-in-cheek to casinos with weird names and included LadyHammer Casino in that mention. At the time, we didn't actually have the casino on our review list as we were told that it didn't accept cryptocurrencies.
At the time of writing, many review sites insist that LadyHammer Casino doesn't accept cryptocurrencies and if you look at the payment icons on the homepage, as we did several months ago, you won't see a single cryptocurrency. It's confusing, and may be off-putting to BTC fans, but we can confirm that LadyHammer Casino does indeed accept these payment methods.
We're not entirely sure why it doesn't make a big deal of this, but it's actually not alone in that sense. In fact, Slots Casino does the exact same thing. We couldn't find Bitcoins and other cryptos anywhere on that website before we joined. It wasn't on the homepage or in the Payments section, and we had to contact the customer support section to be sure.
It makes our life difficult, but to cut a long story short, LadyHammer Casino definitely does accept cryptos, it just focuses more on traditional payment methods. All cryptocurrencies are processed using CoinsPaid and the options you can use include Bitcoin, Ethereum, Litecoin, Dogecoin, and Bitcoin Cash.
These can be used for both deposits and withdrawals. Other payment methods include Skrill, Neteller, Mastercard, Visa, Maestro, ecoPayz, Neosurf, and iDebit. The minimum deposit and withdrawal for these methods is €20 and for Bitcoins it's 0.0007 BTC.
Payments are a little slow, and can take up to 3 days to process, but if you use cryptocurrencies and have been a member for a long time, most of your withdrawals will be processed in a day or so. It's still not as quick as some of the other sites we have covered, but it's not terrible.
And now for one of the biggest issues we have with LadyHammer Casino: the withdrawal limit. As regular readers will know, this is something that bugs us in general and it's something that exists on most online casinos, with only a handful (including CloudBet) serving as the exceptions.
The problem is not just the withdrawal limit but the way in which it is structured. It's something we have seen on at least 90% of sites and it irritates us every time.
If you look at the Payments page for LadyHammer Casino, you will notice that it quotes a 10 BTC limit for Bitcoins. At the time of writing, that's about $250,000, but has varied anywhere from $100,000 to $300,000+ since LadyHammer Casino was first founded.
If you look at the Terms and Conditions, it clearly states that all withdrawals are limited to a maximum of €5,000 per week and €15,000 per month and clearly states, "including BTC". So, what's going on here?
To be honest, we're not entirely sure. You could be forgiven for thinking that the terms were set when 10 BTC equated to around €5,000, but Bitcoin was around $10,000 each when the site was launched, so that doesn't check out.
It is possible that the Terms and Conditions are the same for all sites throughout the network and that the payment options section is different. But if that was the case, then the real limits would be 10 BTC and not €5,000, and that's not the case.
It's confusing, but to be fair to LadyHammer Casino, it's an issue that the vast majority of online casinos have. It's minor, as well, and won't impact the majority of players. However, if you see a withdrawal stating 10 BTC as a high roller, it might lull you into a false sense of security and leave you disappointed when you eventually try to withdraw that amount and are told it will take years to get your money.
Highlights
A Good Selection of 3D Bonus Slots
A Very Expansive Live Casino
Lots of Payment Methods to Choose From
Choose from Fiat Currencies and Cryptocurrencies
Access to a VIP Program
FAQs
Can I Use PayPal at LadyHammer?
LadyHammer does not accept PayPal. You can use several other web wallets, though, including Neteller and Skrill.
Can I Use Bitcoin at LadyHammer?
LadyHammer accepts a multitude of cryptocurrencies, including Bitcoin and Litecoin. All payments are processed using the secure CoinsPaid platform.
How Long do Withdrawals Take at LadyHammer?
It depends on your chosen payment method. Generally, payments are processed following a wait of just a day or two, after which it could take up to a week to receive your money with debit cards and a few hours with web wallets and cryptocurrencies.
Can I Win Jackpots at LadyHammer?
Although LadyHammer doesn't have games from the likes of Playtech and Microgaming, there are many jackpot games here, including ones offered by Yggdrasil and Betsoft.
Can I Play LadyHammer on Mobile?
LadyHammer works on most mobile devices. Just access the site using your mobile device and you will have all of the casino's games at your disposal.
Is LadyHammer Safe?
Of course! LadyHammer is regulated by the authorities of Curacao and uses an advanced SSL certificate to ensure it remains safe and secure.
Final Thoughts
I've reviewed hundreds of casinos in my life and have seen countless themes in that time. These aren't essential, as our list of the best crypto casinos suggests, but if you're going to adopt a theme then at least follow through and create something coherent. LadyHammer doesn't do this, and it's more disappointing, as it has all the foundations it needs to create a very impressive theme with a famous ambassador.
The games room is also a little disappointing, due to the lack of jackpot creators, and then we have the fairly limited bonuses and the problems we highlighted regarding its payment methods.
That's a lot of issues to report, but despite all of those negatives, there are enough positives to give you reason to hang around and spend a lot of time here.
Firstly, if you are a small stakes player, the "small" bonus is more than enough and you won't care about the withdrawal limit. If you don't like Playtech or Microgaming games, you won't be bothered by their absence, either, and that means you won't find many negative issues here.
Our review score is representative of the site on the whole, which is why it's probably lower than it should be, but if you fall into the demographics outlined above and don't have those major issues, you can add a few extra points onto that total.
LadyHammer Casino Review Details
Restricted Countries:
Asia
Australia
Estonia
France
Israel
Italy
Lithuania
Netherlands
Spain
Sweden
Switzerland
UK
US