Pros
Great Theme
Over 2,000 Slots
Playtech and Microgaming
Mobile-Friendly
Bitcoin and Traditional Methods
Fast Withdrawals
Cons
Low Withdrawal Limit
Lots of Country Restrictions
Explosino Casino launched in 2020, the year we'd all like to forget, but one that seems to have been quite prosperous for JocSystems, the site's owner.
The site operates under license from the authorities of Curacao and is one of many uniquely themed Bitcoin casinos to come to our attention in the last year or so. If you're looking for some new bonuses, popular games, and all the other hallmarks of a top online casino, keep reading this Explosino Casino review.
one of many uniquely themed Bitcoin casinos…
Basics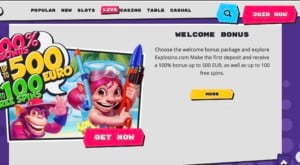 I moan a lot about online casino themes. And copywriting. And withdrawal limits.
I moan a lot in general. It's what makes me so endearing, or so I keep telling myself.
Online casinos are a dime a dozen these days. They are often released with all the care and consideration of a movie tie-in video game. It's a case of just throwing some random crap at a wall and seeing what sticks.
It's why we have so many online casinos that look like they were cobbled together as part of a sixth grader's IT project.
Explosino Casino doesn't suffer from the same issue, however. Sure, it's not the most attractive casino I have come across and it pales in comparison to sites like Cadabrus Casino, which manage to be unique, colourful, attractive, and easy to navigate all at once (a rare combination), but it certainly beats a lot of other sites out there.
What I like about Explosino Casino's theme is that it found something unique and it's actually made it consistent throughout the site. I can't tell you how many times I have clicked onto a new casino and immediately wondered what the name has to do with the site. In some cases, I have been playing at sites for an hour or more before I find any kind of imagery that is relevant to the theme.
There are no such issues with Explosino Casino. It's a comic book-style that is present from the first page and remains through every promotion and game. The in-your-face style is bright, bold, and colourful, and as good as it looks on desktop, it looks even better on mobile.
Software and Games
One of the issues I have with many online casinos is that they seem to either side with Microgaming or Playtech. It's like these two developers are Xbox and PlayStation and the casinos are the procession of video game studios creating exclusive titles for one or the other.
Explosino Casino is one of the handful of casinos that has games from both Microgaming and Playtech, which means it does not force players to stick with one or the other. That's very important, as players are pretty partisan when it comes to their favourite developers and these are the two that divide them the most.

On the one side, you have the Age of the Gods series and the Kingdoms Rise series; on the other, there is Mega Moolah and stacks of retro slots. Personally, I refer Playtech games on the whole, but that's mainly because the vast majority of sites I have played over the years have used Microgaming titles and I've become somewhat bored of them.
In addition to these two creators, Explosino Casino also has games from Thunderkick, Pragmatic Play, Elk Studios, Quickspin, NetEnt, Spinomenal, Habanero, and more.
The About Us claims that Explosino Casino has over 2,000 slots. Speaking of the About Us, it makes similar mistakes to ones seen on recently reviewed sites like Ovitoons in that it is pretty poorly written and unimaginative (such as the gem "To get full pleasure and real emotions during the game, we recommend to check the Live Casino section") and that takes away from the site's stylish and unique theme, but it's not a massive issue.
I think that sites like Explosino Casino, and countless other casinos based in Curacao, need to take a look at what many of the biggest UK casinos and bingo sites are doing. When they create themes, they stick with them and they make them work in every aspect, from the imagery to the advertisements and copywriting.
Where Explosino Casino and other Curacao sites are concerned, they often have terrible copy and that detracts from the overall experience. Still, at least the design is good and there are plenty of games to explore.
In addition to the casino side of things, Explosino also has a sportsbook and you can place bets on a multitude of events, including lots of eSport contests.
The layout of the sportsbook reminds me of Fezbet, and countless other casino & sportsbook sites. It's clearly not the main focus, but it's still a decent offering.
Bonuses and Promotions
The Explosino Casino Welcome Bonus is advertised as a 100% Bonus of up to €500 (and 100 Free Spins). It's not the biggest I have seen (take a look at 1xBit for much bigger bonuses) but it's still pretty generous. Except, that promotional promise doesn't tell the whole story, so make sure you read the Terms and Conditions first.
For instance, there are actually three different Welcome Bonuses for Explosino Casino.
The first is known as the Standard and offers a 100% bonus up to €500 with 20 Free Spins and a minimum deposit of €30. You are also limited to a payout amount of €1,000, which means that if you turn that €500 and 20 Free Spins into €10,000, you'll lose 90% of it when it comes time to withdraw.
Bonus caps are not uncommon, and in truth, the wagering requirements mean you will be lucky to have €10 left over, never mind €1,000.
The second bonus is dubbed the "Dynamite". It is also capped at €1,000 and offers up to €500 and 100 Free Spins. The difference is that you need to deposit a minimum of €70.
On the plus side, not only will you get 80 more Free Spins, but each Free Spin is worth twice as much as those offered in the Standard Bonus.
The final Welcome Bonus, known as The Bomb, has all of the same terms but the Free Spins are worth 5x more than the first bonus and the wagering requirement is smaller, as well.
All bonuses must be activated through Live Chat within 48 hours of joining and meeting the deposit requirements.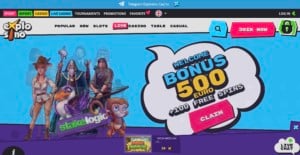 This is very important, as Live Chat activated bonuses seem to be the cause of most bad reviews for online casinos. Many players don't realise that such a term is active and so they miss out, only to get angry when they're told to "check the Ts & Cs" by a casino that doesn't heed their frustrations.
To avoid the inevitable anger and disappointment, you should always check the terms!
In addition to the casino Welcome Bonus, Explosino Casino has a Sports Betting Welcome Bonus. (only applies to the sportsbook) and you can also browse a variety of Reload Bonuses and other such offers once you are an active member.
Payment Options
Bitcoin, Ethereum, and Tether, are all available at Explosino Casino and players can also choose from a variety of traditional payment methods, including Visa, Maestro, Mastercard, Skrill, Neteller, EcoPayz, Paysafecard, and Euteller.
It is a good selection of payment options that will appeal to players of many stake levels and from all regions. Withdrawals are also processed quickly as Explosino Casino has an average pending time of less than 24 hours.
But there is one big issue, and it's one that I have highlighted many times before, including on Cadoola Casino and stacks of other sites.
That issue is the withdrawal limit. The fact that such a limit exists in the first place is bad enough, but Explosino Casino pours an industrial-sized tub of salt into those wounds by limiting it to just €9,000 a month.
It's one of the lowest I have seen and is very disappointing.
As someone who typically deposits just €100 to €200 at a time, that doesn't really bother me all that much, especially when you consider that progressive jackpots are paid by the developers and are not included in this limit.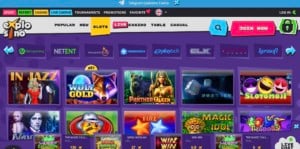 However, it's surprisingly easy to reach that amount and it's a massive let down when you do.
Let's suppose, for instance, that you deposit €500 to gamble €5 a spin. It's your weekly or monthly budget and you're ready to blow it during a weekend of slot gaming, as you often do.
After blowing €100, you hit a 1,000x session payout. It sounds like a lot, but it's quite common (the equivalent would be receiving a payout of €100 when you staking €0.10 per spin). You now have over €5,000 in your account, and due to the daily limit of €1,500 and the weekly limit of €3,000, you need to wait 2 weeks just to withdraw.
2 weeks can seem like an eternity when you're waiting for a big payday and hoping the site will pull though.
And if you get a fixed slot jackpot of 10,000x, you will win €50,000, which means that you will be withdrawing your funds for 6 months!
Of course, you could argue that all of this is irrelevant. You're not gambling with that much money and even if you were, you're probably not going to get that lucky, right?
But the whole point of gambling is to give yourself a chance of winning big. You don't spin slots because you're hoping to walk away with a €2 profit. You spin them because you know there is a chance of hitting those 5,000x, 10,000x, or 20,000x fixed jackpots. When there are low limits in place, it takes the shine off.
Highlights
Very Fun and Colourful Theme
Lots of Different Payment Methods
Fast Withdrawals
Bitcoin and Traditional Currencies
Play on Desktop and Mobile
Spin Over 2,000 Slots
FAQs
When Was Explosino Casino Founded?
Explosino Casino launched back in 2020, a very busy year for online casinos and a terrible year for the rest of the world…but let's not get into that. The above Explosino Casino review was first published in mid-2021, but we drop by every now and then to keep it updated.
Can I Play Explosino Casino on Mobile?
Explosino Casino uses HTML5 technology to ensure that all of its slots, table games, and other interactive titles can be played directly through your web or mobile browser. You can play anywhere you go, providing you have a secure connection.
Where is Explosino Casino Licensed?
Explosino Casino has a license from the authorities of Curacao, one of the biggest licensors in the Bitcoin gambling sector. Take a look at Oshi Casino for more sites that are regulated by the government of Curacao.
Does Explosino Casino Have a Sportsbook?
Yes1 You can place sports bets as a Explosino Casino member. Just open the menu and click on the "Sports" section. Football is the biggest sport here and by quite a long way, but Explosino also has a wide selection of eSports betting, which is always good to see.
Can I Play Explosino Casino in the United Kingdom?
As Explosino Casino is not licensed by the UK authorities, you are unable to play there. The same is true for most Bitcoin-friendly online casinos, unfortunately, but there are some exceptions and we have covered most of them here on Coinbuzz.
Final Thoughts
If this review was an assignment, Explosino Casino would score a B+ for its design, an A- for the quality and extent of its games, and a solid A for its bonuses and payment option varieties.
The copywriting and overall polish would be a "must do better" scribbled in red ink while the withdrawal limit would score a big fat F.
€9,000 a month, are you kidding me? I mean, I'm not going to get anywhere near that, but many other players will and it's far too low for a modern online casino.
Still, there are enough benefits elsewhere to make Explosino Casino a worthwhile online casino.
Explosino Casino Review Details
Restricted Countries:
Africa
Asia
France
Greece
Hungary
Iran
Iraq
Israel
Italy
Latvia
Lithuania
Malta
Netherlands
Spain
Sweden
Switzerland
UK
US
Languages:
Chinese
English
German
Polish
Romanian
Russian
Turkish
Ukrainian
Currencies:
AUD
AZN
BRL
BTC
CAD
CHF
DKK
ETH
EUR
INR
JPY
NOK
NZD
RUB
USD
USDT