Pros
Over 2,000 Casino Games
Over 200 Live Casino Games
Provably Fair Crash Game
Loyalty Program
Very Well Designed
Unique Site
Cons
High Minimum Withdrawal
Limited Sportsbook
At first glance, I assumed that "Crashino" was just another one of those half-arsed casino names that doesn't really mean anything. But there's more to this than meets the eye, and unlike countless competitors, it didn't just pick its name by randomly combining "casino" with a verb.
At the time of writing, Crashino is a relatively new and unknown casino, but after spending some time on the site, I'm confident that it won't be unknown for long.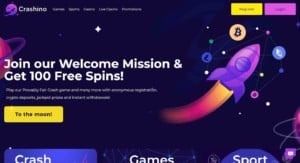 Basics
Crashino is so-called because it offers crash gambling.
What is crash gambling, I hear you ask? Well, to be honest, I wasn't sure either. I have been gambling online for over 20 years and I've been reviewing casinos for half that time. As far as I can remember, this is the first time that I have encountered crash gambling.
That's actually one of the first issues that I had with the site. It offers something unique and something unusual. It's a feature that few players will have encountered, and yet it doesn't really go to great lengths to explain it.
The About Us describes it as a "next generation crypto gaming site with crash gambling". The home page makes mention of its "provably fair crash game". But nowhere does it say what it actually is.
Crash gambling is not an entirely new concept, so I forgive them for not explaining it, but it's hardly popular or common, either.
Simply put, crash gambling is like a simulated version of cryptocurrency investing.
It consists of a line that keeps going up, much like the price of Bitcoin or Ethereum. And just like the price of those digital assets, there's always an inevitable crash or descent around the corner.
The goal is to bet when it's on the up and cash out before it goes down. If you cash out before the dip, you keep your money and whatever profits you have made. If you fail to do so, you'll lose everything.
It's a fantastic concept. It's also a very simple one and makes me wonder why no one thought of it before. Crashino is not the first casino to offer this game, but it's only been around for a couple of years and its popularity is growing steadily.
Bonuses and Promotions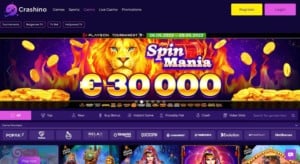 There are three Welcome Bonuses available on Crashino. You can collect all of these bonuses consecutively, giving you a reason to stay on the site and to make at least three deposits.
Each step of the welcome bonus provides you with 100 free spins when you deposit $20 or more (300 free spins in total). The spins are fixed to the London Hunter slot machine and you can claim them via the relevant section of your account.
You must be a new player making a first deposit to qualify for this bonus. Once the spins have been claimed and used, you are tasked with clearly a 15x wagering requirement before you can withdraw your winnings.
300 free spins isn't as tempting as some of the bonuses being offered on other casinos, but those wagering requirements are some of the lowest you will encounter and help to make this a top bonus.
These bonuses are just scratching the surface and there are many more to collect. Crashino has regular giveaways, cashback promotions, and its very own Loyalty Program. You have plenty of reasons to join the site in the first place, but there are even more reasons to stick around for the long haul.
I often complain about sites not having decent loyalty programs, and that's why I tend to talk so much about the exceptional King Billy, which does have a great loyalty program. But Crashino also ticks that box and is one of the better sites for keeping active members interested.
Software and Games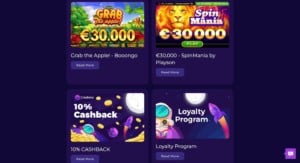 Crashino has a nice mixture of classic slots and unique provably fair games. The latter category is where you will find the crash game mentioned above. It's also where you'll find games of dice and other games of chance.
If you like sites like TrustDice and are keen to explore new games and ideas, this selection could be just what you're looking for.
If you prefer to stick with the old school, Crashino has plenty of that as well. It works with developers like Pragmatic Play, Fugaso, BetConstruct, and EvoPlay to keep its games room stocked with top slots and table games.
I won't list them all here, as there simply isn't enough room, but there are currently more than 2000 casino games. It's also home to more than 200 Live Casino games.
If you're looking for big jackpots, Crashino has those in abundance, including a casino and sportsbook jackpot that is currently over $1 million.
All of these games can be played on mobile, and they look just as good on desktop. I actually conducted this review on desktop and while that usually leads to an overly streamlined experience, or one that just doesn't work, I didn't have any issues on Crashino.
Sports
In addition to its extensive online casino, Crashino also has a sportsbook. This is neither here nor there, though. It's good to have it as an option, and it means you don't need to venture away from the site when the big game is on. But it's far from the biggest or most dedicated sportsbook.
It covers many basic sports and betting markets and lacks the sort of depth you get from epic sportsbooks like bet365. It feels harsh to criticise the site for this, but it's one of the areas that the site will no doubt work on in the years to come.
Also, while I have included it in my "con" list, it hasn't affected the score because I wouldn't have minded if there was no sportsbook at all.
In addition to the casino games and sports betting markets, Crashino has some virtual sports options. I have raved about these games in the past, including in my review of Rabona Casino, so I won't repeat my praise. Needless to say, it's always good to see these games as it gives gamblers and sports bettors a way to combine their passions.
Payment Options
Crashino is a cryptocurrency casino only. It does not accept traditional payment methods. On the plus side, it has a low minimum deposit of just $10 and a huge number of accepted payment methods, including Litecoin, Bitcoin, Solana, Tron, and Tether. It also accepts some payment options that you don't see very often in this industry, including Binance, DAI, and Solana.
Crashino is new at the time of writing, so it might include more payment options in the future. Maybe that will include traditional options. Maybe not. But this is a crypto casino, I'm a crypto casino reviewer, and you're a crypto player, so none of that really matters.
Withdrawals are usually processed quite quickly on Crashino. The only downside is that there is a minimum withdrawal of $50. It should be more than acceptable for the majority of players, but it will be a little too much for some.
Highlights
Up To 300 Free Spins for New Players
Works Just as Well on Mobile as it Does on Desktop
Offers Several Chances to Win Big
A Truly Original Online Casino
Over 40 Provably Fair Games
More Than 2,000 Online Slots and Table Games
User Reviews and Customer Support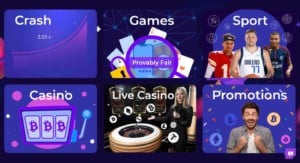 Crashino is brand-new at the time of writing, so there aren't a great deal of customer reviews out there. In fact, many of the biggest reviews sites have yet to even mention Crashino.
That will no doubt change as the site ages, and before long I expect to see a lot of reviews.
On the customer support side of things, Crashino has a Live Chat feature and a contact form. I tried the Live Chat before signing up. Not only did it let me access the feature, but someone responded to my message within 20 seconds.
I also like the fact that the Live Chat includes a section where you can add a message and attach a file before speaking to an operator. This saves you from typing out a long message to the operator and repeating yourself if they transfer you. It also means you can attach whatever error messages you have received without waiting for them to prompt you.
It's a minor touch, but a helpful one, as it should save you some time.
FAQs
What Payment Options Does Crashino Accept?
Crashino accepts 12 different cryptocurrencies. These include Bitcoin, Litecoin, and other popular methods. Take a look at the tables below this Crashino review for a full list of all accepted payment methods.
What Games Does Crashino Offer?
There are more than 2,000 casino games here and they are provided by some of the world's best developers, including the fantastic Pragmatic Play. You can also find many original games, such as Crash Gambling and Dice. These games are 100% fair and certified and provide a different experience to what you can get with traditional slots and table games.
What is the Minimum Deposit?
The minimum deposit is the equivalent of $10 in your chosen payment method. It's worth noting, however, that this may differ from the minimum deposit required for certain bonuses. Check the terms and conditions of each bonus before collecting to make sure you don't overlook this term.
What is the Minimum Withdrawal?
You must withdraw at least $50. It's a little on the high side, but it should be okay for the vast majority of players. If you're a small stake player, it just means that you'll need to sit on your funds for a little longer.
Is Crashino Fair?
Yes, Crashino is completely fair. Its slots and table games are provided by developers that use certified random number generators and its unique casino games are provably fair. You can find more information on by browsing through the site's sections on fairness and security, of which there are several.
It's always a good sign when casinos are happy to shout their safety and fairness protocols from the rooftops.
Final Thoughts
I have written hundreds of online casino reviews over the last few years. As you might expect, these reviews become very routine and dull.
Casinos work with the same gaming providers and payment methods. They host the same bonuses and promotions. Many of them even use the same turnkey software. The reason I rant so much about casino names and themes is that these are one of the few areas in which casinos have control and can be different.
It's rare for me to get excited about an online casino and I can only think of half a dozen times when that has happened in the last year or so, including with the brilliant Cadabrus Casino.
I can now add Crashino to that list. It's a beautifully designed casino that looks unlike any other site I have played, but it also backs up that style with a lot of substance. It looks different; it feels new. It's not just another cookie-cutter online casino.
It's the difference between watching the 1,000th episode of a soap opera you don't really like compared to see a well-plotted thriller for the first time.
It might not be perfect, but it's different and it looks fantastic, and that's enough for this site to justify near top marks from me.
If you're also tired of the same-old same-old, and you're looking for the excitement that you felt when playing a crypto casino for the first time, sign up for Crashino today.
Crashino Casino Review Details
Restricted Countries:
Australia
France
Greece
Israel
Italy
Netherlands
Portugal
Spain
Sweden
Switzerland
Turkey
UK
US
Languages:
English
German
Portuguese
Currencies:
BCH
BNB
BTC
DAI
DOGE
ETH
LTE
SHIBA
SOL
TRX
USDC
USDT