Pros
User-friendly interface
2000+ games in the catalogue
User anonymity
24/7 customer support
Advanced cybersecurity
Cons
Wagering requirements for some bonuses
Customer service not accessible by phone
Does not support fiat banking
Only two proprietary, provably fair games
Developed by Satoshi Gaming Group N. V. This online bitcoin casino was one of the first to accept EOS payment. It advertises 2000+ bitcoin games with a provably fair platform. This Curacao-licensed gambling site was launched in 2018 and has quickly amassed a reputation, with over 400,000 users worldwide. Trust Dice Casino has some incredible features to offer, and this review will take you through a what's-good, what-not for this increasingly popular online casino.
Basics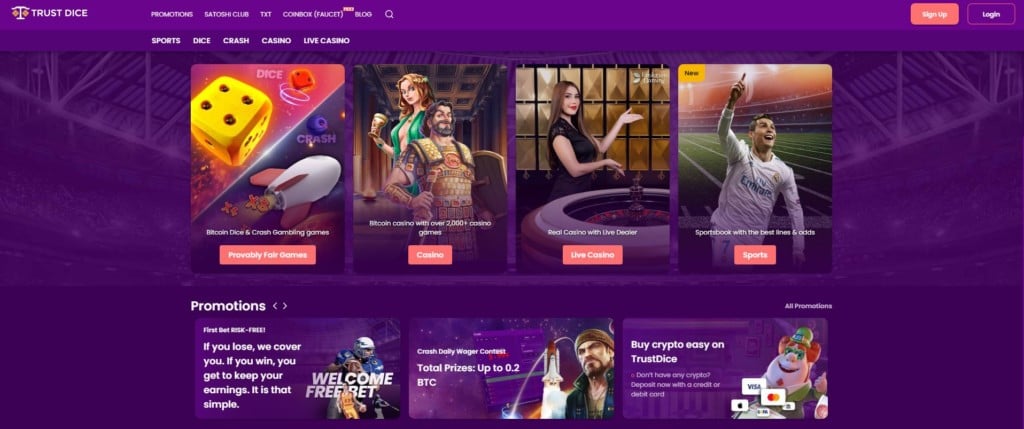 This is our first time covering the Satoshi Gaming Group N. V., as this is their only casino so far. At the moment, things are looking good for Trust Dice. We've talked before about the importance of the interface, and Trust Dice knows how to play the game. A neat and attractive display perfectly balances minimalism and style. Even better, the interface is completely optimised to work with several operating systems, including Windows, macOS, iOS and Android.
The mobile version also lets you access any and all Trust Dice games, including the live game. The only drawback, which may not remain so in the future, for all we know, is there's no mobile app. Trust Dice could really develop some pull with an app, as these are considerably more attractive for mobile users than online mobile versions.
An easy-access toolbar at the top of the screen displays all your options, with a convenient search tool. If you scroll down, you can find a succinct summary of the features and services offered at Trust Dice, which is pretty helpful for first-time players to get acquainted. The Live Chat and Chat Room features are easily available on the right-hand side of the screen. All in all, the layout is convenient, even if the colour might come on a little too strong. At the very least, it does not make the mistake of overcrowding, something we found when reviewing ZigZag777, so it avoids overwhelming players.
What might not work here, however, is the abundance of information available through endless scrolling. It's a subjective preference of course, and you might like everything available all on the same page. Perhaps a few additional tabs could contain information better and lead to only what is relevant. The site does offer some nice graphics that add to its overall appeal without being in your face.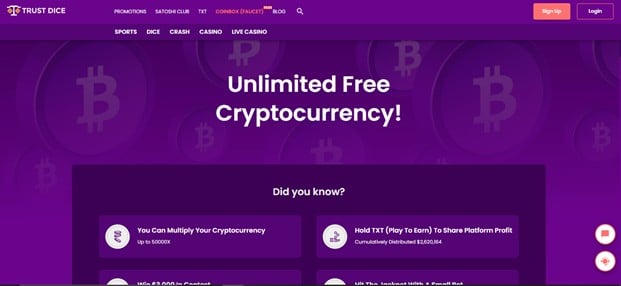 Trust Dice also turns the process of referrals into a lucrative opportunity for players. CoinBox offers players the chance to earn free Bitcoin tokens through successful referrals, and we are here for it. With up to 50% free commissions on every claimed faucet, in addition to free TXT tokens, and EOC and BTC every 6 hours, all we can say is go for it.
Online casinos can't afford to be remiss about cybersecurity, and Trust Dice doesn't disappoint. Their Blockchain technology maintains transparency and security of funds, and provably fairness technology for verification of the fairness of games. You can always add 2-factor authentication by Google Authenticator for an extra layer of protection.
Best of all, Trust Dice casino comes with few country restrictions. Unlike what we've seen with other sites, such as Mirage Corporation operated Ovitoons Casino, this site is accessible pretty much anywhere in the world, also operating in 10 different languages. Accessibility is a major plus point for any online casino, and this site is able to work that in its favour.
Software and Games
As we mentioned before, Trust Dice features a collection of provably fair games. Dice and Crash, two of its provably fair games, certainly form a highlight to the experience. The layout is user-friendly and visually appealing, and it does not limit its players to any playing modes- you can opt for manual play or auto-betting. Both games feature the usual games found on crypto betting sites.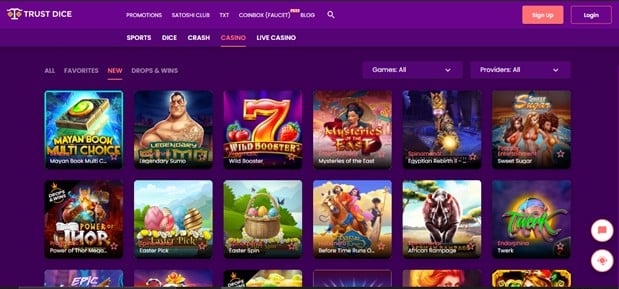 Some online casinos, like the half a decade old YakoCasino don't focus on quantity, but the TrustDice site features well over 2000 casino games, and if, like us, you appreciate the ease of access, Trust Dice has got you covered. The extensive filter options, by game and provider, and even lets you save your favourites to a separate tab. With live casino games, we've found Trust Dice a compelling option in online casinos. It features some of the top names in the iGaming industry, including Softswiss, Bleatra and Evoplay Entertainment, and we are happy to report we faced no issues running games on any device or OS.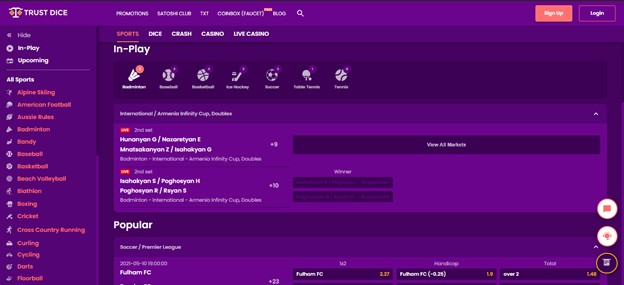 The Sportsbook offered isn't all that extensive as some of the other ones in the market. Although we'll admit we found the layout easier to get along with here. On the whole, it's a solid collection of sports and betting markets and rightfully deserves praise. The wide collection of sports and betting platforms offered to give it the edge that many other online casinos often miss out on. With no restrictions, access to the complete Sportsbook is never affected by the location of a player.
Bonuses and Promotions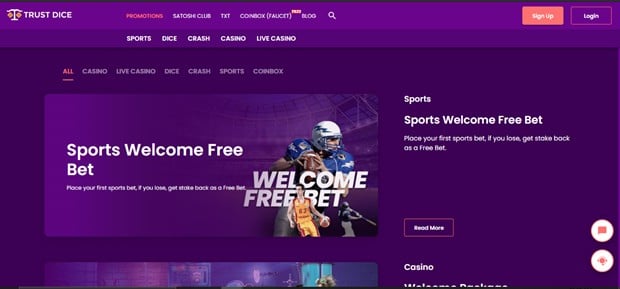 Trust Dice really lives up to its name in this department. Newcomers will certainly appreciate, as we did, the Welcome Bonus Package of 100% up to 3BTC. With the first three deposits, players can enjoy extra credits and free spins, which seems like a pretty good deal.
Even better, Trust Dice isn't stingy on the promotions. The Sports Free Bet option lets you safeguard your stakes against losses. Our personal favourite, however, is the 40 weekly tournaments and 280 daily prize drops that offer cash prizes totalling £/€ 2,500,000.
The promotions tab holds a whole list of offers you can choose from, and Trust Dice can easily win the game here. Crash Daily Wager and Dice Weekly Wager contests offer cash prizes, while the Blackjack Master promotion offers up to 100mB for Blackjack streaks and up to 1BTC for Blackjack wins.
The best part is, these offers are money-making in the long run. Cashback and free spin bonuses, along with free Bitcoin and crypto tokens through the free crypto faucet are a lucrative and hard-to-miss opportunity. Trust Dice even sleekly adds the element of exclusivity: the Satoshi Club is reserved for VIP members with a rewards program with different levels, ranging from Shrimp to Satoshi. While each level offers different benefits, the premium level includes exclusive VIP assistance.
Payment Options
As a crypto casino, Trust Dice offers several payment options in cryptocurrency, which make it all the more attractive. In addition to Bitcoin, it accepts Ethereum, EOS, USDT, Vitality, U Network and TXT. Apple Pay and wire transfers are also supported. Essentially, players are free to fund their accounts using their preferred altcoins, which Trust Dice will automatically convert to a supported cryptocurrency.
Withdrawals and deposits are generally processed instantly. Wait times go up with the withdrawal amount, however, so larger withdrawal values can increase the processing time up to an hour to 24 hours. There are also surcharges and withdrawal limits depending on the withdrawal method, so choose wisely. What we found a little unwarranted is the withdrawal limit. A daily limit of $2000 or currency equivalent is imposed, with a $6000 or currency equivalent weekly limit and a $20,000 or currency equivalent monthly limit. The limit is not a personal concern in any way, but it would still feel like a restriction that can be done away with.
There is one aspect where we believe Trust Dice has restricted itself here. While it's open to most cryptocurrencies, players not using such payment methods are at a severe disadvantage, as the site does not accept other payment methods. A wise move, that we may yet see in the future, would be to include other payment methods as well. This should considerably expand their customer base. However, for the time being, players should know their payment methods and currencies are restricted.
Highlights
Anonymous and autonomous play
No country restrictions
Provably fair games
pport for desktop and mobile
Very large Sportsbook
Crypto faucet and VIP Program
User Reviews
Trust Dice shows largely positive reviews, highlighting its many features including anonymous gameplay, accessibility, variety and support. Users have especially highlighted the simple and anonymous sign-up process.
Customer service has been lauded for being fast and reliable, and generally, users seem happy with the results. We found few complaints, and most of those pertained to occasional crashes or glitches.
Even with the best of the best, some technical errors are perhaps understandable. With 24/7 customer support, we have found a generally quick response to complaints and short waiting periods for resolution.

Frequently Asked Questions
Is Trust Dice available in the UK?
Trust Dice is available with no country restrictions. Players from the UK can access the site and play games without issue.
Is Trust Dice available in the US?
Yes, Trust Dice is available in the US. It comes with no country restrictions and is accessible from almost anywhere in the world.
What is TXT on Trust Dice?
TXT is a unique token used by Trust Dice to reward its players. The token is issued by the casino and runs on the EOS blockchain. This token is used as a reward for players under various bonuses and promotions.
Is Trust Dice safe?
Yes, Trust Dice is a licensed and regulated online casino running on the EOS blockchain, which maintains trust and transparency. It is licensed to the Curacao eGaming Authority, operated by Satoshi gaming Group N. V.
Is Customer Support good?
Trust Dice customer support is available 24/7 and is found to be helpful, well-trained and highly responsive. It is always available via live chat and email. Customer service cannot be accessed via phone.
Final Thoughts
Trust Dice has a fair few features to offer, and the generally positive feedback easily gives it a place among the top contenders. We may not be personal fans of the colour schemes, but it doesn't seem to bother any of its worldwide users, so we are willing to let it go as only a minor drawback in an otherwise excellent online gambling platform.
The withdrawal limit is also something we don't see a lot of use for. Trust Dice could certainly expand and benefit with the removal of the limit, as that should let unrestricted play occur. In a similar fashion, if Trust Dice could support fiat banking, it would be considerably multiplying its user base. At the time of writing, Trust Dice was still entirely restricted to accepting only Bitcoins and other altcoins. A move away from the strictly crypto approach may well be the icing on the cake.
Mobile apps are all the rage today, and certainly, add an element of accessibility to any online platform. A Trust Dice mobile app should not only make the experience more convenient but in our opinion, all the more attractive. At the moment no plans for an app have been revealed, but we hope this is a venture Trust Dice undertakes in the foreseeable future. While the web version is mobile compatible, they often come with their own problems and are simply not preferred by users, whereas mobile apps are simply easier to use.
These factors aside, Trust Dice is a strong contender in the market. With its unique VIP program and profitable bonuses and promotions, it presents a very attractive opportunity to players around the world. The vast collection of games and the inclusion of live casino games certainly works in its favour. The fact that the site takes its security seriously, and is not willing to compromise on this aspect, speaks volumes to the sort of experience players can expect here.
The autonomous blockchain that ensures security, and the large degree of anonymity the site offers during sign up and play also make it a worthwhile visit. Ignoring minor issues, many of which we may be seeing resolved in the near future, Trust Dice is certainly one of the best online casino platforms out there right now.
Trust Dice Casino Review Details
Restricted Countries:
Estonia
Israel
Portugal
Romania
Slovakia
Sweden
UK
US
Languages:
Chinese
English
French
German
Japanese
Korean
Portuguese
Spanish
Turkish
Currencies:
AUD
BTC
CAD
CHF
CZK
DKK
DOGE
ETH
EUR
GBP
JPY
NOK
NZD
RUB
TRY
USD
USDT
XRP