Pros
Good Gaming Selection
Lots of Payment Options
NetEnt and Betsoft
Mobile-Friendly
Bitcoins and Traditional Currencies
Cons
Withdrawal Limits
Need to Wager all Deposits Before Withdrawing
Messy Aesthetic
Zig Zag 777 is an online casino and sportsbook that launched in 2016. At the time of writing, it has had 5 years to steadily grow into a leading contender in the Bitcoin-gaming space and it has done a pretty good job of making itself known in this competitive industry. However, there are a few issues that the site's operators need to try and fix, and it's those issues, along with the site's many great features, that we'll cover in this Zig Zag 777 review.
it has done a pretty good job of making itself known in this competitive industry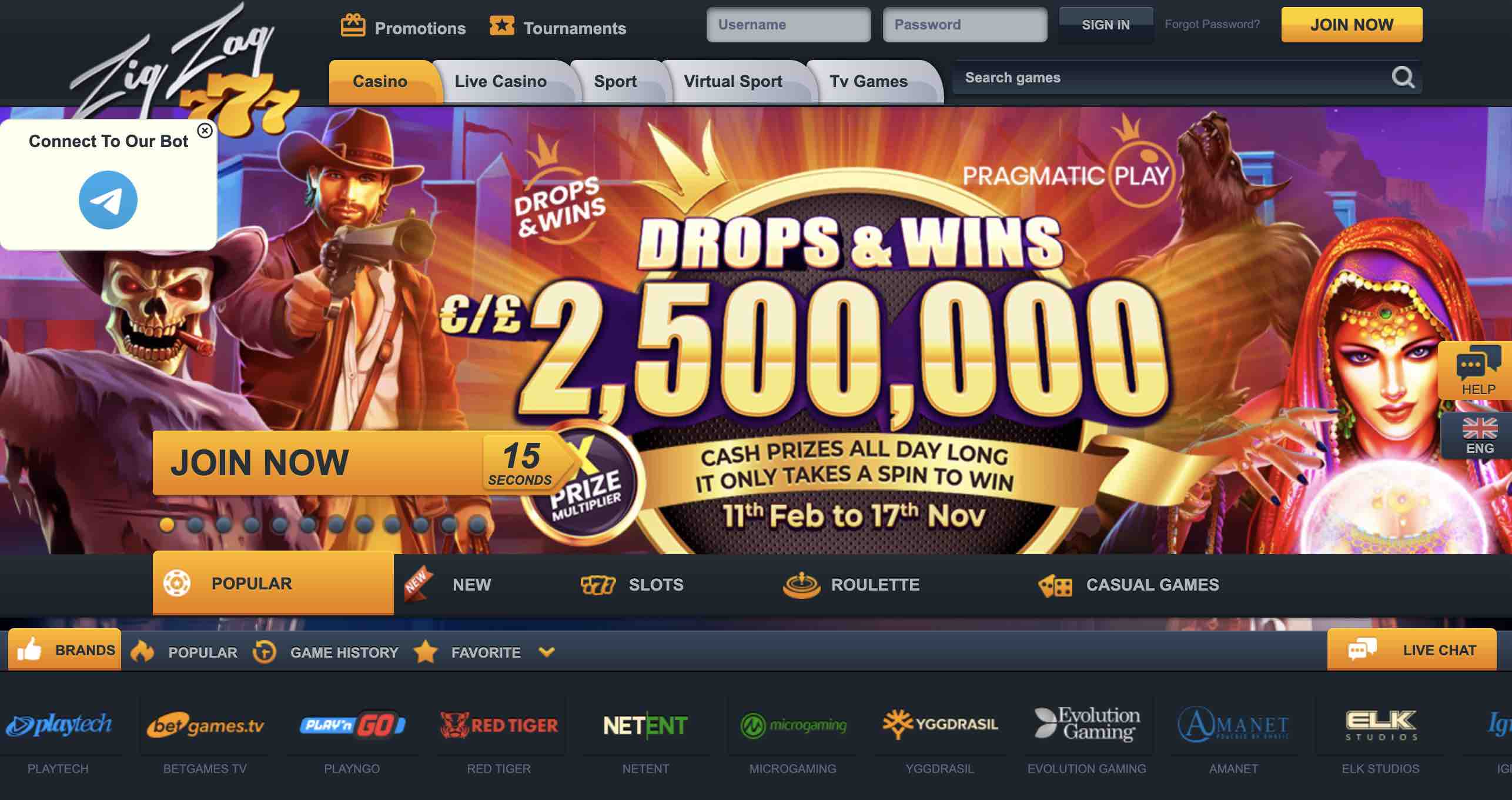 Basics
Zig Zag 777 was created by JocSystems N.V. It's a brand that we haven't encountered a lot here at CoinBuzz, but one that is somewhat familiar as its portfolio includes the uniquely-themed Argo Casino. In fact, Zig Zag 777 is quite similar to the aforementioned casino, because in an age of understatement, one where every developer seems to be focusing on clean, clear, and minimal designs, it goes all-out and tries to be as bold and brash as possible.
Sometimes this works, sometimes it just makes for a cluttered and frustrating mess, Zig Zag 777 is somewhere in the middle.
It lacks the colourful charm of the exceptional Cadabrus Casino, which is also quite a busy online casino, and while it does have its own unique style, it can be a little too "in your face". This is worsened by the poor choice of layout and menu options.
Firstly, in addition to the perfectly acceptable "Live Chat" button in the bottom left-corner, there is a Telegram pop-up in the top left. Add a fixed toolbar to the bottom, along with help and language options to the side, and it makes for a pretty cluttered and often frustrating experience.
As the old saying goes, sometimes less is more.
Of course, this is just our opinion. Style is subjective and you might not have the same attitude. What's more, these complaints only relate to the desktop version of Zig Zag 777, and the ordered menus utilised on mobile mean that it's often not as frustrating.
On the plus side, we do like some of the imagery used by the casino. The backdrop seems to show a steampunk ship of some kind (at the time of writing, at least) and there is a cool cartoony vibe to many of the promotional images as well.
The site's copywriting isn't the best, and it's indicative of something that has been penned with the sole goal of hitting SEO keywords, but we have definitely seen worse and a quick edit would be more than enough to bring it up to standard.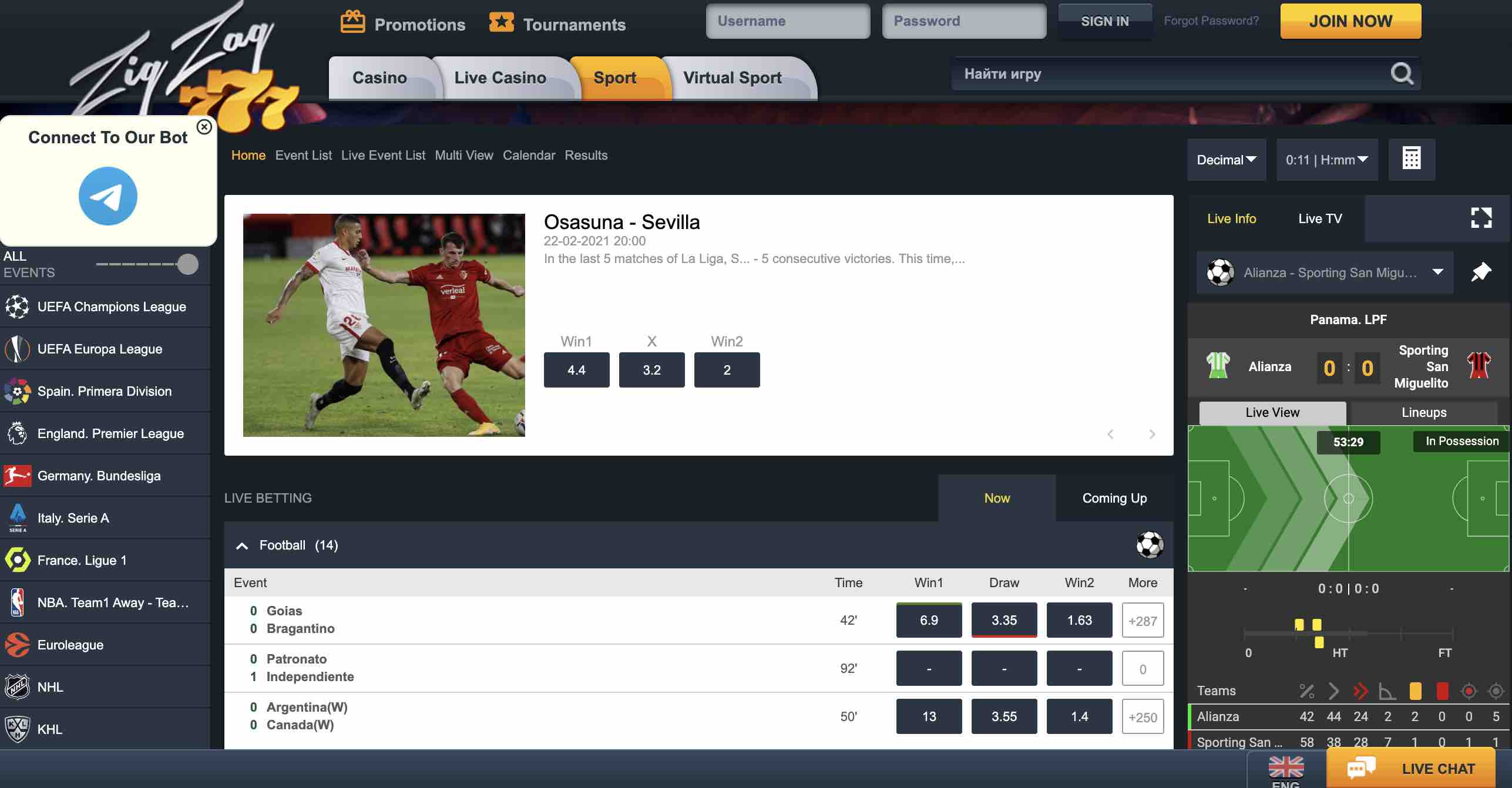 Software and Games
One of our biggest pet peeves with the online gambling industry is the lack of filter options. We don't just want to sort by providers, we also want to sort by features, mechanics; we want to see the games that have Megaways and jackpots, as well as the ones with Rolling Reels and Wild Reels.
While Zig Zag 777 doesn't nail this exactly, it gets pretty close with its "Fast Links" section, located near the footer. The background image spoils this somewhat, as it contains a couple of really bright sections and these drown-out the white text in places, making for some frustrated scrolling and squinting, but it's good to see direct links to popular games and features without even jumping into the games room.
On the Zig Zag 777 About Us page, the casino highlights itself as a Microgaming casino, which seems like an odd choice of words considering it works with a large number of developers. It has hundreds of games from some of the industry's best, including NetEnt, Betsoft, Quickspin, Yggdrasil, and Pragmatic Play.
Microgaming is there as well, of course, and there are a lot of games from this developer, but it's not the only one on the list. And that can only be a good thing, because while we love Microgaming, we're also pretty sick of casinos that only have Microgaming titles, and who isn't? This isn't 2005.
Zig Zag 777 has a sportsbook and it seems to use similar software to the likes of Rabona Casino, which we have discussed previously and praised extensively. It's a solid sportsbook on the whole and it covers a wide range of sports and betting markets, with average to good odds throughout.
Sportsbooks like this always surprise us. When it comes to betting on sports, we usually stick with the dedicated sports books and exchanges, and as we're in the UK, we have plenty of options at our disposal for doing that. Many of the sites that don't fit that description often have a very poor selection of betting markets, terrible odds, and sports geared toward the Asian or American markets. It's a pleasant surprise, therefore, when we see a site like this, which actually has sports and betting markets capable of rivalling those big names.
It even has a Virtual Sports section. As noted many times before here at Coinbuzz, we love Virtual Sports. In fact, along with games of Poker and Blackjack, as well as binging on Peep Show and IT Crowd, they were the only thing that kept us sane during the first few lockdowns.
At Zig Zag 777, the virtual sports cover football, tennis, ping pong, and more. The bulk of them are provided by a company known as Kiron Interactive, a major player in this industry. However, the games we like the most are the 3 titles offered by BetRadar, and the Football League in particular. It lets you simulate an entire league season, placing match bets and outright bets along the way.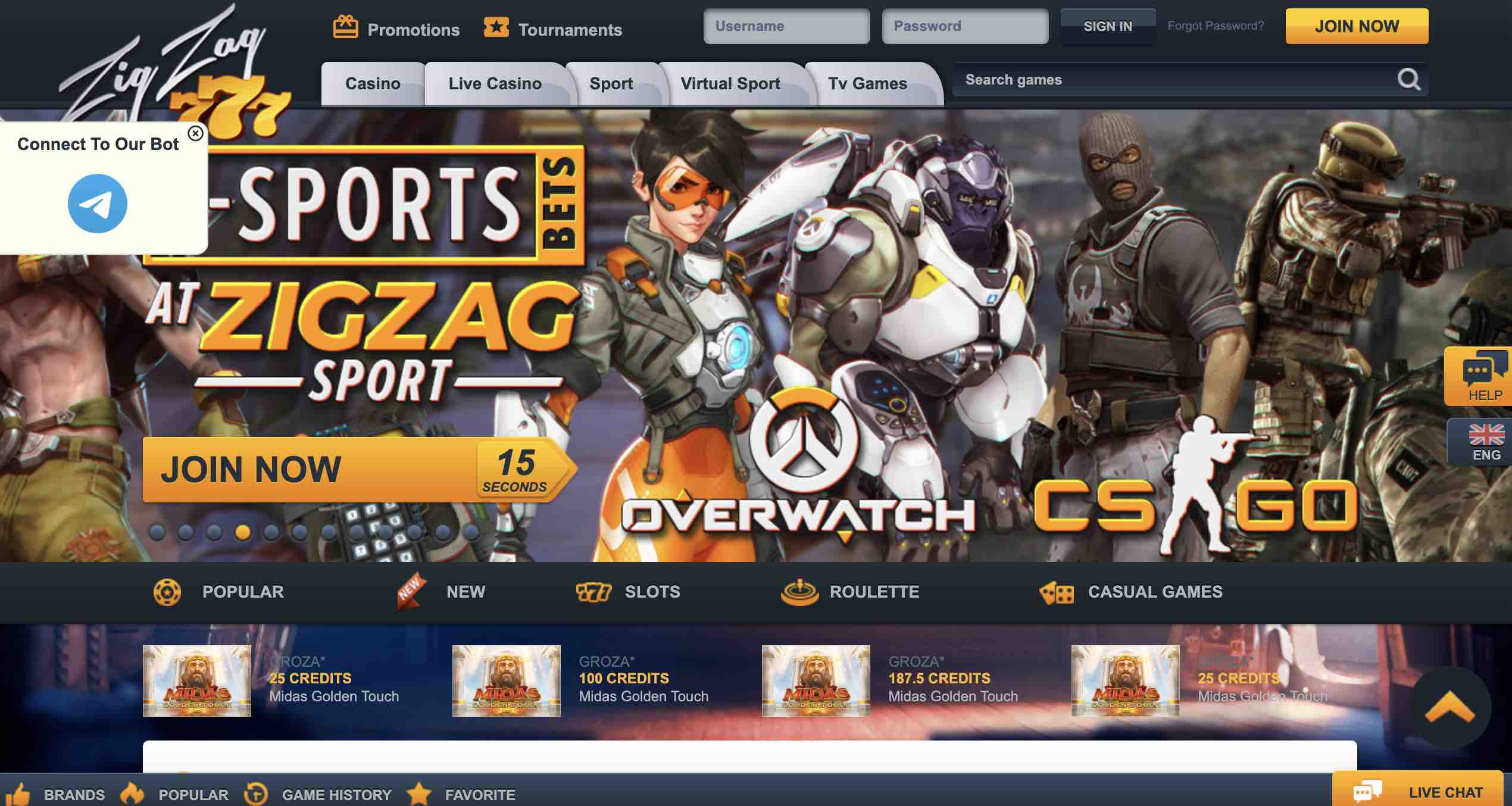 Bonuses and Promotions
The Zig Zag 777 Welcome Bonus offers up to €500 for all new players who deposit at least €30. It's a sizeable Welcome Bonus, especially when you consider that it's released in one single amount and not spread over multiple deposits, however, it's a little disappointing to see that the minimum deposit is so high. It falls into the ideal range for many players and means they can deposit their usual amount and get a sizeable sum without issue, but it's not ideal for casual players.
There are a lot of players out there who typically only deposit and play with €10 or €20 and asking them to push to €30 is too much. That's not necessarily a bad thing, but we often criticise casinos for creating strict terms and disqualifying high rollers, and so we have to provide balance by criticising those that disqualify small stake players.
The wagering requirements for this bonus are fixed at 40x and these must be met within 14 days before any of the money can be withdrawn. One of the things we like about this offer is that you can stake as much as €10 on a single spin, which is twice the usual stake limit of €5. In fact, some sites limit you to €2, so Zig Zag 777 stands out from the crowd.
Payment Options
Withdrawals tend to be processed quickly here and you can choose from a variety of payment methods, all of which are listed below this review. Generally speaking, there aren't a great deal of issues considering the variety, speed, or quality of the payment methods, and so we don't really need to say more about those.
What we do need to elaborate on, however, are two issues, and both are substantial in their own way. The first issue is the fact that you need to wager your deposit at least once before you can withdraw. We have seen a stipulation like this on several other sites, and for some reason, they are usually small to medium sized sports books.
Why is this a problem? Well, as an example, a couple of years ago we made a large deposit into a popular sportsbook here in the United Kingdom. It was a sizeable deposit designed to cover the entirety of a tournament, and was essentially the amount we'd usually bet over a month or two. After the transaction timed out and we saw an empty wallet, we tried again, only to realise that it had accepted both payments.
In one fell swoop, we had what amounted to approximately 3 to 6 months' worth of wagers in our account at once. Because it was a major sportsbook without ridiculous rules, we were able to withdraw half of the money and got it back within minutes. If we were to make that mistake at Zig Zag 777, we'd have to bet it.
Imagine, for a moment, that you typically deposit £50 to £100 a week, and you suddenly find yourself with £1,600 in your account. You're desperate to get back half of that immediately, but you're told that before you do, you need to gamble all of it and hope that your bet comes in.
Although this rule helps to reduce rapid deposits and withdrawals and may go some way to reducing money laundering, it also causes problems for players.
The second issue concerns the withdrawal limit, which is capped at €1,500 a day. That's a lot of money and, on the surface, it should suffice for most players. However, there is also a cap of €3,000 per month and just €9,000 per month, putting Zig Zag 777 on par with many Araxio casinos like Cadoola.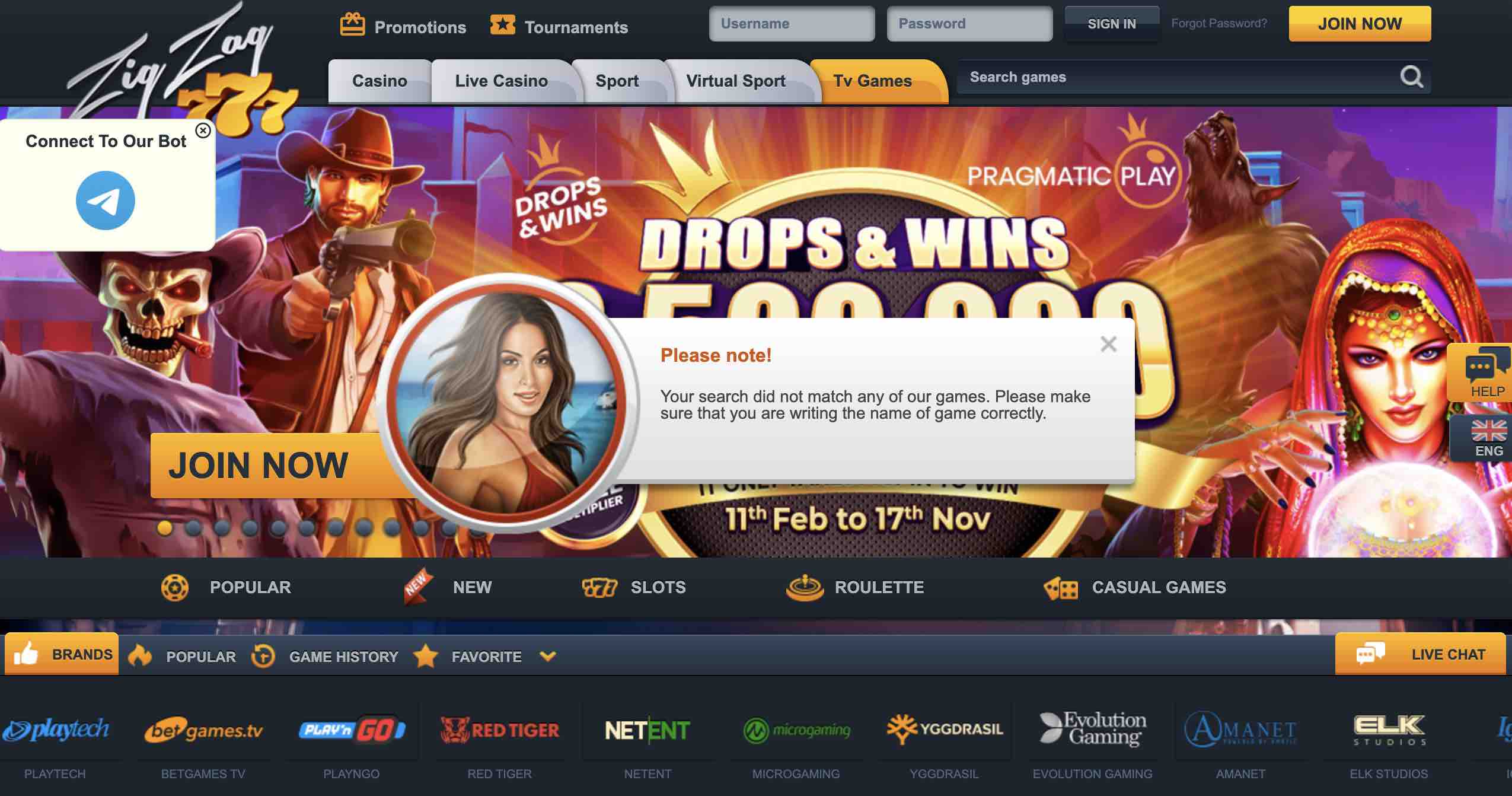 Highlights
Impressive Sportsbook
Lots of Virtual Sports
Variety of Payment Options
Fast Withdrawals
Lots of Top Developers
FAQs
What is the Zig Zag 777 Withdrawal Limit?
You cannot withdraw more than €1,500 a day or €9,000 a month. If you have more than this, you will need to wait for the following withdrawal period.
Is Zig Zag 777 Safe?
It is a very safe and highly regulated online casino.
Is Zig Zag 777 Regulated?
The site is regulated by authorities in Curacao.
Can I Join from the UK?
You cannot join Zig Zag 777 from the United Kingdom and shouldn't even be able to access the site.
Is the Customer Support Good?
Zig Zag 777 has a Live Chat and email option and it also takes the time to respond to user reviews and complaints on other sites, which is always nice to see.
Can I Deposit Using Bitcoins?
Of course! You are free to play with BTCs and a variety of other popular payment methods.
Final Thoughts
We were interested to see what other players had to say about Zig Zag 777, and its aesthetic in particular. We initially assumed that we were just being picky. After all, if there were other people reporting the same issues as us, surely the site would have done something about them. But after digging through a few reviews, we found that we were definitely not alone.
In fact, at the time of writing, the latest user review for Zig Zag 777 states that the images are "beautiful" but "painful to look at", mirroring our own thoughts exactly. In reply, the casino thanked the reviewer and made it clearly that they would be updating the site "soon".
This review was posted a month before our own review is due to go live, and those poor design choices were still in place, but hopefully they will be gone by the time you read this.
If they are, it drastically improves the quality of this site. As things stand, we only have two big issues with the site. The first is the withdrawal limit, which is always a frustrating sight. At €1,500 per day, it's not the worst that we have seen and it's not big enough to impact our own style of play, but we'd still prefer that it didn't exist. The other issue is the aesthetic, and that definitely impacts our enjoyment of the site.
If they fix this and make a few other improvements, then Zig Zag 777 could very easily earn a place in our top 10. Without those fixes, it's still good enough to be placed on our list of the best Bitcoin online casinos, but its position is average, at best.
Zig Zag 777 Casino Review Details
Restricted Countries:
Afghanistan
Albania
Algeria
Australia
Belgium
Bulgaria
Cambodia
Canada
Denmark
France
Iran
Iraq
Israel
Italy
Latvia
Lithuania
Portugal
Romania
Singapore
Spain
Sweden
Switzerland
UK
US
Languages:
Chinese
English
German
Polish
Romanian
Russian
Turkish
Ukrainian