Pros
VIP Scheme
Great Theme and Visuals
Big Welcome Bonus
Bottle of Champagne with High Roller Bonus
Lots of Games
Cons
Live Chat Not 24/7
Low Withdrawal Limit
Doesn't Always Respond to Reviews
Grab the glasses, pop the cork, and enjoy some premium bubbly courtesy of Direx N.V. and Champagne Spins. This Bitcoin-friendly casino is as stylish as they come, with a slick gold-and-black colour scheme and lots of bottles of Champagne.
In many ways, the aesthetic reminds us of Bitstarz Casino, a personal favourite of ours. It's dark, but there is enough contrast to prevent eye-strain and ensure everything is easy to read; it's premium, but still manages to be fun and laid back. In this Champagne Spins review, we'll look at some of the features of this casino, covering elements such as its casino games, payment options, bonuses, and more.
it's premium, but still manages to be fun and laid back.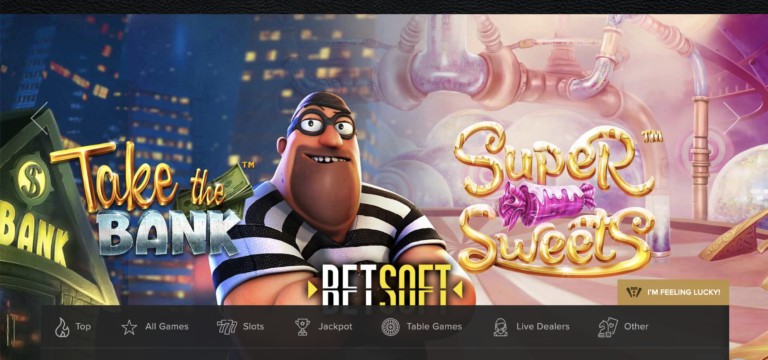 Basics
Champagne Spins operates under a Direx N.V. casino license, which is provided by the authorities of Curacao. It is not available in the United Kingdom, United States, Netherlands, France, and most of Asia, but its services can be accessed by players in Australia (with the exception of New South Wales), New Zealand, Russia, Canada, South Africa, Norway, and many other locations.
Players can choose from three different site languages (English, Russian, and German) and over a dozen different currencies. What's more, as Champagne Spins grows in popularity and the reach of Direx's license extends, it becomes available in more countries and expands to include more languages and currencies.
Champagne Spins was founded in 2017, so it's had a few years to make a mark. At the time of writing, it's actually one of the lowest-ranked online casinos in the Direx roster, but that's not a bad thing. It's like having the smallest muscles at Mr. Olympia or being the slowest person at the 100 metre Olympic Spring Final—you're not the headline grabber, but you're still pretty damn impressive.
Games
Microgaming, Betsoft, NetEnt, Yggdrasil—these are just a few of the many top developers at Champagne Spins. Players can browse through hundreds of real money slots, Live Casino games, table games, and interactive titles like scratch cards, video poker, keno, and bingo.
As regular readers can attest, we are huge fans of Betsoft, NetEnt, and Yggdrasil, and we're also partial to a Microgaming classic. It means you can switch between innovative 3D slots and real money classics, which means all needs are catered for. Most stake levels are covered as well, and you can generally bet anywhere from a few cents to a few hundred Euros per spin or game.
But before you deposit big and start dropping hundreds of Euros on single games, take a look at our Withdrawal Limit section, where you'll see that Champagne Spins isn't necessarily catered toward high rollers.
Champagne Spins has regular tournaments to keep slot fans happy and give them extra chances to win throughout the month. These tournaments offer cash prizes, Free Spins, and other rewards, and they are constantly being tweaked and changed. To participate, you just need to be an active member and to play the qualifying game.
Every time you play or win (depending on the type of tournament) you will climb the leaderboard. The highest placed finishers will then be given a prize. You don't need to pay to enter, so you literally have nothing to lose and everything to gain.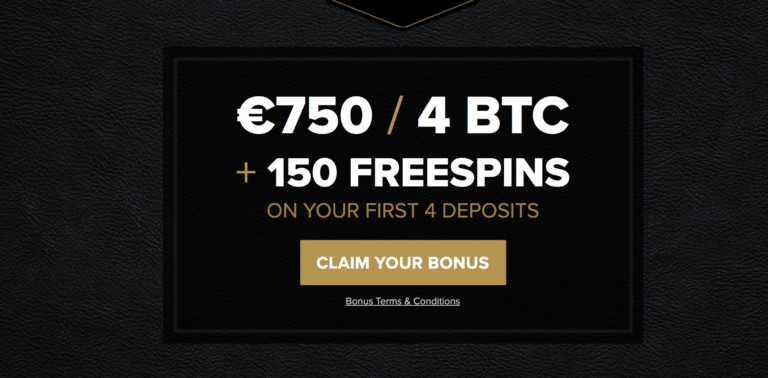 Bonuses
Four standard Welcome Deposit bonuses and a High Roller bonus thrown in for good measure, what more could you ask for? The former offers up to €750 while the latter goes as high as €2,000. It gets much better for Bitcoin players, as the standard bonus goes as high as 4 BTCs, putting it on par with several other top casino bonuses, including Winz Casino.
The standard Welcome Bonus looks something like this:
100% up to €200 (or 1 BTC) and 100 Free Spins
50% up to €200 (or 1 BTC) and 50 Free Spins
50% up to €150 (or 1 BTC)
100% up to €200 (or 1 BTC)
The High Roller bonus doesn't go big with the Bitcoins but it does offer up to €2,500 for fiat currency players. This is provided in the form of a 75% Matched Deposit bonus, which means a deposit of €1,000 will generate a bonus of €750 for a total of €1,750.
Players are also given a bottle of Moët & Chandon Brut Premier Champagne, which is an unusual but excellent addition. Nothing makes you feel more like a VIP high roller than getting a bottle of Champagne. It's not the most valuable reward, as it has an RRP of around €50 by our count, but still…the originality alone makes this bonus top notch in our eyes.
The Champagne carries over into the casino's VIP Scheme, as well. There are seven levels to this Loyalty Scheme and most of these are represented by white wines and sparkling wines, with the last one simply titled Prestige.
When you play, you'll collect Loyalty Points and you can use these to advance through the levels. As you move from one level to the next, you'll collect all kinds of rewards and unlock exclusive promotions, including matched deposit offers, Free Spins, and cashback. It's not quite on part with GunsBet's Loyalty Program, but it gets pretty close.
We also love that the casino has stuck with the theme. We've reviewed many sites in the past that have struggled to maintain themes beyond a simple logo and name. And this is true even for themes based around entire historical periods and civilisations. Champagne Spins narrowed the field a little by focusing 100% on Champagne, but it found a way to make it work.
You'll become part of the Champagne Spins VIP Scheme as soon as you join the casino. The first level is Chardonnay, which sounds more impressive than it actually is. But if you make a few deposits and wagers, you can crack open a bottle of Brut, and this is when the fun really begins.
Payment Options
Champagne Spins has a minimum deposit amount of €20 or 0.0025 BTC. Along with Bitcoins, crypto-players can take their pick of options like Litecoin, Dogecoin, and Ethereum. For Bitcoins and Ethereum, all deposits and withdrawals are specific to those payment requirements and are often better than their fiat currency counterparts. For Litecoin and Dogecoin, the limits are the equivalent in fiat currencies.
All cryptocurrencies are processed using CoinsPaid, and this is true for deposits and withdrawals. It is a quick, secure, and easy-to-use payment method, and one that is accepted on most of the best online Bitcoin casinos.
Payments are processed free of charge and there is a pending period of less than 24 hours for withdrawals. For e-wallets like Neteller and Skrill, and for all CoinsPaid payments, this means you'll get your money in just a few hours. For cards and bank transfers, it could take several days.
As with all other legitimate online casinos, you may be asked to verify your information before your withdrawals are processed. This isn't true for all players and Bitcoin players tend to be given a little more leeway. But that verification request can arrive at any time, do don't assume that you've avoided it just because it doesn't arrive straight away.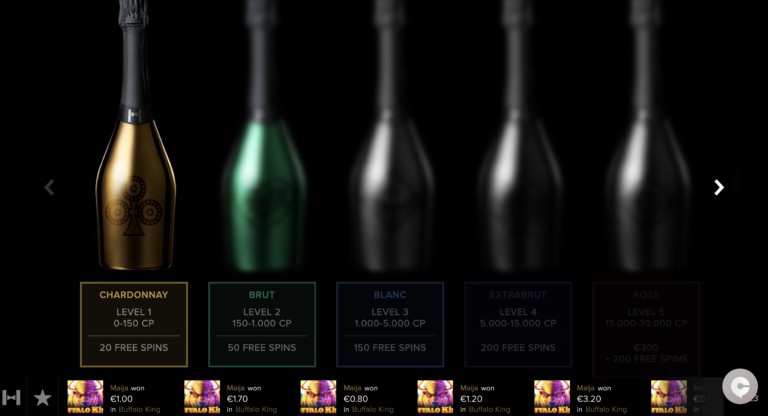 Limits
One of the downsides of Champagne Spins is that it has a withdrawal limit. These are quite common on modern online casinos and while they are never a welcome sight, they aren't usually anything to worry about.
For example, most Araxio Development casinos, including Buran Casino, have a limit of just €500 per day and €10,000 per month, ruling out all but small stake players. Where Champagne Spins is concerned, you can withdraw as much as €4,000 per transaction and this increases slightly for cryptocurrencies like Bitcoin.
€4,000 may not sound like a lot, but it's worth noting that progressive jackpots are often paid by the developers and, therefore, are usually not included in this total. That's not always the case, and there are other jackpots to consider as well, but for all small stake players and most medium stake players, this limit will be fine.
If you are a high roller, you should probably take your deposits elsewhere.
Click on the "Reviews" tab at the top of this page to see our latest selection of Bitcoin-friendly casino reviews. We only cover the very best casinos out there, and while these vary in terms of stake levels, themes, and games, you'll find plenty of high roller casinos amongst them.
Highlights
Good Theme
Top Operator
Fast Withdrawals
Fiat Currencies and Cryptocurrencies
Lots of Games
Good Bonus Selection
Mobile-Friendly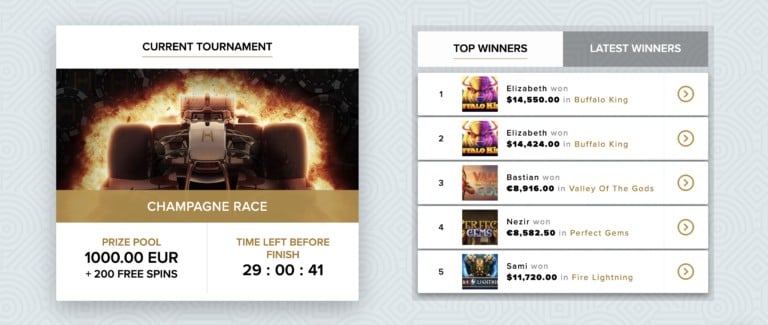 User Reviews
Player reviews can tell you a lot about an online casino and we searched for these while conducting our Champagne Spins review. As always, we skipped over the neutral and positive and went straight to the negative, as that's where you will find the most honesty.
Several very bad user reviews exist for Champagne Spins and these have helped to drag its overall score down on all major user review websites. It's a concern, but only on the surface, as once you look a little deeper, you'll realise there's not much to worry about.
For instance, we found a few reviews complaining about a losing streak. In our experience, these reviews account for between 20% and 50% of all bad reports that exist for an online casino, and that's the problem with the online gambling industry.
Some players are only happy with a casino when they win, and if they hit a losing streak, they instantly call shenanigans and vent their misplaced and undeserved anger. It's like ordering a product from an online retailer and then leaving a bad review when they don't give you a freebie.
Sometimes you win, sometimes you lose, and sometimes those winning and losing streaks occur over many hours. It doesn't mean the casino is a scam. It's just how probability works, and if you see negative reviews complaining about these issues, you should ignore them.
Many of the other negative reviews that exist on online casinos complain about unread bonus terms and verification checks, and that's also true for this one. In fact, some reviewers have completely trashed the site just because they were asked to confirm their identity.
We've said it multiple times before: this is a perfectly normal procedure. It all comes down to the Know Your Customer rules, which are there to guard against fraud, problem gambling, money laundering, and underage gambling. All casinos are required to adhere to these rules and if they don't, they run the risk of losing their license. Players seem to think that casinos are doing this just to annoy them, but that's not the case.
All things considered, there are no major concerns with regard to player comments. However, it's worth noting that Champagne Spins doesn't respond to all customer reviews, which is more of a concern.
We prefer casinos who take the time to respond to their customers, including the user-friendly Nomino Casino. The fact that Champagne Spins doesn't do this means you have less recourse for action if anything goes wrong and the support team won't assist you. In our experience, however, they are usually very adept and helpful in that department and you shouldn't need to escalate your issue.
FAQs
Can I Play in the UK
Does Champagne Spins Have a Loyalty Scheme?
Yes! And it's one of the best we have encountered and one that we have referenced many times.
Can I Use Bitcoins
Of course! In fact, Champagne Spins accepts several top cryptocurrencies.
What are the Withdrawal Limits?
You are limited to withdrawals of no more than €4,000 per day.
Is Champagne Spins Safe?
The site is very safe and is regulated by the government of Curacao.
Can I Play Champagne Spins in my Country?
As long as you do not reside in one of the restricted countries listed below this review, then you should be okay.
Final Word
Champagne Spins is a very attractive, well-made online casino, and we really struggled to pick faults with it. It looks great, works really well, and although the Champagne theme seems pretty obscure, they actually found a way to make it work. It has a fantastic VIP Scheme, bonuses for players of all stake levels, and a wide selection of payment methods.
Of course, there is a withdrawal limit, and we'd rather that this didn't exist, but as noted above, it's not like the highly restrictive limit found on casinos like Rabona and should be okay for most players.
Join Champagne Spins today using the links on this page. You will get the very best casino bonus available right now and will also be added to the lucrative VIP scheme.
Champagne Spins Casino Review Details
Restricted Countries:
Asia
France
Israel
Italy
Netherlands
Spain
Sweden
Switzerland
UK
US
Currencies:
AUD
BTC
CAD
DOGE
ETH
EUR
LTE
NOK
RUB
USD
XRP