In January 2019, the Swedish Gambling Act came into force, triggering a wave of license applications from major European gambling operators. It meant that all operators offering gambling services in Sweden must first apply for a license and then follow the regulator's rules.
If you reside in Sweden, you'll need to make sure that your chosen casinos, sportsbooks, and poker rooms are regulated with the Swedish authorities.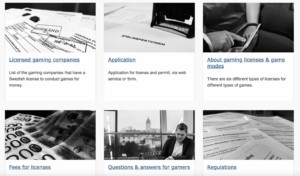 Luckily for you, we've made that job easier by listing all of the sites that currently have a license from the Swedish Gambling Authority.
You can find these sites at the top of this page. To see what they have to offer (including bonuses, games, and more) just scroll up.
To learn more about online gambling in Sweden, and the Sweden Gambling Authority in general, keep reading.
What is the Sweden Gaming License?
Sweden has a population of just over 10 million, which is roughly 1/6th of the population of the United Kingdom, but it's a wealthy country and the aforementioned gambling act created some exciting possibilities for gambling brands.
The Swedish Gambling Authority (also known as "Spelinspektionen") is responsible for granting licenses, imposing fines, and acting as the mediator in the event that players have an issue with a regulated casino.
Sites Licensed in Sweden
Although Sweden only began licensing online casinos in 2019, it has a long and varied history when it comes to online gambling.
After all, some of the biggest developers and casino operators are based in Sweden. In the past, we've noted just how important the city of Stockholm has been for the real money slot sector, giving birth to great studios, games, and innovations. It has a rich history when it comes to gambling, but its residents aren't allowed to gamble as freely as some other European citizens.
The Swedish Gambling Authority charges 400,000 SEK (about €40,000) for a commercial online casino license, 400,000 SEK for a betting license, and 700,000 SEK for both. Bingo licenses are much cheaper at around 30,000 SEK, and it also sells cheap and limited licenses to local establishments.
It means that all casinos operating under license from the Swedish Gambling Authorities have paid at least €40,000 and have also agreed to abide by some very strict rules and regulations. Checks have also been conducted on their operations and their directors to ensure they are legitimate, and all of this helps to create a safer and fairer environment for the player.
Sweden Gaming Rules
It's often said that the UK Gambling Commission is the strictest regulator in the industry, and I've made similar comments myself in the past. But Sweden's introduction to this market back in 2019 has changed the game, and you'll struggle to find a licensor that has imposed more fines.
The Swedish Gambling Authority takes problem gambling very seriously. Of course, the same could be said for all regulators, including the authorities of Curacao, but Spelinspektionen goes one step further.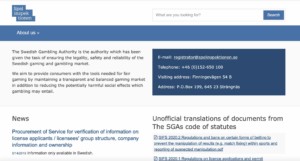 For instance, one of its rules states that casinos can only offer one bonus per customer and that these should only be offered as introductory bonuses. They have fined major operators for breaking this rule in the past and those fines have been pretty substantial and frequent.
It also confirms that casinos monitor the habits of their gamblers and make sure they are not showing overly risky or reckless behaviour. Again, it has fined operators for breaking these rules.
Other strict laws imposed by the Swedish authorities include those relating to money laundering. Casinos must keep tabs on their customers and the amount of money that they spend to ensure that there is no suspicious activity.
The goal of all these rules is to greatly reduce the risk of underage gambling, money laundering, problem gambling, and fraud. They do a pretty good job of safeguarding against all of those things, but their rules are only as strong as the operators that enforce them, and that's why the Spelinspektionen have been so harsh with punishments and penalties.
Pros and Cons of the Swedish Gaming License
Bonuses are not as easy to come by in Sweden as they are on sites that are regulated by the Malta Gaming Authority or other major regulators. It's a shame, as it makes life difficult for players who enjoy betting big, collecting big, and benefiting from Loyalty Bonuses, but it's better than nothing and it's designed to keep players safe.
On the plus side, the Swedish regulators help to keep everything safe and fair and will also act as mediators if anything goes wrong and you have a major issue with the operator. The fact that it's so expensive and difficult to get a license in the first place also means that only legitimate sites complete the application process.
FAQs
Why Can I Only Get One Bonus?
The regulators have deemed bonuses to be a threat, believing that they promote irresponsible gambling, and so they have placed limitations on them.
Can I Get Penalized for Breaking the Law?
The operators are the ones who need to follow the laws set by the Swedish Gambling Authority. If you find that you have somehow gained access to several bonuses, it suggests that the casino has broken the rules, but you haven't done anything wrong and don't need to worry.
Can I Play on Unregulated Sites?
A legitimate site will not let you join and play if you are from Sweden and they don't have a Swedish license. If you somehow slip through the net and are allowed to play, you should be very wary, as it means the operator is breaking the law.
Which Payment Methods Can I Use?
It all depends on the casino. Bitcoin payments are hard to come by if you are gambling in Sweden, but you can use web wallets, debit cards, bank transfers, and instant payment solutions.
What is the Best Site in Sweden?
There are too many great options to choose from. Browse through the casinos listed on this page, see which ones stand out, and discover them for yourself.
Play Sweden Casinos Now
Ready to start playing some online slots and table games in Sweden? Looking to place a few legal sports bets? Just take a look at the sites listed on this page and start signing up! We have listed bonuses and other features to make life easier for you, but remember that some of these may not be offered to you if you live in Sweden.