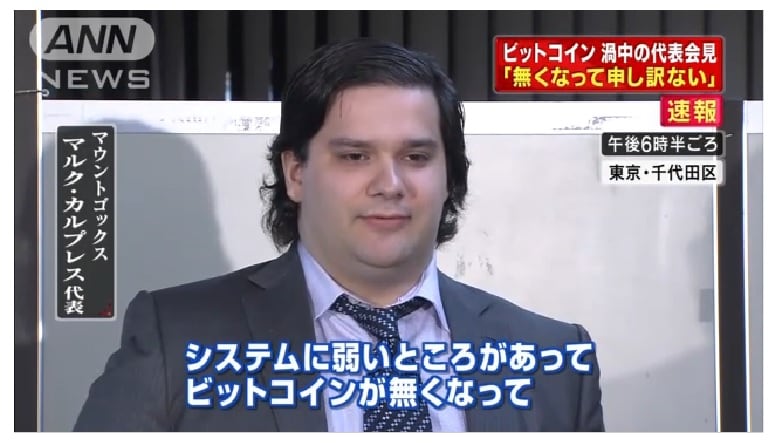 Two days after his arrest in Tokyo, former CEO of Mt. Gox, Mark Karpelès has admitted having used his position on the exchange to inflate his own account to the tune of several thousand yen (although other estimates put the figure in the range of millions).
This new development comes after Karpelès was moved to the Tokyo District Public Prosecutor's Office yesterday. Aside from the charges of introducing fake Bitcoin into the exchange, he is also suspected of stealing approximately $9 million in funds from Mt. Gox customers, which then found their way into his own fiat accounts.
The biggest accusation however, involves the missing 650,000BTC that were never accounted for after the crash of Mt. Gox; while the company executives blamed hackers, many customers believe that there must have been some inside involvement. The 650,000 lost coins would be worth approximately $183 million at the time this article goes live, although considering Karpelès latest admission part of these coins may have never have actually existed and could merely have been the result of fake accounts with inflated balances, made only to boost the site's credibility.
During an interview late last year, Karpelès commented on his current lifestyle, denied allegations about misappropriation of funds and confided that he was already under investigation by the Tokyo authorities:
"All I can say is I am deeply sorry. But I did what I could, and I swear I haven't been doing anything too luxurious. Some people say I still own bitcoins or have a yacht, but that's not true. If they accept me, I would like to attend a weekly meet-up of Tokyo bitcoin users when things settle down and explain what happened in my own words … The police are investigating the case so I won't be able to say much. But if asked, I'm willing to show any bitcoin entrepreneurs how I did it wrong, so they won't repeat the same mistake."
---