Pros
Many Top Developers
Neat Design
Includes Betsoft and NetEnt
Lots of Bonuses
Many Payment Options
Cons
Lots of Country Restrictions
Slow Withdrawals
Withdrawal Limits
Betroom24 is an online casino that launched in 2020 under license from the authorities of Curacao. It is owned and operated by the Mirage Corporation, who can be very hit and miss when it comes to online casinos, and it works with some top developers.
In this Betroom24 review, I'll highlight some of the pros and cons of this casino. As you'll see, there are some big positives here, but there are also a few concerning aspects.
Basics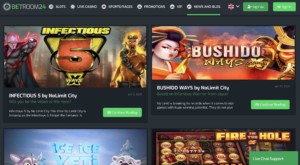 To begin with, let's focus on the positives. I have had issues with Mirage Corporation casinos in the past, noting that some of them have bad themes and aren't much to look at. GoldenLine Casino is one of the good ones and one I would recommend checking it out. Thankfully, Betroom24 is also in that category. It blends black, white, and green, which sounds like an absolute disaster on paper, but actually works really well.
It also ensures that everything is easy to find. You don't have to deal with annoying pop-ups or sidebars that pop-out. And unlike a few other hyper-stylized online casinos, you're not left dealing with so many moving parts that you get motion sickness.
The Betroom24 games room also allows you to search by provider, which is something that you'll often see on Curacao casinos but something that seems to be overlooked by sites based in the UK.
Speaking of locations, you won't be able to play Betroom24 if you are in the United Kingdom, Sweden, or dozens of other major regions. It only has a license from the authorities of Curacao, and so it may not be available in your location.
Software and Games
There are more than 3,000 games listed on Betroom24, and these are provided by a host of popular developers. Some of the stand out creators here including the massive Microgaming, creators of the Mega Moolah progressive jackpot slot; Yggdrasil Gaming, who developed the Vikings Go Wild series, and NetEnt, which is loved by everyone.
You will also find games from Betsoft, a personal favourite of mine and one that knows how to create a good looking slot and some unique iGaming mechanics.
One of the things that surprised me about this site is that it doesn't have a sportsbook. I assumed, based on the name alone, that it would be on par with sites like Roobet in terms of its casino games and sports betting selection. But that's simply not the case.
On the plus side, it does have a wide selection of virtual sports, games that you will also find on Roobet and other top sites. These games are provided by creators like 1×2 Gaming, Leap, and Kiron Interactive, among others.
I would go as far as to say that Betroom24 has the largest selection of virtual sports that I have ever seen. In addition to the usual selection of virtual horse racing and virtual football games, it also has titles based on motorbike racing, cycling, golf, tennis, and more.
These virtual games work just like traditional sports betting markets. You make your bets beforehand and you can choose from a variety of different markets. Once you have placed your bets, the game/race/contest will begin and you just need to watch it unfold and see how your bet progresses.
The games are usually very short, and as soon as one of them ends, another one will be prepared. You have a short time to bet and can see the countdown to the next game at all times.
Virtual sports use random number generators, so they are very similar to Roulette in that respect. I recommend giving them a go if you like sportsbooks and are looking for a unique way to bet a few bucks.
Bonuses and Promotions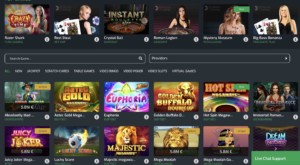 As a new player at Betroom24, you can qualify for a 100% Welcome Bonus of up to €250, along with 25 Free Spins. It has a minimum deposit of €20 and once you finish with the first deposit bonus, you can move onto a second and a third, getting a total of up to €1,000 and 100 Free Spins.
It occasionally advertises this bonus as 250% Welcome Bonus up to €1,000, but that's not quite the truth. In fact, it's structured as three different bonuses of 100%, 100%, and 50%, which is definitely not the same as 250%.
For comparison, if you deposit a total of €150 split three ways, you will get €275 in total. If you were to do that with a single 250% bonus, you'd get €525. It's a massive difference, I'm sure you will agree.
Still, Betroom24 is definitely not the first casino to highlight their bonus in this manner and the good thing is that everything is spelled out clearly when you actually collect.
In addition to this Welcome Bonus, Betroom24 players can also collect Reload Bonuses (Cashback, Free Spins, Matched Deposit Offers) and join a VIP program.
The latter is not quite as generous as the programs you'll find at Kingdom Casino and some other top sites, but it's definitely worthy of praise. It's always good to see a Loyalty Bonus.
Payment Options
As is so often the case with online casinos, including the recently-reviewed Ovitoons Casino, Betroom24 has some issues in the banking department. In fact, it's the same two issues that most smaller Curacao-based sites suffer from.
The first is the speed of the withdrawals, with Betroom24 holding onto most of them for up to four days. That's a ridiculously long time for a casino to be holding onto your winnings in this day and age.
Most of the sites I use on a regular basis process my payments straight away. And the ones that have taken a long time in the past, have since upped their game and are now much quicker. For a site that was launched as recently as 2020, Betroom24 is lagging behind.
The other issue is the withdrawal limit. As I have noted before, it's something that won't affect the average small stakes player, but for high rollers, it's a non-starter. The transactions are limited to just €1,000 per transaction, €2,500 per week, and €5,000 per month. You are also limited to €50,000 a year.
That might sound like a lot of money, but for someone gambling hundreds of Euros at a time, it's nothing and they'll eat into that limit very quickly. It's worth noting that these limits shouldn't affect progressive jackpots, as they are paid by the developers, but they can still apply to daily jackpots and fixed jackpots, and so it's possible to exceed those limits even if you are depositing less than €100 at a time.
On the plus side, Betroom24 allows players to use a huge number of payment methods, including both cryptocurrencies and fiat currencies. You can use Bitcoin, Ethereum, Interac, Trustly, Visa, and many more.
Highlights
Over 3,000 Games to Choose From
Bet with Cryptocurrencies and Fiat Currencies
Play on Mobile and Desktop
Collect a Three-Part Welcome Bonus
Join a VIP Program
Participate in Loyalty Bonuses
User Reviews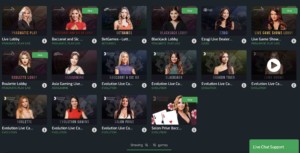 I have to commend Betroom24 for responding to its customers on user review pages. It is clearly interested in dealing with any complaints and negative comments that they make, and that's always good to see. However, the actual content of these responses is far from ideal.
Most major brands, and many online casinos, understand that you need to be polite, professional, and courteous at all times. The customer isn't necessarily always right, but that doesn't mean that you should belittle them or make backhanded comments. Sure, you can say that stuff in the office, but don't reply in that manner. It comes across as very unprofessional.
What a lot of these sites forget is that the purpose of responding to reviews is not to appease the reviewer, but to look good in front of new customers.
If someone says, "This casino is terrible. It made me cry. It also killed my dog." Your response should be, "Thank you for your review. We're sorry that you didn't enjoy your experience here, but if there is anything that we can do, please let us know and we'll do our best". Your response definitely shouldn't be, "Well, you're ugly, your dog was annoying, and you got what you deserved".
It's an exaggeration, but it's not too far off. The point is, that person is not going to change their mind because you called their dog annoying. You can't reverse their decision. What you can do, however, is make it so that everyone who reads that review immediately sees you as the nice, kind, and professional victim, and the review as an aggressive and over the top idiot.
Easy, right?
Let's look at some examples from Betroom24.
In one case, they responses by telling the reviewer their comments weren't objective:
"Giving us rate 1 of 10 after being cash outed 5 figure number On Time, Without Delays, Without any Additional Question and According to our T&C its just not the objective review."
Before going on to suggest that the reviewer was being hostile.
And then there's this:
"Instead of coming to our 24/7 Live Chat and ask for your current progress till VIP progam, you decided to come to AG and drop few bad words."
It's bad tempered, it's unprofessional, and it's also difficult to read. The English isn't great (I didn't fix the typos, as you can see), and it reminds me of those terrible restaurants on Gordon's Kitchen Nightmares. The ones that think it's okay to bad mouth their customers.
Of course, it's not quite as bad as Amy's Baking Company, but it still needs to be improved.
If I was reading this review as a prospective customer and not a reviewer, I would run a mile. Maybe I have high standards when it comes to that sort of stuff, but come on…They did such a good thing in responding to reviewers, but they dropped the ball with the actual content of those responses.
FAQs
Can I Play in the UK?
You will not be able to join Betroom24 if you are in the United Kingdom. In fact, you can't even access the homepage if you are in the UK or other restricted regions.
Where Can I Play Betroom24?
Some of the regions that Betroom24 seems to target the most include Canada, Norway, and Turkey. However, it's available in many more locations. Generally speaking, if you are able to access this online casino and are not greeted with a blocked homepage, then you are able to join.
What Currencies Can I Use?
You have several different options, including Euros, Canadian Dollars, and US Dollars. We have listed all available currencies underneath this Betroom24 review.
What Languages Can I Use?
Betroom24 can be accessed in English, German, Turkish, and French. You can select your preferred option when you first visit the online casino. Your choice is not set in stone, and you can change it throughout your experience with this online casino.
Can I Play on Mobile?
Betroom24 is fully supported on mobile, and you are free to play with Android and iOS devices. There is no download needed and this applies to both mobile users and desktop users. Just visit the site via your web or mobile browser and you'll be good to start playing.
Final Thoughts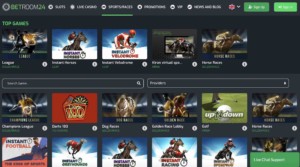 Betroom24 is far from a perfect online casino. It has a long way to go if it's going to compete with the likes of Oshi Casino, which sits near the very top of our list. The withdrawal limit is one of the minor issues and the slow withdrawals is a much bigger issue. I also mentioned the review responses above, but although these are indicative of some minor problems, at least they are responding.
In time, they might realise the errors of their ways and respond a little more professionally, but I'm certainly not going to mark them down for that.
Generally speaking, it's a safe, fair, and reputable online casino. It has some good bonuses, lots of great games, and complete mobile support. It's probably not going to be your number one online casino destination, but it's definitely worth joining.
Sign up, make a deposit, spend some credits, and take a look around. And regardless of what you think about the site, you can leave your comments below this review. We publish all of them—good and bad—and we promise not to respond with passive aggressive comments.
Betroom24 Casino Review Details
Restricted Countries:
Afghanistan
Albania
Algeria
Cambodia
Czech Republic
France
Hungary
Iran
Iraq
Israel
Italy
Netherlands
Slovakia
Spain
US
US (ex. NJ)
Languages:
English
French
German
Turkish
Currencies:
BTC
CAD
ETH
EUR
NOK
TRY
USD
XRP