Pros
Established Casino
Top-Tier Developers
Many Great Games
Fast Withdrawals
Traditional Currencies and Cryptocurrencies
Cons
Lots of Country Restrictions
Withdrawal Limit
Deposit Fees
GoldenLine Casino is owned by Mirage Corporation, a name we have encountered a few times here at CoinBuzz. Unlike Direx casinos, which are generally given very high ratings by our reviewers, Mirage casinos have been very hit and miss.
On the one hand, we loved Wolfy Casino and praised it for its pleasant aesthetic and its varied collection of online casino games. It's is arguably the best Mirage that we have come across and while that may not seem like a massive statement to make considering our indifference with this brand, Mirage has launched some great sites over the years.
….pleasant aesthetic and its varied collection of online casino games
On the flip side, you have sites like Space Lilly and WCasino.
Where the former is concerned, it tries very hard to be different and even somewhat quirky, but it comes across as very messy. We tend to be very critical of sites that don't have a clean and consistent aesthetic, and Space Lilly definitely falls under that umbrella.
As for WCasino, well, you just need to look at our WCasino review to see what we had to say about that one. It was good enough to make it onto our list, but it made too many mistakes for it to get the highest rating from us.
GoldenLine Casino certainly has the potential to be more like Wolfy Casino than WCasino, so let's see how it does in this GoldenLine Casino review.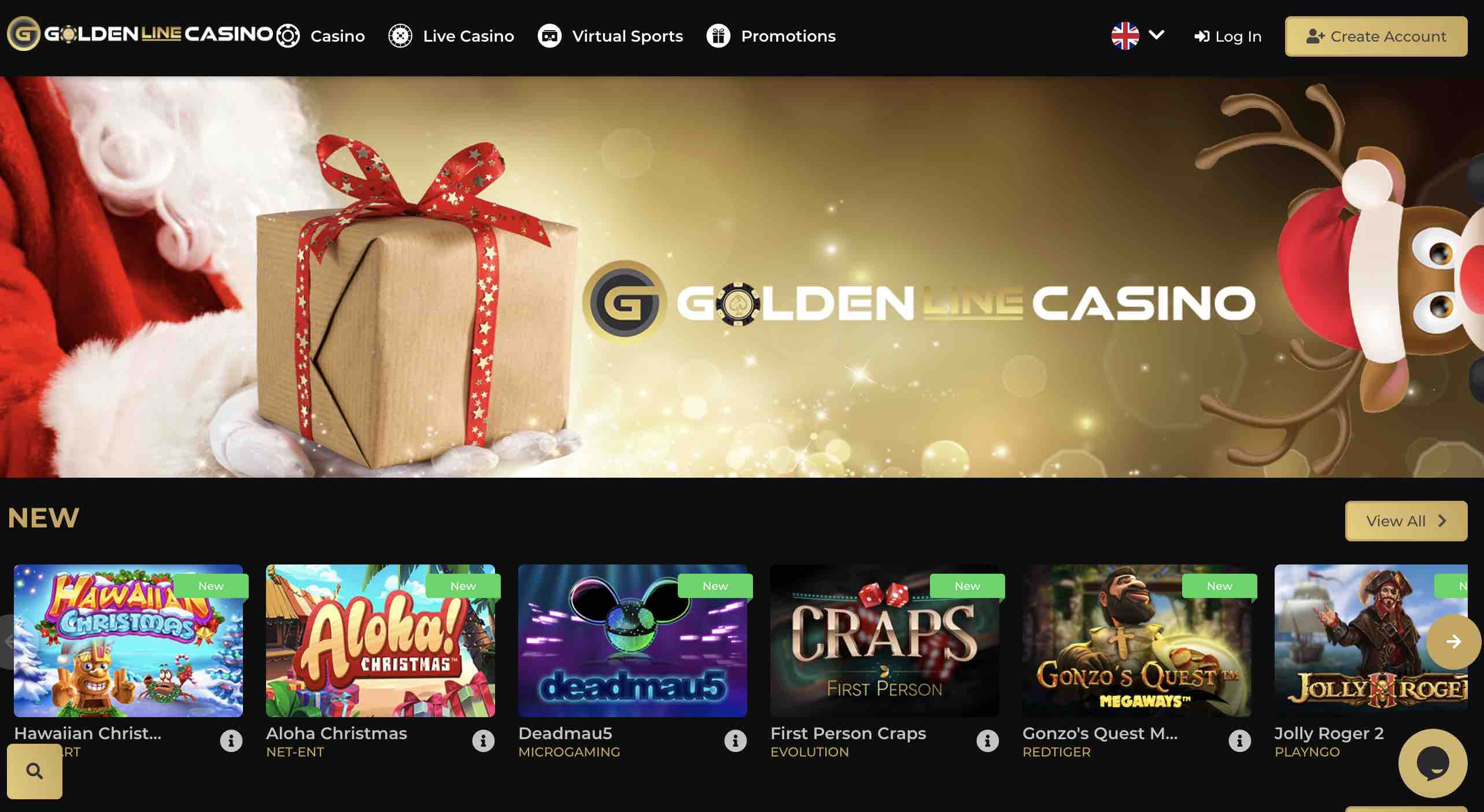 Games
We counted over two dozen different developers at GoldenLine Casino, including some big names like Betsoft, Blueprint Gaming, Microgaming, NetEnt, Play'n GO, Playson, Quickspin, Red Tiger Gaming, Wazdan, and Yggdrasil Gaming.
These are some of the biggest names in the iGaming industry and you have all of them at your mercy when you join GoldenLine Casino.
One of the first things that we do when we see so many big-named creators, is to see how many games they offer from those creators. When we did this with GoldenLine Casino, we were delighted to discover that they had more than just a few throwaway titles.
Betsoft, for instance, supplies over 40 games to the online casino, including the brilliant Rook's Revenge, Stampede, and Good Girl, Bad Girl. The same goes for NetEnt, and in addition to some of the developer's newer and more exciting titles, you'll find all of its classic games, such as Gonzo's Quest, Starburst, Jack and the Beanstalk, and Dead or Alive.
One of the things we love about the GoldenLine Casino games room is that it lets you search by provider but doesn't limit that search to a single one. Just open the drop-down box, select the developers you like, and click "Accept". This is ideal for players like us, because when we're playing and not reviewing, we tend to stick with developers like Betsoft, Blueprint, Yggdrasil, and NetEnt.
Bonuses
The GoldenLine Casino Welcome Bonus offers up to €1.000 and 125 Free Spins for all first-time depositors. This is spread over your first three deposits and you'll collect a 100%, 50%, and 100% offer respectively, providing you fund more than €20 each time.
At the time of writing, all of the Free Spins in this promotion are tied to the Wolf Gold slot by Pragmatic Play. It's not the biggest bonus, but it's still fairly generous and is somewhat similar to the Horus Casino bonus. Reload bonuses and Cashback bonuses are available, as well.
At any given time, you'll find three or four bonuses here and while they are nothing to write home about, they are still decent and will supplement your gaming.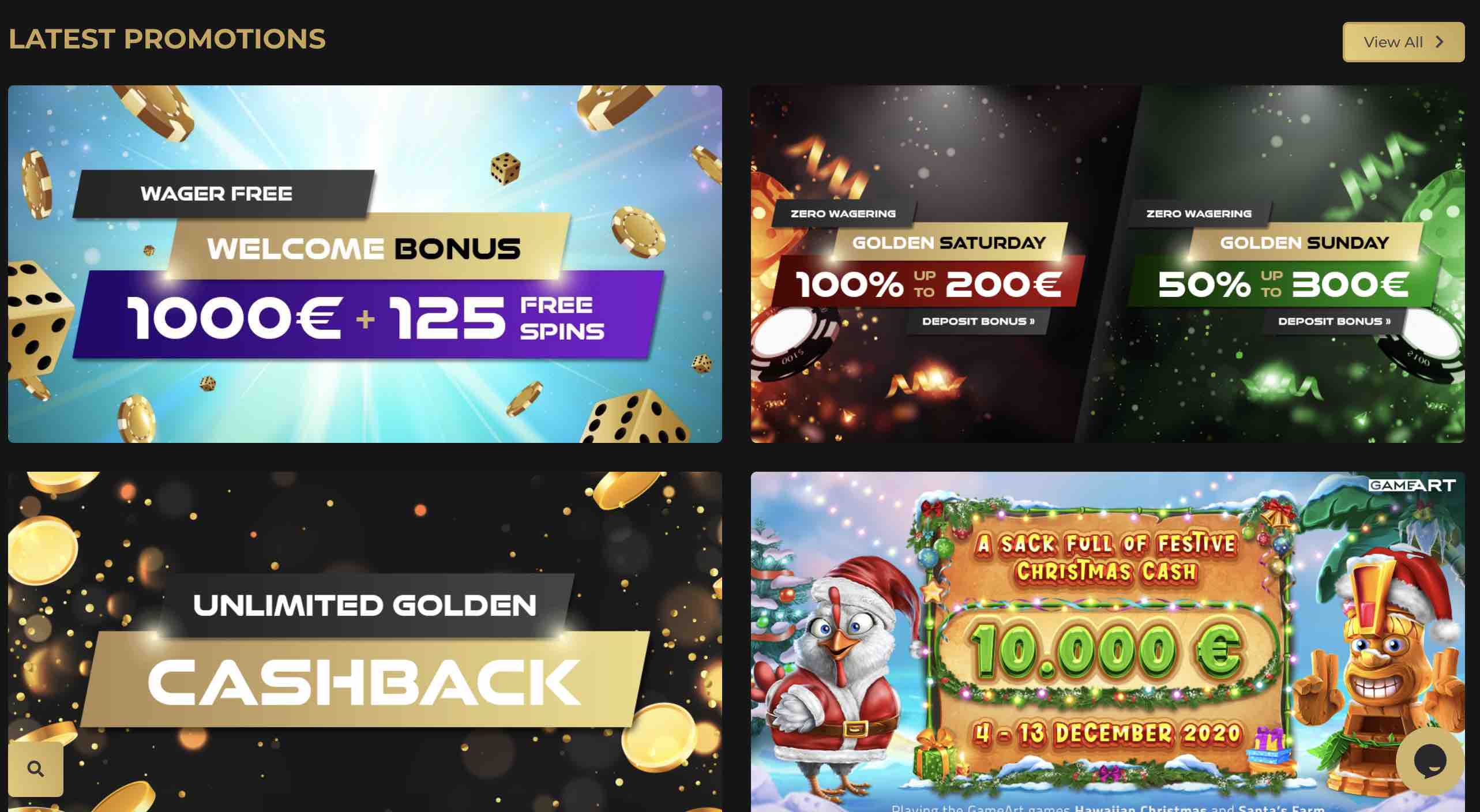 Banking Options
There are two big issues with GoldenLine Casino and they serve to dampen what is otherwise a great gaming experience. One of these is the withdrawal limit, which we have discussed below, the other is the fee, because apparently this is 1995 and casinos need to charge for deposits!
We understand it when casinos charge for bank transfers and credit card payments. We don't like it, as players also need to pay fees to their banks and credit card providers, but as the merchant is charged, it's understandable for them to want to pass those charges on.
However, there is no excuse for a casino to charge for Visa/Mastercard debit card deposits and it's absolute shocking that they charge for Skrill and Neteller payments!
In all cases, you will be hit with a 2.5% fee. Sure, GoldenLine Casino might argue that they need to pay near to this amount to process those payments, and so they ask the payers to cover the fee, but if that was a valid excuse then all casinos would be using it.
The reason sites like SlotsHeaven don't charge additional fees for basic deposit methods is because it angers players. What's more, the casino is earning money from most players in the long run, so they should be able to absorb that fee.
If an e-commerce site with a margin of less than 20% can absorb a 2.5%, then we're sure that an online casino, which is basically a license to print money, can do the same.
GoldenLine Casino does have a decent selection of payment options and it caters well for cryptocurrency users, but we can't help but feel bad for Neteller/Skrill users. Over 90% of the casinos we review accept these payments, but the majority of them exclude them from Welcome Bonuses and other offers. Not only do they have to put up with that disappointment, now they have casinos charging them extra for a basic service!
There is no fee for withdrawals, but before you think about praising the casino, the minimum withdrawal amount is €40 for all traditional payment methods.
€40…that's insane!
Many small stakes players are depositing €10 or €20 at a time and if they can spend a couple of hours gambling and then withdraw their deposit amount, they're delighted. At GoldenLine Casino, that isn't possible.
The average minimum withdrawal is €20, and some allow withdrawals of as little as €10. So, while €40 may not sound like much, it's 2x to 4x higher than the average.
Limits
And now for the second issue that we have with GoldenLine Casino payment options: the withdrawal limit. Before we reviewed this site, we checked some other reviews and a couple of them seemed to suggest that GoldenLine Casino didn't have a withdrawal limit, either stating that fact outright or neglecting to mention one.
We were delighted by that fact, as we're sick of seeing withdrawal limits on BTC casinos, but that delight soon faded when we entered the cashier and a €4.000 limit stared back at us. They state that this doesn't apply to cryptocurrencies, and that might be the case, but we have seen those statements before and in all cases (with no exceptions) the cryptocurrencies were limited to the same amount.
Generally speaking, if a casino has such a small limit for its traditional payment methods, don't expect it to be so generous with cryptocurrencies.
Another issue we have with GoldenLine Casino is the fact that all deposits need to be wagered at least once before they can be withdrawn.
For example, let's imagine a scenario where you go to deposit €10 but accidentally deposit €100. In your panic, you immediately try to withdraw €90, otherwise you won't have enough to pay the bills that money.
On most casinos, you can only withdraw when you have waited for 24 to 48 hours, as it's a method used to avoid money laundering. On GoldenLine Casino, you can only withdraw when you have wagered all of that €90 at least once. If you lose it, as you might (it is a gamble after all) then you've just lost your bills for the month!
This may sound far-fetched, but we've been in that situation several times over the years on several different sites. On one occasion, the cashier timed out, we assumed the deposit has failed and we tried again, only to realize we had deposited twice as much money as we should have done. Another time, we added an extra 0 to a deposit of €200 when we were distracted.
On both occasions, we were playing at sites that allowed us to withdraw the extra cash immediately. If we had been using GoldenLine Casino, it wouldn't have been so easy.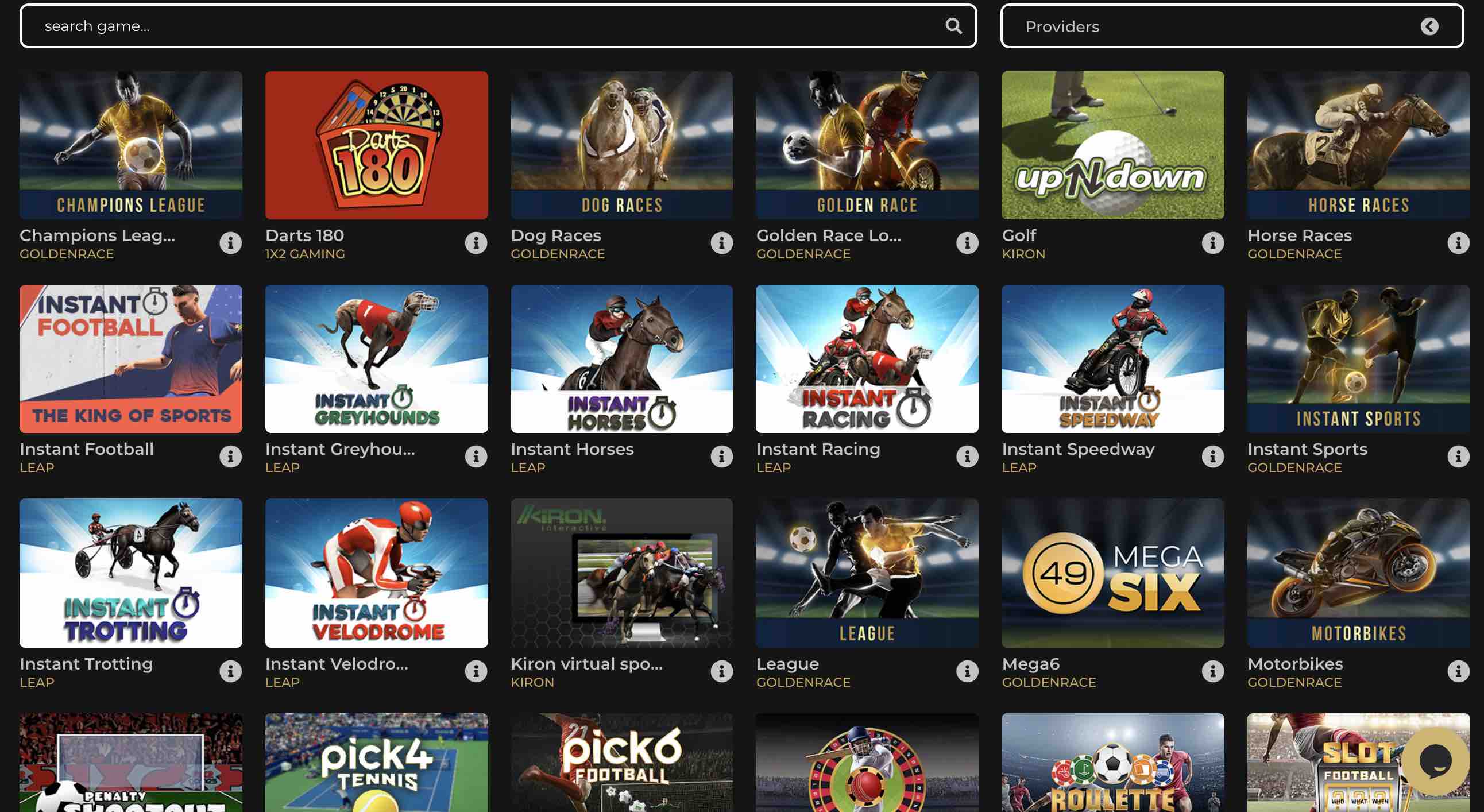 Highlights
Choose from a Host of Great Games
Get your Winnings in a Few Hours
Lots of Different Payment Options
Dedicated and Helpful Customer Support
Owned by an Established Operator
Reviews and Support
In many of our casino reviews, including a recent review on 7Signs Casino, we have spoken about the importance of responding to user reviews. It's not something we want to repeat—if you've read these reviews, you've seen what we have to say and why we think it's important.
We will note, however, that GoldenLine Casino does this and it does it well. It shows gratitude to players who praise its casino and it tries to find a solution for those players who have something negative to report.
It takes the support team just a few minutes to make this commitment and yet it makes a massive difference to how players perceive the casino. In fact, it greatly raised our opinion of GoldenLine Casino.
We also tried contacting the support team directly and found them to be very friendly, professional, and helpful. This is one of those things that so many casinos get wrong, and yet it's something that we consider essential.
Every e-commerce store and indeed every brick-and-mortar store understands how important it is to offer top-level support. The same goes for any company selling services online or offline, and it also applies to land-based casinos and sports books. But for some reason, it's something that is not that common in the online casino sector.
We need sites like GoldenLine Casino to buck the trend and commit to this often-overlooked aspect, as it helps to change this sector for the better.
Of the negative comments that we found, many talk about minor issues, such as bonuses that didn't activate quickly. But many of them also note that the issue was resolved following a brief chat with the customer support team, and you can't ask for much better than that.
There isn't much else to report where GoldenLine Casino user reviews are concerned. It's still a very new casino, and so many players are only just being introduced to it. If you do decide to join, please let us know your thoughts in the comments below this page. All comments are accepted (providing they're not obscene or spam!) and we're genuinely interested in reading about your good and bad experiences with sites like GoldenLine Casino.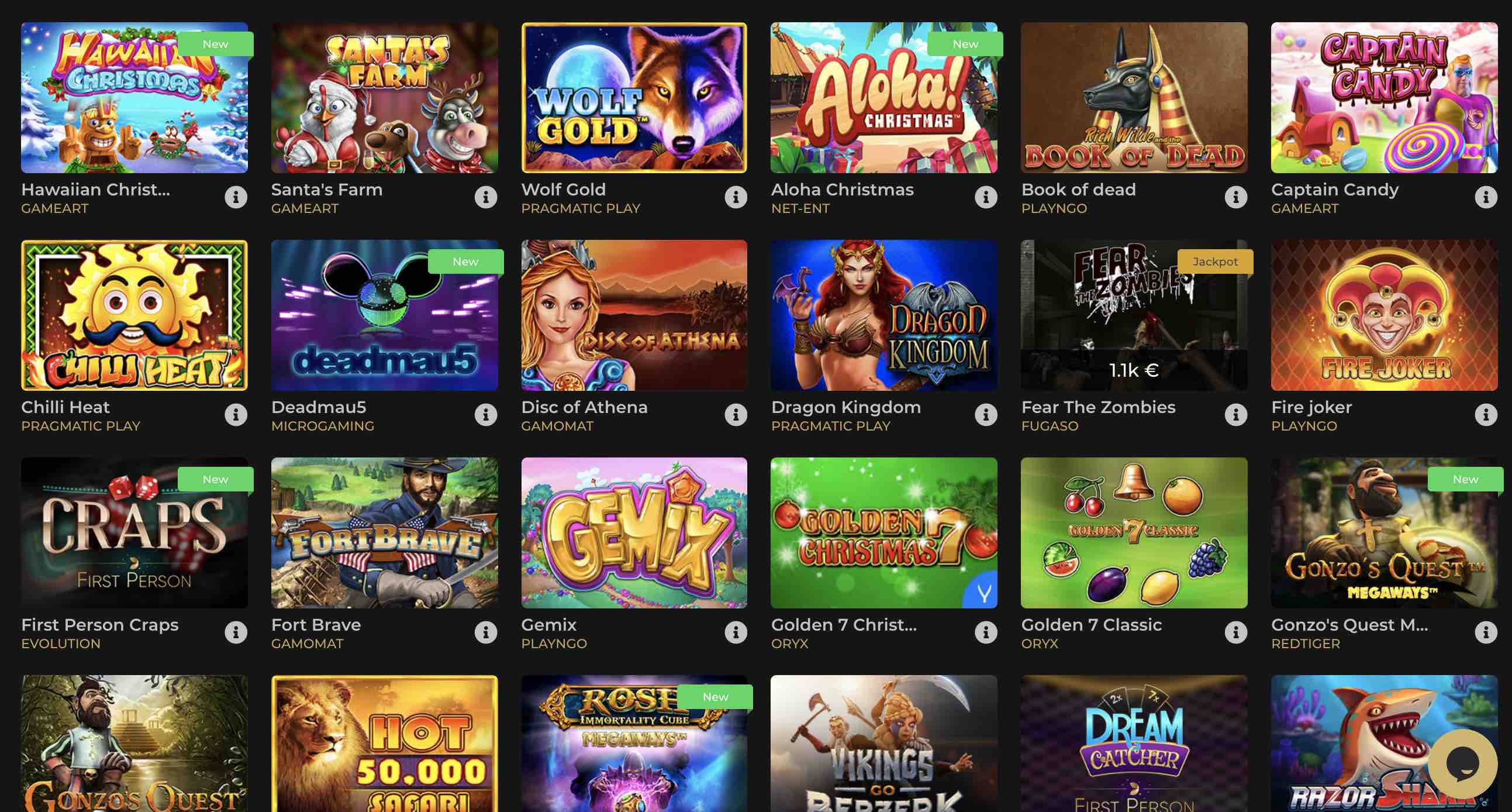 FAQs


Where is it Licensed?Who Owns the Site?

Mirage Corporation is the company behind GoldenLine Casino, acting as the owner and the operator.

What Languages Can I Use on the Site?

You can access GoldenLine Casino in English or German.

What Currencies Can I Use?

There are several currencies available at GoldenLine Casino, including Euros and US Dollars. Scroll down for more information.

What is the Withdrawal Limit?

GoldenLine Casino has a transaction limit of €4,000, which means that you can't withdraw more than this during a single transaction.
Final Word
GoldenLine Casino was one of many online casinos to launch in 2020. We've been reviewing online casinos and slots for over 7 years and it feels to us like 2020 is the busiest year of them all.
We've seen creators like Direx, Araxio, DAMA, and Mirage launch a glut of online casinos and sports books in 2020, and that just covers the ones that accept Bitcoins and other cryptocurrencies. Once you add the many traditional casinos, poker rooms, bingo sites, and sports books to the mix, it's hard to imagine any year topping 2020.
It's fair to say that the gambling and gaming industry had a very good year—it's just a shame that everything else was so terrible!
GoldenLine Casino isn't quite on par with some of our favourite casinos to launch this year, nor does it compare to offerings from previous years. It gets a lot of things right, but it has a few frustrating terms and restrictions when it comes to its payment options and these left us more than a little annoyed.
However, it's still a very solid effort from an established creator, and if you're looking for a new virtual home to play slots, table games, and more, it could be just what you need.
Even if you're not planning on staying for the long haul, we recommend taking a look and grabbing whatever bonuses you're entitled to. If you're looking for something a little more substantial, something that will cater to your needs over the long-term, you may be better off with a site that has a generous Loyalty Scheme like Champagne Spins Casino.
GoldenLine Casino Review Details
Restricted Countries:
Afghanistan
Albania
Algeria
Cambodia
Czech Republic
Estonia
France
Hungary
Iran
Iraq
Israel
Italy
Netherlands
Poland
Singapore
Slovakia
Slovenia
Spain
Sweden
Switzerland
UK
Ukraine
US
Currencies:
BTC
CAD
ETH
EUR
RUB
USD
XRP