Pros
Lots of Games Top-Tier Developers Good Theme Bitcoin-Friendly Support for Mobile
Cons
Customer Support Issues Withdrawal Limit Bonus Terms Slow Withdrawals
Ancient Egypt isn't the first thing that comes to mind when you think of online casino gambling, but these two worlds have been intertwined for years. This popularity seems to have been cemented back in 2012, with the release of the massively popular Cleopatra slot, but in truth, it had made many appearances before then.
Although we're not sure when or how the connection was made, what we do know is that this industry loves Ancient Egypt and Horus Casino has jumped on the bandwagon.
The casino takes its name from Horus, a powerful and important deity who was said to rule the skies. He was the Egyptian equivalent of the Greek and Roman Apollo and was often depicted as a man with the head of a falcon. It's from Horus that we get the famous "eye of Horus" symbol, which actually features (below a representation of the god) on the casino's logo.
The casino takes its name from Horus, a powerful and important deity who was said to rule the skies.
As you would expect, Horus, and Egyptian gods in general, feature prominently throughout Horus Casino. This imagery is used on the casino's promotional material and it also features a few similarly themed real money slot machines.
In this guide, we'll take a closer look at Horus Casino and explore these games, this theme, and everything else you need to know.
For other slots themed around ancient civilisations, take a look at our Argo Casino Review.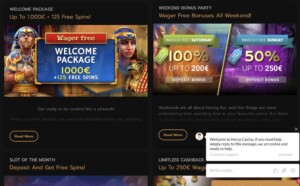 Bonuses
Horus Casino is owned by a company known as Mirage Corporation N.V.
If that name sounds familiar, it's probably because we have written about some of their projects in the past. In fact, we have been very critical of Mirage casinos and have yet to give this brand the sort of marks we reserve for some of our favourite brands.
For instance, this is the same creator behind WCasino, a site that has been active for a few years, but still features some blatantly obvious typos and mistakes, not to mention an atrocious interface.
It's not the only one, either. But let's not get into that, as we're here to review Horus Casino and not trash talk its sister sites.
On the plus side, Horus Casino actually looks a lot cleaner than the aforementioned site and it's clear that the creators have spent more time and money ensuring it looks and feels right. It has a simple but effective layout, the aesthetic isn't too "in your face", and it doesn't make the often-repeated mistake of over-simplifying or over-complicating.
The desktop casino looks just as good as the mobile one and we don't feel like either are cheap adaptations. We often complain about the use of hamburger icons and pop-up sidebars on desktop casinos, as these features are clearly designed for mobile sites. Horus Casino doesn't make this mistake and has a fixed sidebar that contains everything you need.
The site launched in 2019 and has a license from the authorities of Curacao. It can be accessed in German, Spanish, Norwegian, English, and there is support for several currencies, including Australian Dollars, US Dollars, Euros, and Russian Rubles.
Take a look at the table below this Horus Casino review for more information on the casino's basics.
Games
Horus Casino's mobile-friendly and desktop-supported online casino works with a multitude of iGaming developers, including Big Time Gaming, Microgaming, Pragmatic Play, Quickspin, Wazdan, and Blueprint Gaming.
Evolution provides the Live Casino and you can peruse a wide variety of gaming categories and options, including everything from scratch cards and jackpot games to Blackjack, Roulette, and real money slot machines.
You'll have plenty of options at your disposal and can explore hundreds of titles.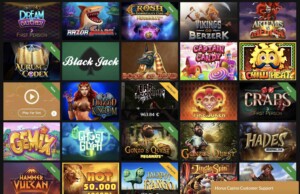 Bonuses
You can collect up to €1,000 and 125 Free Spins when you join Horus Casino as a new member. Just make sure you read the Terms and Conditions first.
The bonuses claim to be completely wager-free, but this probably doesn't mean what you think it does. There are wagering requirements for cash and credit bonuses and there are very low maximum cash outs for all other bonuses.
Other bonuses are available, and many of these have similar issues with bonus terms. One of the best of these is the VIP Program, which gives you points every time you play and allows you to turn these into cash, credits, and more.
Some of the benefits of joining the Horus Casino VIP Scheme include:
A VIP team to handle your queries and issues
Free Spins offered on a weekly basis
Higher cashback rates
Exclusive bonus offers
Your very own VIP manager
Unique promotions
They also claim to offer additional "small tokens of appreciation", along with a higher level of service. It's not the best VIP scheme and falls short of Loyalty Program offered by Slotsheaven and other dedicated online casinos, but it's well worth a look, nonetheless.
Banking Options
Horus Casino accepts online bank transfers, e-wallets, cryptocurrencies, and more, with methods including Bitcoin, iDebit, Interac, Visa, Neteller, Ethereum, Litecoin, and Ripple, to name just a few.
You won't be charged a transaction fee but you will need to deposit at least €20, or the equivalent in your preferred currency. This is a little on the high side but is acceptable for most players. In fact, many casinos have a minimum deposit of just €10 but require €20 to qualify for bonuses. This causes confusion and leaves a lot of players angry and frustrated.
By setting the minimum deposit at the same amount as the bonus requirement, it removes this confusion. Of course, it's a push for players who typically deposit between €5 and €10 at a time, but let's be honest, those players are in the minority and even the ones that are limited to those levels are happy to stretch the budget a little.
The real problem is with the withdrawals. Not only do you need to withdraw a minimum of €30, but there is a processing time of 48 hours. This means that if you use a debit card, it could take a week before you get your winnings.
And while €30 might not sound like much or cause many issues, it's much higher than the typical limit of €10. In fact, it's rare that we've seen this requirement stretch beyond €20.
On the plus side, it drops to the equivalent of €25 when you use cryptocurrencies.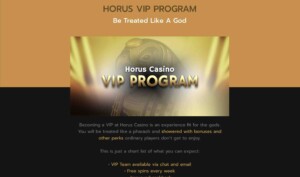 Limits
Horus Casino has pretty restrictive withdrawal limits. You can't withdraw more than €1,000 when using most common payment methods, including cryptocurrencies. Most frustratingly, Horus Casino clearly states that jackpot wins will be limited to payouts of just €5,000 a week.
This is an online casino that hosts several major progressive jackpot slots, and yet it limits the amount you can withdraw using these slots. For example, if you're lucky enough to scoop a win of €1 million, you will be over the moon and will no doubt prepare yourself for a lifechanging windfall.
However, you better cut those celebrations short, because thanks to this frustrating withdrawal limit, it will take you 50 months to collect your money in full.
That's over 4 years!
It will be a year before you collect enough to buy a house outright, and that's based on the assumption that you actually collect the money over time and don't spend it as it arrives.
It's annoying, and it's a subject we have covered many times in the past, including our review of Fezbet Casino. We don't want to repeat ourselves here, but needless to say, if you're a high roller or someone who mainly targets lifechanging jackpot wins, this probably isn't the casino for you.
Highlights
Good Selection of Games
Great Developers
Multiple Bonuses
Jackpot Titles
VIP Program
Reviews and Support
Horus Casino responds to negative customer reviews left on third-party websites. This is always good to see, but in this case, it's far from perfect.
Firstly, the casino doesn't respond to all reviews and seems instead to cherry-pick the negative ones. This is problematic for several reasons. Firstly, it's generally good practice to respond to all reviews, good and bad. You need to thank the people who praise your work, showing them that you're attentive.
It's also a good sign for prospective players and reviewers as it suggests that you will respond to their reviews should they leave one.
As for the second issue, we feel that they are a little too "by the book" and not very helpful. Players are leaving frustrated reviews about apparent unlawful suspensions, rigged games, and other such complaints. Reviews of this type are perfectly normal in the online gambling industry and you will even find them for highly rated sites like Bitstarz.
However, they are generally unfounded. Your goal as a casino is not to call them out and refute them, but to politely remind them that your games are audited and secure, before apologising for any inconvenience caused and letting them know they can contact you to speak further about their grievances.
The customer isn't always right, but your goal as the business is to make them think they are and to appease them as much as possible.
As an example, it responds to one bonus complaint with an opening of "please know that, you cannot register in our casino without reading and agreeing to our T&C which we take very seriously."
While it might be true that they take the Ts and Cs seriously, it's nonsense that a player "cannot register" without reading them. A casino doesn't actually expect a prospective player to read through dozens of pages before joining.
They just click the button and move on, and by making this statement, you're suggesting that anyone that does that is liable and that your terms and not in line with industry standard.
After all, if they were, anyone who has ever played at an online casino would know what to expect and wouldn't need to literally read the small print.
For another example, the following was used in reply to someone who was clearly angry about losing and called the casino "suspicious".
"…your review seems that you want to insinuate something with your word "suspicious" but if you know the slots are based on the RTP no one can always and only win otherwise no one will work anymore and just play slots! ;)"
It's more than a little patronizing. And again, while it might be true, that's not how it should be worded. If a player makes a potentially libellous comment, ask for the review to be removed or ignore that comment while focusing on everything else.
Last but not least, while they respond to negative reviews with variations of "Read our Terms and Conditions", they ignore reviews that have other complaints. We have seen several reviews complaining about slow and unhelpful customer support, and these didn't receive a reply.
It's probably because they can't blame the Ts and Cs and suggest it's the player's fault, and as they don't want to admit fault, they just pretend it isn't there.
Maybe we're nit-picking, maybe we're reading too much into all of this, but it's frustrating to see this sort of thing. We feel like 99% of the e-commerce world knows how to respond to reviews and deal with customers, but when it comes to online gambling, it's the opposite, with 99% not having a clue.
Hopefully, if we continue moaning about this issue, casinos will begin to sit up, take notice, and stop making these mistakes.
FAQs
Is it Safe?
It uses the best software and safety protocols, so it is very safe and secure.
Is it a Good Site for Small Stake Players?
You should be able to play freely here if you are a small stake player. Sites like this were made for casual and small stake gamblers.
Is it a Good Site for High Rollers?
Due to the restrictive withdrawal limit, we would argue that this is not a great site for high rollers.
What Languages Does it Accept?
The site can be accessed in English, Spanish, Norwegian, and German. There are several different currency options, as well.
Are There Better SItes?
There are a lot of better sites out there. It's not a bad site, but it's still worth checking out some of the others after you have finished here. For example, Savarona Casino has a lot to offer.
Final Word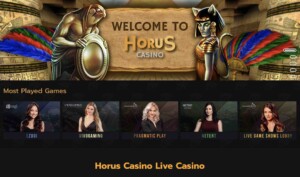 Mirage casinos tend to have a lot of potential, and only fall short when they make a few frustrating mistakes. Horus Casino is one of the better ones we have encountered, but it still suffers from these issues.
The withdrawal limit is inexcusable, as are the limits applied to jackpot wins. Players need to know that they can get their winnings quickly and without issue, no matter how much those winnings are. Once you place such restrictions on them, you take away the joy of scooping a big win and turn it into a frustrating and doubtful experience.
In any case, Horus Casino does have good bonuses, a decent theme, and a VIP program. It's not going to compete with the likes of Fortune Jack and other highly rated Bitcoin casinos, but it's certainly a worthy addition to your online gambling arsenal.
Horus Casino Review Details
Restricted Countries:
Afghanistan
Albania
Algeria
Cambodia
Czech Republic
Estonia
France
Hungary
Iran
Iraq
Israel
Italy
Netherlands
Singapore
Spain
Sweden
Switzerland
UK
US