Pros
Lots of Bonuses
Great Games
Nicely Designed
Promising New Site
Mobile Friendly
Cons
Occasional Site Issues
Withdrawal Limit
Limited Phone Support
The Curacao-licensed Rabidi N.V. is the owner and operator of 7Signs, an online casino that explores some unique themes, bonuses, and other elements. It's not a big name, and at the time of writing this review, 7Signs is actually the only casino tied to this brand, but everyone has to start somewhere and if the site is good, who cares how well known or otherwise its owner is?
…an online casino that explores some unique themes, bonuses, and other elements.
7Signs is one of the many online casinos that launched in 2020. It was a huge period year for the online gambling industry (although it was a terrible year for everything else) and some of our favourite BTC casinos were launched during this chaotic and unforgettable period.
Although it's owned by an operator that hasn't created any other casino, 7Signs has a very familiar vibe to it. In fact, we spent some time perusing the site and playing its games before we even checked who the owner was, and we were sure that it was an Araxio Development casino.
If you have played Araxio casinos in the past, including the brightly-coloured Cadoola Casino, you'll no doubt see the similarity yourself. It's not just the theme, either, because as we'll discuss in the Payment Options section, 7Signs makes the same mistake that every other Araxio casino has made in the past.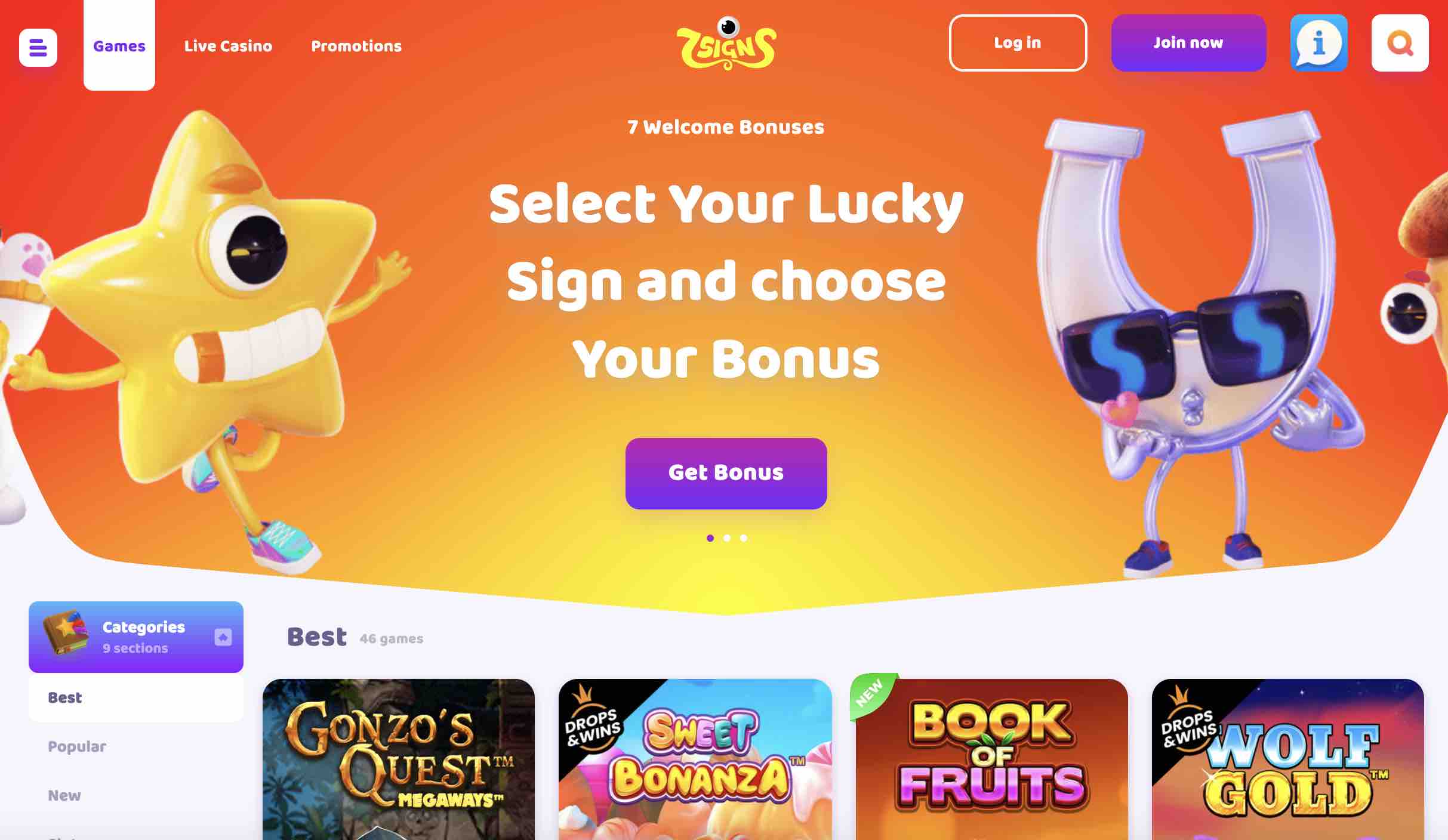 Basics
7Signs is an explosion of colour, cuteness, and weirdness. It's one of those aesthetics that we're not sure if we love or hate—like Marmite, only it's not a disgusting blob of mouldy armpit sweat.
In some ways, the 7Signs theme reminds us of Tsars Casino, mainly because it's filled with colour and looks good on mobile. In reality, it's nothing like that site, but that's the vibe we get and if you have ever played Tsars, you'll see what we mean. Everything is neatly arranged, nothing is too cluttered, and we personally found it very easy to search the site and find the games we were looking for.
The main different between 7Signs and Tsars is that the former is much more in-your-face and while we usually hate that, it works very well here. We noted how Tsars was pretty sparsely occupied and suffered as a result. 7Signs goes the other way.
The idea behind 7Signs Casino is that players can choose from seven different lucky charms, each with its own unique features and benefits. There are three steps to the registration process and the first entails choosing your charm, after which you'll be asked a few basic details and can then make a deposit.
Take a look at our sections below to learn more about the benefits of these signs and the many different payment options you can choose from.
Games
As good as 7Signs looks on desktop and mobile, we had some minor issues with page loads and slots. It seemed to work fine on desktop, but the problems increased on mobile. Initially, we assumed these problems were stemming from our device and not the casino, but then we noted that a few other reviewers had reported similar issues.
On the plus side, it's a brand-new casino and we reviewed it just a couple of months after it launched, so there is a good chance that these issues will be fixed soon. And if not, it doesn't really matter, as they only impact a small number of slots and you can still play hundreds of top titles.
Speaking of top titles, the bulk of this casino's games are provided by NetEnt, Yggdrasil, and Betsoft, two top developers that we have discussed extensively. We're always happy to see these guys on a list of casino games and are naturally drawn to them because of their brilliant graphics and innovative features.
Other big creators include Quickspin, Habanero, and Ezugi. It's not the biggest list of gaming developers we have seen, far from it. If you're looking for a vast online casino like Wild Tornado, this is not it.
It's very niche and has a limited selection, putting quality before quantity. But that's not necessarily a bad thing. While we generally prefer casinos that have 1.000+ and even 4.000+ games, we'll happily settle for a casino with just a couple of hundred games if they are supplied by exciting and innovative creators.
7Signs also does a very good job of separating its games into different categories. You can choose from Collections such as "Adventure", "Classic", "Fruits", and "Fantasy", as well as "Features" like Tumbling Reels, High Volatility, and Pays Both Ways.
The casino also has games from Big Time Gaming, so you'll find plenty of Megaways titles here as well. If you know about online slot developers and can tell their games apart, we recommend skipping the aforementioned category choices and searching by provider instead.
Last but not least, it's worth noting that 7Signs has a Live Casino provided by Evolution Gaming. There are close to 30 different games available in this section of the site, including Live Dealer games of Blackjack, Roulette, and Baccarat.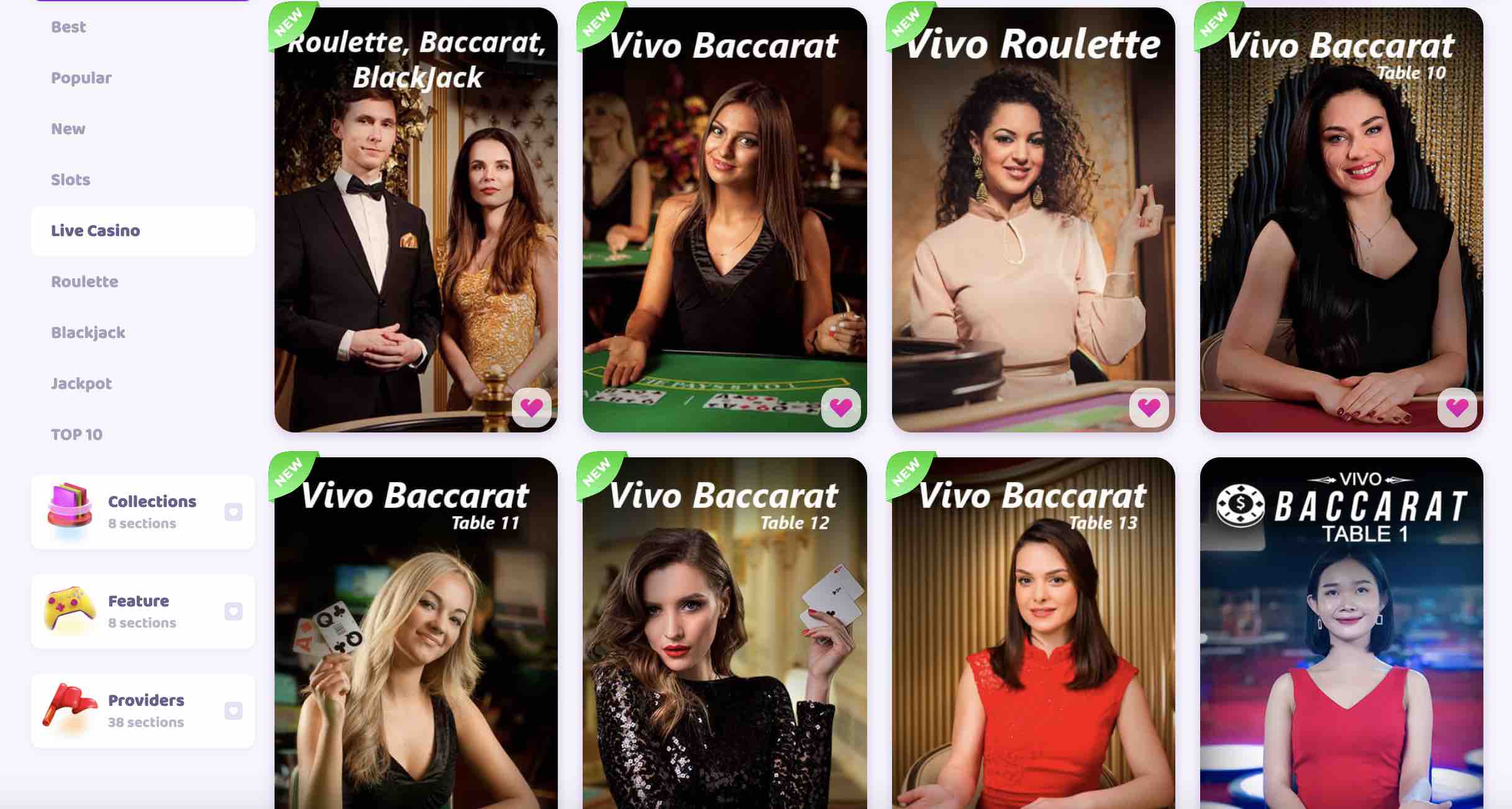 Bonuses
As discussed already, 7Signs asks all players to choose from one of seven different charms. Every charm has a different Welcome Bonus attached, so we recommend taking a look at all of them to better understand what they offer and which one is best suited for your needs.
We have listed the options below, just bear in mind that the bonuses are subject to change and may be slightly different when you join. Also, there are no official names listed for these charms and they're all a little weird, so we're just taken a shot at explaining them:
Lucky Chinese Gold Coin: Up to €3.000 in three different bonus features.
Goldfish with Crown: Free Spin for every €1 of your first deposit.
Lucky Horseshoe: A single Welcome Bonus of up to €1.000.
Lucky Cat: A Live Casino Cashback award of up to 15%.
Pink Unicorn: A 10% Cashback offer on all games.
Golden Kernel: A 200% Welcome Bonus.
Golden Star: A 100% Welcome Bonus up to €500.
If you have read our Nomini Casino review, you will notice the similarities, as that site also offers a multitude of different bonuses, including many similar ones.
The "Golden Kernel" is our personal favourite Welcome Bonus here. And we put that in parenthesis because we have no idea what this actually represents (answers on a postcard please). But one of the great things about this bonus system is that all of the offers are equally weighted, which is actually quite rare.
Of course, at first glance, some of these bonuses seem much better than others. For instance, you could be forgiven for thinking that the Cashback offers were useless when compared to the others, but they actually have higher maximum limits and better terms than the other bonuses, making them ideally suited to high rollers.
The higher the initial offer, the more likely it is to target small stakes players. So, don't just focus on the big numbers and be sure to check the Terms and Conditions before you go any further. You can find all of this information in the "Promotions' section of the 7Signs website, as it's not listed on the actual sign up page.
As with all good online casinos, the generosity doesn't end when the Welcome Bonus does. You can take your pick of several other top promotions, including all of the following:
Weekend Reload Bonus of up to €700 and 50 Free Spins
10% Live Casino Cashback of up to €150
15% Weekly Cashback of up to €3.000
Drop and Wins of up to €4.600
7Signs also has a Loyalty Scheme—the icing on the cake. It's not quite on par with the SlotsHeaven Loyalty Scheme or some of the others that we have covered in the past, but it's impressive, nonetheless. Every time you play, you'll earn points, and if you have enough of them you can swap them for bonus credits.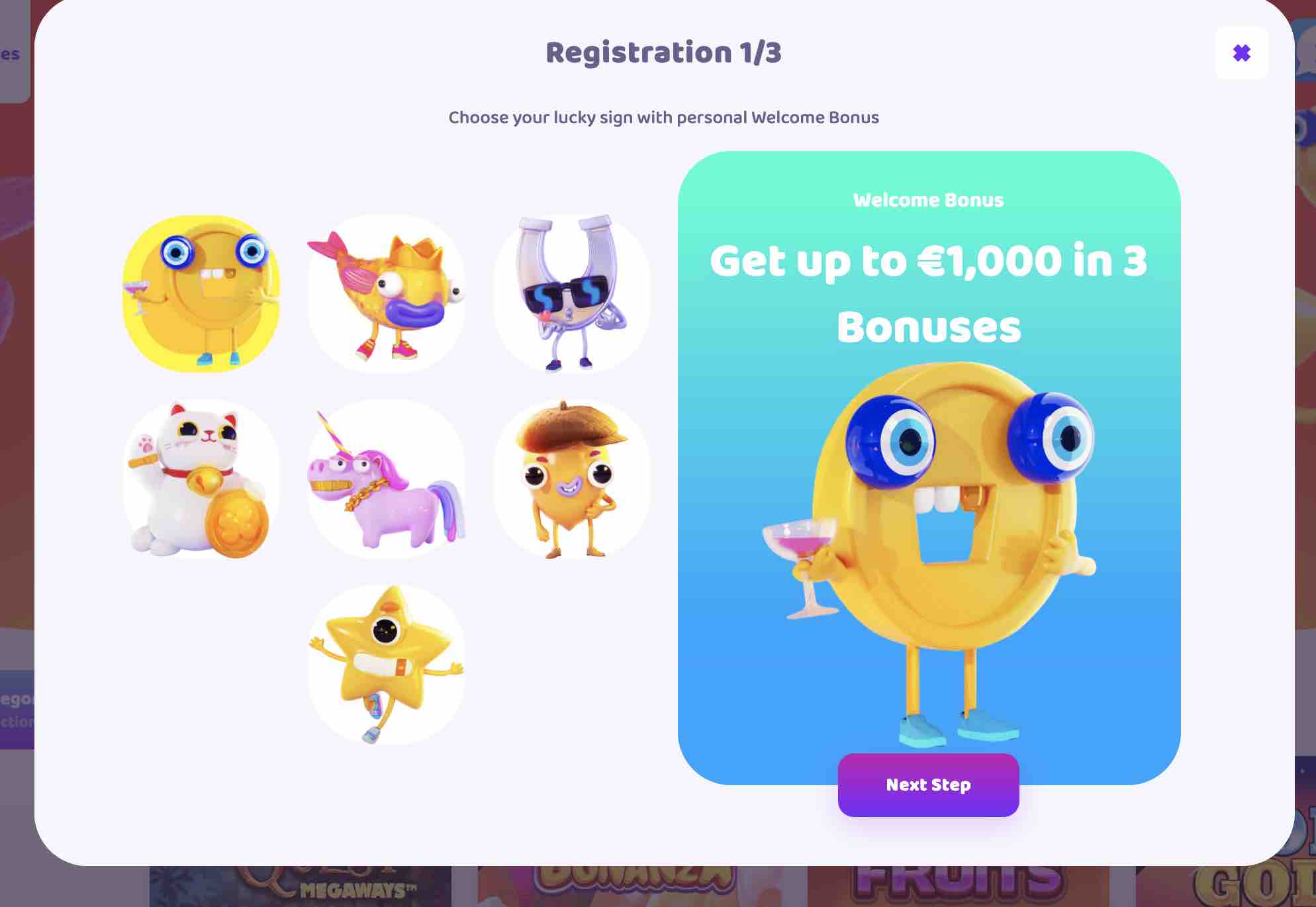 Banking Options
7Signs accepts an abundance of different payment options, including Bitcoin, Litecoin, Skrill, Neteller, Visa, Ethereum, Mastercard, PaySafeCard, and more. Most of these methods are easy to use and will process your withdrawals in just a day or two, but others can take up to 4 days to process. This is a problem if you're using Visa or Mastercard, as it means you'll need to wait up to a week in total to get your cash.
It's not ideal, and we would expect more from a modern casino, especially when you consider how quick other BTC casinos are. Bitstarz, for instance, processes payments more or less at the click of a button, and that's how we think all sites should be. If they do insist on a pending period, it shouldn't take more than an hour. There really is no need for an online casino to task players with waiting several days for a payment to leave "Pending" status.
This is not the only issue that we have with 7Signs. We previously mentioned that 7Signs has something in common with Araxio casinos like Casinia. The first similarity is the stylish layout and the modern look, but the main similarity is the incredibly weak €500 daily withdrawal limit.
We have complained about this withdrawal limit on pretty much every Araxio casino review that we have written, and every single one of them deserved those complaints. You can't expect to succeed if you prevent half of your target demographic from using your services.
Not only are you limited to withdrawals of no more than €500 a day, but you can't exceed €10.000 a month and this is true for all wins, jackpots included. Imagine getting lucky, striking gold, and realising you've just won €200.000 following a big €20 slot spin, only to discover that it will take you a total of 20 months to get your money.
Of course, if you're the sort of player who spends €20 on a single slot spin, you shouldn't be going anywhere near this site. We hate to say it, as we actually really like 7Signs, but if a site can't withdraw a simple 100x win, which happens all of the time, you should take your custom elsewhere.
In fact, we recommend giving 7Signs a miss if you typically spend anywhere upwards of €2 per spin.
Highlights
Betsoft and NetEnt Games
Choose from 7 Bonuses
Join a Loyalty Scheme
Play on your Mobile
Responds to all Reviews and Complaints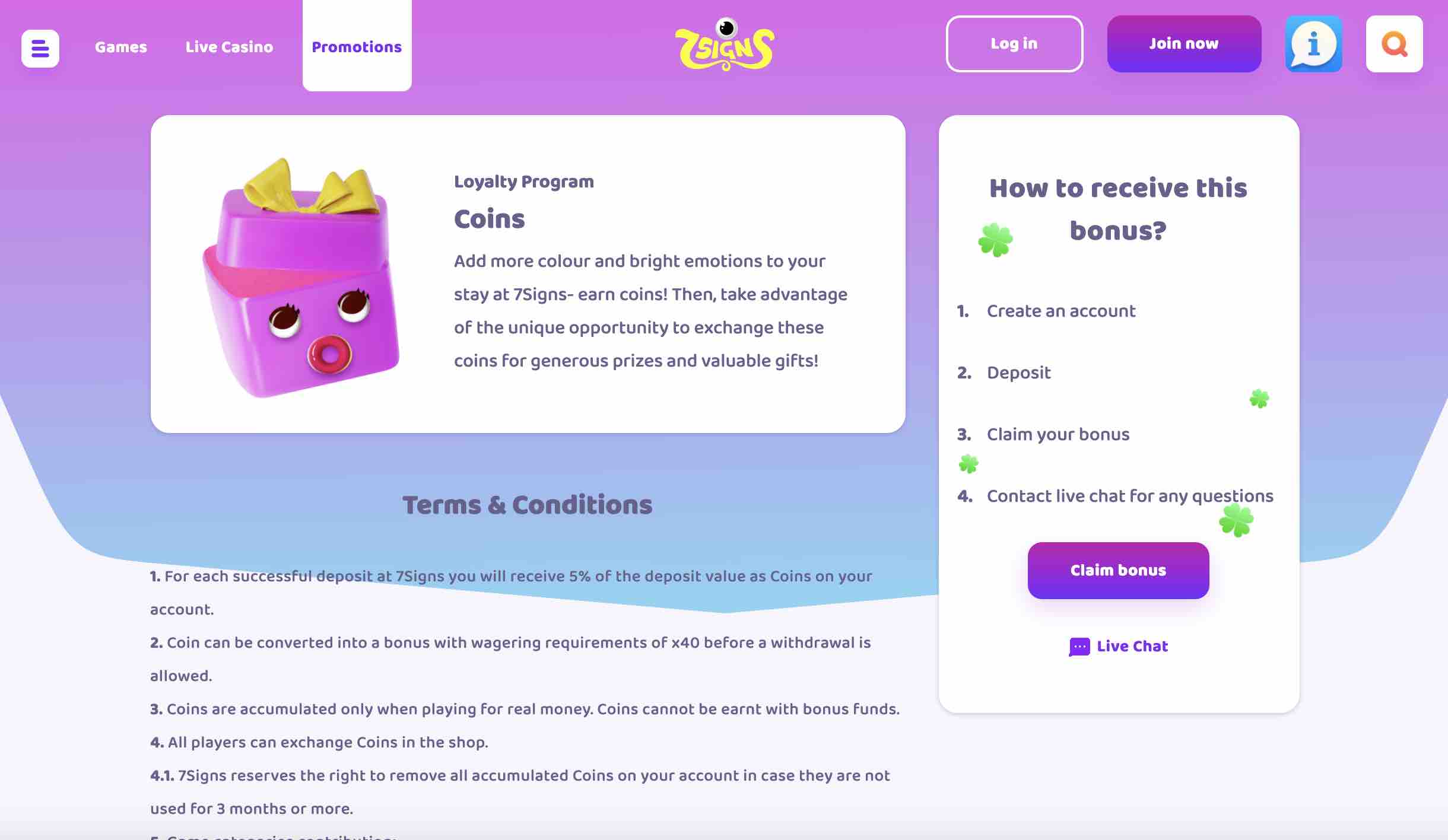 Reviews and Support
7Signs is one of the few 2020 casinos that actually takes the time to respond to user reviews and complaints left on third-party websites. This is something we have praised other casinos for in the past, including the stylish Syndicate Casino, but it's something that so many sites get wrong.
They either ignore their customers completely or they leave replies that are harsh, rude, dismissive, and unhelpful. 7Signs does none of those things. It responds to all reviews and it actually takes the time to read these, deal with them, and leave a detailed response.
As far as the actual content of these reviews, it's not great. In fact, the casino's overall user review score is much less than we expected and much less than we think it deserved. Most of the complaints revolve around two issues, ones that we also experienced and commented on, and ones that have seemingly spawned an influx of 1-star reviews.
The biggest issue concerns the technical problems, which don't always work as well as they should. The second issue is the withdrawal limit, which is incredibly low.
As far as the site's customer support is concerned, it's usually very helpful. It is not the quickest we have encountered, but it gets there eventually when you contact them by email or Live Chat. There is also a phone number and this is a surprising find for a new casino licensed in Curacao.
We were very impressed by the inclusion of a phone number, but we weren't able to actually get through. We're not going to mark them down too much for this, because many similar sites don't have a phone number at all. What's more, we're conducting this review toward the final weeks of 2020. Not only are we closing in on Christmas, but we're also at the height of the second wave, and countless companies have had issues staffing their offices and their phones, so there's a chance they were just overrun and that's completely understandable.
FAQs
Is There a Withdrawal Limit?
7Signs Casino has a very low withdrawal limit that is fixed at just €500 per transaction.
What Other Sites Should I Look at?
If you want something similar to 7Signs Casino, we recommend reading our review of APlay Casino, which has some of the same pros and cons.
Can I Play on Mobile?
7Signs is completely mobile friendly and it is compatible with a host of devices and platforms, including iOS and Android smartphones.
Does it Have a Loyalty Scheme?
Yes, and you will be given access as soon as you join the site. From there, you just need to keep depositing and playing and the points will keep rolling in.
Can I Use Bitcoin at 7Signs?
7Signs does accept Bitcoin, along with a number of other payment methods and currencies.
Final Word
7Signs is a very impressive online casino. It stumbles a little on the way, and the withdrawal limit and technical issues are a disappointment, but there is a lot to like here. You will find a good selection of games from a variety of top developers. You can also take your pick of fiat currencies and cryptocurrencies while browsing a multitude of bonus options.
It's good stuff all round and we recommend signing up the next time you're on the lookout for a new online casino.
7Signs Casino Review Details
Restricted Countries:
Afghanistan
Australia
Bulgaria
Cyprus
Denmark
Estonia
France
Iran
Iraq
Israel
Italy
Lithuania
Malta
Netherlands
Spain
Sweden
Switzerland
UK
US
Languages:
English
French
German
Hungarian
Norwegian
Polish
Russian