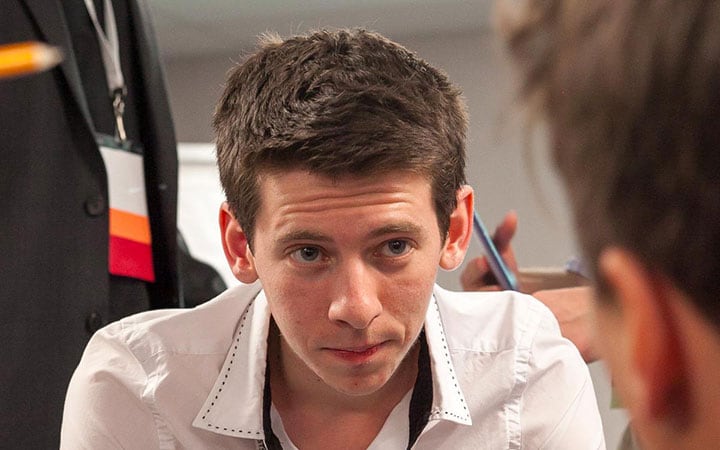 If you discuss blockchain technology with 17-year-old Louison Dumont, you'll hear the thoughts of a digital currency veteran who began mining Bitcoin at age 13. Discuss business planning and growth, however, and the youngest entrepreneur in the Boost VC incubator is struggling to get things right.
Boost VC's next Demo Day is six weeks away. That's when Dumont must present his Bitproof startup to potential backers. Bitproof is a blockchain-based document certification service that verifies a document's existence and ownership. Ownership verification, says Dumont, is the difference between Bitproof and similar concepts like Proof of Existence. As he told CoinDesk:
With that [Proof of Existence], if you share the file, you know the file exists, but you have no way to prove who created the file. This [Bitproof] does ownership, so if you share the file you're also still the owner.
Technology seeks market
The technology is solid. Bitproof already works with files stored on Box, Dropbox, and Google Drive. Dumont's main concern is defining a market.
I'm going to try to think about it [the target market] now. It's very hard to change the way people think. It's a big challenge to make them use the technology they don't trust.
That doesn't mean he's without ideas:
It can be very useful for people who do freelance work, and they want that client to pay. You can say I did this and gave it to my client, so he must pay. And if he doesn't, you can say I have created that.
Marketing aside, there's no denying Dumont's digital currency credentials. He began mining Bitcoin at age 13, when a good GPU was still adequate. He'll regale you with stories about buying Bitcoin on Mt Gox and selling at a price between $20 and $30. Those days made him money and built his skills, but Dumont wanted more:
Trading is a good way to make money, but it's not very useful. I wanted to do something useful and I had this idea that we can use the blockchain to transfer the ownership of anything.
Opportunity knocks
He got that opportunity almost without asking. At 16, Dumont had applied for a Thiel Fellowship and was at an applicant summit when he made some unexpected connections:
I met a guy who was in Boost, I went to Boost and met [co-founder] Brayton [Williams] and [CEO] Adam [Draper]. It was very natural, I didn't know anything about Boost.
He didn't have a formal presentation, but had begun coding Bitproof. Williams and Draper liked what they saw, urged him to apply, and Dumont entered Boost VC.
Much at stake
More than funding dollars is at stake for Dumont on Demo Day. He is a French citizen without a visa or college education and may end up pursuing his Bitcoin dreams back home should his presentation fail to woo supporters.
With all that's at stake, however, Dumont still finds time to code. He took a one-night break from his business worries to put together a blockchain-based search engine, Merkle.io.
Bitproof, however, remains his primary focus. Of its potential, Dumont said, "If we succeed it's going to be huge. I'm going to try to find a way."