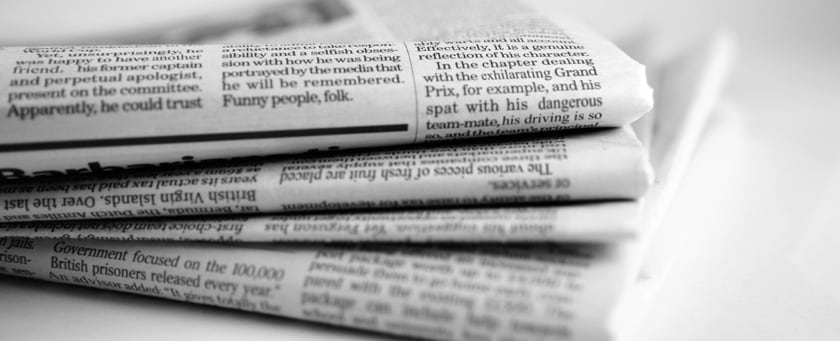 If you haven't had the time to keep up with the news over the past week and are just now sitting down with your coffee in hand, here's what you missed (each title links to the original article to read in full):
The Barbados-based Bitt Exchange (founded in 2013 by Gabriel Abed an Oliver Gale) secured $1.5 million in funding from Avatar Capital (a Caribbean investment group based in Trinidad & Tobago). Their plan is to service residents in the region that don't have access to traditional banking (over half of the population).
Two special agents from the U.S. Secret Service and the Drug Enforcement Administration who worked on the Silk Road task force that concluded with the site's shutdown in 2013 managed to steal this fantastic sum and transfer it into their private accounts. The Department of Justice is charging both of them with wire fraud, money laundering, theft of government property, and conflict of interest.
Mesh network software BitMesh is close to launching a test version. The software will allow users to share their Internet connection with peers in exchange for Bitcoin micro-payments.
Factom plans to use Blockchain technology to store data in a secure and decentralized fashion. They have begun the sale of the network's own brand of reward and access tokens, Factoids, via Koinify, a market for decentralized applications. The initial sale will last until May 15 and it has raised over $200,000 thus far.
Former Mt Gox CEO made public e-mails between him and DEA Officer Carl Mark Force IV (yes, that is a real name) in which the latter asked the CEO to back him in the sale of 250 Bitcoins and predicted the future crash of the American economy as well as offers to "partner" together.
Japan's largest online retailer, Rakuten, has partnered with Bitnet payments processing platform in order to allow customers to pay for their purchases using Bitcoins. US users can already take advantage of the new payment method and the retailer has made plans to roll out n Germany and Austria next.
Former Bitcoin Foundation member and BitInstant creator has begun his sentence for operating an unlicensed money-transfer operation, money laundering for underground black markets, and failing to report suspicious banking activity.
The billing application Invoiced has added Bitcoin to its options, allowing its users to account for Bitcoin payments.
EXECUTIVE ORDER RESULTS IN UNEXPECTED DONATION WINDFALL FOR SNOWDEN
Bitcoin users rallied behind the donation effort for the ex-NSA analyst Edward Snowden after the President Obama signed an executive order that seeks to "block the property of certain persons engaging in significant malicious cyber-related activities" as well as donations that would benefit these individuals.
The news resulted in an influx of over 200 Bitcoins in donations thus far.
A Canary Islands resident was detained on Monday for the alleged theft of at least 32.35 Bitcoins. It is believed that the detainee engaged in a Ponzi scheme using his position as the CEO of a Bitcoin related venture.
San Francisco-based startup Align Commerce wants to harness the Blockchain technology to tackle the traditional problems of international transactions. To that effect, they have launched a public beta of their platform in an initial 34 countries.
The employee motivation and rewards company has added Bitcoin to the list of perks that employees may redeem in exchange for their credits.
21 year old Hyannis resident Justin Moreira was charged on Thursday with "purchasing a firearm and silencer on a 'Darknet Market' website, which provides anonymity to users to buy and sell illegal goods" for which he paid approximately $2500 in Bitcoins.
The prominent Union Bank of Switzerland plans to set up at least a dozen desks located at a London-based innovation lab and accelerator – Level 39, more specifically in its high growth division, HighGrowth:42 – by the end of April to conduct research on blockchain technology.
Coinbase made the news this week for asking an astounding level of details about the operations of two separate mining firms, MegaBitPower and Bitmain. The requested details include time-stamped photographs, videos, and details about the origin of the hardware in use.
Bitstamp filed a complaint on April 1st in which it named Jed McCaLeb and two of his family members in relation to over $1 million in disputed funds.
Following an outlandish claim after another from the LEOCoin team, the new alternative currency has come under a lot of scrutiny, causing suspicions about both the platform and its creators to arise.
Two French and German politicians have moved to petition the European Commission to enact harsh regulations on crypto currencies in order to limit potential terrorist funding.
Prominent Curacao-based gambling platform Betkurus has implemented real-time Bitcoin deposit support within its service.
---
Did we miss anything? Let us know in the comments.