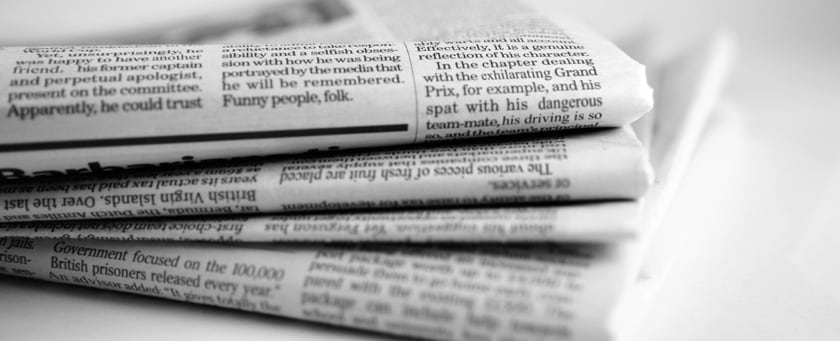 If you haven't had time to keep up with the news over the past week and are just now sitting down with your coffee in hand, here's what you missed (each title links to the original article to read in full):
Thai police arrested four men charged with running a pyramid scheme operation selling a digital currency called "Utoken". The scheme went viral and they managed to raise the astronomical sum of over $300 million.
Policement from Maine had their systems infected with a ransom ware variant known as "Megacode" and after days of struggle, gave in to the demands of their blackmailers, paying $300 to regain access to their files.
On the heels of several high profile ransom ware infections, Kaspersky has developed a decryption tool to fight the CoinVault variant.
The latest version of uTorrent has removed the Bitcoin miner that was included in their previous release, after heavy backlash from their user base when the news was revealed.
Bitrefill wants to bring Bitcoin and mobile credits together, allowing consumers to top-up their credits or plans through a quick transaction. Currently the service supports over a 100 countries.
A family of 4 from Texas is putting Bitcoins to the ultimate test by touring the Eastern Seaboard relying only on their digital wallets for all their expenses.
The erstwhile exchange that allowed users to order "anything" using Bitcoins shut down its doors after failing to meet their internal growth rate expectations. The service was plagued by constant complaints about poor customer support and user-to-user scams.
Coinado aims to serve as an intermediary, downloading torrents for you and then streaming them to you through the Tor network for maximum anonymity, accepting payments only in Bitcoin at a rate of $0.1 per GB.
According to a BitPay study, more and more people are turning to Bitcoin as payment method rather than as an investment. At the moment most transactions are for gift cards and IT services and the overall number of transactions more than doubled last year from 209,420 to 563,568.
The leading Canadian exchange wants to install a massive amount of SumoPro two-way Bitcoin ATMs all over major cities in the country. To date they've already installed over 40 machines within the country and another batch is slated to hit Vancouver this June.
The project managed to raise its initial pledge goal. The wallet aims to enable payments on a continuous per-second basis to pay another party for any timed services.
The Factom organization is planning to sell a majority of the Bitcoin reserves raised through its tiered crowd-sale in order to collect revenue and finance their project.
Dutch technology insurance company CoverYou announced that they'd start accepting Bitcoin payments in exchange for their services regarding electronic equipment insurance.
New Bitcoin Foundation leader Bruce Fenton got more than he bargained for when he asked for suggestions on ZapChain and the Bitcoin subrreddit.
GAW Miners CEO has admitted to having committed charity fraud, to the tune of approximately $38,000 that were advertised as being raised for the 9/11 Memorial Fund.
The administrator of the biggest international Bitcoin forum, Bitcointalk.org was forced through a subpoena to hand over the private messages of over 600 users to the US government. Our Thom Isaacs interviewed him to bring you more details about the court order.
Liberland is a self-declared country located between Croatia and Serbia, with only 7Km to its name and they've declared Bitcoin their official currency. It's not a late April Fool's joke, click on the title to read the full article.
SatoshiTango, one of Argentina's most popular digital currency marketplaces has expanded its offer to allow the purchase and sale of Bitcoins with Argentinean pesos.
The prestigious Massachusetts Institute of Technology has formally announced their plan to launch a Digital Currency Initiative within their Media Lab facilities. Their aim is to to bring together a community of global experts from across a wide variety of fields, ranging from cryptography to economics, in order to tackle digital currency research and innovation.
Kentucky Senator Rand Paul, who made the news last week by accepting Bitcoin donations for his recently launched presidential campaign, was spotted this weekend at a private function hosted by Blockchain Technologies Corp.
---
Did we miss anything? Let us know in the comments.