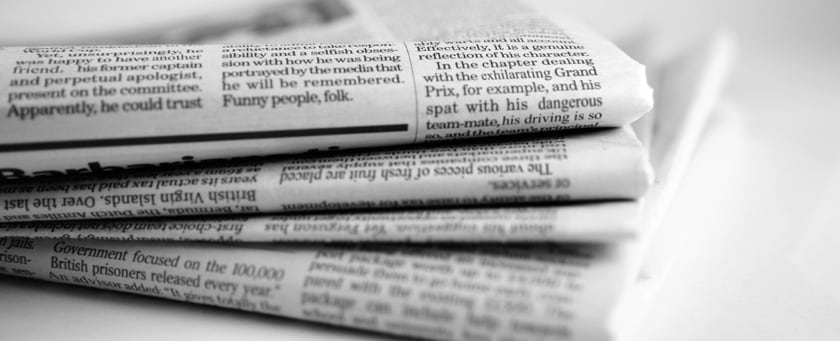 If you haven't had time to keep up with the news over the past week and are just now sitting down with your coffee in hand, here's what you missed (each title links to the original article to read in full):
Austrian-based startup Coinimal has become the first crypto exchange to allow the purchase of Bitcoins using Neteller as a payment option.
A group of developers at the MasterCard Masters of Code Hackathon created an application that enables the use of Bitcoins as payment through the use of MasterCard's PayPass technology at NFC enabled terminals.
A group of approximately two dozen people represented by the Swedish Law Firm Advokatfirman Rise & Co AB is bringing a class action lawsuit against Swedish Bitcoin ASIC Manufacturer KnCMiner.
Blockchain Technologies Inc. has released a hardware wallet storage solution called Staker that works with several types of digital currencies.
South America's largest social network, Taringa! announced that it would launch a Bitcoin rewards program called "Taringa! Creadores" (Taringa! Creators) open to all of its users.
In the Bitcoin Job Fair, held at Plug and Play Tech Center's Sunnyvale incubator, the star of the show was 21 Inc's chairman and co-founder, Balaji Srinivasan, who expanded on his vision for the digital currency while defending the system overall.
Spanish company Chip Chap added 4,000 Polish ATMs to its Bitcoin to Hal-Cash conversion service on April 10. The company expects to add service in Mexico and the United States by June and England and France at an unspecified date.
SurBTC, Chile's "most compliant" – and ambitious – Bitcoin exchange, launched earlier this month to an "extremely positive" reaction from Chilean Bitcoin users.
Digital World Ventures has launched a Bitcoin exchange that will allow consumers in Perth to purchase digital currency with Australian dollars. The DWVx exchange is currently running on the popular AlphaPoint exchange platform.
On Tuesday April 21st, the fourth beta of the decentralized OpenBazaar marketplace was released for Linux and Mac OSX users. According to the release blog post, binaries for Windows users will be "released soon."
On April 17th 2015, the Kraken Bitcoin Exchange began accepting MtGox creditor claims with a bonus of up to $1 million in free trade volume. Creditors are eligible for a free trading volume bonus, live chat and email support, and the potential to receive distributions in Bitcoin.
Our own Thom Isaacs interviews the Matthew Boyd, the creator of the Jobs4Bitcoins subreddit in a CoinBuzz exclusive.
Another exclusive, this time by Binary Mi, in which we talk to one of the former moderators of the GAW Miners HashTalk forums.
Enter Lightlist, a site that serves as a directory for the Lighthouse platform. Lighthouse is a specialized wallet designed to facilitate decentralized crowd funding.
Unalterable Blockchain-based record-keeping system provider, Factom, has announced their association with US medical records and services solutions provider, HealthNautica.
Three Bitcoin Core developers currently being funded by the Bitcoin Foundation will now work under the banner of the MIT Digital Currency Initiative.
In an interesting development, the IGCI recently announced their creation of a proprietary Altcoin, to be used solely for research purposes by their cyber-crime division in order to develop new tools for crypto currency related crime detection and prevention.
Jackson Palmer, the co-founder of Dogecoin, has announced his departure from the cryptocurrency scene, citing the "toxic" community it's associated with.
Starbucks, the leading coffeehouse company in the world, now indirectly accepts Bitcoin in its branches located in Hong Kong through a service called FOLD, which also offers 20% for those who use the crypto currency.
In an effort to boost security, Asian Bitcoin exchange CoinHako has announced that it will become the first Asian exchange to fully insure its reserves, using BitGo's insurance offerings.
Brock Pierce was elected Chairman of the Board with a 3-0 vote this past Tuesday after being nominated to the position by fellow board member Bobby Lee (CEO of BTC China).
Cryptsy, a cryptocurrency exchange based in the US has allegedly received a PayCoin Prime Controller from the PayCoin Foundation.
Leader in ATM market share (with approx. 33% of worldwide Bitcoin ATMs, followed by RoboCoin with 16%), Lamassu, announced that they would have to stop providing free support for sold units since their current framework is "unsustainable".
---
Did we miss anything? Let us know in the comments.