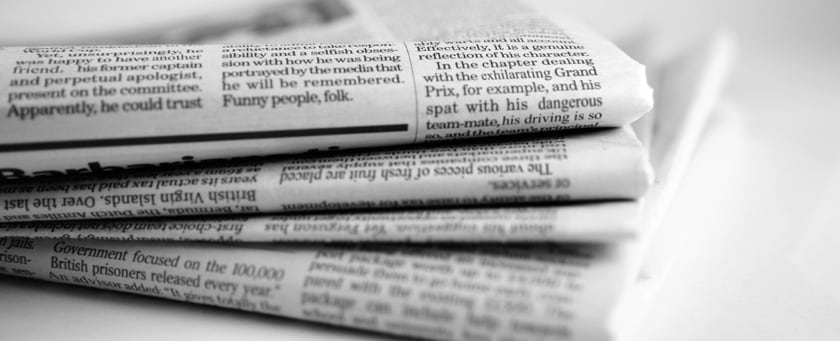 If you haven't had time to keep up with the news over the past week and are just now sitting down with your coffee in hand, here's what you missed (each title links to the original article to read in full):
DISTRICT COURT JUDGE REJECTS ROSS ULBRICHT'S RETRIAL MOTION
On April 27th, less than one month after the U.S. Attorney's Office for the Southern District of New York filed opposition for Ross Ulbricht's post-trial motions, District Court Judge Katherine B. Forrest rejected Ulbricht's retrial motion.
BRIAN MICON OF SEALSWITHCLUBS CHARGED BY NEVADA STATE
Following a home raid approximately two months ago, Bryan Micon of the now defunct SealsWithClubs has been charged with operating an unlicensed gaming website. On April 27th, a criminal complaint and $20,000 arrest warrant were filed by the Attorney General of Nevada and the Nevada Gaming Control Board.
BITSPARK PIVOTS TO BITCOIN REMITTANCES
Bitspark today announced they will be temporarily shutting down their exchange in favor of Bitcoin remittances. Bitspark launched in October of last year as a multi-cryptocurrency exchange. In November, Bitspark unveiled end-to-end Hong Kong to Philippines Bitcoin remittance capabilities.
PURSE.IO PARTNERS WITH SHAPESHIFT
Purse.io, the peer-to-peer marketplace that allows users to exchange their Bitcoins for Amazon products and vice-versa, has partnered with ShapeShift in order to allow its users to use other crypto currencies aside from Bitcoins.
GOVERNMENT DOES NOT OBJECT TO BRIEF SENTENCING DELAY FOR ROSS ULBRICHT
On April 28th, the Government informed District Court Judge Katherine Forrest they did not object to a brief adjournment for Ross Ulbricht's sentencing, which is scheduled for May 15th. Ulbricht's defense requested an adjournment on April 24th, one week after the Government informed the Court to expect "two parents of individuals who overdosed on drugs purchased on Silk Road to speak at sentencing."
GOLDMAN SACHS INVESTS $50 MILLION IN CIRCLE
The controversial investment firm, Goldman Sachs, has laid down its first bet on a Bitcoin company participating in the latest investment round for the Circle exchange, to the tune of $50 million.
ROSS ULBRICHT GRANTED "FATICO" HEARING, SENTENCING POSTPONED
On April 28th, the Court granted Ross Ulbricht a "Fatico" hearing and postponed sentencing via a handwritten note. The "Fatico" hearing, or pre-sentence evidenciary hearing, is scheduled for May 15th. Ulbricht's sentencing is adjourned until May 29th.
ILLICIT MIDDLE EARTH MARKETPLACE POSSIBLY EXPLOITED, IP DISCOVERED
Reddit user "haxforcrack" posted today on "/r/DarkNetMarkets," to inform the community of exploits for black Tor market "Middle Earth." The user's discoveries include the server's IP address and "stack," or configuration. The user claims to have reached out to site administrators, deciding to go public when no response was received.
MEET THE DIGITAL WORLD VENTURES EXCHANGE FOUNDERS
Over a week ago, James Clarke and Ian Davies debuted their largest brainchild to date, the Digital World Ventures Exchange. Shortly after, we managed to get in touch with Ian and James, who graciously took the time to answer some questions for CoinBuzz in great detail.
COINBASE OFF TO A "SLOW" START IN UK
Coinbase announced last week that people based in the UK can now get access to its platforms. While the service is well established in the US, it seems to be having a hard time establishing itself in UK.
---
Did we miss anything? Let us know in the comments.