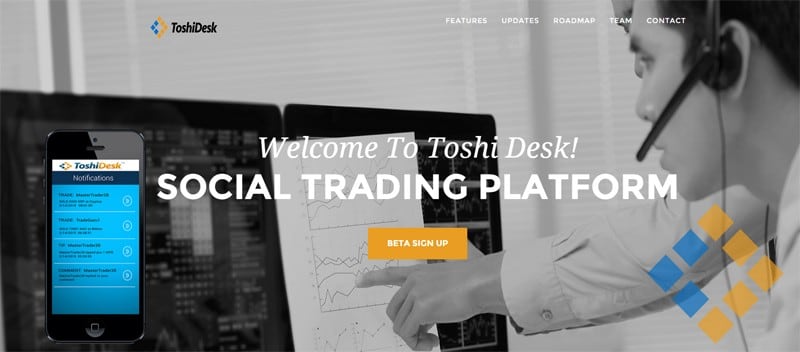 Below you can find the full reproduction of the press release announcing the beta phase of ToshiDesk.
---
Delaware, USA, May 2015 – A new social media trading platform which rewards users for their insight into successful altcoin trading is currently in development and inviting users to sign up for its beta release.
ToshiDesk LLC, a project by the team behind MasterTraderCoin (MTR), will provide a reliable and trustworthy altcoin trading environment with a unique social element, allowing traders to get live advice from Masters, who are in turn rewarded according to how valued or successful their advice is. The platform is set to host a whole range of cutting-edge features, as well as an integrated wallet, and will operate in conjunction with MTR.
"ToshiDesk allows you to trade digital currency from the ultimate advantage point," ToshiDesk's CEO Rich Territo, known in the crypto community as MasterTrader777, commented on the project. "It is the first social media trading platform of its kind, with one idea in mind… Earn cryptocurrency while evolving the community, by providing positive insight and analysis on the markets you watch."
ToshiDesk features collaborators who ensure ultimate resilience for its currency integration. These include lead developer DcGirl, one of the most credited female developer in the crypto-space today.
DcGirl explained the philosophy behind ToshiDesk:
"I'm a trader and a moderator on an altcoin exchange. I got involved in developing ToshiDesk to help traders avoid the mistakes I see them make every day. With ToshiDesk, traders can learn how to recognize trends, understand concepts like order book depth and learn how to see past the hype and make smart trading decisions. ToshiDesk offers a unique combination of tools, community and learning opportunities unique in the altcoin space.
A registered company in the US, ToshiDesk will fulfill the role of a financial consultant-trader combination much like the tools operating within fiat markets. Traders will use ToshiDesk to acquire insight, speculations, and in-depth analysis within the altcoin marketplace.
The reward system which incentivizes quality and experienced traders to use ToshiDesk revolves around its integrated currency MasterTraderCoin. Those giving advice – content providers called 'Masters' – pay a percentage of the subscription fees they earn from subscribers – traders – to ToshiDesk, which gradually decreases on a sliding scale as a result of the feedback they accumulate. Separately, Masters can also be tipped by traders if their advice on a given trading question is considered particularly accurate or otherwise beneficial.
ToshiDesk's goal is not only to provide support on trading, but to highlight the wider aspects of the altcoin environment visible via its charting and analysis platform. A key component of ToshiDesk is a learning section, 'MasterTrader University' (MTU), where traders will be able to view trading tutorial videos, learn about trading terms and strategies and listen to insightful podcasts from other traders.  MTU will also feature trading placement tests that will integrate into the MasterTrader ranking system. Traders will be able to improve the success of transactions, as well as gain insight into the long-term prospects of the hundreds of altcoin investment opportunities currently on the market.
"We worked hard to build a platform that can help traders avoid the pitfalls found in altcoin markets," Territo explained. 
The addition of social charting, which allows traders to display entry and exit points within a given alt coin, provides an added layer of transparency greatly needed in today's cryptospace.  More importantly is the rating system of experienced traders, which creates a much-needed level of credibility and opportunity for novice traders new to the crypto scene looking for trading techniques.
 "We launched an idea with no financial backing, developed a currency and created a game-changing web application, immensely enhancing the altcoin marketplace," Territo continued. "It's finally possible to trade smart."
The full integration of MasterTraderCoin with the ToshiDesk social trading platform will allow for a one-of-a-kind profitable solution to the uncertainties of altcoin trading which have plagued the market since its inception.  The ToshiDesk closed beta has launched, and prospective traders and invited to sign up at http://www.toshidesk.co.
UPDATE: ToshiDesk has also recently partnered with Clef to provide secure, passwordless logins built on its platform, as seen in the first screenshot of the platform, included below.
---
BETA WEBSITE:
BETA SIGN-UP LANDING PAGE
BITCOINTALK THREAD
https://bitcointalk.org/index.php?topic=954240
ANGEL INVESTOR PROFILE
CONTACT INFORMATION