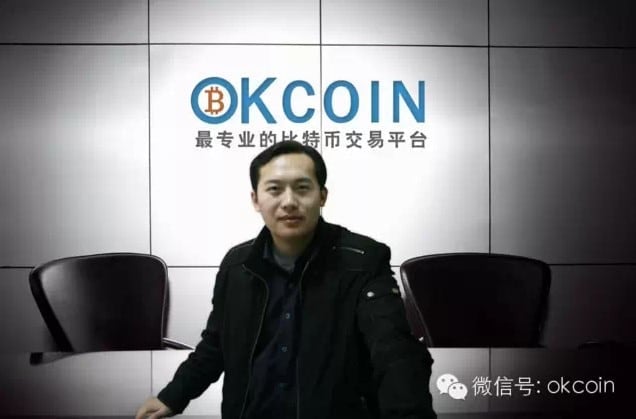 Roger Ver, commonly referred to as "Bitcoin Jesus," has accused cryptocurrency trading platform OKCoin of forgery and breach of contract regarding management of the bitcoin.com domain name. Ver was an early Bitcoin investor who has since invested in Blockchain.info, Blockpay, and most notably Ripple Labs.
Ripple Labs was recently fined by FinCEN for failing to comply with anti-money laundering (AML) and know your customer (KYC) regulations. According to a statement of facts by FinCEN, Roger Ver purchased approximately $250,000 of Ripple Labs' cryptocurrency and failed to provide KYC paperwork or file a suspicious activity report for the transaction. When smaller purchases were later declined due to suspicious activity, Ripple Labs also failed to file suspicious activity reports.
OKCoin Releases a Blog Post
In an OKCoin blog post, the organization stated it must end the management contract of bitcoin.com due to Roger Ver's checkered past in the financial tech industry. According to OKCoin, "To continue management of Bitcoin.com, OKCoin must face a different counterpart." The contract between Ver and OKCoin is only between Ver and the OKCoin brand, not company. According to OKCoin, this invalidates the contract.
OKCoin discovered an additional problem in the contract handling during an internal investigation. The contracts held by Roger Ver and OKCoin differ, which are where Ver's forgery allegations stem. OKCoin has launched an investigation into Changpeng Zhao, the company's former CTO who originally handled the contract.
Roger Ver Publicizes Allegations
On May 22nd, Roger Ver said in a Twitter post, "I have cryptographic proof of @OKCoinBTC forging my signature onto a fake contract, and then trying to present it as the truth. More soon[.]" Ver proceeded to post a link to a Dropbox folder containing an incident timeline, background, and technical analysis of contracts.
According to the technical analysis performed by IT security consultant J. Maurice, revision eight of the contract was missing cryptographic signatures and had a new provision at the contract bottom: "OKCoin may cancel the contract by givin Roger 6 months advanced notice." All previous contract revisions had signatures by Roger Ver and Changpeng Zhao. According to OKCoin, the original contracts on file do not contain this dissimilarity.
In the timeline regarding the incident's background, Roger Ver stated,
"Under the contract terms, OKCoin was responsible for the advertising revenue generated by the site. Because the site was already generating 2,500 hits per day before OKCoin's involvement, the parties agreed that should OKCoin generate less than $40,000 in any given month, they would pay Roger $10,000. OKCoin was otherwise obligated to share a variable percentage of the advertising revenue with Roger. Additionally, OKCoin had preferential rights to advertise for itself on the site."
According to Roger Ver, "From February to May, OKCoin provided various excuses for not tendering payments under the agreement." It wasn't until May that OKCoin terminated the agreement by taking bitcoin.com offline. OKCoin then informed Ver that no binding agreement existed, due to "OKCoin" only existing as a brand and not a company.
In emails more recently leaked by Roger Ver, he alleges that OKCoin asked him to commit money laundering. In the email in question, Jack Liu at OKCoin asks Ver if there is another party able to receive owed funds due to Ripple Labs' legal troubles. According to 31 U.S. Code § 5324, this is money structuring, not money laundering in the legal sense.
OKCoin Issues an Update and Bounty
Since OKCoin's blog post and Roger Ver's publicized allegations, OKCoin responded to each allegation in a Reddit post and offered a $20,000 bounty for disproof of Ver's forgery claim. OKCoin CEO Star Xu included the following in an oath:
"The digital and hardcopy of the original signed contract by the former employee are held internally by our finance and operation teams. If I am found to have forged the v8 contract, I face legal ramifications. I welcome Mr. Ver to hire a forensic investigator to examine the authenticity of the hard copy contract. I can promise God on my family's name that I did not forge the contract. I wonder if Mr. Ver and my former colleague would dare make the same oath of honesty."
Regarding multiple versions of the contract, OKCoin states no forgery was ever committed, calling the accusation a "misplaced allegation." OKCoin claims to only hold the original eighth contract revision signed by Changpeng Zhao and shared screenshots of the original copy being sent to OKCoin's finance department. In a reddit reply, OKCoin's reddit account states, "v8 is the only contract seen and held by OKCoin. This is the copy the former employee gave to the company to confirm management of Bitcoin.com." The eighth revision posted by OKCoin includes the termination provision along with scattered typos.
To refute the alleged original intentions for the domain management, OKCoin included a cached copy of bitcoin.com to demonstrate no ads existed on the site. OKCoin also claims to have paid Ver $10,000 per month as agreed, yet was still threatened of termination for "failing to generate further revenue." At one point, Ver asked for a larger sum in the case of redirecting the domain to OKCoin or OKLink. The reddit post states, "Mr. Ver did not care for the proper management of Bitcoin.com but was rather solely focused on extracting more money from it." OKCoin posted screenshots of comunications with Ver, including an email on February 6th offering to end the contract for $15,000. On May 17th, Ver asked for $550,000 remaining on the contract, only to lower his request to $200,000 the next day.
Despite the possible illegitimacy of the contract, OKCoin's former CTO issued new agreements without cancelling prior agreements, and the agreement for management of bitcoin.com was handled poorly by both parties.