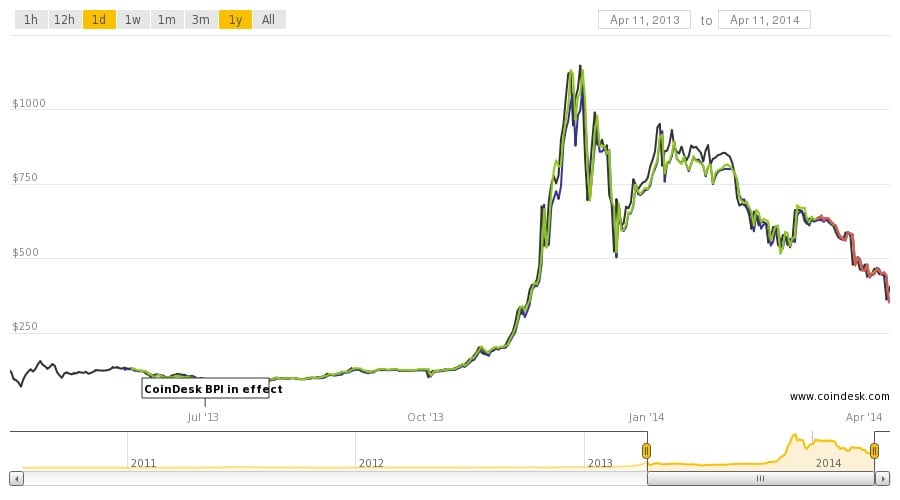 Bitcoin price over a year
Bitcoin prices fell sharply yesterday as several Chinese exchanges announced that they could no longer process Yuan due to having their bank accounts cancelled or frozen. Interestingly, there is still no official guidance from the People's Bank of China (PBOC).
According to CoinDesk's Bitcoin Price Index (BPI), the price fell below $400 between 1500 GMT April 10th and 0500 April 11th. BTCTrade.com made its announcement just before lunchtime in China, followed by BTC100.org and Huobi, according to CoinDesk. BTCTrade said it will suspend trading on April 15th, and added:
"We hold a very heavy heart that publish this announcement, BtcTrade just received a phone call to the company Bank Agricultural Bank of China branch in Hangzhou Science and Technology City, requiring Division I April 15 to stop using company accounts settlement bitcoin related business, such as the Overdue stop, will freeze the company's bank account on April 15. Here, BtcTrade have to decide on at 0:00 on April 15, 2014 after stopping treatment Yuan recharge business transactions to cash temporarily affected."
BTC100.org was somewhat more upbeat suggesting it had other ways to fund accounts:
"I regret to inform you that, unfortunately, was confirmed rumours that the 4.15 platform, we have received notification requirements afternoon Bank to cancel the account. But we should not panic, we're still retains other recharge channels, and withdrawals are not affected. Also we have other ways to spare the country and the corresponding contingency plans. Btc100 has been with you!"
However, the CEO of China's biggest bitcoin exchange, Bobby Lee, told CoinDesk that his company would not be changing any of its financial arrangements until the PBOC issued official guidance.
Rumours and expectations around the status of Bitcoin in China have been a driving influence on cryptocurrency prices around the globe throughout the year. While it's clear that were China to allow bitcoin trading, it would (and has) open up massive demand, which would contribute to raising the price of bitcoin. However, the seemingly low price of $400 that Bitcoin is averaging at the moment is still more than double the price of a year ago. This can be seen on any Bitcoin chart site. Therefore, despite the fall from the massive high of $1200, there is still an overall upward trend in the perceived value of Bitcoin.
A feature of crypto currencies that is only just beginning to be realised is, thanks to the openness of having a public ledger (the block chain), crypto exchanges (and in the future maybe banks), can be independently audited by anyone. Kraken recently proved that it had 100% reserve of its funds through independent audit. BTCTrade.com also promised in its press release that it would soon open itself up to the same scrutiny:
"We will announce the short term through the cold wallet address, 100% margin of openness, ensure that the platform is not involved in any transaction, and fully guarantee the safety of users of funds, please oversight."
The ability to have fully open audits of crypto currency handlers should not be under estimated. For a long time, a failing of the fiat banking system has been "fractional reserve banking" whereby banks can promise to have more money than they actually do, effectively creating money out of thin air. The fatal flaw here is that when customers lose confidence and the dreaded "run on the banks" occurs, the banks do not have enough money in reserve to return savings to customers. With crypto currencies this practice could be eliminated.