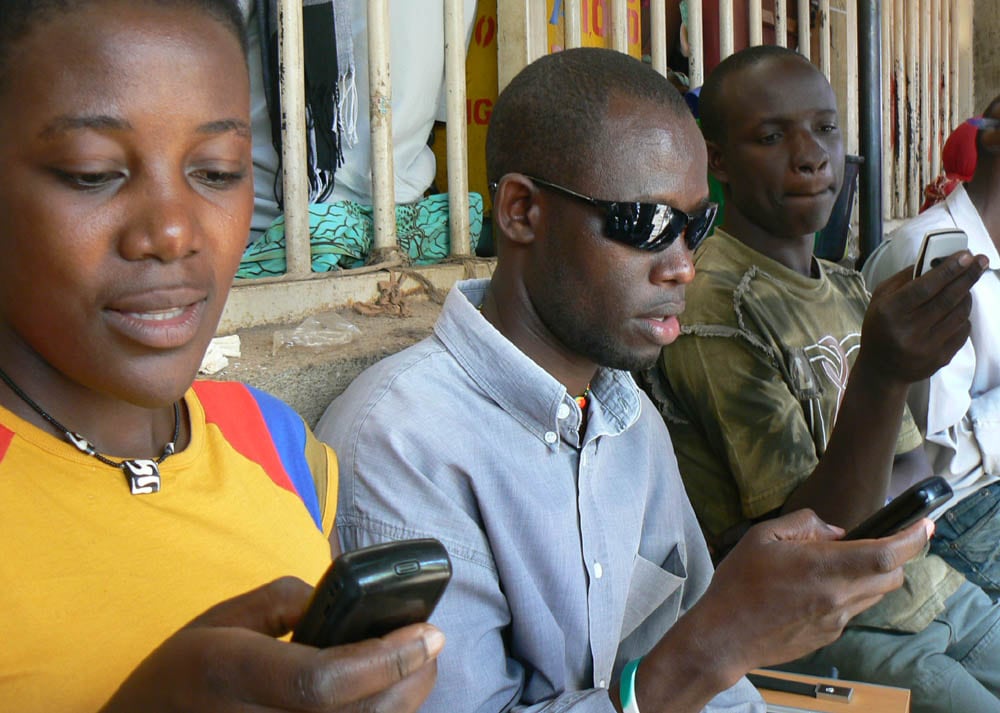 Image credit: Ken Banks, kiwanja.net
Bitcoin presents a number of potential advantages to buyers and merchants in the developed world, especially now that its value has remained relatively stable in the past few months after the wild swings of early 2014. Many of the monetary advantages that stem from bitcoin use can only really be seen on a massive scale, however. The 1 percent transaction fee offered by most bitcoin payment processors, for example, is attractive next to the 3 percent to 5 percent offered by most credit card networks, but this only accounts for a few cents on the average transaction. On a massive scale, this can add up to large sums, but the currency hasn't quite reached that level of adoption yet.
In the third world, however, there are advantages that could be extremely useful right away. Remittances, for example, refer to the process of sending money from one country to another – usually by migrant workers sending cash back to their families. The fees for these transactions can be massive – the World Bank estimates that by cutting remittance fees by 5 percent across the board could save $16 billion per year. Even internally, a large number of the people living in third world countries are unbanked or underbanked, opening the door for new payment processing platforms to take hold.
The M-Pesa story
M-Pesa, better known as "mobile money" in its native Kenya, commands the single strongest mobile payments ecosystem in the world. Provided through Safaricom, a mobile network operated by Vodafone, M-Pesa allows Kenyans and those in surrounding countries to send money between users of the service with only a few taps on an ordinary mobile phone, according to Seeking Alpha. Originally the service was envisioned as a way to facilitate easier payment of microloans, but quickly evolved into a way for workers in Kenya's cities to send money back to their families in rural areas. Not long after this, the system reached a critical point and merchants started accepting payments via the service.
Today, about 19 million of Kenya's 44 million citizens are registered with the service and about 25 percent of the country's GDP passes through the system annually, the news source reported. M-Pesa is spreading to surrounding emerging markets, including Uganda, Tanzania, Afghanistan, South Africa and India. By contrast, mobile wallet apps offering a similar service in developed markets, like Google Wallet, have much more limited use. This suggests that the potential for modern payment systems to take off is significantly stronger in developing markets.
Introducing CoinPip
Why are we talking about M-Pesa? The Kenyan payment processing service works similarly to bitcoin, piggy-backing on Kenya's fiat currency to accomplish payments. Singapore-based payment processing company CoinPip is introducing a payment processing system that integrates with 37coins' 'SMSwallet' to allow users to send bitcoin to merchants at the point of sale using nothing but a text message, according to CoinDesk. The system is aimed at developing markets, where 3G availability and access to smartphones remain limited.
"The mobile market in Southeast Asia is massive but the usage of smartphones is still lagging," co-founder Anson Zeall told the news source. "So QR code scanning is not that useful. Thus the collaboration with 37coins is going to make payments more convenient for everyone else."
CoinPip Merchant allows vendors in a number of countries in Southeast Asia to accept bitcoins or local currency for transactions. In Singapore and Hong Kong, instant exchange is available, while on-demand exchange for a fee is available in Australia, China, Indonesia, Malaysia, New Zealand, the Philippines, Thailand and Vietnam, according to CoinDesk. The company has plans to expand to other countries soon.
SMSwallet is similar to M-Pesa, but by using bitcoin instead of local fiat currency, it can be used anywhere in the world, the news source explained. 37coins' aim is to connect the world's underserved citizens to the world economy in a secure, scalable way, using technology that users may already own.
"It's simple and is even usable on the Nokia 100, this basic SMS phone," 37coins designer Jonathan Zobro told CoinDesk. "While M-Pesa is just in Kenya, 37coins can work anywhere in the world."
CoinPip and SMSwallet may succeed, or may fail to catch on. The idea is an interesting one, however. The bitcoin community tends to focus on the technology in a Western context, but in a few years, it is possible that emerging markets will find an even stronger appetite for cryptocurrency.
Featured image credit: Ken Banks, kiwanja.net