Satoshi's Forest, the Pensacola homeless sanctuary also known as Sean's Outpost, as suffered severe damage after widespread flooding affected the local area. In response, the charity has opened requests for donations of Bitcoin and Litecoin to help with the rebuilding efforts.
Sean's Outpost is a homeless outreach centre, which exists on a 9 acre plot of land bought by the charity, with help from Bitcoin donations. According to Blockchain.info, Sean's Outpost donation wallet (1M72Sfpbz1BPpXFHz9m3CdqATR44Jvaydd) has received a total of around 414 BTC ($177,700, at today's prices). A statement from founder, Jason King, stated last year (as reported by CoinDesk):
"We served 30,000 meals in 2013 and we were able to make a down payment and pay off the first year's mortgage for Satoshi's Forest, our nine-acre homeless sanctuary. We got a lot done in 2013 for a new charity."
The whole "Florida Panhandle" area and the Alabama gulf coast were hit by a severe storm surge that caused widespread damage to business and residential properties at the end of April. The situation was so bad for one non-profit organisation, that it asked for people to stop donating food as it had nowhere to store anything, and instead needed money, reported ABC News.
"Manna Food Pantries, the primary food pantry in the Pensacola area, may be a total loss after 3 feet of water flooded food coolers and administrative offices. It can't accept new food donations because it has nowhere to store them, said Executive Director DeDe Flounlacker. 'If you were thinking of giving a can of food, give $5 instead," Flounlacker told the Pensacola News-Journal (http://on.pnj.com/1rIgJD0). "It's about as bad as it can be.'"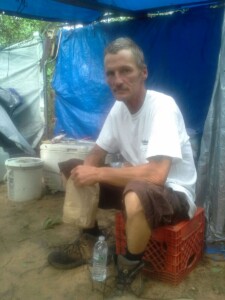 According to NBC News, 2 feet of water fell in 26 hours, submerging the whole Pensicola area, including the "Satoshi's Forest" refuge. A representative of Sean's Outpost (Carnth)posted to the Litecoin forums telling of how bad the situation was, and added several photos.
"A heavy rain storm washed over the south-east states of the USA. The city of Pensacola, Florida was especially hit hard and is suffering heavy floods. Many people are currently displaced from their homes and some suffered causalities. SeansOutpost and Satoshi's Forrest are flooded. The people there need your help! […] If you are in the south-east region of the USA, food and drinking water are needed. You can bring food and water to Outpost Thrift at 4406 N Palafox St, Pensacola, Florida."
Carnth included Bitcoin and Litecoin donation addresses for those able to help, listed below:
Since Carnth's original post (May 1st) to the time of writing (May 5th), the wallet addresses listed above had received 54.6 BTC and 24.8 LTC, respectively. This comes to a total of $23872.50 USD at current prices. One Litecoin forum member also set up a Dogecoin wallet address (D9j59dc8sdv1f3mFMb9zwe72rUfMrr5zgS) for donations, but as of yet it has zero donations.