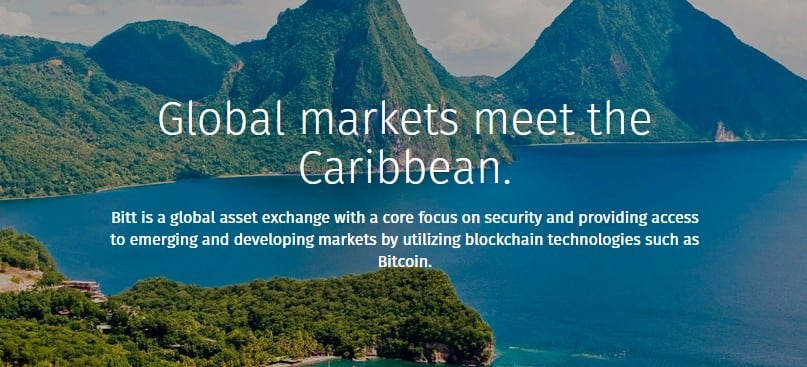 Thanks to a $1.5 million seed round, Barbados-based Bitt has launched its latest service, the Bitt Exchange.
The Bitt Exchange is powered by AlphaPoint, a platform that serves as the backbone of exchanges including Bitfinex, Cointrader.net. It currently supports trading in 11 major fiat currencies, including the US Dollar (USD), Great Britain Pound (GBP), Canadian Dollar (CAD), Euro (EUR), and Barbadian Dollar (BBD).
"We were very excited to be selected by Bitt to power their exchange and support their vision of lowering costs for payments and remittances," said Vadim Telyatnikov, CEO of AlphaPoint. "By connecting their platform to global exchanges, Bitt can offer Caribbean residents competitive exchange rates and deep liquidity from around the world."
The Bitt Exchange supports high-frequency trading, and claims to be protected by "military-grade security." 95% of customer funds are held offline in a multi-signature hierarchical deterministic wallet.
"With a team of financial experts, IT network security engineers, cryptographers, and software developers from around the world, as well as banking facilities and asset liquidity spanning many major international fiat currencies, Bitt is poised to become the leading digital currency exchange in the Caribbean region," said Oliver Gale, Bitt's CFO.
Bitt was founded in 2013 by Gabriel Abed and Oliver Gale to provide digital currency exchange, remittances, and payment processing to individuals and business in the Caribbean.
The $1.5 million investment the company raised from  Trinidad and Tobago investment group Avatar Capital will help it to develop and grow the Bitt Exchange, as well as its other services.
Peter George, Director of Avatar Capital, said, "Avatar backs Bitt with full confidence. We are pleased to invest in the development of the cryptocurrency industry in the region. It is our hope that this investment benefits the people of the Caribbean and becomes the catalyst for digital currency trading in this part of the world."
The Bitt Exchange aims to help those without access to banking services. The exchange will bridge the gap between traditional and digital currency markets, helping Caribbean customers to save money on international payments and remittances, according to Bitt CEO Gabriel Abed.
The Bitt Exchange is currently in a public beta stage. Its website warns, "all deposits and withdraws [sic] are made at your own risk."
Bitt is not the only company that has placed a focus on having a secure and stable backend. Bitcoin marketplace Noble Markets (co-founded by Brock Pierce) recently announced it would be powered by NASDAQ technology.