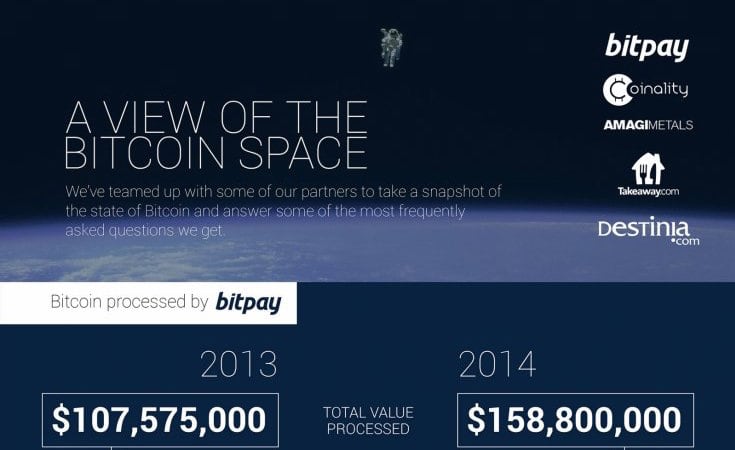 Bitcoin is now being used more as a currency than as a simple investment commodity, according to data released by bitcoin payment service provider BitPay and IBTimes UK.
Most BitPay transactions are for gift cards, followed by IT services, e-commerce, food delivery and a relatively tiny number of precious metals transactions.
The total number of bitcoin transactions processed by BitPay more than doubled last year from 209,420 to 563,568, a 170 percent increase.
The average order value dropped during the same period by more than 45 percent, from $513 to $281.
More than 100,000 retailers now accept bitcoin, according to IBTimes UK, including Microsoft, Dell, Wikipedia, Twitch, Greenpeace, Expedia and PayPal. Fifty-three percent of all bitcoin merchants use BitPay, according to the newly released data.
North America is still the largest bitcoin market for BitPay, with 57 percent of their global business. The top emerging markets are Brazil, India and Indonesia with rapid growth in BitPay signups.
"We see bitcoin being used in emerging markets as a supplement to the current banking and monetary systems," said Wouter Vonk, BitPay's European marketing manager. "Bitcoin breaks down the barriers to financial tools that many people in emerging countries are facing."
Bitcoin mining dwarfed other industries by transaction volume in the BitPay data with $76.8 million in volume followed by $24.5 million in precious metals, $20.1 million in e-commerce and significantly smaller amounts in IT services and travel.
Sean Murphy of Nashua, NH buys new bitcoin to spend while saving his old. "Primarily, I'm taking advantage of Gyft's 3 percent back rewards program," said Murphy. "I make my regular grocery purchases by using a card from Gyft, purchased with bitcoin, and save 3 percent on my overall bill. I'm starting to do the same with Amazon."
As the consumer, Murphy expects to reap the savings in bitcoin transaction fees relative to credit cards in order to spend bitcoin over fiat currency. "The merchant has to convince me to spend bitcoin instead," he said.
"A good example is Newegg" said Murphy. "When they first started taking bitcoin, they offered a 10 percent discount on bitcoin orders as a promotional event. I bought nearly $1,000 worth of new PC equipment through Newegg with bitcoin rather than another vendor for those savings."
An anonymous bitcoin user in Venezuela says he is using bitcoin to "bypass socialist currency controls." He spends bitcoin primarily on electronics and cell phone credits. "Few people here save their bitcoin," he said, due to both fear of seizure and the economic situation.
BitPay claims to have saved its customers almost $8 million in credit card fees during 2013 and 2014.