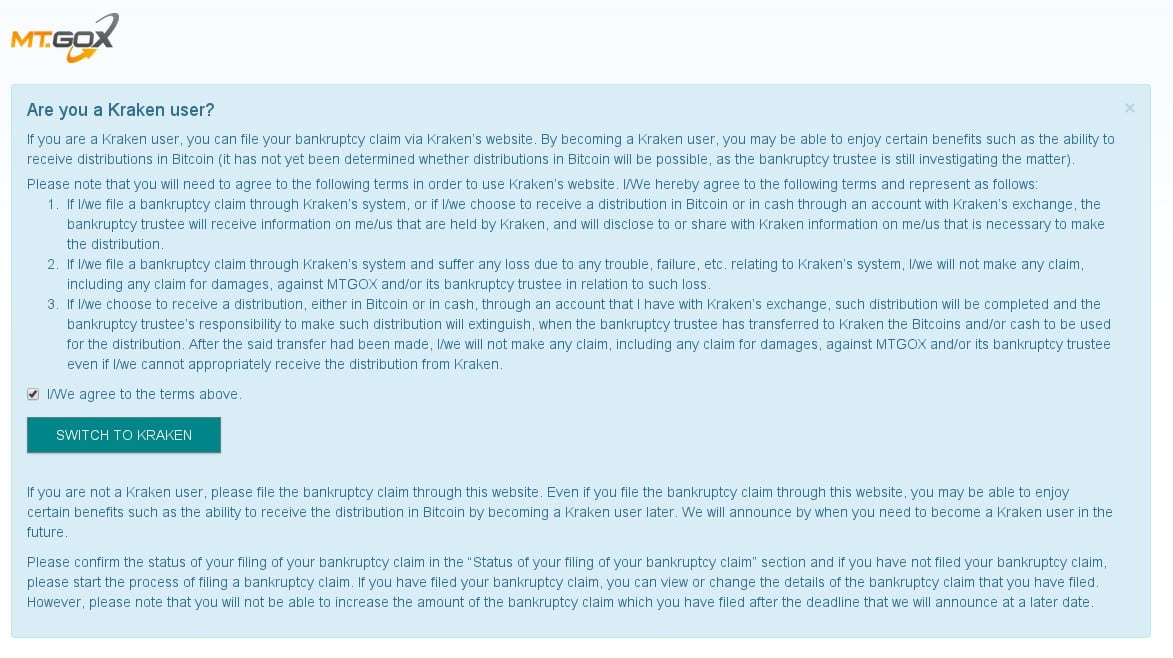 On April 17th 2015, the Kraken Bitcoin Exchange began accepting MtGox creditor claims with a bonus of up to $1 million in free trade volume. By claiming funds through Kraken, creditors are eligible for a free trading volume bonus, live chat and email support, and the potential to receive distributions in Bitcoin.
In November, Kraken was selected to aid in MtGox investigation and liquidation. At the time, Kraken's potential duties included creating a system to file and investigate claims, and help distribute assets to creditors. With Kraken now accepting claims to potentially issue distributions, all duties are being fulfilled.
When filing a claim, the MtGox claim system allows completion via Kraken. The claim amount(s) may not be later changed, so it is recommended to verify all info prior to submission. After submission, claim status may be viewed via Kraken's "MtGox Claim" account page.

Nobuaki Kobayashi, the MtGox bankruptcy trustee, is still investigating if distributions in Bitcoin will be possible. If Bitcoin distributions are possible, they must be accepted through a Kraken account. If Bitcoin distributions are found to be impossible and no creditor bank details were given, the creditor will then be asked to provide bank details.
Regarding Kraken's claim integration, Kraken CEO Jesse Powell said, "We see our involvement in this process as an opportunity to restore faith in the community by showing what we need more of in the Bitcoin space – trusted leadership."