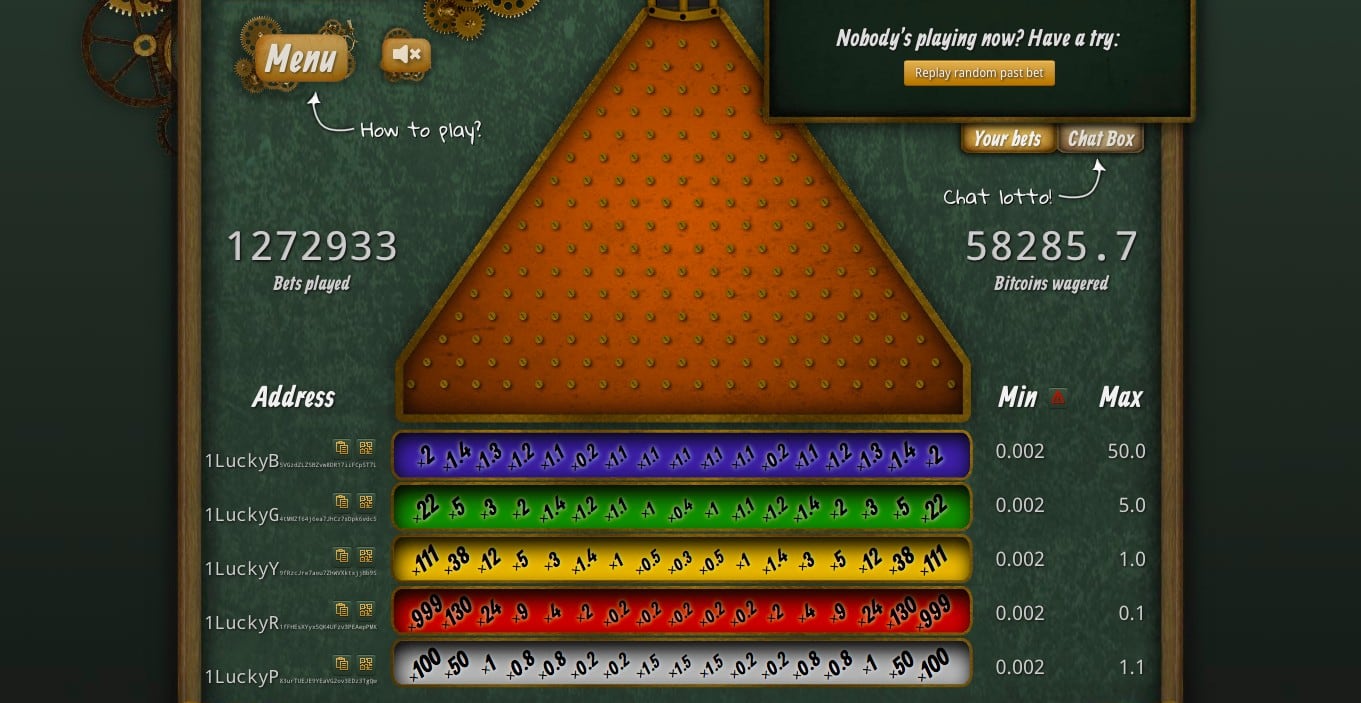 LuckyBit offers a truly unique and fun gambling experience in comparison to many other sites that I have come across. Whilst majority of Bitcoin Gambling sites offer dice, poker, slots, roulette or craps, LuckyBit hosts a fun game you may not have heard of. The concept is similar to the Bean Machine used by Sir Francis Galton.
It consists of a vertical board in the shape of a triangle with interleaved rows of pins. Balls are dropped from the top, and bounce left and right as they hit the pins. Eventually they are collected into one ball wide bins at the bottom.
On LuckyBit, these wide bins are different payout ratios according to how much risk you decide to take, a payout can be as little as x0.2 to as great as x999. You have the option of selecting five different addresses to send your bitcoins to, and your payouts will be redirected to the originating address (WARNING: Do not play directly from an exchange). You can bet on the Blue bin, the Green bin, the Yellow bin, the Red bin and the Promo bin (which changes weekly with different payouts accordingly) with different rows giving different payouts depending on how much risk you take.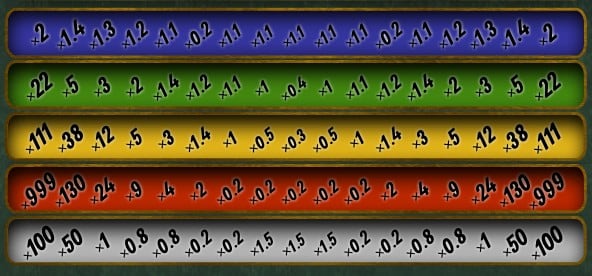 Like other sites, LuckyBit incorporates provably fair and uses an immutable system that even the administration cannot manipulate.
The hashes of every server seed that will be used for years to come have been published and the hash of that published file was used as a bitcoin address in September of 2013 to serve as proof that the hashes will never be modified. The system itself is also demonstrably fair and the odds of a coin landing in a particular spot can be mathematically proven and verified. – Community Manager Stingleword
LuckyBit has been operating since October 20, 2013, being in operation for just over 18 months. In this time they have had over 1.25 million bets placed, with some players winning crazy jackpots. Here's a video of one player turning 0.03 BTC into a staggering 99.8 BTC.
One of many interesting features at LuckyBit is the site's ongoing promotions. You can win anywhere between 0.0005 and 0.006 BTC for simply idling in the chat and answering basic questions daily (though a minimum total bet 0f 0.01 is required within the previous 24 hours to claim the prize). There is also rarely a turbo prize in the chat-lotto that can be up to 0.7 BTC. Another promotion that is offered to ongoing players is a "bonus rakeback" coin that randomly awards players an extra prize (win or lose) when betting.
We are also proud to host one of the best chatrooms in the bitcoin world, with a sensible moderation team and positive attitude that creates a superior play environment. – Community Manager Stingleword
There is also a scheduled "Happy Hour" event for when LuckyBit's Facebook page hits 1000 likes. The event sounds extremely exciting with very large prizes, and the chat-lotto awarding gifts of 0.02 BTC and up (with a very large prize towards the end of the hour) for basic questions being answered.
But by far, my favourite part about LuckyBit is the fact that there is no registration or sign up, and that all bets are public. By visiting their site you will see all bets live as they are made and fall through the Lucky Bit Machine.
Whilst there are many gambling sites being formed each day, most of them run on very similar scripts, making them quite dull. LuckyBit puts the suspense back into bitcoin gambling, in an enjoyable way that keeps players coming back.