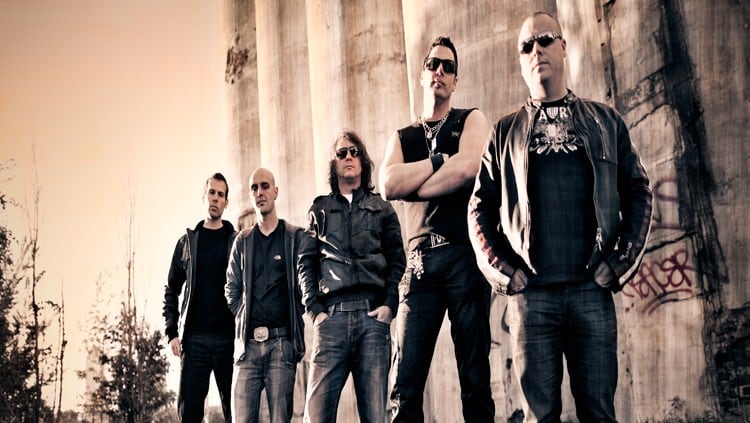 Industrial-rock band 22hertz have recently released their new single, Get The Hell Out, using an unconventional method of copyrighting.
Cryptographic Certification
Unsatisfied with the current copyright system, the Torontonian group opted to register their single on the Blockchain, rather than going down traditional routes.
CoinBuzz interviewed Ralf Muller of 22hertz on the motivation and process behind the unusual release.
---
– What made you decide to use the Blockchain to copyright your single, as opposed to traditional methods
Well first off in Canada it costs $50 a pop for one song and all you get is a certificate mailed to you with the title of your work on it. How this would ever help you in court proving that you created a melody or lyrics is disconcerting. I contacted their support to ask this question and they replied "I can't answer that because I am not a lawyer". I got inspired when I read an article a few months back when someone did this for a book, first time ever apparently. So when I was working on the single Get The Hell Out I thought I gotta do this too!
 – Could you walk us through the process of copyrighting your single using the Blockchain?
Sure, I just go to www.proofofexistence.com and follow their instructions. Basically I upload the song to be hashed, and make a small transaction for pennies with the hash included. I even double check the hash on my PC by using sha256sum.exe to make sure they match as a precaution..
– Let's say someone infringes on the copyright of your single. Would this method hold up in court?

I don't see why not. It is way more powerful than having a certificate with a title on it. However, the judge and lawyers might have a hard time keeping up technically but I'm sure once properly explained it's a no brainer. It's much more concrete and substantial than the old way.
 – Would you encourage other artists/content creators to copyright their work using this method?
I would recommend learning about bitcoin, hashing and OP_RETURN and if they feel comfortable with it then by all means go ahead, You'll save a lot of money and have absolute proof that your material existed at that time.
 – Will you be copyrighting your future releases on the Blockchain?
Yes, from here on out I'd have to be nuts to use the traditional route. I'm currently working on the next 22HERTZ album and it will all be on the Blockchain. The Single Get The Hell Out and all our other mp3's can be downloaded for free at 22hertz.com and if you want it on CD, save 50% when paying in bitcoin!