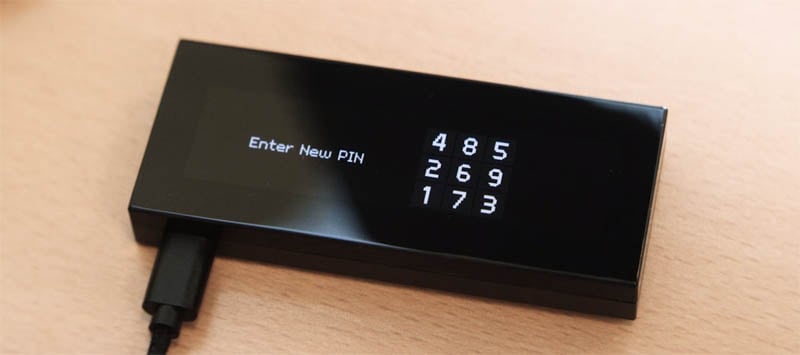 The KeepKey hardware wallet has begun shipping today, after being officially announced on July 19 of this year (although the device itself had been in development for approximately one and a half years).
KeepKey is the brainchild of Darin Stanchfield, Founder of the company, who began development on the project in 2014 after becoming frustrated with the lack of hardware wallet options available at the moment, as well as a mishap with a pre-order from an unnamed competitor.
"I decided at that moment that instead of waiting for a device to be built by someone else, I was going to take up the initiative myself. And so the seed of the idea for KeepKey was born. My goal became to create a device that bridged the gap between hot wallets and cold storage, without sacrificing security.
I also made a promise to myself that we would never accept a pre-order for KeepKey. Hardware manufacturing is like most things: the unexpected happens. Good planning still results in delays. But those delays belong to us, and we will never pass them down to our customers and their money. We think it is the right way to do business."
The software of the device is a fork of the Trezor project, version 1.3.3 but the hardware looks far sleeker. The KeepKey has a slightly bigger screen and looks rather elegant on its promotional videos, which partly explains the rather high price tag of $239. Its firmware can be reviewed on KeepKey's official GitHub repository.
The device itself connects to any computer through a USB cable and requires a Chrome extension to work. When the device is plugged in, the extension can automatically detect Bitcoin payment pages, aside from performing manual transactions, all of which must be confirmed via a PIN code that works in conjunction with the device's LCD screen.
Other members of KeepKey's team include Philip Koo (Senior Firmware Engineer), Carsten Hansen(Cryptography Engineer) and Kenneth Heutmaker (Senior Software Engineer) who made a brief statement regarding their security on their press release announcing the beginning of shipments:
"Our security model was designed to ensure that the user always has complete control over their private keys. We feel that relying on trusted third parties degrades the security and privacy that the bitcoin ecosystem offers."
As of launch, KeepKey is compatible with Electrum and Multibit wallets aside from its own Chrome extension and ships internationally freely. It can be bought on their official sales page or via Amazon.