Pros
Well Designed
Mobile Friendly
Real Money Tournaments
Big Loyalty Scheme
Big Welcome Bonus
Several Reload Offers
Cons
Bad Reviews
Poor Customer Support
Not a Well-Known Operator
Low Withdrawal Limits
In 2020, we came across a huge number of online casinos. Some of these were completely new to us and hadn't even appeared on our radar before we began reviewing them. Others were launched by big-name brands, giving us a fairly good idea of what to expect.
And then there were those that just didn't meet our requirements and failed miserably in some key areas. For instance, you might be surprised to learn that some online casinos don't have licenses. At all. And then there are those with games from developers you've never heard of, promotions that are definitely too good to be true, and websites that were seemingly pieced together by 10-year-olds using MS Paint.
Usually, these sites are dismissed outright. We like to focus on casinos that we can recommend, casinos that we actually have good things to say about. After all, what's the point of filling our site with hateful comments about casinos you won't join? You look for casino reviews because you want a site to join, not because you want to hear us berate the net's worst site.
That brings us to Casino Intense. On the surface, it's a site that seems to be worthy of a lot of praise. Maybe not one of the best we have covered, but certainly one that's worthy of being mentioned in the same breath as Space Lilly Casino.
On the surface, it's a site that seems to be worthy of a lot of praise.
However, once you dig beneath the surface, you will encounter some issues and these remove the gloss from what is otherwise a half-decent site.
Confused? Don't worry, it will all become clear in this Casino Intense review.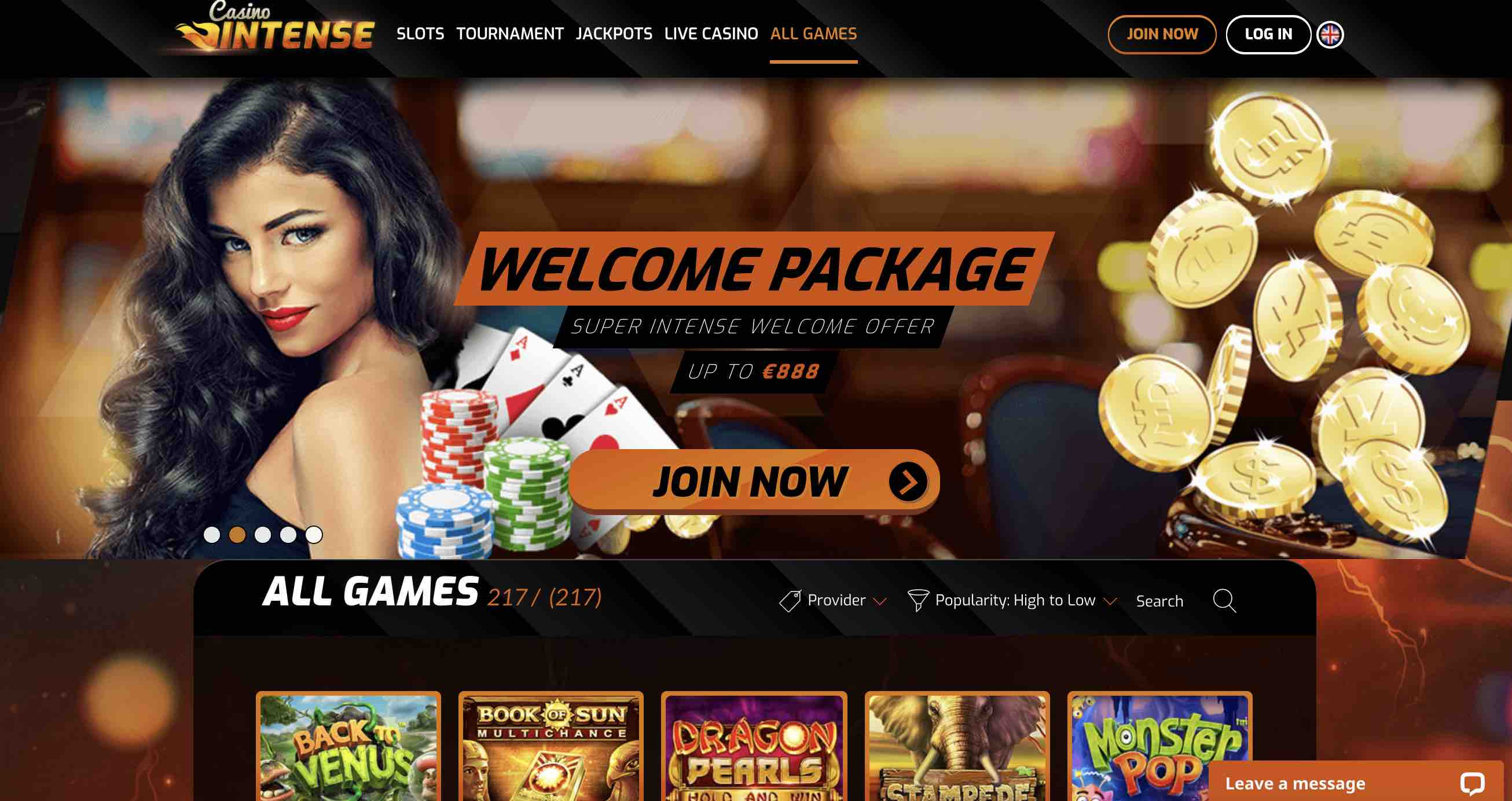 Basics
First up, Casino Intense is a fairly attractive online casino. It is not the best aesthetic we have seen, but it's also not the worst. Far from it. We would even go as far as to suggest that it's on par with the brilliant SlotsHeaven, at least as far as the visuals are concerned.
That's where the similarities end, however. SlotsHeaven is owned by the Mansion Group, one of the biggest operators in the iGaming industry and one that is licensed in the UK, Malta, and several other regions. Casino Intense is owned by SterPlay Holding Ltd, an operator that we haven't encountered before and one that doesn't seem to own any other casinos.
We usually follow this comment by saying that it doesn't matter how many sites an operator runs and that it's not a sign of quality either way. In this case, however, it might be.
SterPlay is licensed by the authorities of Curacao but it is based in Belize, which is rather unusual. It's not necessarily a bad thing, but most Curacao-licensed sites have their base in Cyprus, and it's unusual to see one based in Belize.
That brings us to the next issue. We're in the United Kingdom and we often rely on a VPN when reviewing Curacao-licensed casinos. That wasn't necessary for Casino Intense. Not only did it allow us to visit the homepage and see the site, but much to our surprise, it also allowed us to join.
And just in case that was an oversight, we checked other areas of the site and noticed that it seems to target players from the UK. In its Payment Options section, for instance, you can set your location to see which methods are available where you live. One of those options is for the United Kingdom, where it states that we can deposit using several traditional methods and cryptocurrencies.
For those not in the know, UK-facing websites need to be licensed by the UK Gambling Authority, which employs some incredibly strict rules and has some of the highest standards in the industry. You might still be able to join sites that are not regulated in the UK, but if anything happens, you won't have much recourse for action.
In that sense, it's akin to a player from the US joining a site based in Europe. Just because they can (somehow) slip through the net, doesn't make it legal and definitely doesn't mean they can play comfortably and safely.
If you're in the UK, we would recommend giving this site a wide berth. After all, the UK is home to some of the best gambling sites in the world and all of them will provide you with a safer gambling experience as far as the regulator is concerned.
We've had contact with the UK Gambling Commission. We've been through the mediation process twice, and in both cases, we hated the experience and were made to feel like criminals as the so-called "neutral regulator" favoured the casino and ignored our pleas. However, this experience is still preferable to the one you would have with the Curacao authorities.
Games
Casino Intense doesn't have the largest selection of games. In fact, for a casino that hit the market in 2020, it has a pretty disappointing offering. Before writing this review, we covered the vast gaming selection on offer at Sapphire Bet, as well as dozens of other sites. Casino Intense bucks this trend and has fewer than 300 games in total.
We're not sure if that's just because the games are limited by region or not, but the number doesn't seem to increase even when we changed our location.
In an age where the average casino has over 1,000 games, anything less than 500 is pretty disappointing. This is not 2005, and you can't expect players to get excited about such a limited selection.
On the plus side, the casino has games from the brilliant Betsoft, as well as Booongo, VIVO Gaming, and Lucky Streak. You won't find any Microgaming or Playtech titles here, and that's why the selection is pretty limited, to say the least.
Bonuses
Casino Intense offers up to €888 to all new players who join the site and make their first deposit. We're not sure what the relevancy of that number is, and the only place we've seen it before is on the many 888 sites, where it actually makes sense. Still, it's a sizeable sum, more so than the likes of Jet10 Casino, so we can't complain.
Once you have qualified for this first deposit bonus, you can take a shot at another two bonuses, with the first offering 50% up to €588 and the second doubling your money up to €200. There are also Happy Hour bonuses, Reload bonuses, and a great deal more.
In fact, Casino Intense has two of the things that all good casinos need and that so many sites overlook: Tournaments and a VIP Scheme.
The VIP Scheme looks like a pretty solid one, potentially on par with the likes of Champagne Spins. There are multiple tiers, going from Beginner to Elite, and as you advance through the levels you'll be able to collect all of the following rewards and more:
Cashback
Birthday Bonuses
Faster Withdrawals
Higher Limits
Your Own Account Manager
Invitations to Exclusive Events
As for the real money tournaments, this is always a nice addition and it gives you a chance to collect extra rewards by playing the games you love. However, we can't comment much on these, as there were no tournaments active at the time of our review.
It's unusual to see this, and even if a site has no active tournaments it usually showcases promotions for upcoming events or shows the results of previous ones. It doesn't bode well, but we'll give Casino Intense the benefit of the doubt and hope that tournaments will be added in the future.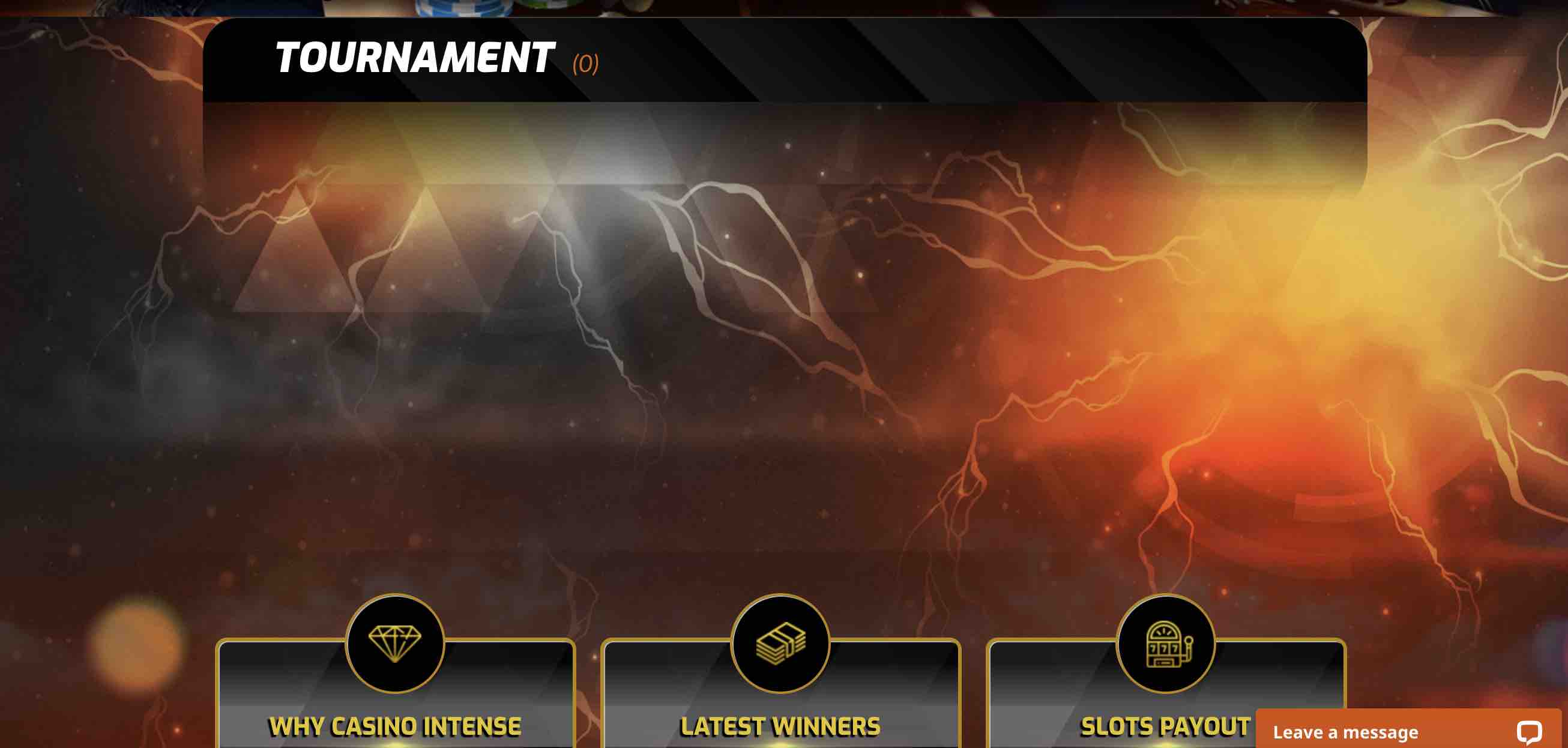 Banking Options
In the past, we've complained about withdrawal limits on casinos like MaxCazino. Many Araxio Casinos limit players to withdrawals of just €500 per day and €10,000 per month, which is pretty poor, but next to Casino Intense, these sites look pretty generous.
Players are limited to deposits of no more than $1,000 and withdrawals of no more than $4,000 a month. What's more, players from many countries have just a few options to choose from and are required to withdraw a minimum of $100. That's a huge sum when you consider that the average is closer to $20.
In fact, we genuinely can't remember seeing an online casino with a minimum withdrawal requirement higher than $50.
Payment methods and limits can differ greatly from region to region, but if we use Canada as an example, some of the available deposit methods including ecoPayz, Skrill, Neteller, CASHlib, Interac, Visa, MasterCard, Litecoin, Bitcoin, and Ethereum, but withdrawals are limited to Wire Transfers, Neteller, and Skrill.
When you consider how many payment options MELbet offers to its players, this selection looks fairly poor. And it's even worse for some other countries, including the UK, where players can only withdraw using a Wire Transfer.
As if that wasn't bad enough, we've seen complaints stating that it takes the casino several days and even several weeks to process withdrawals. Hopefully, these are just isolated incidents, as you really shouldn't be waiting for more than a day or two in this day and age.
Take a look at Bitstarz Casino for example, a site that has always managed to deliver quick withdrawals.
Highlights
A Decent Design
Lots of Regions Accepted
Big Bonuses Available
VIP Scheme
Real Money Tournaments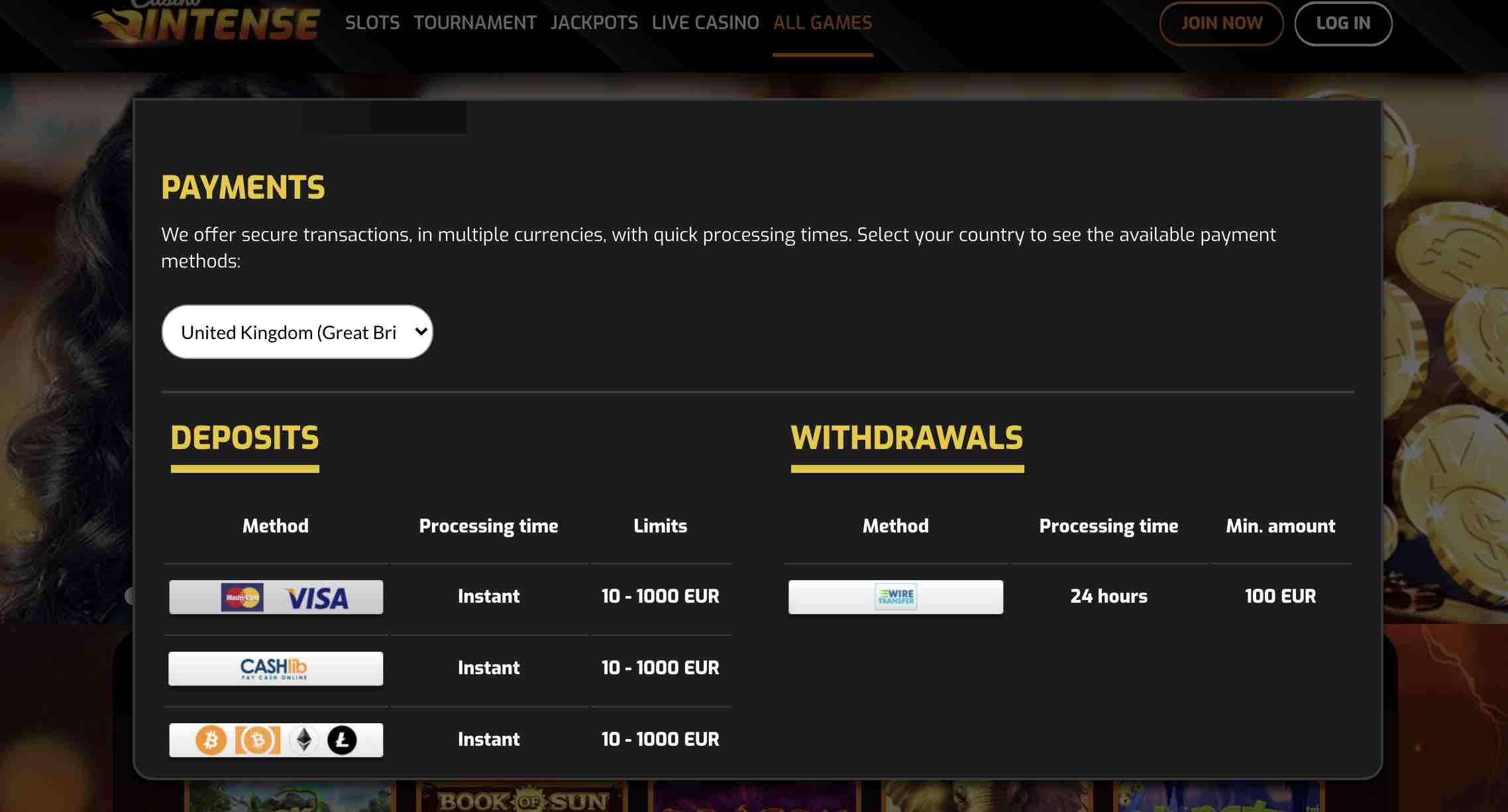 Reviews and Support
Casino Intense doesn't have the best reviews. In fact, we looked long and hard and we struggled to find anything that was overly positive. It's also worth noting that none of these had received responses from the casino. As noted in our review of Syndicate Online Casino, it's a very good sign when casinos respond to bad reviews.
We tried contacting the support team ourselves and didn't get a response. To give them some credit, we sent this request during a busy period and didn't have long to wait before this review, but still, we expected a quick response.
One of the many issues reported by players concerns the verification process. Nothing is more frustrating when this process just doesn't work and keeps demanding that you jump through hoops while wasting your time. We've been through it ourselves and it's infuriating, so we understand how players feel when they complain about waiting over 2 weeks for Casino Intense to verify their accounts.
One player complained that their verification documents went missing after a prolonged wait, thus delaying things even more. Another stated that they keep receiving a different response every time they contact Live Chat.
Review Summary
Casino Intense doesn't seem to be very active. Not only are there are a lot of bad reviews and very little coverage, but we checked the site not long after peak gaming time and the "Latest Winners" list was pretty sparsely occupied, to say the least.
That's not much of a surprise, however, as it's a pretty disappointing and questionable site on the whole. There are some positives here, including the bonuses, the design, and the fact that it is available to players in many regions around the world.
However, these positives are overshadowed by some questionable decisions, poor customer support, a very limited selection of games, and a list of real money tournaments that seems to be empty. If we didn't know better and had just stumbled upon the site accidentally, we'd assume it was still in production and was awaiting a big launch.
Alternatively, based on the limited popularity, small selection of games, and lack of relevant regulation, we may have also assumed that it was an old site that had been neglected, forgotten about, and was simply waiting for the domain to expire.
That sounds like a cruel assumption to make, but if you look at the reviews, you'll understand what we mean. What's more, the site has a very empty feel to it. It's a little lifeless, and not just because it doesn't have many games.
As it happens, none of those things are true, as Casino Intense launched in 2020. It's a new site that has definitely not been neglected and it has been around long enough for it to get its act together.
That leads us to one conclusion: It's just a disappointing site.
Still, we don't want to end on a bad note and believe there is potential here (otherwise we wouldn't have covered it). The site has many good points, and if the operators removed access to UK players and others from strict regions, added a few tournaments, improved its customer support staff, removed its withdrawal limits, responded/resolved negative reviews, and tripled its gaming roster, it could shoot up our list.
That sounds like a lot, but in reality, they're all relatively quick fixes and considering how much of a difference they could make, they're also essential.
Is Casino Intense a Scam?
Bad customer support and limited games does not make a casino a scam. Casino Intense is still regulated and works with legitimate payment providers and developers, so no, it is not a scam.
Does Casino Intense Accept Bitcoin?
Yes, you can use Bitcoin from most regions. However, more often than not, it is only available at a deposit method and cannot be used to withdraw.
Does Casino Intense Accept PayPal?
No. However, you can use Skrill and Neteller and these are available for withdrawals as well as deposits.
Should I Join Casino Intense?
If you're the sort of person who likes to try as many sites as you can, collecting bonuses on the way, we'd say go for it. However, if you're looking for a single top site, this is not it.
Casino Intense Review Details
Languages:
English
French
German
Spanish