Pros
Vast Gaming Selection
Stacks of Accessibility Options
Great Aesthetic
Lots of Promotions
Virtual Sports and Sportsbook
Fast Withdrawals
Cons
Bonus Terms
Few User Reviews
Sapphire Bet launched in 2018 under a Curacao casino licensed and is owned by a company called Hermes Consulting. It's not one that we have come across before, but that doesn't mean anything. In fact, at first glance, Sapphire Bet is an incredibly promising online casino that seems to tick a lot of boxes.
Sapphire Bet is an incredibly promising online casino.
The question is, does it have what it takes to beat the highest-ranked Bitcoin casinos on our list or is it ultimately all style and no substance?
Keep reading our Sapphire Bet review to find out.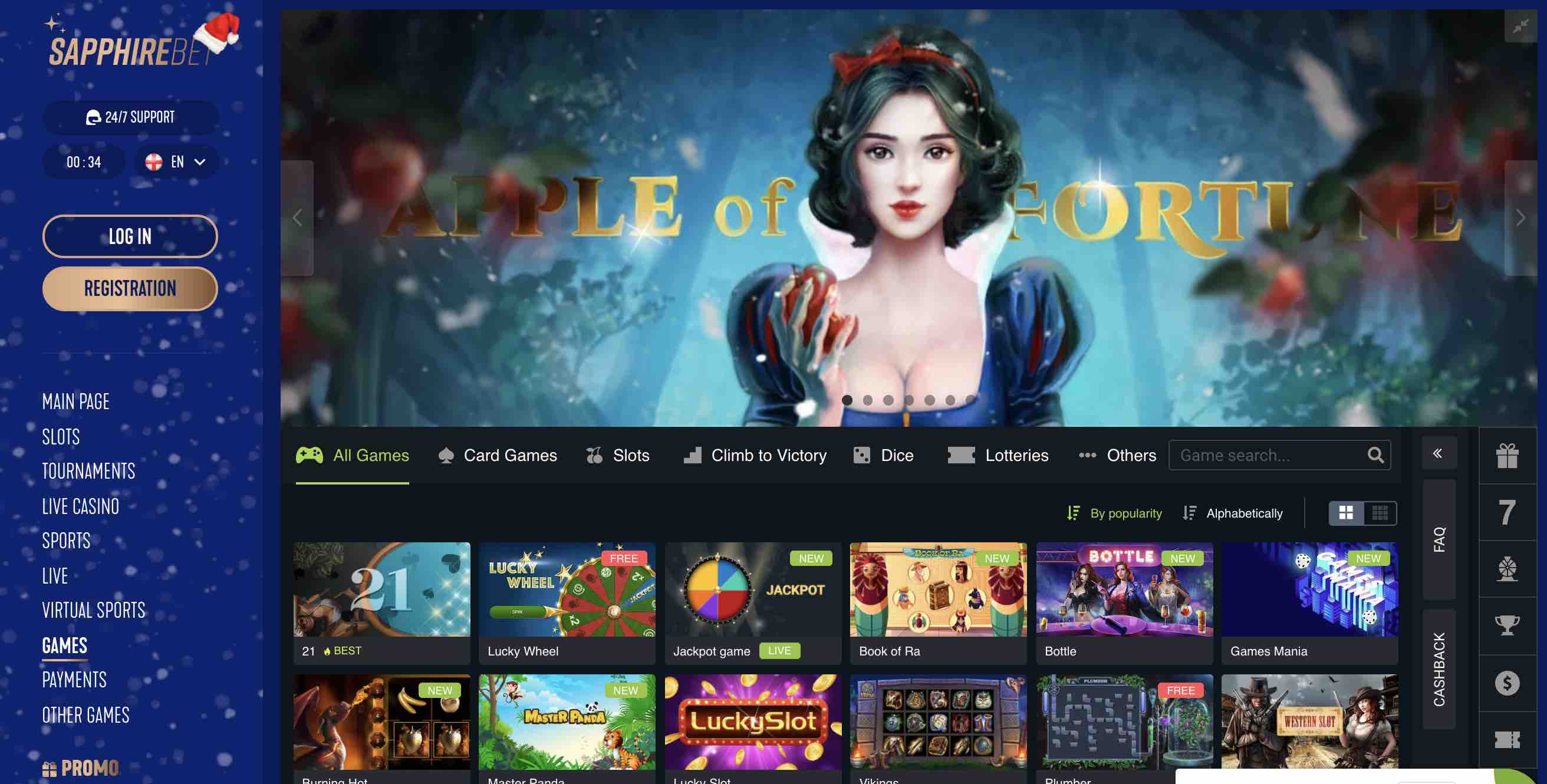 Basics
As you would expect, Sapphire Bet adopts a deep blue colour-scheme and this changes depending on the season. During winter, for instance, the sapphire colours were flecked with hints of snow and it created a very warming and welcoming aesthetic.
It's not quite up there with the likes of Cadabrus Casino, which we have praised multiple times on this site, but it's definitely worthy of praise. In an industry that repeatedly disappoints where aesthetics are concerned, it's good to see a casino that actually gets this right and creates something that doesn't make you cringe (we're looking at you, Mr Bet).
If you're using a desktop, you'll find everything you need on a static sidebar, including access to the site's many sections and a link for 24/7 support.
You can also change your language (we counted 63 options in total) and Log In or Register.
For a site that has so much going on, it's amazing that Sapphire Bet has managed to created such a tidy aesthetic.
Software
We have seen some expansive games rooms in our time, including casinos that have over 30 developers. The likes of BetandYou take things to the next level with over 50 creators and Sapphire Bet is matching them every step of the way.
You will find games from Betsoft, Elk, Habanero, Big Time Gaming, NetEnt, Wazdan, and over 50 other developers. This is as good as it gets for players who enjoy a bit of variety. It means that you'll always be able to find your favourite creators and favourite type of games.
For us, that means the innovative 3D slots created by the likes of Betsoft and NetEnt, for others it's about classic video slots from Microgaming, or drop and wins from Pragmatic Play.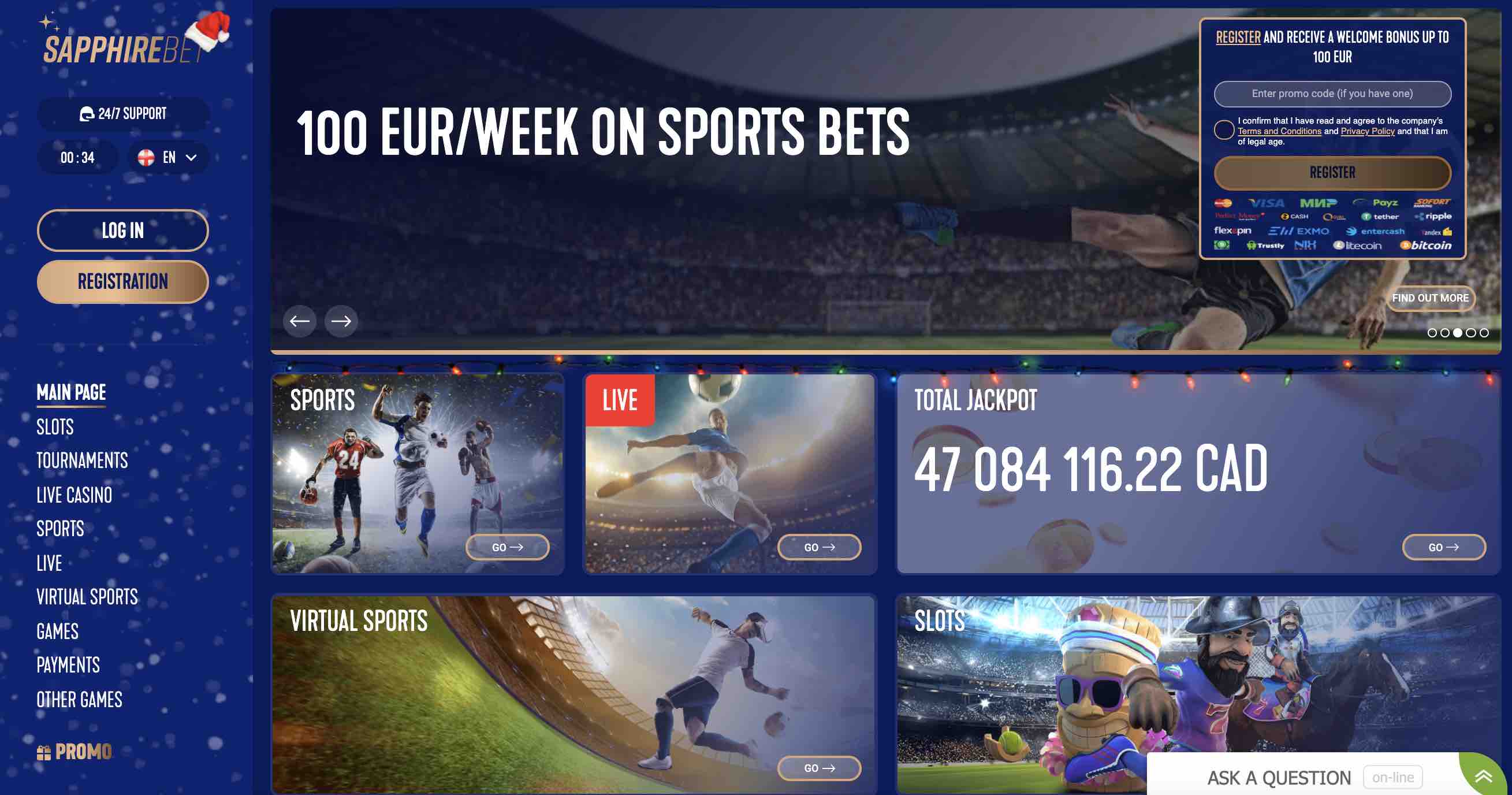 Games
In a recent review of Vegaz Casino, we noted how the site claimed to have over 6,000 games, even though this claim wasn't really supported by a huge number of developers. We were suspicious of that, because we've seen sites with lots of games and it just didn't feel like one of them, even though it was claiming to have 50% more than any casino we've reviewed.
Sapphire Bet has a similar feel to it and we also have reasons to be suspicious of its claim.
On the one hand, it claims to have over 7,000 games, which, if true, would make it the biggest casino we have ever encountered.
It's not an impossible number, as many white label providers have over 10,000 games for their licensees to choose from and unlike Vegaz Casino, Sapphire Bet actually works with a huge number of developers.
However, this claim is just not consistent. Take the About Us page as an example. If you scroll down to the bottom of the page, you'll see an image that boldly claims, "Over 7,000 games". Scroll further down, to the segments in the footer, and it makes another bold claim, "Over 5,000 games".
And we know what you're thinking, "7,000 is still over 5,000, so both statements could be true", but come on…
We might be doing the site a disservice here, and we apologise if that is the case, but there is never 7,000+ games here. Still, there is certainly at least 3,000, which is more than enough and ensures most players will find what they're looking for.
These games are separated into a host of categories, with some of our personal favourites including:
3D Slots: Online slots have come a long way over the last few years. Graphics are better, features are more intricate, and you'll find a variety of unique mechanics. Not all players enjoy this style of slot but for the ones that do, this is the perfect section.
Buy Bonus: It's been mentioned a few times here at Coinbuzz but Buy Bonus features are great. They give you a chance to trigger the bonus feature without waiting for Scatter symbols to appear. It's a quick and easy way to trigger the features that every player chases.
Keno: This numbers game is always good for a few games now and then, and there are those who play it obsessively. It's one of the few games that give you a chance to win a life-changing sum of money with a stake of just a few cents.
Megaways: A massively popular feature that was first developed by Big Time Gaming and has since been licensed to a variety of other providers. It gives you a chance to spin over 100,000 paylines at a time, which is a staggering number.
If these games aren't quite what you're looking for, Sapphire Bet also has a Live Casino and this is populated by some of the best Live Dealer creators in the world, including Evolution Gaming, Pragmatic Play, and LuckyStreak.
Sports
Despite offering a vast selection of casino games, Sapphire Bet is still a sportsbook first and foremost and as you might expect, it has an incredible selection of betting markets to choose from.
The sportsbook is nearly arranged and that makes it easy to find exactly what you're looking for, whether you're navigating through endless lists of betting markets on the English Premier League, or enjoying the occasional frame bet on games of Snooker.
Dozens of sports are represented and while Soccer is given priority, you'll also find a good selection of eSports, Rugby bets, and American Football games.
Bets can be placed pre-game and in-play and if there are no active games to fill your wagering needs, you can simply visit the Virtual Sports section.
These simulated game occur across a variety of sports and let players choose from a number of events. You can bet on the winner of a horse race or select how many goals will be scored in a game of Soccer. And the beauty of these games is that as soon as one ends, you only need to wait for a couple of minutes before the next one begins.
It's this constant cycle of sports that kept players hooked during the height of the pandemic, when the world's biggest sports and leagues were shut down. The chaos of 2020 is behind us now, but these games are still riding a wave of popularity and have grown immensely—in both scale and quality—over the last year.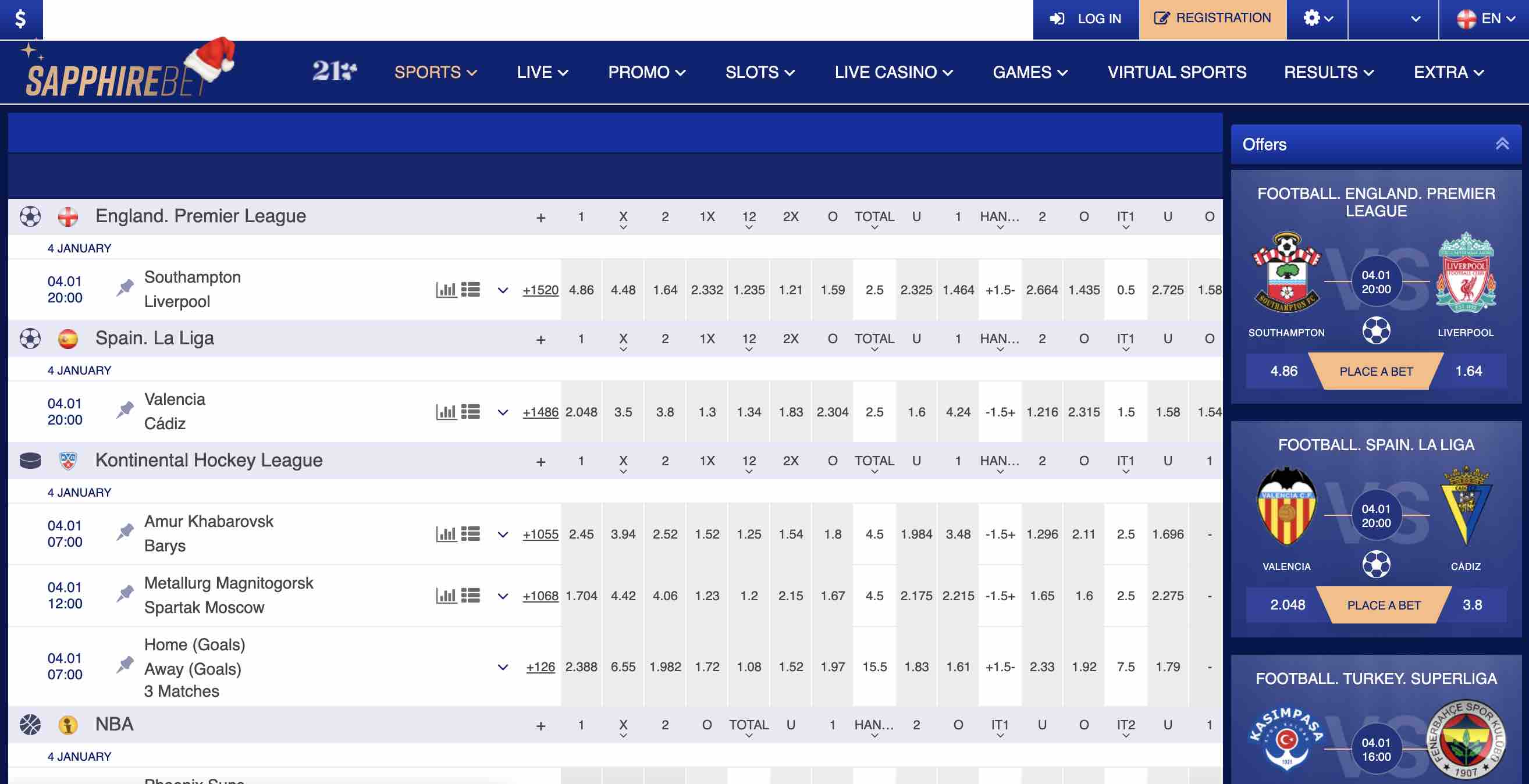 Casino Promotions
Deposit a minimum of €10 to get your piece of a very impressive Welcome Package Bonus, one that offers up to €1,500 and 150 Free Spins. It's worth noting, however, that many cryptocurrency accounts will not qualify for this bonus so you may need to switch to web wallets or debit cards.
The bonus is spread across your first four deposits and offers €300, €350, €400, and €450 respectively. You'll also get 30, 35, 40, and 45 Free Spins with each of these deposits and have 7 days to clear a wagering requirement of 35x before your winnings can be withdrawn.
Other promotions are available as well, including a number that are targeted exclusively to the sportsbook. You can still scoop some big promos if you stick with the casinos, but you get the feeling that Sapphire Bet is best suited to sports bettors who enjoy some casino games on the side.
Payment Options
Your payment options will depend on your location. If you're playing from Canada, you have 14 different deposit methods to choose from, including 6 cryptocurrencies. Other countries may have fewer options but the cryptocurrencies seem to be available to players in most regions.
For a full list of payment options available at Sapphire Bet, take a look at the table below this review.
Generally speaking, there are no fees for using any of the available payment methods and all withdrawals are processed following a pending period of just an hour. Your money will land in your account within a few minutes, providing you're using a cryptocurrency or web wallet.
If not, you may need to wait a little longer.
This is usually the point that we add a "but" and then complain about the withdrawal limit, which seems to be an issue that most casinos have. However, we didn't notice a limit on Sapphire Bet and can only assume that it doesn't have one.
It's very rare for an online casino not to have a deposit limit and we've encountered many of them in the past, including extremely restrictive limits on Araxio casinos like Rabona. However, there is no sign of one here so we can only assume that one doesn't exist.
If you're planning to deposit several thousand Euros at a time, we would still recommend contacting the site beforehand, just in case. Not only can you doublecheck and then use their comment as proof (just in case you're hit with a limit in the future) but they may also offer you an additional bonus.
High rollers always get the best treatment, but you won't be offered anything unless you make sure big spending status known.
Highlights
Huge Selection of Languages
Lots of Payment Options to Use
Over 5,000 Games to Play
A Vast Number of Top Developers
Mobile-Friendly and Looks Great on Desktop
Very Fast Withdrawals
Reviews and Support
We always like to cap off our casino reviews by seeing what users are saying about the site and judging the casino based on whether they respond or not. We couldn't actually do this with Sapphire Bet, because even though the site launched in 2018 (several years before we wrote this) there are no comments on major user review sites.
That's not necessarily a bad thing, it just means that the site isn't as big as some of its competitors and seemingly hasn't invested as much on advertising.
The good news is that it is still a licensed casino and it still works with trusted developers and payment solutions, so there is no suggestion that it's a scam.
If you decide to join the site and deposit some money, make sure you return here and leave a review. We publish all comments—good and bad. We will not censor you (unless you use obscene language, of course!) so let it all out and give other readers some pointers.
We personally had a very good experience here, which is why we're reviewing Sapphire Bet in the first place, but we're just a small team reporting on a single experience. User reviews help to add to that experience and paint a bigger and clearer picture.
In a year or two, when another reviewer takes a look at this casino and decides to record their experiences, you'll make their job easier.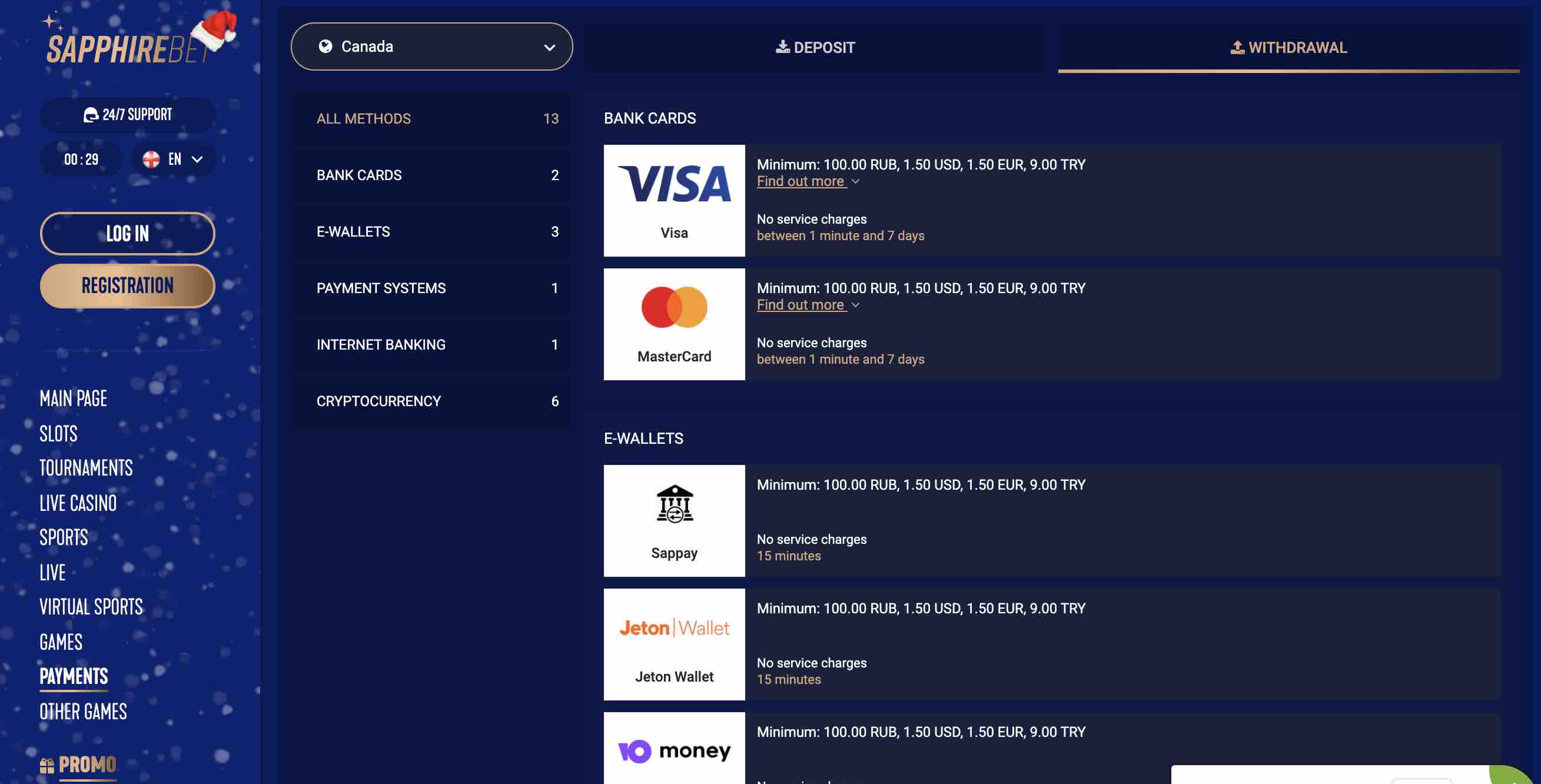 Final Word
We really liked Sapphire Bet, and that was a massive surprise. Despite being launched in 2018, we had never heard of the site before and were sceptical going in.
At best, we expected it to be like Betsofa Casino, a solid but uninspiring site that ticks a lot of boxes but never truly excels. At worst, we thought it would be so bad and suspicious that we couldn't even include it on Coinbuzz (you would be surprised how much this happens).
In the end, we found an online casino that impressed us in more ways than one. It has great promotions, a huge selection of games, and more accessibility options than you can shake a stick at.
It's incredibly impressive, and that makes its fairly obscure reputation either a travesty or something to be suspicious about. What we do know, however, is that Sapphire Bet deserves a high rating. We can only judge it based on our experiences, and because we had such a good time here, Sapphire Bet gets high scores all round.
Does Sapphire Bet Accept Bitcoin?
Yes, it does, but if your account is fixed to mBTCs you may be excluded from the bonus. Keep this in mind before you join and make your first deposit.
How Many Games Does it Have?
As noted in our Sapphire Bet review, the sites claims to have over 5,000 and over 7,000 games. We didn't count, but it certainly works with a lot of developers so it's not a stretch to suggest that the first of these figures could be true.
Do I Need to Verify?
Even though the site is licensed in Curacao and accepts Bitcoins, you may still be asked to verify your ID. This request usually comes after you make several withdrawals or make a single large withdrawal. It depends, though, and it can also trigger at random.
Is Sapphire Bet Available on Mobile?
You can access the site using your mobile device, placing bets and playing games on the go.
Sapphire Bet Casino Review Details
Restricted Countries:
Austria
Belgium
Bulgaria
China
Croatia
Cyprus
Czech Republic
Denmark
Estonia
France
Iran
Italy
Netherlands
Portugal
Slovakia
Slovenia
Spain
Sweden
Switzerland
UK
US
Languages:
Albanian
Arabic
Azerbaijani
Bulgarian
Chinese
Croatia
Croatian
Czech
Danish
Dutch
English
Estonian
Finnish
French
Georgian
German
Greek
Hindi
Hungarian
Indonesian
Italian
Japanese
Korean
Norwegian
Polish
Portuguese
Romanian
Russian
Serbian
Slovenian
Spanish
Turkish
Currencies:
BTC
CAD
DOGE
ETH
EUR
LTE
mbtc
RUB
USD