Pros
6,000+ Games
Live Casino
Mobile-Friendly
Good Support
VIP Program
Cons
Slow Withdrawals
Withdrawal Limits
Vegaz Casino is one of many online casinos to launch during 2020, a year that was terrible for most industries and most people, but one in which the gambling industry thrived. It is owned and run by Mirage, a brand that has divided our reviewers in the past.
Vegaz Casino is one of many online casinos to launch during 2020.
We've had some good and bad things to say about this company's casinos, with WCasino getting most of the bad and with Wolfy Casino getting more of the good.
The question is, where does this Curacao-licensed online casino fit into all of that? Is it deserving of top marks or is it going to be ranked similarly to some of its less popular sister sites?
In this Vegaz Casino review, we'll find the answers to those questions and many more.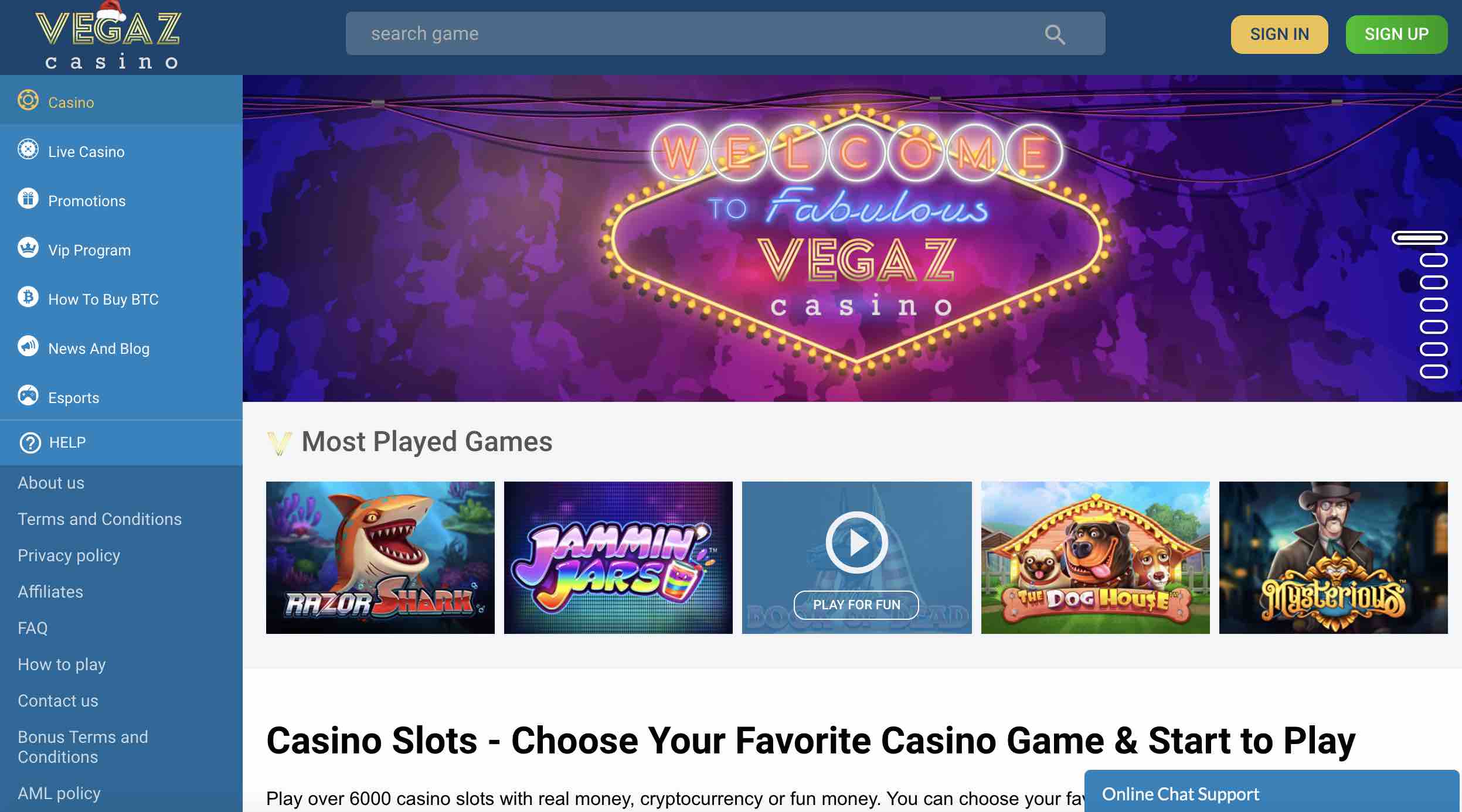 Basics
Our first introduction to Vegaz Casino wasn't the best.
For a little background, we live in the United Kingdom and typically use a VPN set to Canada, Australia, South Africa, or India whenever we need to review casinos. When we first review a site, we leave the VPN off, just to check whether it will allow us visit the site and, if not, if it blocks us entirely or lets us see the homepage but prevents us from joining.
Vegaz Casino falls firmly in the first category, sending UK players a warning message that displays in place of the casino. But instead of informing them that, "[We're] not available in your country" or the more common, "UK players are not allowed to visit this casino" it says, and we quote, "Sorry, we have blocked your country due to suspicious activity".
Not "your IP" but "your country", as if the entirety of the United Kingdom is acting suspiciously and has been blocked. Maybe it has. We'll be the first to admit that the US hasn't made the most agreeable decisions in recent years. But come on, forgive and forget…
It's an oddity, and it's one that might cause a little panic among some users who don't realise their country is restricted. So, just to put your mind at ease: It's not you, it's them.
As far as the actual design is concerned, it's clean, clear, and easy to navigate, but it's far from unique and lacks the colour and innovation we've seen in online casinos like Cadabrus.
You could even call it dated. We wouldn't, as we feel like we'd be doing the developers a disservice. We've seen dated. We've seen bad. And Vegaz Casino is nowhere near as bad as those sites.
The good thing is that it doesn't make the mistake of using overly bright and headache-inducing colour schemes. It also doesn't lean too much toward the mobile side of things, as we feel that many modern online casinos are mobile first and consider desktop only as an afterthought.
Vegaz Casino is very easy on the eye and this makes for a smooth and simple navigation on both desktop and mobile.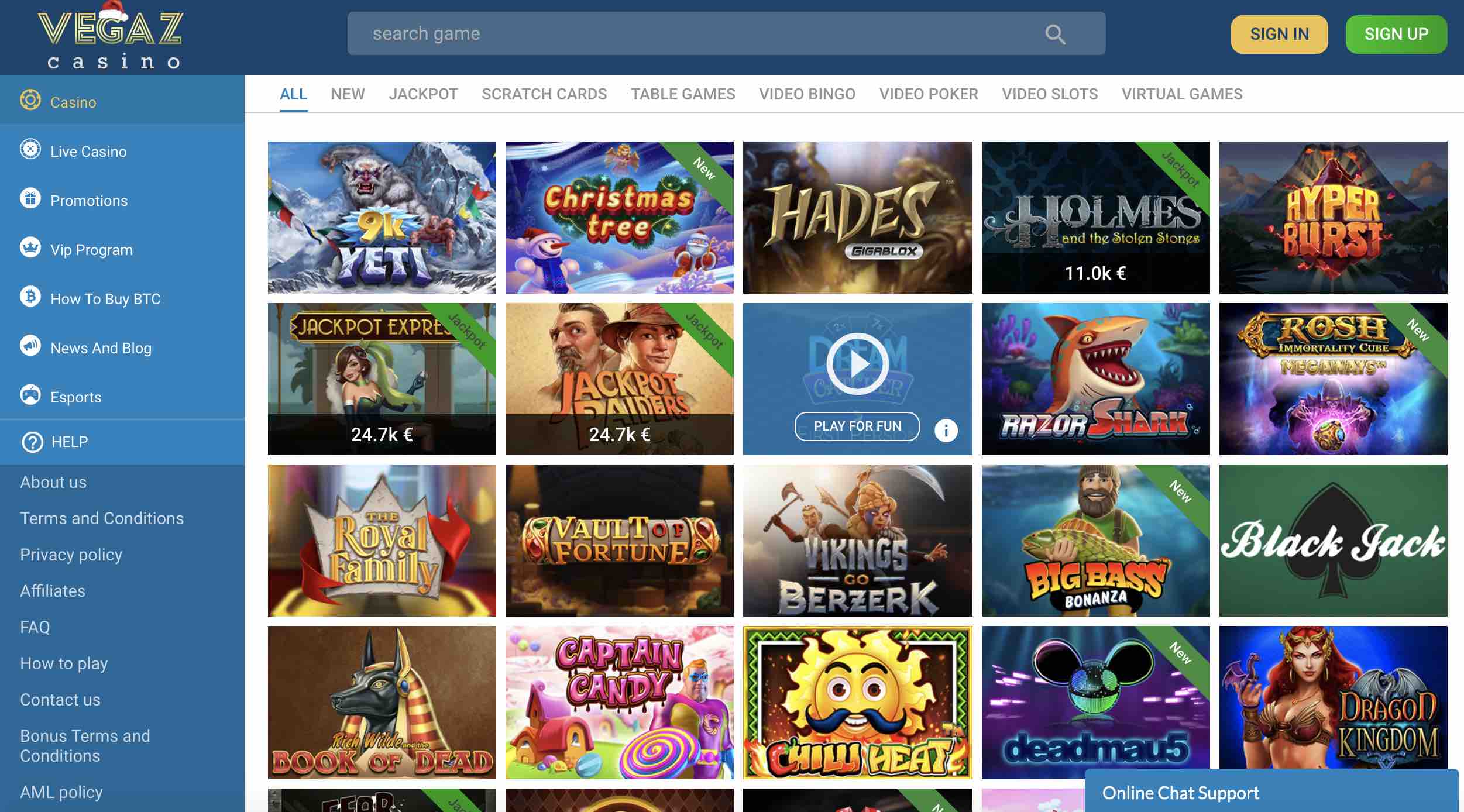 Games
We've reviewed hundreds of casinos over the years and we've seen a wide variety of themes and styles in that time. We have also seen some pretty bold claims, including BetandYou Casino, which has over 4,000 games and is often referenced by us because of this fact.
We can count on one hand how many casinos we have reviewed with 4,000 games but we have yet to encounter a single site with more than 5,000.
Vegaz Casino has managed to change that. It claims to have over 6,000 slots, and that's before you consider its table games and Live Casino games.
We didn't count (obviously) so we can't verify this claim, but there certainly seems to be a lot of them.
In the past, we've exclaimed our joy at casinos that have a large selection of games and have claimed that more is always better. 6,000+ is the point at which we stop being so sure, the point at which we feel like they might have reached the limit.
Still, we're not complaining. Not only does it have a huge selection of games, but these are provided by a wide variety of top developers, including NetEnt, Betsoft, Big Time Gaming, Habanero, Microgaming, Thunderkick, Pragmatic Play, Red Tiger Gaming, Blueprint Gaming, Wazdan, and Yggdrasil Gaming.
Of course, you'll see the same expansive list on a lot of online casinos. But the great thing about a casino that has such a huge games room is that it does more than simply cherry-pick the best titles.
Vegaz Casino has most of your favourite online slot machines, including bonus slots, jackpot slots, video slots, and more.
Surprisingly, it doesn't have many table games, but it does have a decent Live Casino, with titles provided by Ezugi, Pragmatic Play Live, Vivo Gaming, and Evolution Gaming.
Again, we're not entirely sure if the casino really does have more than 6,000 slots. If it does, then there's a good chance it has over 6,500 games in total, judging by the size of its Live Casino.
If we hadn't seen that claim, we would have guessed a total games count closer to 2,000 simply because the casino doesn't seem work with enough developers to hit that 6,000 total.
After all, white label provides have around 10,000 games in total and they get those from over 100 developers. Vegaz Casino has fewer than 50, and it doesn't include Playtech, which has one of the largest selections of any developer.
Still, we see no reason for it to lie and 6,000 games is an incredibly impressive total.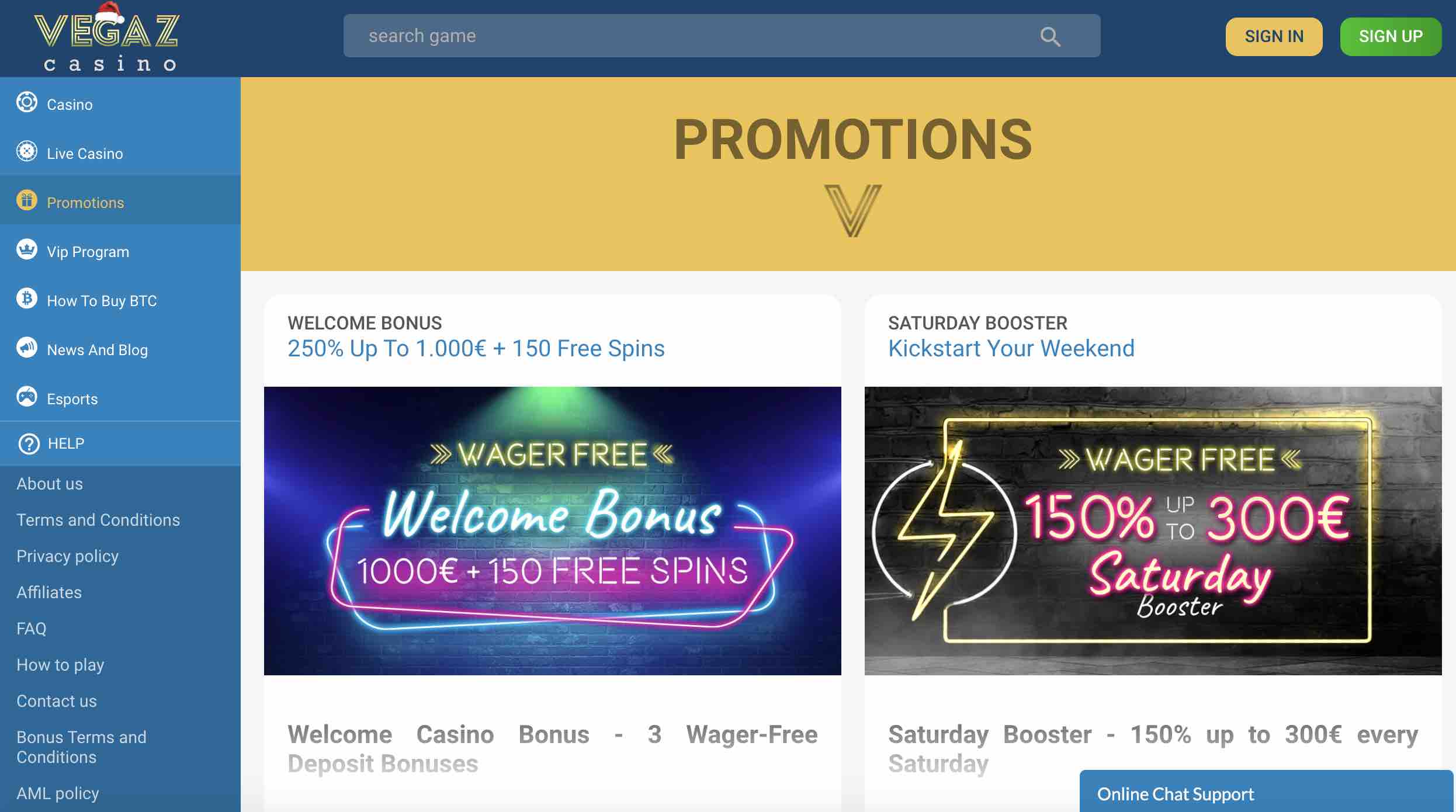 Bonuses
Vegaz Casino's Welcome Bonus offers you a bonus up to €1,000, and you'll also get 150 Free Spins. This bonus is spread across your first three deposits and you need to deposit €20 each time if you want to qualify.
The first and final bonuses are capped at €300 each and the second one is capped at €400. The only issue we have with this promotion is that it's a little misleading.
On the casino's promotions page, it is advertised as a "250% Welcome Bonus", simply because the first and final offers are 100% and the second is 50%. But come on…that's very different from a 250% Welcome Bonus and we're sure they know it!
Each deposit also provides you with 50 Free Spins for a total of 150.
Vegaz Casino also has a VIP Program and this rewards you with a host of perks and prizes, including:
Your very own VIP manager
Access to a VIP chat room
Faster withdrawals
VIP cashback rewards
Exclusive promotions and bonuses
Personalised offers
Weekly rewards
It doesn't clarify how much you need to bet to become part of this scheme, but it's a VIP Program and not a Loyalty Program, so it's only available to high rollers.
If you're looking for a Loyalty Program that will reward you regardless of how much you bet, you'll need to look elsewhere. We recommend taking a peek at our review for Kingdom Casino, which has several tiers and offers a little something for all stake levels.
Payment Methods
Just before we sat down to write this review, we played some games at Bitstarz Casino and we also placed some bets at a UK sportsbook (not reviewed here as it doesn't accept Bitcoin). In the first instance, we got a 50% return on our deposit and in the second, we won about 3x to 4x our deposit.
In both instances we withdrew our full balance and within 30 minutes of doing so, the money was in our account. It took less than 30 seconds for the sportsbook to send our PayPal winnings and half an hour for the casino to deliver our Bitcoin winnings.
We're not here to brag, we just want to make a point about how quick modern gambling sites are and how much they stand out when they're not that quick.
That's key, as it takes Vegaz Casino anywhere from 1 to 3 days to process your winnings.
That's not too bad, and if we go back 10 years, it would be fairly decent. But in an age where the best sites are processing withdrawals instantly, sites like Vegaz Casino stand out and look very disappointing by comparison.
We've seen some review sites claim that Vegaz Casino doesn't have a withdrawal limit. We were very hopeful when we saw that as we're sick of complaining about the super restrictive withdrawal limits on sites like Cadoola Casino. However, it clearly does have a limit and this limit is explained on the site's payment options page.
If you use cryptocurrencies, you're limited to a maximum withdrawal of just €1,000 per transaction, which is very low and very disappointing, to say the least. iDebit withdrawals are a little higher, maxing out at $5,000 CAD.
The minimum withdrawal is €30 for most methods but this drops to €25 for cryptocurrencies.
On the plus side, you are not limited with regards to the size of your deposit, but this only applies to cryptocurrencies (with a limit of €2,500 to €5,000 for other methods) and what's the point of depositing a huge sum if you're going to be limited to withdrawing a comparatively small sum?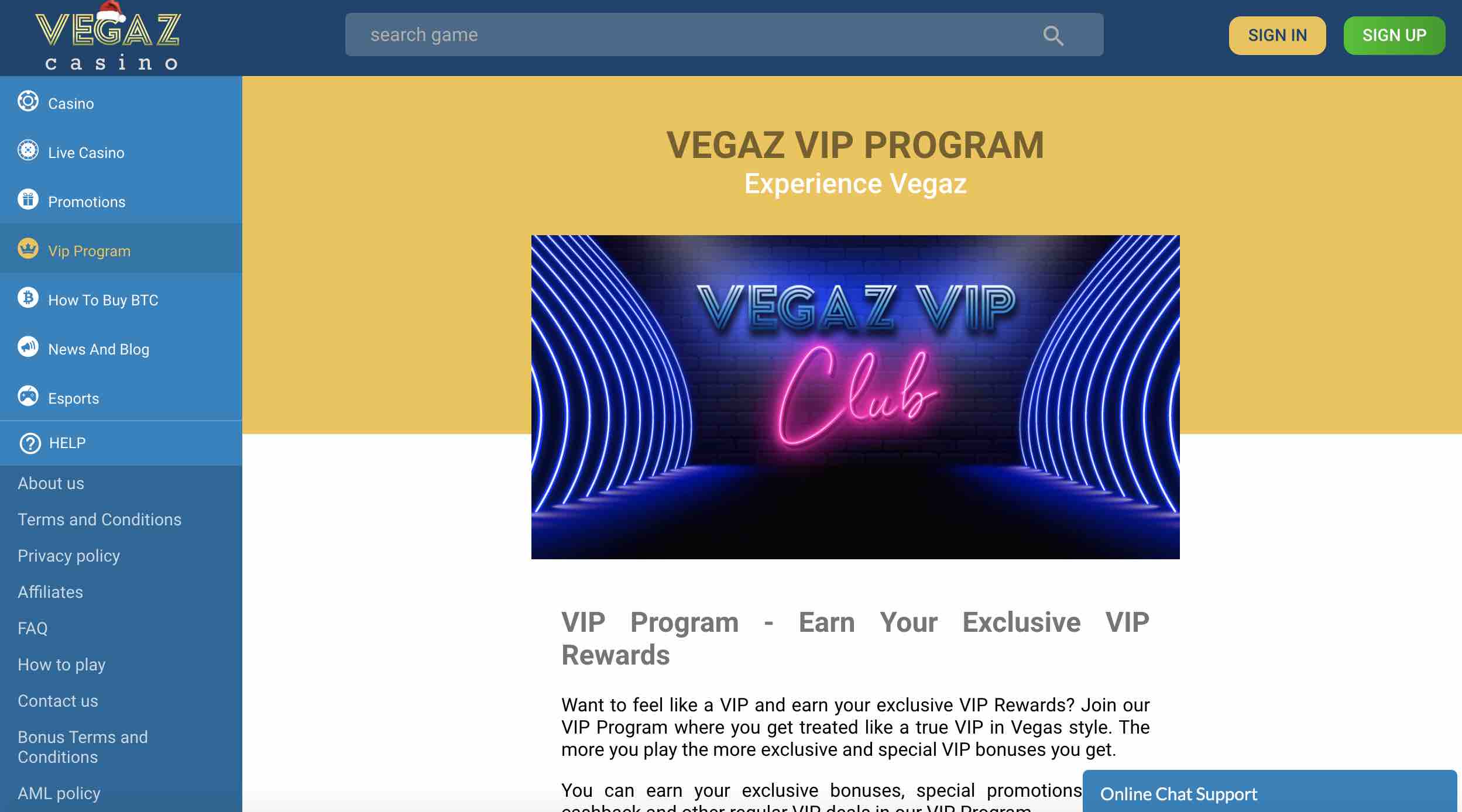 Best Features
Massive Selection of Games
Easy to Navigate
Mobile-Friendly
Good Promotions
VIP Scheme
Customer Reviews
Vegaz Casino doesn't have a great deal of user reviews at the time of writing. We did find a few, however, and a couple of those had received responses from the company.
As regular Coinbuzz readers will know, we love it when casinos take the time to respond to reviews. It seems to reserve these responses for the negative reviews, but they are the ones that matter the most, so we're okay with that.
It did make the mistake of quoting Terms and Conditions, which we hate, but it was fairly polite in its response so we can't argue with that.
In terms of the content of these bad reviews, there isn't anything to worry about.
We often say that negative online casino reviews revolve around 1 of 3 things. The reviewers either complain about losing and insist that the casino is a scam (not understanding that the games are provided by developers and not the casino itself); they have a genuine concern, or they complain about bonuses.
All are worth listening to but the "Scam" and "Bonus" issues are usually easily dismissed. More often than not, players just don't read the Terms and Conditions, and so they are stung by terms that they didn't realise existed.
Where Vegaz Casino is concerned, we actually side more with the reviewers. It's true that the terms are listed on the site and that these should always be checked, but the site also advertises a misleading bonus, claiming it's 250% when it's not.
We feel that casinos always need to be as clear and obvious as they can be. They might get a few more sign ups by being a little misleading, but only at the cost of bad reviews and very angry players.
Also, if players misunderstand these terms and contact Live Chat to complain, a casino should be willing to offer a little something extra or make life easier for them. This has happened to us a few times on other sites. With Vegaz Casino, it seems that they are more likely to quote Ts and Cs and apologise which is infuriating as a player who feels they have been wronged.
FAQs
Is it Available in the UK?
Although this site isn't available in the United Kingdom, others are. Check out our review of Yakocasino for one such casino.
What are the Language Options?
At the time of writing, English is the only language option on this online casino.
What are the Currency Options?
Take a look at the information below this review for a full list of currencies.
What is the Withdrawal Limit?
There is a withdrawal limit of just €1,000 per day here.
What Happens If I Exceed the Limit?
If you withdrawal more than the limit allows, your money will just be transferred to the next withdrawal period. You will still get your cash eventually!
Final Thoughts
In the end, Vegaz Casino is nowhere near as bad as some of its less-than-impressive sister sites. In many ways, it's similar to GoldenLine Casino, which received a fairly decent rating from us.
We're still a little dubious of its claim of "6,000 slots", as it seems to be far too much for the developers on show, and we're also frustrated by its misleading Welcome Bonus, but these are minor things and not necessarily anything to worry about.
If you actually had the patience to count the casino's slots, please let us know in the comments below this Vegaz Casino review. Just remember that some regions are restricted in terms of which games they can play, so you won't always see a full list.
Vegaz Casino Review Details
Restricted Countries:
Afghanistan
Albania
Algeria
Czech Republic
Estonia
France
Hungary
Iran
Iraq
Israel
Italy
Netherlands
Poland
Singapore
Slovakia
Slovenia
Spain
Sweden
Switzerland
UK
US