Pros
Lots of Games
Sports Betting
Live Casino Games
Virtual Sports
Lots of Deposit Options
Cons
Slow Withdrawals
Difficult to Cancel Account
Jet10 hit the market in 2020 and was one of many online casinos to launch in this chaotic year. It has a huge variety of online casino games and also has an extensive sportsbook, with live betting markets, pre-game markets, and scores of virtual sports.
… one of many online casinos to launch in this chaotic year.
The site is owned by the Curacao-licensed Continental Solutions Limited. It's not a name we have encountered before and unlike Direx, the owners of CasinoChan and several other top online casinos, it doesn't have a wealth of sites on its roster.
Still, that's not always a bad thing. We have certainly encountered some operators with a small and disappointing roster, but more often than not, we're pleasantly surprised with developers that keep it simple.
In this Jet10 Casino and Sportsbook review, we'll see how this site compares to the hundreds of others that we have reviewed over the last few years, a great deal of which were also launched during 2020.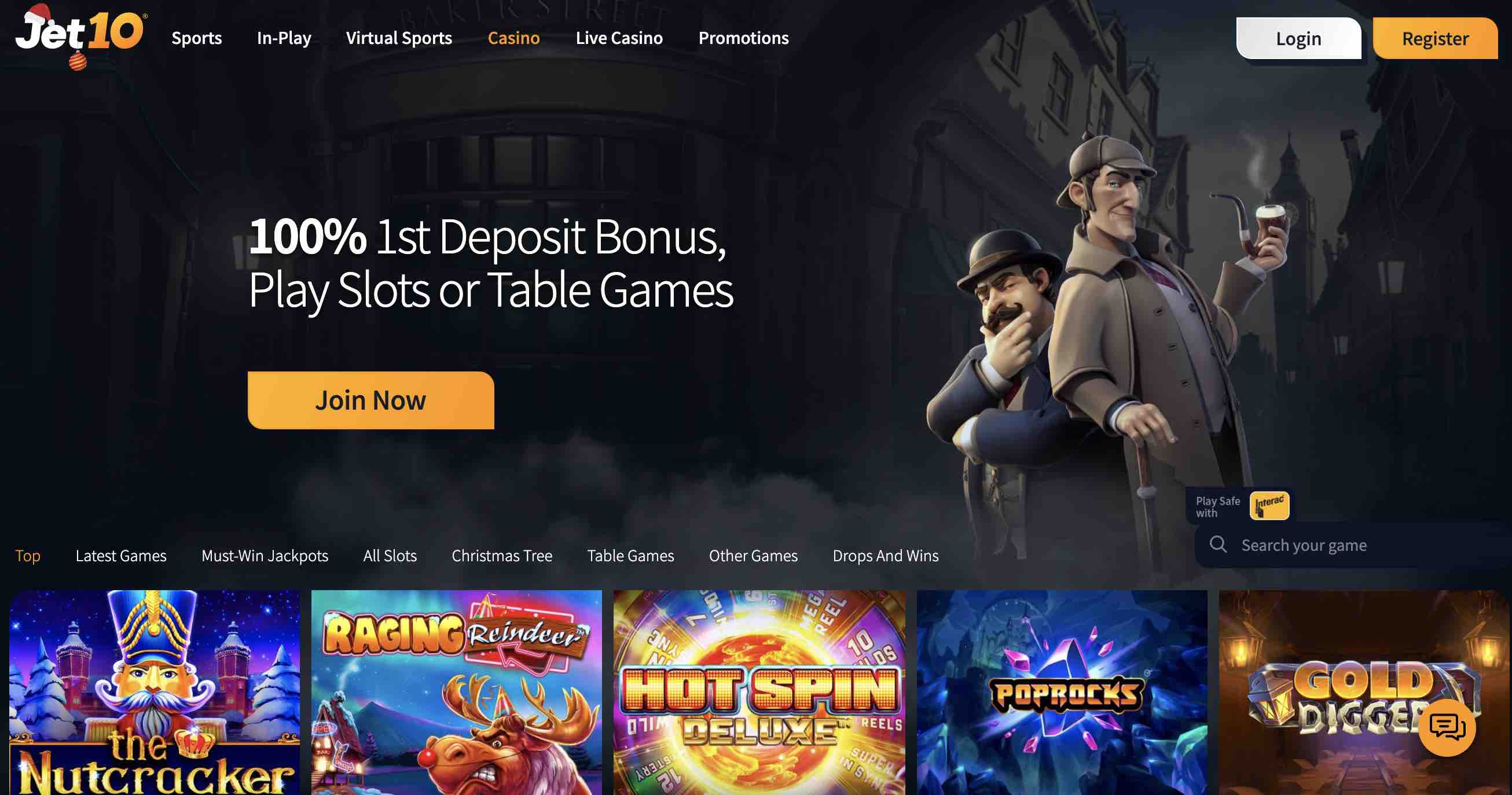 Basics
2020 was a year of chaos, uncertainty, and disappointment, and we saw a lot of similar disappointments in the online casino sector. It seems that the industry tried its best to launch as many new sites as it could to take advantage of the rapid rise in iGaming.
Some of these projects were commendable, including the absolutely sublime Cadabrus Casino, which should stand as a testament to how an online casino should look and perform. On the other hand, however, we've seen sites that look like they were thrown together in five minutes using MS Paint.
We hadn't heard about Jet10 before we settled down for our review, and so we expected it to fall into the latter category and were prepared to be disappointed. But we were pleasantly surprised.
The site is actually very well structured and it's clear that some thought and effort has gone into it, which is more than we can say about half of the sites that we witnessed in 2020. If we had to pick fault with it (and we certainly will) we'd say that it was a little too focused on mobile users.
There are no sidebars, nothing to make browsing that little bit easier, and everything feels a little too condensed down the middle.
It's not quite as messy as Mr. Bet, which also tries to stuff everything down the centre, but it does take a little getting used to. Still, we don't want to come across as too negative with regards to the site's aesthetic and layout as it really is great and makes everything easier to digest.
Games
We get excited whenever we see Betsoft, NetEnt, and Yggdrasil on the same site, and that's exactly what we found at Jet10. In addition, the casino also hosts games from Red Tiger Gaming, Quickspin, Habanero, Big Time Gaming, and the immense Microgaming.
And that's just scratching the surface, as there is so much more to this online casino.
For instance, it also hosts games from Evolution Gaming and this is where the casinos Live Dealer games come from. If you enjoy spinning the wheel on Dreamcatcher and Live Roulette and can't resist a few games of Live Blackjack, Live Poker, and Baccarat, you'll find what you're looking for in the Jet10 games room.
Last but not least, it's worth mentioning Kiron interactive, one of the biggest names in the virtual gaming sector and one that is responsible for some of the best simulated horse racing titles this sector has seen. It's thanks to Kiron Interactive that Jet10 has a host of virtual sports, allowing you to place bets one minute and watch them come to fruition the next.
We personally enjoy playing virtual sports late at night after all of the live action is finished and we're no longer in the mood for real money slots or table games. However, during 2020, and the postponement of sporting events all over the world, we were playing these games every day.
During that time, we spent a lot of time on sites like FezBet Casino and countless others, playing virtual sports every time there was a gaping hole usually filled by the games from the English Premier League, La Liga, and even games of rugby and American Football.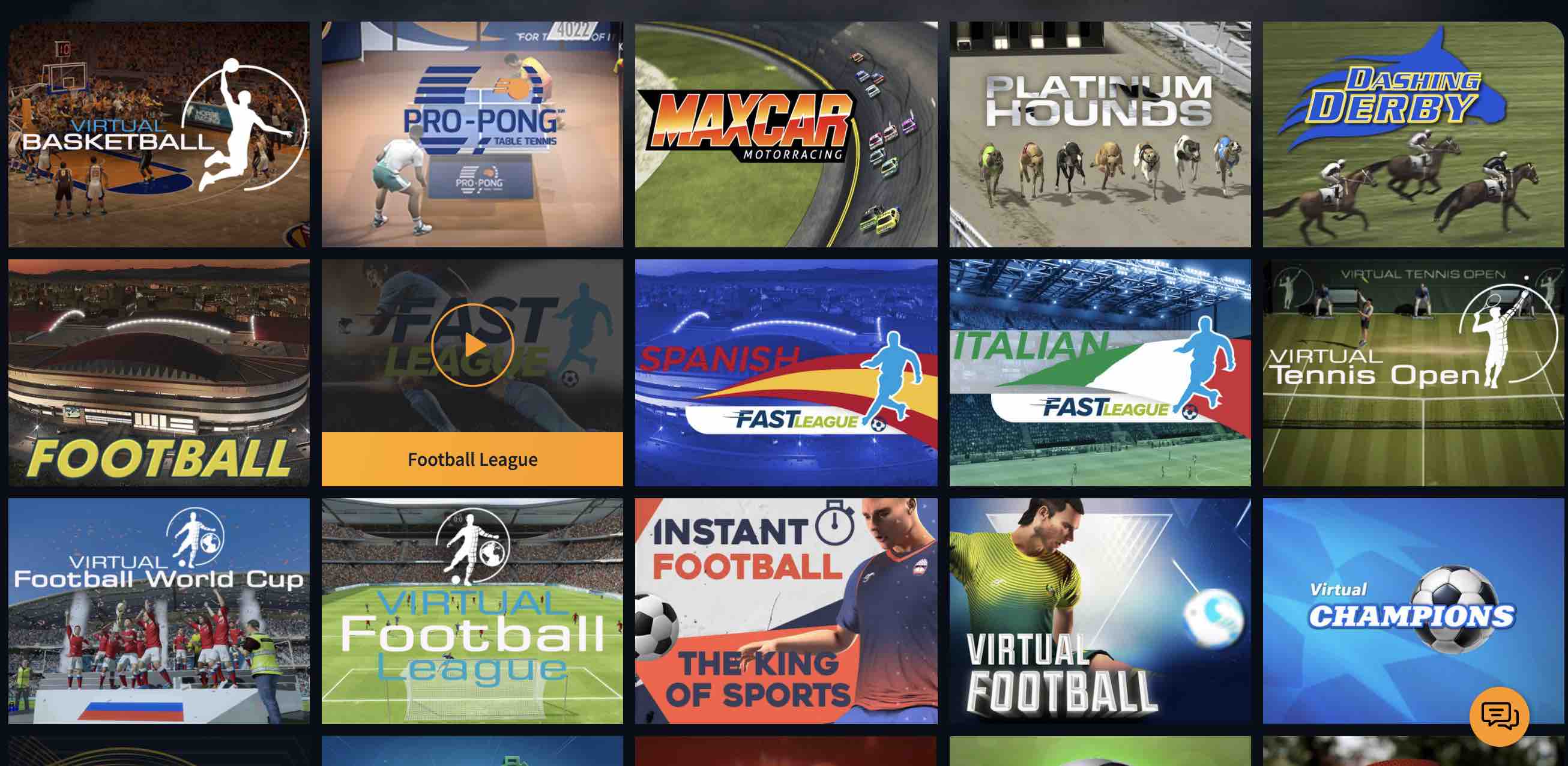 Sports
A sportsbook is a must on a sizeable online casino. It's an easy addition and it makes perfect sense when you consider that most casino gamers also enjoy placing the odd sports bet. This is a format that Jet10 has definitely followed and it has a sizeable and impressive sportsbook.
The layout and aesthetic are not the best and it reminds us somewhat of the disappointing Shangri La Live Casino, which had a very bland and dull layout.
Still, once you get over this relatively bland but easy-to-follow aesthetic, you'll find a broad selection of betting markets, covering everything from Basketball to Volleyball, with the majority of the markets focused on Football. There are eSports betting markets as well and while these aren't the most varied, there are still more than enough to cater for most players.
We particularly like the fact that the eSports betting markets are separated by game type, including First-Person Shooter games like Counterstrike and Battle Arena games like LOL. It makes it easier to find the games you're looking for.
Many casinos lump all eSports into one section and it doesn't really tell the whole story. For instance, we consider ourselves to be pretty hardcore gamers and ones who have played, watched, and bet on most competitive games. However, if you stick us in front of a DOTA or LOL betting market and ask us to place a bet and then follow that bet, we wouldn't have a clue.
Bonuses
At the time of writing, there were 15 different bonuses available at Jet10. That's a lot of variety and it spans both the sportsbook and the casino. Some of the biggest of these bonuses are offered to new players who join the site and make their first deposit.
For instance, with your very first deposit you will get a 100% bonus up to $200 and you can follow this up with a second deposit bonus of 50% up to $300. That's a total bonus amount of $500 and it's just the tip of a very substantial iceberg, as there are a plethora of other bonuses and promotions as well.
You can get free bets, free spins, reload offers, and more. It even has cryptocurrency specific casino and sports book bonuses, which are a rare find and prove that the site is doing more than just paying lip service to its crypto players.
To top things off, Jet10 has a VIP Loyalty Program. This invites all players to collect loyalty points whenever they play casino games or place sports bets. There is no specific amount listed and it just defines people in this group as "high rollers". However, in our experience that usually means that you need to deposit upwards of $10,000 a month and, in some cases, you will need to exceed $20.000.
It depends on how lucky you are with those deposits, and that's key, as you actually need to wager the money you deposit and can't simple deposit, withdraw, and hope to gain access to the VIP scheme.
Banking Options
Jet10 accepts a multitude of payment options, including everything from Visa and MasterCard to Bitcoin, Neteller, and Skrill. It's a good mix of options and it ensures that every player and every need is catered for.
There is no withdrawal limit listed on the site and this is very promising. However, we would be very surprised if there was no such limit in place.
As regular readers can attest, withdrawal limits are one of our biggest bug bears and something that we have complained about repeatedly throughout 2020. Just take a look at our review for Rabona Casino, and pretty much every other Araxio casino and sportsbook that we have covered.
These limits are common and they are also very annoying. We find it hard to believe that a new and relatively small casino launched in 2020 would not have a withdrawal limit in place. As a result, if you're a new player and a high roller, we recommend contacting the casino in advance, letting them know how much you plan to deposit, and then go from there.
If they insist that there is no withdrawal limit, keep pushing. Make it clear how much you may need to withdraw and confirm if such a withdrawal would be possible without a delay and without issue. Take a screenshot of their response and keep it on record, because if they go back on their word (as some casinos do) you can brandish this as proof and then use it against them when you file a complaint.
It's important to take these extra steps when you are a high roller, as playing online casino games can be very disappointing and frustrating.
Speaking of disappointment and frustration, it takes up to 48 hours for Jet10 to release your withdrawals, which means it could be 2 to 5 working days before you get your winnings.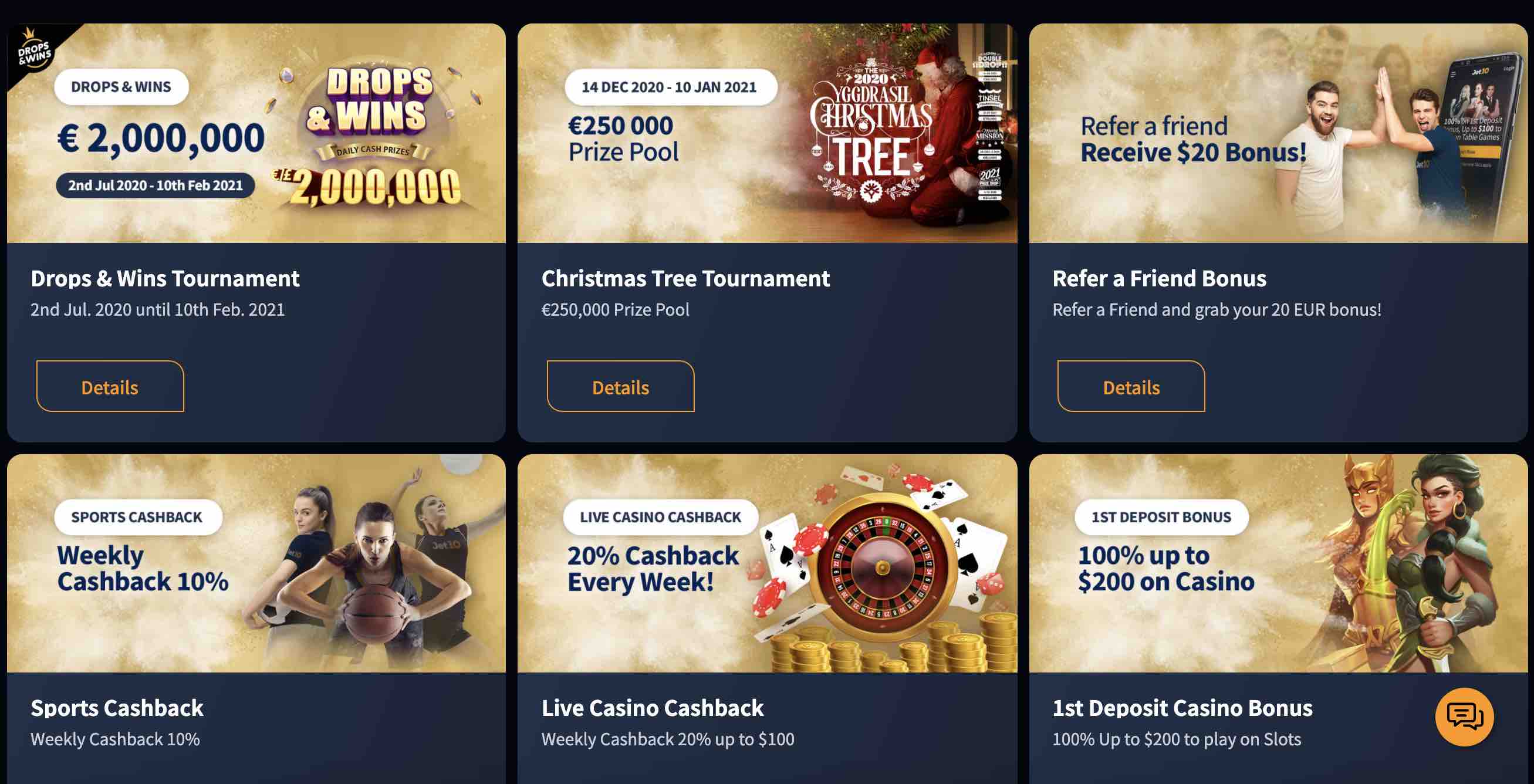 Highlights
Deposit Using Cryptocurrencies and Fiat Currencies
Play Lots of Games
Place Sports Bets Live and Pre-Game
A Wealth of Virtual Sports
Several Bonuses to Collect
Reviews and Support
Jet10 holds a respectable score on the majority of online casino review sites. Players have highlighted many of the benefits that we have also discussed, including its great selection of games, bonuses, and more. However, there are a few issues that we noted when scouring these reviews, and it's worth taking these into account before you make a decision on whether to join this casino.
Firstly, there is a pretty innocuous but still notable issue, and it's the fact that Jet10 doesn't seem to respond to reviews, regardless of whether they are positive or negative.
In reviews of Syndicate Casino and other sites, we've discussed just how important this is, but it's worth reiterating, considering we're using it to poke holes in Jet10's customer support.
Simply put, online casino customer support is some of the worst you can encounter online. That may sound pretty harsh, but it's true. If you have an issue with an online retailer, they'll tell you how you can make a return and get a replacement/refund. They'll apologise profusely and go out of their way to help you.
In fact, after seeing an email from a customer with an issue, many retailers will phone them directly, apologise many times, and then offer something by way of an apology. The customer gets what they ordered and something extra, along with many apologies.
With an online casino, you're more likely to get a virtual shrug of the shoulders following by a statement about Terms and Conditions. They didn't get the memo when it comes to customer service.
Of course, some casinos definitely did get the memo, but the fact that so many casinos didn't, puts players on edge and leaves them crying out for an alternative outlet. If the casino responds to reviews, that player knows they can leave a bad review reciting their issues in the event that the casino doesn't heed their requests elsewhere. They know that a specialist department will try to help them and won't simply fob them off.
If they don't respond to reviews, it's just further proof that the casino ignores the player and doesn't really care about them.
The other issue concerns the fact that many players haven't been able to cancel their accounts. Just like the review issue, this doesn't sound like much of a problem at first but it hints at something bigger.
If you're prone to problem gambling, you need responsible gaming programs to work flawlessly, as that's the only way you can protect yourself.
According to player reviews, not only do these systems not work, but the site continues to send promotional messages to players even after they have tried to cancel their accounts.
If you still don't think this is a big issue, consider this, in Sweden, these tactics would land Jet10 with some hefty fines and if they were found to be in repeat violation of these laws, they could lose their license. Needless to say, it's very important for these systems to work and if Jet10 user reviews are anything to go by, they don't.
FAQs
Is it Available in the UK?
You will need to look elsewhere if you are in the United Kingdom. One of the sites that you can join, however, is Hyper Casino.
How Old is Jet10 Casino?
Jet10 Casino launched in 2020, one of many sites that launched that year.
Can I Use Bitcoin?
Bitcoin is one of the many payment methods available at Jet10 Casino. You can also use BTC as a currency option
What Is the Current Welcome Bonus?
The bonuses here are always changing so we always list the latest bonus at the top of this review.
Does it Accept PayPal?
Jet10 Casino does not accept PayPal but there are other web wallet options to choose from, including some popular cryptocurrencies.
Conclusion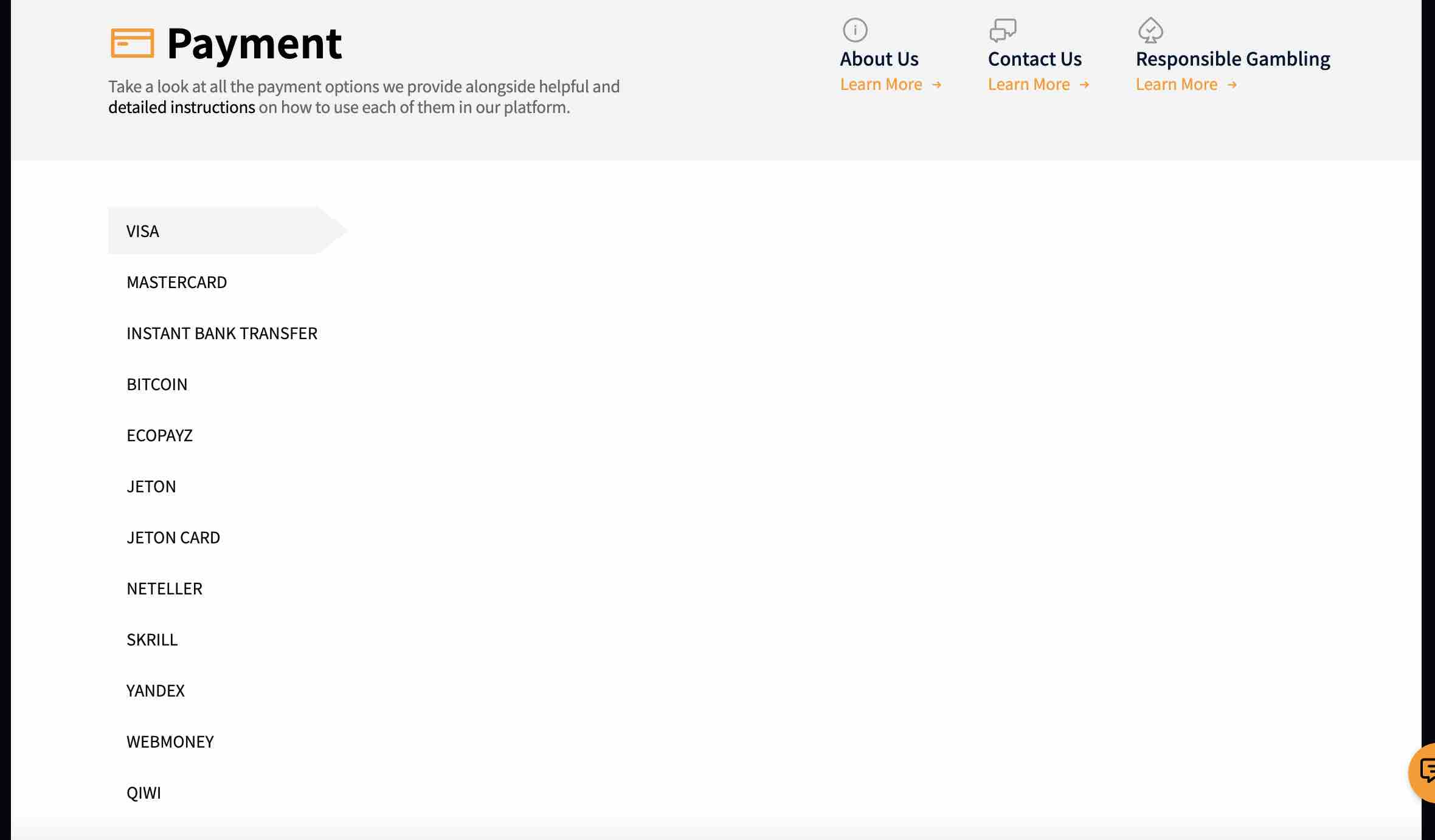 There is a lot to like about Jet10, including the fact that it has a solid layout, a huge selection of games, and a sportsbook. It's not perfect—far from it. Two days is still relatively quick for an online casino and if you're using cryptocurrencies or web wallets, it means you'll get your winnings quickly. However, this is 2021 and 2 days is far too slow and completely unnecessary.
If you want your money a little quicker and need more guarantees with regards to withdrawal limits, take a look at our Bitstarz Online Casino. Otherwise, Jet10 is still a great casino and it has a lot to offer.
Jet10 Casino Review Details
Restricted Countries:
Estonia
France
Italy
Spain
Sweden
Switzerland
UK
Currencies:
BTC
CAD
DOGE
ETH
EUR
LTE
USD
USDT
XRP