Pros
Established Brand
Mobile Friendly
Lots of Games
Several Offers
Lots of Payment Options
Cons
Not the Best Design
Limited Support
Withdrawal Limit
Slow Withdrawals
Shangri La Live Casino is a very simply designed online casino backed by the Shangri La casino brand. It's available on desktop and mobile and is licensed by the authorities of Curacao. All of those things sound very promising and seem to be setting you up for a very good online casino experience.
We say "seem", because that wasn't exactly our experience with Shangri La Live Casino. Still, it's not all bad, because while we definitely had some issues with this site, there were a lot of positives as well. In this Shangri La Live Casino review, we'll discuss the pros and the cons, before finishing with our overall opinion of this gambling destination.
…those things sound very promising and seem to be setting you up for a very good online casino experience.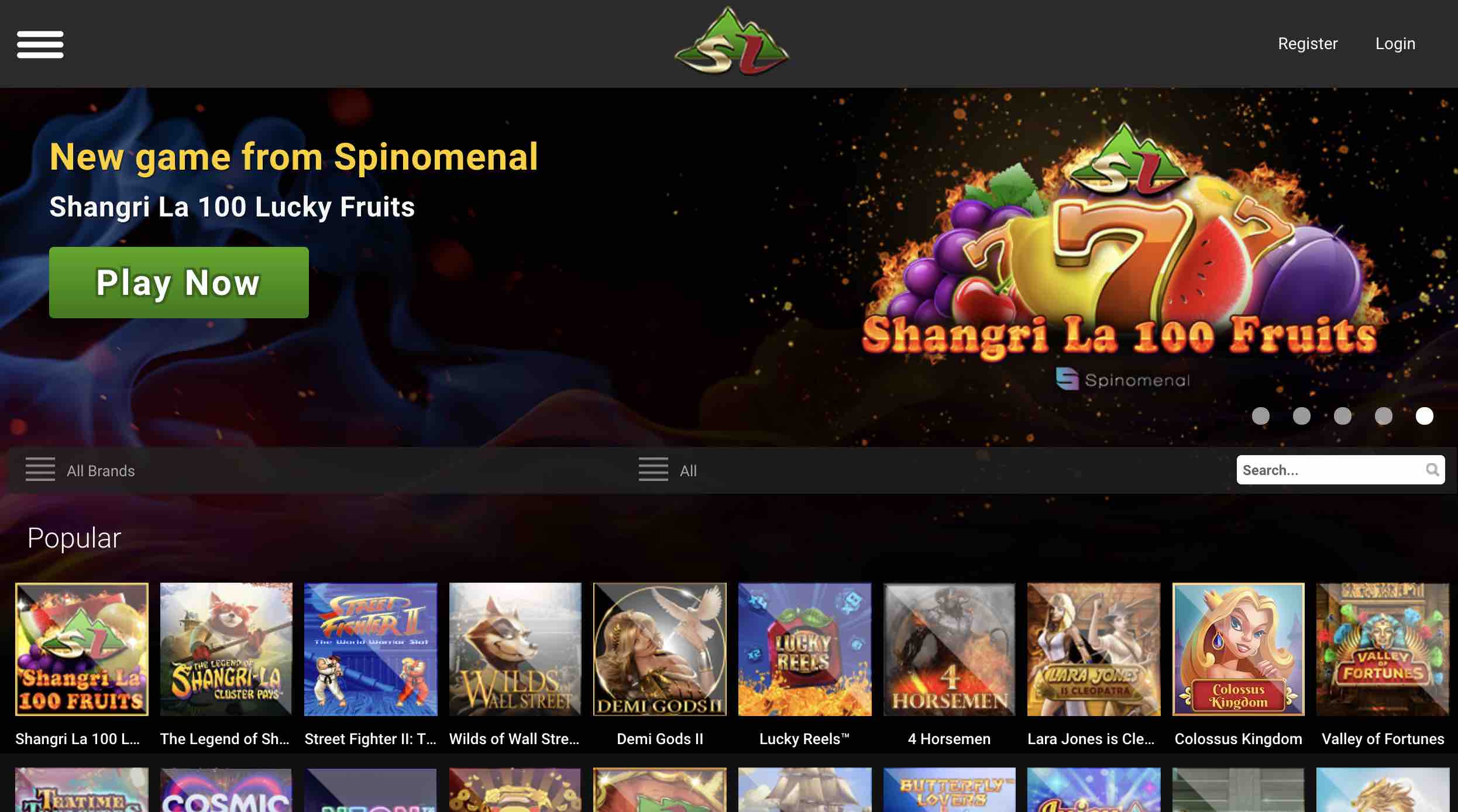 Basics
Very few online casinos or gaming developers make the transition from online casinos to brick-and-mortar casinos, but many of the world's biggest offline gambling brands have transitioned into the online world.
Grosvenor, one of the UK's biggest land-based casino groups, launched its very own online operator. The World Series of Poker, the organisers of the biggest poker tournament, did the same, and they have joined many others.
On the surface, they should have everything that they need to succeed. After all, they already have the financial backing and they probably won't struggle to get investors or find quality software. So why is it that so many of these sites are poorly made and look like they were designed over the course of a weekend using a 20-year old laptop and an outdated copy of FrontPage?
We're not sure, but when we saw Shangri La Live Casino and heard that it was the same Shangri La group responsible for many top Asian casinos, we were hopeful that they would buck that trend.
At first glance, those hopes were dashed.
We have seen some beautifully developed online casinos in our time, including the stunning Cadabrus Casino. Shangri La Live Casino, quite simply, is not one of them. In fact, we'd rank it toward the very bottom of our list where the aesthetics are concerned.
It is far too simple and basic. It looks like one of those old-school WordPress templates that's installed as a default and stays on your site until you have the time to add something better. Maybe we're being overly critical, in fact we most definitely are, but come on Shangri La Live Casino…you should be doing better.
It's a mixture of blacks and lifeless greys. What's more, it uses the fixed hamburger icon that we absolutely despise. This mobile-only feature is perfectly fine when you're using a tablet or smartphone but there's no need for it on desktop.
When you have a much larger screen, there's no need to condense everything down. It looks bland, empty, and wrong.
Moving away from the aesthetic, you can access Shangri La Live Casino in a handful of languages and currencies and the site seems to be targeted primarily at players in India, Canada, Russia, and Turkey.
There are a surprising number of restricted countries here. You can find a full list of restrictions regions below this Shangri La Live Casino review, but some of the most notable include Australia, Denmark, Greece, Ireland, Sweden, and the United Kingdom.
Games
Once you get past the aesthetics of Shangri La Live Casino, there are some good games to explore. The casino works with iGaming developers like Microgaming, NetEnt, Betsoft, and Habanero. It's a varied mix of creators and it ensures that players have a good range of titles to choose from.
Along with real money slot machines and popular table games, players can take their pick of top Live Casino titles, as well as scratch cards, video poker, and more.
Just click the hamburger menu on the top left, select "Games", and use the filters to search by game type, including Popular, Jackpot, Slots, Table Games, Drop & Wins, Live, and Video Poker. You can also search by provider, which is good if you know which creators you like.
If not, we recommend taking a peek at the latest titles from Betsoft, NetEnt, and Quickspin.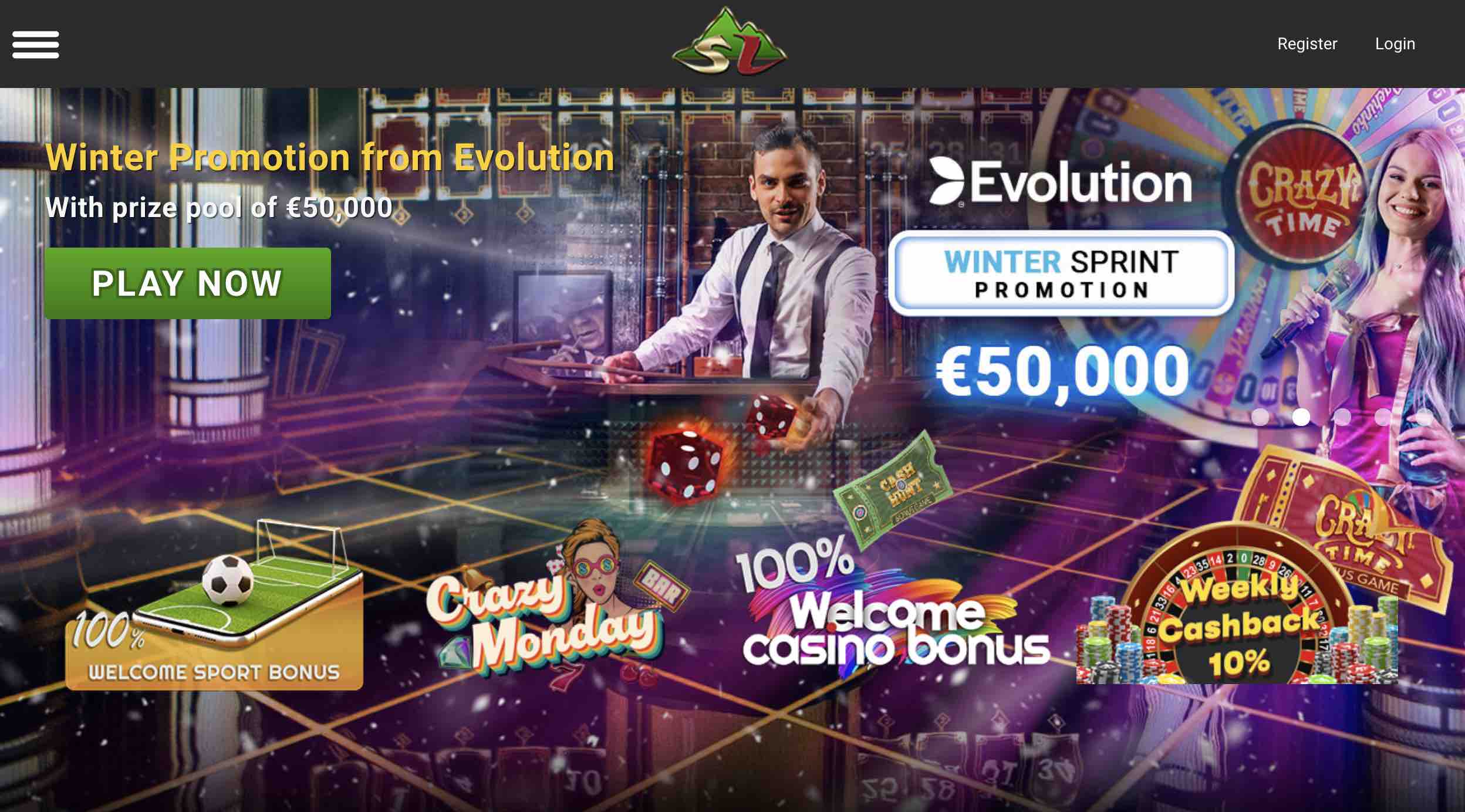 Sports
If you thought the layout and colour-scheme of the casino was a little dated, wait until you get a load of the sportsbook. It is a very simple and bland grey-and-white and, for some reason, the top icons are in bright green with a black background, looking like some shoddy Photoshop job.
We keep getting caught up in the design of the site, and while this might seem insignificant, it's something you'll be looking at every time you use it and something that will frustrate you eventually.
On the plus side, there are lots of markets and events to choose from and it seems to have decent odds. Like some other modern sportsbooks and casinos we have covered, including Mr Bit, Shangri La Live has a wide range of eSports betting markets.
You can place bets on all popular competitive gaming tournaments, as well as games of FIFA and other sporting titles. This is increasingly important when you consider how fast the professional gaming industry is growing, and it's something we like to see.
If you don't like betting on the real thing, you can take your chances with virtual sports. These events are entirely simulated and they run throughout the day, so you don't need to wait around for kick-offs and half-time breaks.
Bonuses
Shangri La Live Casino is definitely not short on bonuses. At the time of writing, there are 9 of these active, including a Welcome Bonus that extends to €1,750 in total.
The bonus awards you with up to €250 every 48 hours and it's offered in the form of a 50% matched bonus. This means that if you deposit €500 when you first join, you will be given a total of €750 to play with. If you follow this with another deposit 2 days later, you'll get another €750 to play with.
It's a nice twice on the classic Welcome Package. However, it seems to be a seasonal bonus so there is no guarantee that it will still be available when you read this review.
There are other bonuses, though. Some of these are targeted at new players, others at loyal ones; some are aimed at the casino and others at the sportsbook. We recommend taking a look at the Promotions page every now and then to ensure you stay up to date with the latest offers.
If you want to get the biggest and best bonus when you first join, just click the link on this page. It will direct you toward the latest Welcome Bonus and ensure that you collect every penny you're entitled to.
For more information on this bonus and other offers, be sure to check the Terms and Conditions, which are listed on the Promotions page and can be found on all offers.
Banking Options
Shangri La Live Casino shows its pedigree and its intent by offering Canadian-specific payment methods like Interac, as well as cryptocurrency methods like Bitcoin, Litecoin, Ethereum, and Ripple. If you're not interested in digital currencies you can try the real thing with methods like Visa, Mastercard, Neteller, and Skrill.
Withdrawals aren't the quickest here and there is a pending time that could stretch to 48 hours and may take longer if you need to verify your identity. This means that credit card and debit card payments can take up to 7 days to process, which is not ideal.
If you want to speed things up a little, we recommend sticking with web wallets and cryptocurrencies.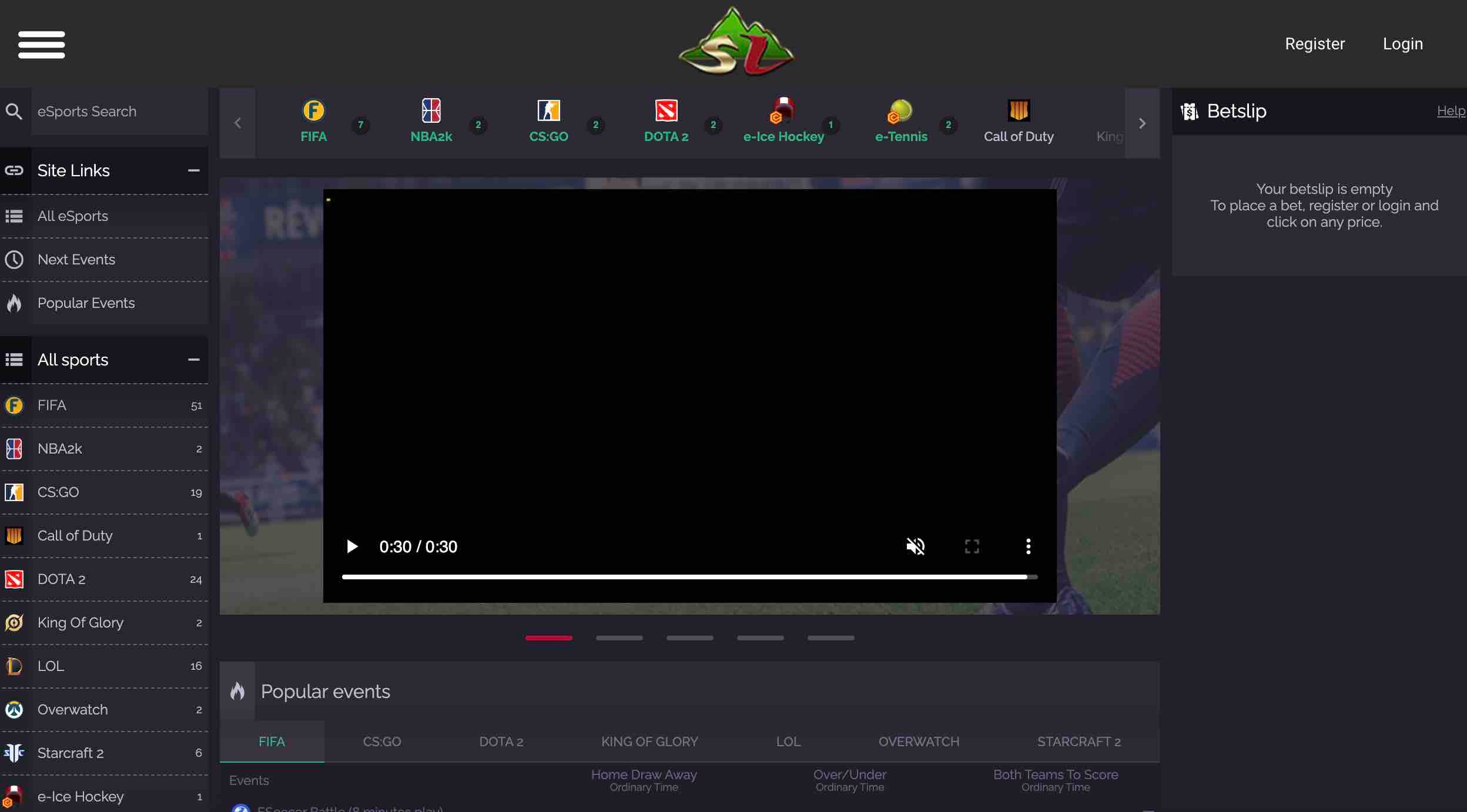 Limits
We get a sense of déjà vu every time we talk about withdrawal limits and if you're one of our regular readers, you probably feel it as well. These restrictions are far more common than they should be and, as you might have guessed, there is one on Shangri La Live Casino.
A major gambling brand really shouldn't have a limit in place. It should be used to people betting lots of money and it should have the infrastructure in place to deal with them. For whatever reason, that's just not the case here and players are limited to withdrawals of no more than €10,000 a week.
That's still a lot of money, of course, and small stake players will not be bothered by this, but if you're a high roller you'll have to take your money elsewhere.
In such cases, you should take a look at our BitStarz casino review. Not only does BitStarz not restrict its players in the same way as Shangri La Live Casino, but it's also proof of how far a casino can go when it doesn't have such a limit.
BitStarz has the top spot in our highest-rated BTC casino list and it wouldn't have earned that place if it had a withdrawal limit in place. Casinos like Shangri La Live can need to learn from that and stop placing restrictions on their players, especially when those players use cryptocurrencies and are accustomed to gambling with large sums of money.
Highlights
An Established Gambling Brand
A Mobile-Friendly Site
Choose from Many Payment Options
Licensed and Fair
Several Top Developers
FAQs
Is Shangri La Live Casino Owned by the Offline Brand?
Yes! It is one of the many offline casino brands to have moved online.
Where is it Licensed?
Shangri La Live Casino is licensed in Curacao.
What is the Withdrawal Limit?
You are limited to withdrawals of no more than €10,000 a week at Shangri La Live Casino.
What is the Welcome Bonus?
As a new player at Shangri La Live Casino, you are entitled to a Welcome Bonus of up to €1,750.
Does it Have Betsoft Games?
Yes! Betsoft is one of the many top developers listed at Shangri La Live Casino.
Reviews and Support
There isn't a great deal of user reviews out there for Shangri La Live Casino. That's a shame, as we really wanted to see what other players had to say about this casino and, in particular, the way that it looks.
Of the reviews that we did find, most of them were positive and a couple did point out the design issues. One suggested that it looks like it was designed in the 1990s, and we have to agree with them on that one.
In fact, taking this casino back 30 years is probably the only way to make it look passably stylish.
More worryingly, many reviews suggest that the site has technical issues. We didn't experience many of these ourselves, but there were some moments when the site ran a little slowly and the games didn't load. We put these down to using a VPN, and that's why we didn't mention them, but it's possible that the site has some glitches.
We're willing to give the site the benefit of the doubt with this one. It's hard to believe that a major gambling brand would create a casino with so many flaws, but at the same time, it's equally hard to believe they would create a site that looks so bad, and they have clearly done that.
On the plus side, Shangri La Live Casino seems to make an effort to respond to negative reviews and it does this in a professional and friendly way.
In previous reviews, including our review of GoldenLine Casino, we have highlighted how important it is for online casinos to respond to negative reviews and complaints. It shows that the casino actually cares about its users and it looks great to prospective players. The fact that Shangri La Live Casino makes the effort to do this is a big plus in our eyes.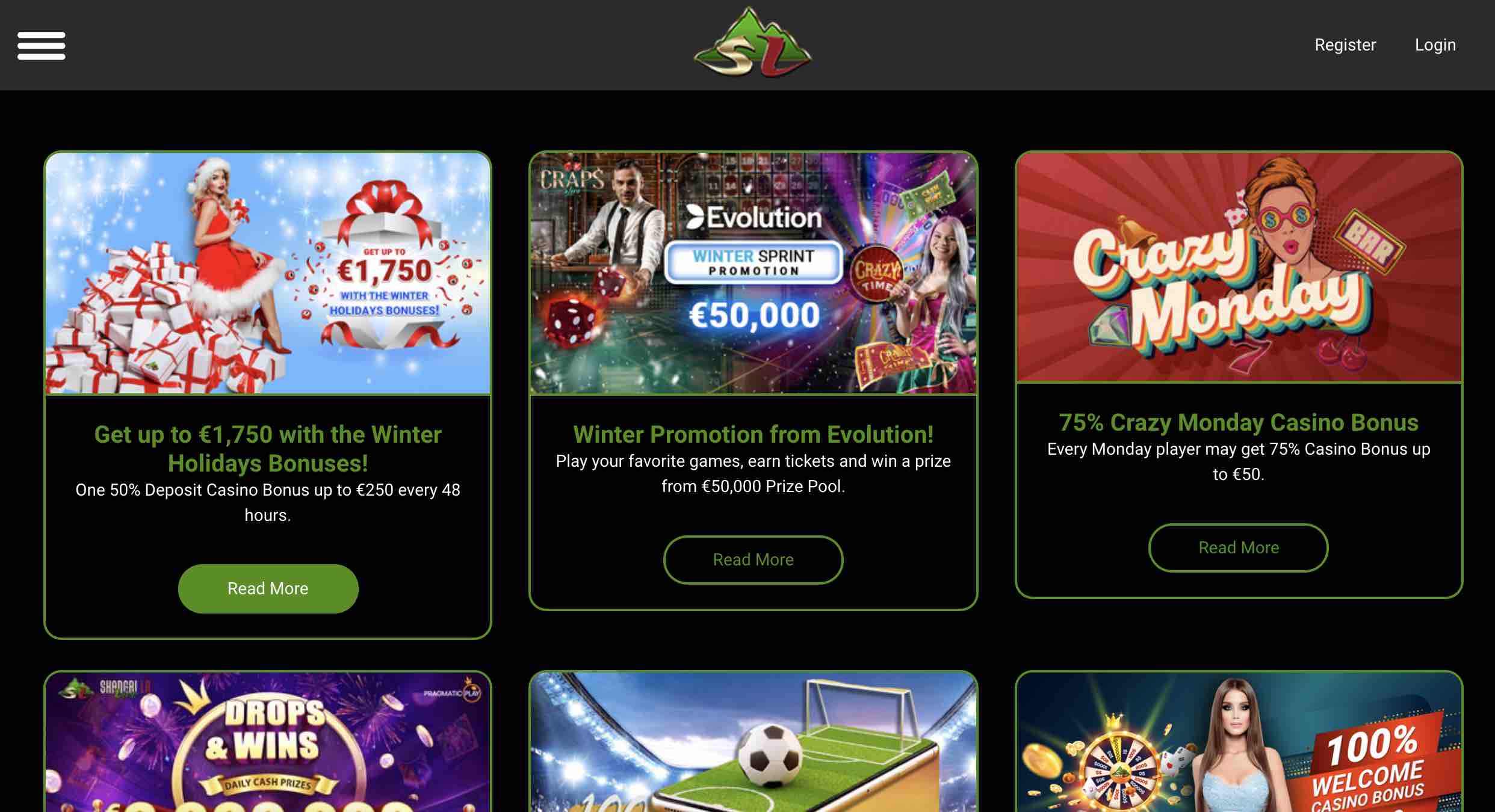 Final Word
The style of Shangri La casinos is somewhat divisive. Some may find it tacky, some may say it is beautifully. Personally, we think it's a little bit of both and that's exactly what a casino should be—classy and tacky in equal measures. However, the same doesn't really apply to Shangri La Live Casino.
There is none of that tacky style. They haven't even tried to do something unique here, nor have they tried to replicate the style of their brick-and-mortar locations. It's disappointing, but not entirely unexpected.
If we put that to one side, this isn't a bad casino, not by a long shot. It has some good games and a nice selection of payment options. It also invites players to collect a variety of bonuses.
The withdrawal limit is a bit annoying, but it's nowhere near as bad as sites like Cadoola Casino and is more than enough for the majority of small stake players.
All things considered, Shangri La Live Casino is an average-to-good site. It's not going to win any awards any time soon and it's not going to earn a place on the top of our list, but it's still worth joining and playing.
Shangri La Live Casino Review Details
Restricted Countries:
Armenia
Australia
Belarus
Belgium
Bulgaria
Cambodia
Cyprus
Denmark
Estonia
France
Greece
Iran
Iraq
Ireland
Malta
Netherlands
Poland
Portugal
Romania
Singapore
Spain
Sweden
Switzerland
UK
Ukraine
US
Languages:
Azerbaijani
English
German
Russian
Spanish