Pros
Lots of Games
Established Creator
Stylish Casino
Fiat Currencies and Cryptocurrencies
High Withdrawal Limits
Cons
Not a Lot of User Reviews
Low Bonuses
No Bonuses for BTCs
With over 30 developers, a dozen payment methods, and airtight security, CasinoChan is an online casino that ticks a lot of boxes right off the bat. It launched in 2019 and has grown exponentially in the years since. Surprisingly, however, CasinoChan isn't as popular as some of its sister sites and competitors and has relatively small player numbers.
We're not sure why that is, but after reviewing the site, we can confirm that it's not because it's lacking in any key areas. Sure, there are better online casinos out there. 1xSlots, for instance, has stacks of games, payment options, and more, taking everything that CasinoChan offers and going the extra mile (see our 1xSlots review for more information).
CasinoChan isn't very friendly to Bitcoin users, as we'll note in the bonuses section below, but it still has a lot to offer. This site definitely needs more attention. So, if you haven't joined yet, now's the time to change that. And if you've haven't even heard of CasinoChan (to be fair, we hadn't heard of it either, prior to our review) pay a visit and see if it has what you're looking for. It would be a massive shame for a top online casino like this to be overlooked.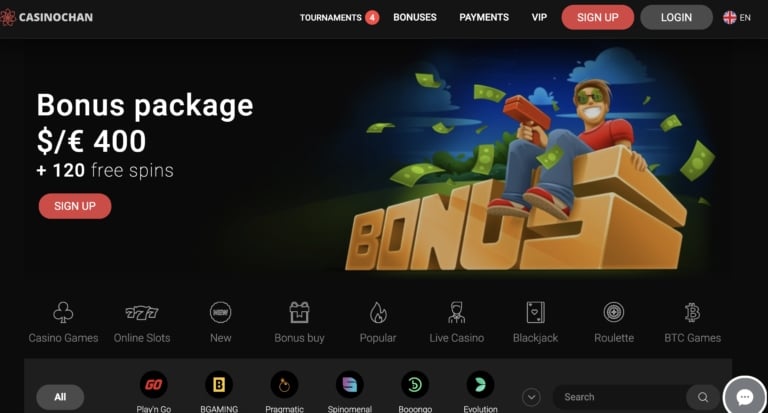 Basics
We've commented on numerous weird and wonderful casino themes in the past. These have included the medieval-themed KingBilly, which takes players back several hundred years to a world of feudalism, chivalry, and copious amounts of plague. Or so we assume.
In fact, history has proven to be rich pickings for online casino creators. We've seen casinos based on medieval knights, Egyptian princesses, Greek gods, and Roman emperors, not to mention endless slot machines utilising the same themes.
And that brings us to CasinoChan, a casino with a unique name and one that hints at a unique theme, but doesn't quite follow through. Maybe it's based on a mascot called Chan. Maybe he's the animated guy with blindingly white teeth that features on a few of the casino's promotions. We're not sure, and it's all pretty confusing.
On the plus side, the casino itself adopts a very clean and stylish aesthetic. In many ways, it reminds of us of Bitstarz casino—all black, super stylish, easy on the eye. And that's not surprising, as CasinoChan and Bitstarz are owned and operated by the same iGaming company, Direx N.V.
This Curacao-licensed operator has created some of our highest-rated online casinos. As we have noted several times before, we don't go in search of Direx casinos. We just cover the ones that have the best features, the fairest games, and the widest variety of payment options (including Bitcoin) and for whatever reason, most of those sites seem to be owned by Direx.
This Curacao-licensed operator has created some of our highest-rated online casinos.
It clearly has a monopoly on top-drawer Bitcoin casinos, and if that means they will keep producing sites like Bitstarz, we're certainly not going to complain.
Games
CasinoChan has around 50 different developers providing games for its casino room. It's a vast selection and while many of these are small-time creators that you don't know much about, there are a handful of superstars amongst them.
These big-time creators include Playtech, Yggdrasil, Wazdan, Microgaming, Betsoft Gaming, Pragmatic Play, Evolution Gaming, and Red Tiger Gaming. It ensures that you always have lots of games to choose from and a host of unique and novel titles to explore.
To the right of the games room, you'll see details of all active tournaments. If you click onto the Tournaments page, you'll find information on how you can join them. These tournaments award you points every time you play real money games. The more points you have, the higher you will climb up the leaderboard. Prizes are then awarded to the players who finish in the top few places.
It's a great way to earn some extra credits playing games you were going to play anyway. That's why tournaments have become some of our favourite casino features and why we praise any website that runs them.
The Layout
We have reserved a lot of praise for CasinoChan in this review, highlighting many of the things that the casino gets right. There are very few things to complain about, but if we had to pick faults, one of the would be with the design and the layout.
It looks good and works well on desktop and mobile. But sometimes, after many hours spending gaming, that white-on-black aesthetic can play havoc with your eyes.
We usually play at night and our sessions occur after a day of work, one in which we stare at computer screens all day. That's why we're drawn to happy-to-go-lucky aesthetics like Nomini Casino. If you're like us, it may be difficult to spend too much time here on an evening.
In addition, the site has very little content. The best casinos have a wealth of gambling guides, tips, and more. CasinoChan has a few basic lines of instructions, lots of graphics, and that's it. We feel like a little more effort could be paid to creating some casino guides and other useful content, and not just for SEO purposes.
Bonuses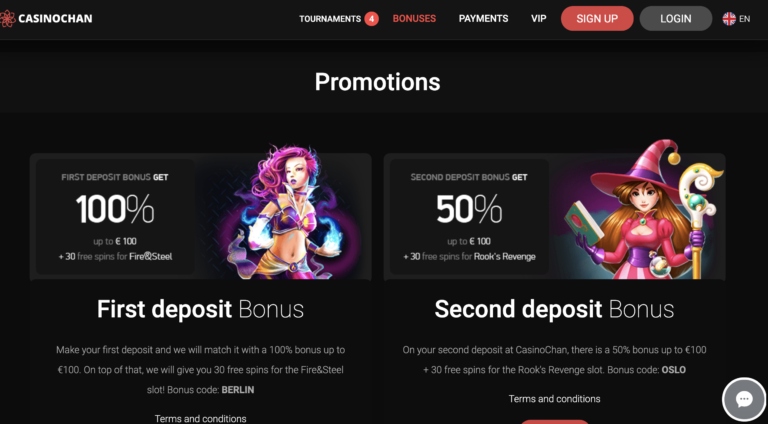 As a new player at CasinoChan, you can qualify for a bonus of up to €400, along with a bundle of Free Spins. Not too bad, right? Maybe, but as a cryptocurrency user, you don't qualify for any of this. BTC and other cryptocurrencies are excluded from the CasinoChan Welcome Bonus, which is disappointing, to say the least.
There are other bonuses as well, but it seems that most of these, if not all of them, are not available to crypto users. On the plus side, the casino has a VIP Program and it seems that this is open to all players, regardless of payment method or currency. Players can advance through multiple different levels, earning more points, cashback, and prizes on the way.
The VIP Program is great, but it's also odd. It seems like CasinoChan has just taken assets from other Direx casinos and a host of slot games, before sticking them all together.
Where these programs are concerned, you expect some uniformity. In the Syndicate Casino VIP Scheme, for instance, the levels all correspond to levels of a mafia family. In KingBilly, it's about climbing the ranks from serfdom to royalty.
In CasinoChan, the first level is an Elephant, a Sheriff jumps in at level 6, followed by Dracula and a Captain; a King is level 9, and Egyptian gods get involved for level 10 and 11. We have no idea what's going on, but it works, so who's complaining?
Fiat Currency Welcome Bonus
The CasinoChan Welcome Bonus offers players a total of €400 and 120 Free Spins. It's a decent amount, and if you're a small stake player depositing less than €100 at a time, it's more than enough.
However, it doesn't quite compare to the bonuses you can get elsewhere, such as the €3,000 offered by La-Fiesta Casino. In fact, some of the Bitcoin casinos we have reviewed offer up to 7 BTCs, which equates to around €50,000 at the time of writing!
Still, it's not a bad bonus and will cover all of your needs if you're a small stakes player. The €400 is spread across your first four deposits, each offering €100 and 30 Free Spins. The wagering requirement is 40x and you have 30 days to meet those terms.
Payment Options
CasinoChan accepts a multitude of payment methods. In true Direx style, players can deposit using web wallets, credit cards, debit cards, and cryptocurrencies. The options include Skrill, Neteller, PaysafeCard, Bitcoin, and Litecoin, and this is just scratching the surface. For a full list of payment options, take a look at the tables below this page.
Payments are processed in 12 hours on average, which means your winnings should appear in your account anywhere from half a day to three days, depending on the method you choose. The site is very safe and secure and while it does occasionally ask for verification documents, this process runs smoothly and quickly.
All payment methods are free, but there is an except for bank transfers and you may be charged a fixed price for initiating one of these transactions. If you use a credit card, you may also be charged a fixed fee and a rate of interest, but this charge is initiated by your provider and not the casino.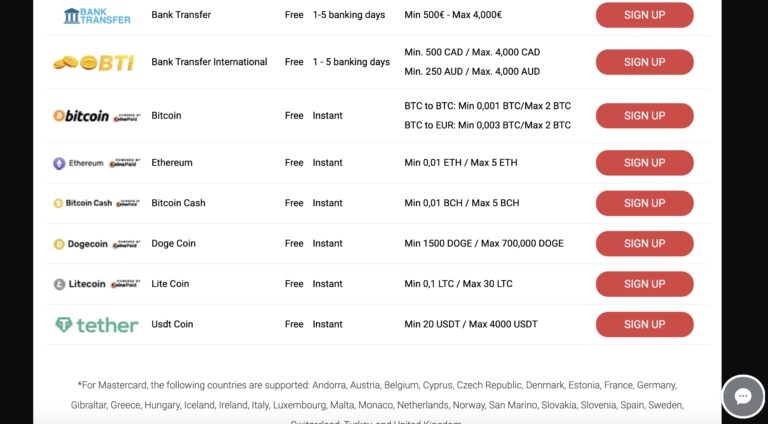 Withdrawal Policy
We have complained about inconsistencies with payments in the past and many of these exist on Direx casinos. The payment options page says one thing and the Terms and Conditions say something else. Where CasinoChan is concerned, however, everything is very clear and they have been incredibly transparent about everything.
You can deposit as much as you like when you use Bitcoins, but there are limits placed on all fiat currency options and these are typically fixed at €4,000 per transaction.
As far as withdrawals are concerned, fiat currency payments are restricted to €4,000 a day and €50,000 a month and Bitcoins are set to 2 BTC per day, 5 BTCs per week and 10 BTCs per month.
That's a lot of money as it equates to around $20,000 a day, $50,000 a week, and $100,000 a month. It's an amount that only the highest of high rollers will get anywhere near.
We rarely have anything good to say about withdrawal limits, as their existence frustrates us, especially on Bitcoin casinos and casinos that cater for high rollers. However, when the limits are this high and the casino is this transparent about them, we can't complain.
Highlights
Transparent Casino
Safe and Secure
Great Theme
Lots of Games
Direx Casino
Real Money Tournaments
User Reviews
CasinoChan reviews are hard to find. At the time of writing, over a year after the casino was launched, there are no CasinoChan reviews on several of the biggest gambling reviews sites. There is one review on Trustpilot and it's a bad one, but the reviewer is clearly just spamming, as they call CasinoChan "the worst in terms of investment" and then proceed to link to a cryptocurrency exchange.
Definitely not a legitimate review.
It can be cause for concern if an online casino doesn't have a lot of reviews, but it's not a major issue where CasinoChan is concerned. For one thing, there are many expert reviews and the casino has also been mentioned on numerous gambling forums. Players seem to enjoy it and none of those mentions highlight anything concerning.
It would be nice to see some more user reviews, but it's not a major issue. As far as we can tell, CasinoChan just didn't get the marketing that other Direx N.V. casinos have received. Online casinos often have huge sums of money invested in marketing campaigns and this ensures they get a steady stream of players during their first few months. Before long, this activity turns into exposure and the reviews flood in.
Casinos may only get 1 review for every 1,000 to 5,000 players, however, so it's a numbers game, and it's one that's made more difficult when the casino doesn't actively ask for reviews, as is the case with CasinoChan.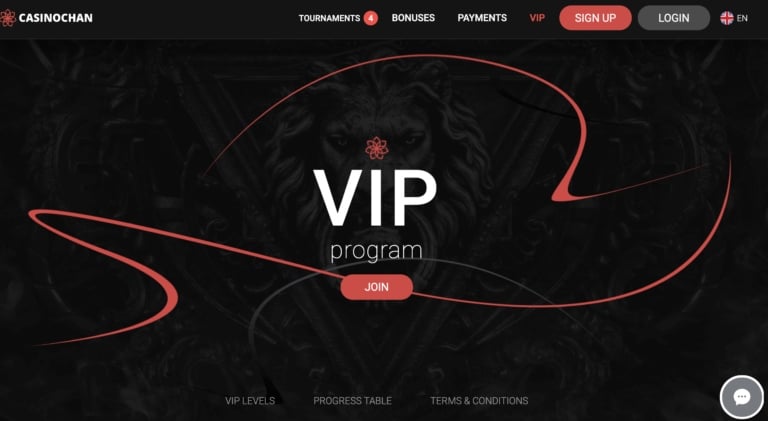 Conclusion
We came into this CasinoChan review expecting not to like the casino. We had never heard of the casino beforehand, and it was non-existent on our radar until we stumbled upon it. Usually, when that happens, we do our preliminary research and realise the casino is so bad that we simply can't cover it. In this case, however, we stumbled on a gem.
It's not exactly a diamond in the rough, as the Direx roster includes some of the best casinos in the world, including the excellent Konung Casino. In that sense, it's just another diamond in a big shimmering pile of gems—maybe that's why it was overlooked.
Who knows, but that can't continue and this site needs more players.
Whether you're a small stakes player looking for an impressive bonus and a capable casino or a high roller looking for some equally high limits, sign up to CasinoChan today. Use the links on this page to make sure you join via the latest Welcome Bonus and collect whatever offer this casino has for you.
Does it Accept Bitcoins?
Yes, but as noted in our Bonuses section, it isn't as friendly to BTC players as you might expect or hope.
Can I Play in the UK?
CasinoChan does not have a license from the UK Gambling Commission, so you will need to look elsewhere if you're in the UK. We recommend taking a look at sites like BetVictor Casino
Is it Licensed?
Of course! But for some very rare exceptions, all of the sites we cover are licensed and when there are exceptions, you will often find them at the bottom of our list with lots of warnings.
How Long Does it Take to Process Payments?
Most payments are processed within just a few hours.
What is the Withdrawal Limit?
The withdrawal limit is listed as being 10 BTC. We have discussed this in more detail in our review above.
CasinoChan Casino Review Details
Restricted Countries:
France
Israel
Italy
Latvia
Lithuania
Netherlands
Spain
Sweden
Switzerland
Turkey
UK
US
Languages:
Czech
English
French
German