Pros
Good Design Established Casino Big Welcome Bonus Good Games Generous Loyalty Program
Cons
Bad Customer Support Withdrawal Limit
Casino Adrenaline is not a name that I was familiar with before conducting this review. You can imagine my surprise, therefore, when I discovered that this brand was launched as far back as 2012!
To put that into perspective, that makes Casino Adrenaline older than most of the top rated online BTC casinos on this site, including over 99% of the sites that I have reviewed in the last couple of years. In fact, Bitcoins were only three years old when Casino Adrenaline first hit our screens and you could purchase a single Bitcoin for less than $50!
…this brand was launched as far back as 2012!
It's fair to say that its existence has been pretty low-key (unlike Bitcoins), and in this Casino Adrenaline review, I'll discuss everything from the casino's payment methods and bonuses to its games and more.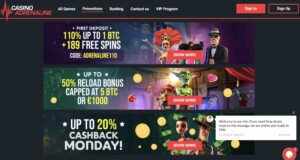 Bonuses
Anden Online is the Curacao-based owner and operator of Casino Adrenaline. It is not a brand that I was familiar with, so I did a little digging before conducting this review. I discovered that they have created at least two other online casinos, both of which have fairly respectful ratings.
My only concerns with these other casinos is that they seem to rely on RTG games. I have been fairly outspoken about RTG in the past, noting that while the developer is definitely legitimate, it doesn't have the same reputation as the likes of Playtech and Microgaming and also lacks the depth of games that these providers have.
Minor issues aside, Anden is an established operator and Casino Adrenaline seems to be its flagship online casino.
Software
Casino Adrenaline, on the surface, looks like a pretty standard and well-structured online casino.
I have reviewed thousands of online casinos during a 10+ year career in this industry. When you review so many sites, you get a feel for how they work, and it usually takes just a few minutes on the homepage to understand how the review will pan out.
A lot of it comes down to the theme, name, and logo. Believe it or not, some casinos don't care about any of this. They use a theme that is bland and boring, a name that is irrelevant and doesn't make sense, and a logo that looks like it was designed by letting a click-bot loose on MS Paint.
If a casino can't get any of those things right, you know there isn't much hope for the rest of the site.
With Casino Adrenaline, none of this is true. The site uses a pretty standard and catchy name, a stylish black-and-red aesthetic, and a layout that ensures the site is easy to navigate.
They say that you can't judge a book by its cover, but more often than not, when it comes to online casinos, if it looks good and is smartly designed, it will be good. It was true for the excellent Cadabrus Casino and it is also true for countless other top casinos reviewed on this site.
The question is, once you open the cover and look at the pages within, does Casino Adrenaline continue to impress or is it one of the few exceptions to this rule?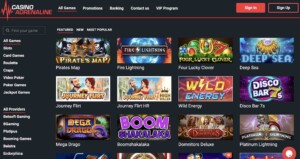 Games
Casino Adrenaline is powered by SoftSwiss, a leading choice for Bitcoin casinos and one that allows them to host games from some of the biggest names in the business, including Betsoft, Microgaming, NetEnt, Booming Games, and Endorphina.
Evolution Gaming and Ezugi step in to provide the Live Casino (as is so often the case) and there are all kinds of jackpot games, feature-games, and more to discover. Everything is mobile friendly and works perfectly on all platforms.
I would have liked to see a larger selection of providers, especially as the norm these days is to include dozens of big names and Casino Adrenaline has fewer than 12, but I'm just nit-picking. The truth is, if a casino has Betsoft and NetEnt games, it will hold my attention for hours, and Casino Adrenaline ticks both of those boxes.
In addition, it has a series of filter options that makes it easy to find specific titles, including:
Slots
Card Games
Roulette
Craps
Video Poker
Poker Games
Jackpot Games
Bonuses
I love nothing more than seeing an online casino bonus that is actually listed in Bitcoins. Such is the case with the Casino Adrenaline Welcome Bonus, which offers up to 1 BTC and 189 Free Spin to all new players who join and make a qualifying deposit.
This bonus is released as a 110% Matched Offer, and while it's not quite as big or as impressive as the bonuses offered by Bitcoin casinos like 1xBit, it's more than enough for most players and was definitely enough for me.
It's not the only promotion, either, as Casino Adrenaline also has a Reload bonus capped at a massive 5 BTC and a Cashback promotion that runs every Monday.
I was actually surprised to see such generous offers. For such an unassuming site, and one that hadn't appeared on my radar previously, I expected bonuses of less than a few hundred Euros, or maybe a few Free Spins and nothing more, but Casino Adrenaline has exceeded my expectations.
Banking Options
Casino Adrenaline has a payment screen that you will have seen on countless Bitcoin casinos, and that's no surprise, as it uses the same payment software found on a host of top-rated casinos. Unfortunately, it also has a similar limits, and allows for a maximum deposit of no more than €4.000 and a maximum withdrawal of the same amount.
This is listed as the "per transaction" limit, but it's also the weekly limit, and you'll face monthly limits as well. These limits depend on everything from your currency to your location and activity, but they're not very high.
Withdrawal limits are something we have spoken a lot about here at CoinBuzz, something that I have derided many times myself. Not only are they frustrating to encounter at a general level, but they negate a lot of the hype created by substantial Welcome Bonuses.
After all, you can collect up to 1 BTC as a new player, and that equates to around €15.000 at the time of writing. Imagine collecting the full amount, playing through the wagering requirements, winning just 3x of the total (€45.000) and then being told that you need to steadily withdraw your money over 3 to 5 months.
It's enough to drive you crazy!
On the plus side, Casino Adrenaline has a VIP scheme and as you advance though the levels you can increase your limits. The problem is, if you want to make it to the latter levels you need to be a high roller, and if you're a high roller, you probably shouldn't be playing at casinos like this in the first place, not when they have such restrictive limits.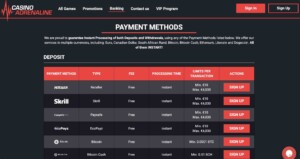 Highlights
Respected Casino
Long-Running Site
Big Welcome Bonus
Bitcoins and Traditional Methods
Easy to Navigate
VIP Scheme
Reviews and Support
Online casinos aren't the only thing I have seen a lot of other the years. Each casino review requires me to trawl through user review sites, which means that for every casino I have studied and rated, I've read at least a dozen reviews, equating to tens of thousands in total.
It's the negative reviews that matter the most to begin with, so these are the reviews I always read first. Over the years, I have come to realize that there are only three types of negative review:
Bad Bonuses: The player complains about the bonus terms. They joined purely so they could get a bonus, but because they didn't read the Terms and Conditions, overlooked some small print, or simply don't understand how casino bonuses work, they don't actually collect and this makes them angry.
Bad Losers: We all have losing streaks that seem unnatural. That's just how the cookie crumbles, and in a world ruled by RNG, it's normal to experience the unusual every now and then. For inexperienced players, however, these losing streaks are a sure-fire sign that the site is a scam, and so they vent, not understanding that the casino itself doesn't actually set the rules or payouts.
Everything Else: If the review doesn't fit into one of the above categories, it usually indicates that it's worth paying attention to.
In the past, I have discussed how even great casinos like Slotsheaven have stacks of negative reviews, so it's not necessarily concerning to see that there are lots of bad reviews for Casino Adrenaline.
What is a concern is that many of them fall under the third category on the list above.
In addition to complains about the withdrawal limit, which has already been addressed, players have been complaining about site issues and timeouts, as well as poor customer support.
I can confirm that the site isn't the best I have seen. I did experience one timeout and a couple of small lagging incidents during my session with this casino, but I was using a VPN at the time and it's possible that the issues were a result of a limited connection resulting from a VPN located thousands of miles from my actual location.
As for the customer support, I can definitely attest to the same issues. It's not that that they are unhelpful or unprofessional, but that they don't seem very well trained.
Many customer support experiences are slow and awkward, as everyone is looking to cut corners and hire people who don't necessarily speak your language or understand how the site works, but I got the feeling that Casino Adrenaline support was a little more inept than usual.
If not for the negative reviews addressing this issue, I would have passed it off as a new and inexperienced team, but that doesn't seem to be the case. They are slow, they don't always seem to know how the site works, and they seem committed to dragging everything out for an unnecessarily long time.
It reminds me of a conversation I had with Microsoft support 10 years, ago, one that was so bad it stuck with me all this time. I phoned them because I had a simple issue with my Xbox. After being put on hold for an hour, I was connected to an American man who asked a few basic questions about who I was.
I quickly gave him my user ID and email, and he asked for my name. I told him, and he then asked me to spell it out for him. I tried to do it quickly, he lost track, and so I slowed down. I could hear the slow click of every single key as I told him my name letter by letter.
By the way, my name is neither complicated or easily mispronounced.
After 10 minutes of this, he asked for my address, and I had to spell that out as well.
All of it.
Another 10 minutes later, we began with my email address.
I had been on the phone for 2 hours by the time he finally listened to what my problem was, at which point he politely said, "That's not an issue I can help you with, you will need to dial this number instead".
My point is, we all have experiences of bad customer support and we all have a level for what we're willing to deal with. Only when sites cross that level does the experience stick and turn into bad reviews and infuriating stories. Unfortunately, that seems to be the case with Casino Adrenaline, and it's a massive shame, as it has been around for nearly a decade at this point and really should know better.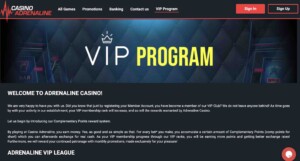 Final Word
Casino Adrenaline is a mixture of good and bad; generous and frustrating. It's nowhere near as impressive as superstar sites like Bitstarz, but it's not going to win a CoinBuzz award any time soon.
The fact that it has made it onto this site suggests that it has some merit, as many casinos are rejected long before they make it to writers like me, but it made too many missteps for this to be labelled as a classic.
I still recommend taking a look if you're the sort of player who likes to try everything and collect every viable bonus, but if you're looking for a long-term home, this isn't it.
Casino Adrenaline Review Details
Restricted Countries:
Afghanistan
Albania
Algeria
Armenia
Asia
Australia
Austria
Belarus
Belgium
Bosnia and Herzegovina
Bulgaria
Cambodia
Croatia
Cyprus
Czech Republic
Denmark
Estonia
Finland
France
Greece
Hungary
Iran
Iraq
Ireland
Italy
Latvia
Lithuania
Malta
Moldova
Montenegro
Netherlands
New Zealand
Poland
Portugal
Romania
Russia
Serbia
Singapore
Slovakia
Slovenia
Spain
Sweden
Switzerland
Turkey
UK
Ukraine
US