Pros
Attractive Aesthetic
Respected Operator
VIP Scheme
Lots of Games
Real Money Tournaments
Cons
Very Low Withdrawal Limit
Lots of Country Restrictions
Poor Bonus Terms
Limited Withdrawal Options
Welcome to the kingdom of Casinia, a place where you join virtual kings and queens and play a host of great games. The site was launched by Araxio Development N.V. back in 2017. It flew under our radar somewhat but we were very happy when we finally stumbled across it and realised just how much potential the site had.
In this Casinia review, we'll see whether or not it utilised that potential and if our first impressions resulted in a good experience or not.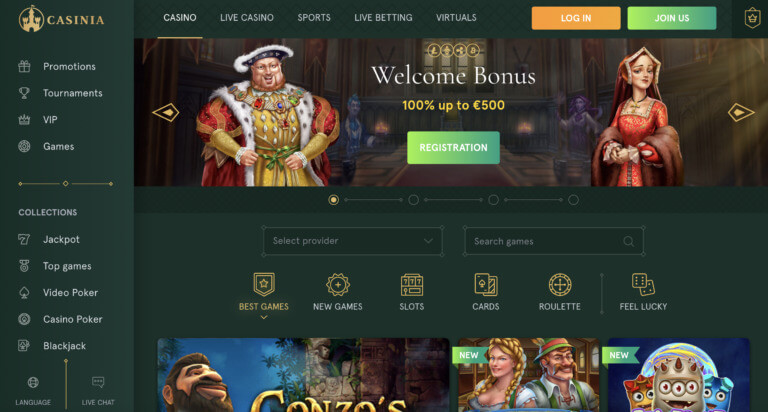 Basics
We love a good medieval theme. In fact, we love a good theme in general, especially when it amounts to more than a simple logo and half-assed aesthetic—a box that countless themed casinos fail to tick.
One of our favourite themed casinos is KingBilly. It's one that we have discussed and praised many times in the past. We have noted how the name, layout, promotions, and even the VIP scheme all suit the theme. You can see scrolls as you navigate the site and while it's not exactly Lord of the Rings, they do tell a story and serve to make the experience unique.
The reason we're mentioning KingBilly is because Casinia has a similar style and works just as well. In fact, in many ways, Casinia is even better, as it's much more polished and adopts a classy green and gold colour scheme, with Celtic accents and a super-polished finish.
…much more polished and adopts a classy green and gold colour scheme…
Games
You are never short on options when it comes to casino games at Araxio brands. Casinia is no exception to that rule. It includes dozens of top developers and hundreds of great games. We've reviewed hundreds of casinos in our time and have played many more. In fact, it feels like we have written about or played every slot, table game, and online casino out there.
It's very rare for us to encounter a games room that looks unique, but they always standout when we do. We are glad to say that we had that experience with Casinia. Sure, many of the games are classics, including customer favourites like Gonzo's Quest, but the operators have clearly worked hard to inject some originality into proceedings and it shows.
In addition to a few obscure developers and little-known classics, Casinia constantly updating its roster with new titles from established creators. There were dozens of these available at the time of our Casinia review, and we spent hours playing these games.
Along with stacks of online slots and table games, Casinia has a wide selection of jackpot titles. Many of these are provided by Playtech, a top developer that we don't see as often as we would like in the Bitcoin casino industry. Playtech is responsible for some of the biggest and best jackpot games of the last few years, including the sublime Kingdoms Rise series and the expansive Age of the Gods series.
With the latter, you can explore the exciting world of ancient Greek myths. The slots retell some of the best stories of the ancient world, from the mighty Zeus and his promiscuous and vengeful ways to the beautiful Pegasus. You'll also see more than a fair share of Greek gods, such as Hercules and Theseus.
If that's not enough to spark your interest, maybe the life-changing jackpots will be. These offer hundreds of thousands of dollars across four different jackpot tiers and each of these can be won on any real money spin.
Bonuses
The Casinia Welcome Bonus is fairly generous. It offers a maximum of €500, along with 200 Free Spins. This bonus is triggered as a 100% Matched Deposit Bonus. There is a minimum deposit of €20 needed to qualify and the Free Spins are released in bundles of 20 over the course of 10 days.
All bonuses are subject to a wagering requirement of 35x. Although it seems pretty generous, it actually applies to both the deposit and the withdrawal, and because it's a 100% bonus, it effectively turns it into a 70x wagering requirement.
If you deposit €50 and get €50 in bonus credits, you will have to clear a total of €3,500, which is a lot. And that's not the only negative term to consider.
You will not qualify for the Casinia Welcome Bonus if you make your deposit using Skrill or Neteller. In addition, and rather annoyingly, it's one of those bonuses that can only be activated by opening Live Chat and speaking with a represent.
The only thing that annoys a player more than a Live Chat activation is a low withdrawal limit. And that's a shame, as Casinia has one of those as well.
Still, you can cheer yourself up by collecting additional Reload bonuses and joining the Casinia VIP Scheme.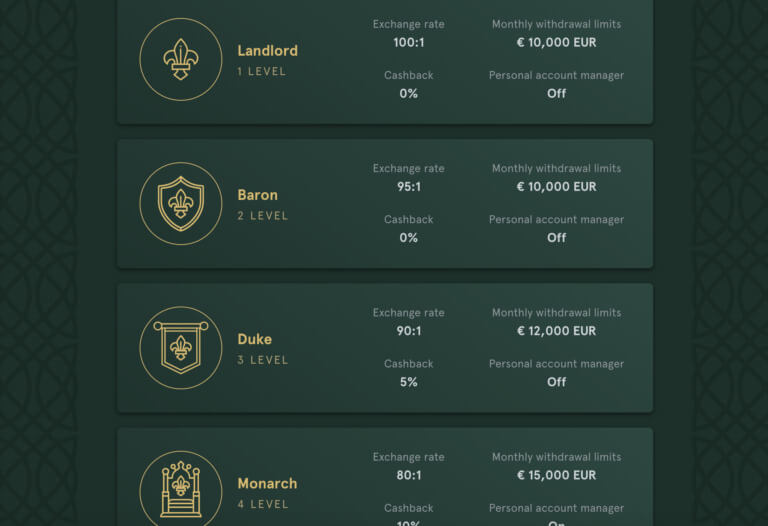 VIP Scheme
The Casinia Loyalty Scheme adopts the same king/kingdom theme that runs throughout the Casinia website. In many ways, it reminds us of the Syndicate Casino Loyalty Scheme. The tiers of this VIP scheme look like this:
Landlord
Baron
Duke
Monarch
Emperor
All players are invited to join the Casinia Loyalty Scheme as soon as they sign up. As you play games, you will be given points, and these will progress you through the tiers.
The higher you are, the greater your Loyalty Point exchange rate will be, which means every point you collect will be worth more money.
Cashback kicks in at the Duke level and offers 5%. This climbs to 10% and then 15%. Withdrawal limits also increase, doubling from their original level, and players are also given their own VIP account managers, as well as access to VIP promotions.
The real benefit of this scheme is the cashback. There are no perks and rewards like the ones you find in some of the grander casino Loyalty Schemes, but most players only really care about cashback and that's all that should matter.
Payment Options
There are stacks of deposit options at Casinia and these are catered toward players of all stake levels and from all regions. They include a host of e-wallets, instant payment services, and credit/debit cards. Players can also take their pick of cryptocurrencies, including Bitcoin, Ripple, Ethereum, and Litecoin.
The best of these options can be used to withdraw, as well, but the majority cannot and we counted close to three times more deposit methods than withdrawal methods. It's not a huge issue, but it could cause problems for players who are able to deposit via a specific method but cannot withdraw through it.
And that brings us to the biggest issue that we have with Casinia and the biggest issue we have with all Araxio casinos: the withdrawal limit. Players are restricted to withdrawals of just €500 a time and this stretches to an equally disappointing €10,000 a month.
For players who deposit €10 at a time and never load their account with more than €50 a month, these withdrawals are acceptable. Maybe you'll win a few hundred here and there, and if you're lucky enough to win 100x your deposit, it just means you'll have to spread your withdrawals over multiple days.
We're sure that fans of Casinia will point to the casino's VIP scheme, through which the withdrawal limit can be extended. However, most levels offer a small increase and even if you make it to the top of the tier, it will jump to just €20,000.
The irony here is that you likely need to deposit in excess of €20,000 a month to get anywhere near that total, and if you manage to win just 10x your deposit, an occurrence that is relatively common, it means you'll need to wait for 10 months before you get all of it.
Withdrawal speeds are fast, and it will generally take just a day to receive all of your money. The verification process is also fast, and in most cases, you won't even be asked to submit these details.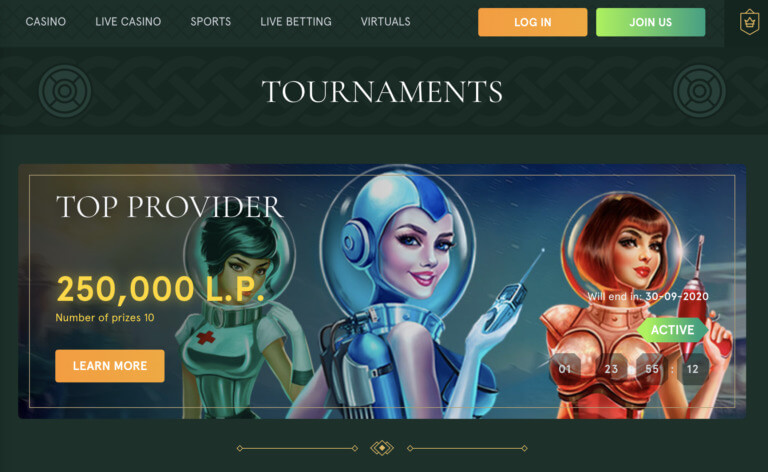 Highlights
Good Promotions and Tournaments
Selection of Games
VIP Scheme
Jackpots
Respected Casino Developer
Great Aesthetic
User Reviews
For some reason, many links pointing to Casinia use the Casinia2 domain. It was off-putting when we saw it, as we assumed that the operators had broken the cardinal rule of choosing a name even though they didn't own (and couldn't buy) the domain. As it turns out, both Casinia and Casinia2 point to the website.
We're not sure what the difference is. In fact, as far as we can tell, there isn't one. Maybe they did it just to confuse reviewers like us.
Speaking of reviewers, many have made their thoughts known regarding this online casino. These are a mixture of the great, the good, and the downright terrible. On the whole, it's one of Araxio's best rated online casinos, which is an impressive statement for a brand that owns classics like Cadoola. But to truly understand a casino, you need to take the bad with the good and highlight the negative as much as the positive.
Of the negative reviews we found, one of them called the site a "cancer", which is a bold statement indeed and was enough to make us do a doubletake. The issue this reviewer had concerns the withdrawal limit, which is something we highlighted above and something we have discussed in other Araxio casino reviews.
We won't go into it again here, but needless to say, if you're depositing many thousands of Euros at a time, this is not the casino for you. Most of the negative reviews for this concern point to the withdrawal limit. It's enough for players to go from a 9/10 or 10/10 to a 3/10 or 4/10. We've also noted how these withdrawal limits have turned what could be a brilliant casino into a disappointing and mediocre one.
Maybe Araxio will heed these warnings and make the necessary changes, but probably not. After all, the oldest reviews complaining about these issues date back a couple of years and we have also been complaining about them for over 6 months at this point.
In many of our Bitcoin online casino reviews, we highlight the sites that take time to respond to negative and positive casino reviews. It should be noted that Casinia has done this for a few reviews and seems to have made a habit out of it at one point. However, this stopped before 2020.
Maybe they were sick of players complaining about the withdrawal limits, who knows!
If you have any personal experiences with Casinia or Araxio casinos in general, use the comments section at the bottom of this page to let us know your thoughts. If there is a rep from the casino or operator reading this review, we'd love to have some personal insight!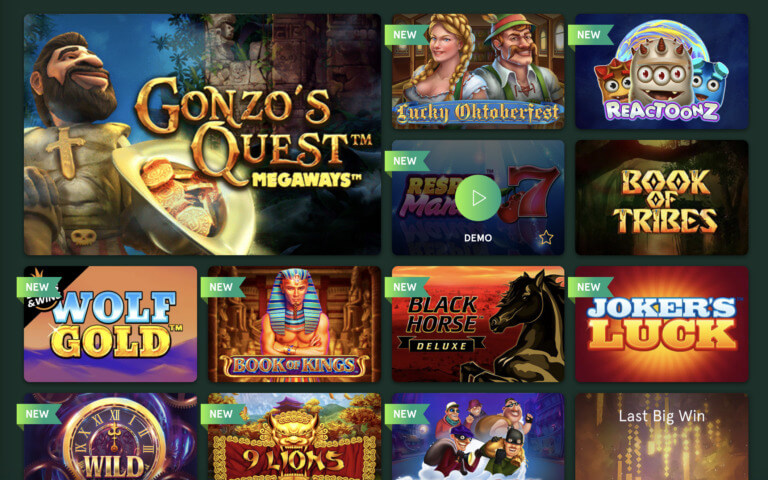 Final Word
We have a love hate relationship with Araxio casinos.
On the one hand, we love the style and the fact that these casinos are loaded with great real money tournaments, bonuses, and more. They aren't as devoted to Bitcoin gambling as Direx casinos (including Oshi Casino) but they are easily the second-best Bitcoin casino brand out there.
On the other hand, we have the unavoidable and downright infuriating withdrawal limits. They are the same across all casinos branded with the Araxio name and if you look at the reviews of these casinos, you'll see a plethora of complaints relating to them.
Some have said that these limits are in place to encourage regular gambling, because if a player can't withdraw all of their cash, they are more likely to gamble it away. The longer they wait, the higher these odds became and the more profits the casino receives. It has also been labelled as a way to control the casino's finances, but if that were the casino, they are in the wrong business, as €500 a day is very small.
Whatever the issue is, it needs to be addressed, because as things stand, Casinia is a casino that will only appeal to low stake players who typically deposit just €50 to €200 at a time.
In addition, it states that there are no limits for players who make it to the latter stages of this scheme. However, as the withdrawal limits definitely still apply, we can only assume it means there are no deposit, table, or win limits. And while that's impressive, it's rendered redundant by the inclusion of a limiting withdrawal limit.
What Other Sites are Like Casinia?
There are quite a few out there that use the fantasy/Medieval theme, including Kingdom Casino, which you can learn more about in our updated Kingdom Casino review
What is the Withdrawal Limit at Casinia?
The withdrawal limit is fixed at a measly €10,000 per month.
Is Casinia Good for High Rollers?
Because of the aforementioned withdrawal limit, Casinia is not suitable for high rollers.
Does Casinia Accept Bitcoin?
Yes, Casinia accepts BTC and a few other cryptocurrencies.
Does Casinia Only Work in Bitcoins?
No. You are free to use several other payment methods as well.
Casinia Casino Review Details
Restricted Countries:
Afghanistan
Australia
Belgium
Bulgaria
Cyprus
Denmark
Iran
Iraq
Israel
Italy
Moldova
Netherlands
Portugal
Spain
Sweden
Switzerland
UK
Ukraine
US
Languages:
Chinese
English
Finnish
French
German
Hungarian
Japanese
Polish
Portuguese
Romanian
Russian
Turkish