Pros
Lots of Games
Stacks of Payment Options
Crypto and Fiat Currencies
Mobile-Friendly
Live Chat
Cons
Withdrawal Limit
Slow Withdrawals
Limited Live Chat
Spinaru is a Bitcoin-friendly online casino that launched in 2019 and operates under a Curacao Gaming License. It's a site that seems to focus on key gambling markets in Northern Europe, Canada, and Oceania, and its partnerships with leading developers ensures it has a little bit of everything in the gaming stakes.
…has a little bit of everything in the gaming stakes.
To read more, take a look at our Spinaru review below. If you're ready to start playing and want to discover the site for yourself, join using the links in the sidebar and you can collect the latest Welcome Bonus.
Spinaru
Basics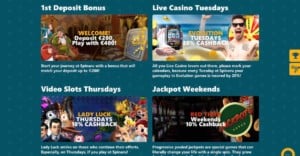 Spinaru is owned and operated by HighWeb Ventures N.V. It's a solid brand that seems to have been around for at least a few years and has produced a few casinos. However, those casinos rarely make it onto Coinbuzz and Spinaru is one of the few to have earned a place on our list.
There is a reason for this, and while I don't want to go off on a tangent, it's important to address.
I was recently introduced to another HighWeb Ventures casino that I planned to review for this site. But while vetting the casino, I discovered that it didn't accept Bitcoin. It was listed as a Bitcoin casino pretty much everywhere on the internet and the small print on the bottom of the site openly stated that it accepted Bitcoin, but there was no such option available.
After a little digging, I discovered that the same text appears on other HighWeb sites, including Spinaru. This "copy and paste" strategy is common in this industry, and I have complained about it a lot, including on sites like Ovitoons. Operators know that no one cares about certain terms and conditions, assumes they are all the same, and so reuses them across their sites.
I've even seen them do the same with content. In fact, another operator used a hyper-specific About Us page on all 10+ of its sites, which means you have ancient Egyptian-themed casinos claiming to be about outer space.
Usually, the issues are not that bad, but it does raise an issue here as Spinaru accepts Bitcoin but the sister site in question does not. To make matters worse, the text where they make this claim, the same text that seems to be copied and pasted everywhere else, begins with a typo, "That is also possible to fund your account using Bitcoin"
Fortunately, these issues are more of an issue for Spinaru's sister sites than they are for Spinaru itself, but if you find yourself confused by sites that claim one thing and offer another, now you know why.
Software and Games
The general design of Spinaru is very fluid, stylish, and easy on the eye, and I don't always get to say that about online casinos these days. There are some slick animations and a non-offensive colour scheme that makes it easy to find what you're looking for.
The copywriting is not the best, and I will touch upon that in other aspects of this review, but aside from a few strange typos, there is nothing too much to worry about.
As far as the games are concerned, Spinaru works with a plethora of top iGaming developers to create a mix of great video slots, bonus slots, table games, and Live Casino games. I won't list the developers here as they have all been included underneath this Spinaru review, but it's a list that includes some of the most exciting and innovative developers in the industry, including personal favourites of mine like NetEnt.
The casino also lets you search by developers so you can find your favourite creator, and there are other filter options as well. There are a few major developers missing from the list and I would have liked to see more big names and fewer fringe creators, but the result is still a massive variety of top titles that can be enjoyed on both mobile and desktop.
Bonuses and Promotions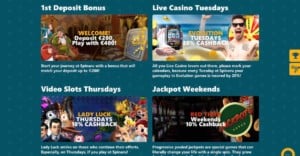 When you first join Spinaru, you can take advantage of a Welcome Bonus that offers a 100% reward up to €200, which is why the casino advertises the offer of "deposit €200 and play with €400". You don't need to deposit that much, of course, and you can simply deposit €10 or more to qualify for the 100% offer.
There is a wagering requirement of 35x that applies to both the deposits and the withdrawals. It's a term that I have seen used on a lot of online casinos in the past and it looks a lot better than it actually is.
35x doesn't seem like a huge number for a wagering requirement, but the fact that it applies to both the deposit and the bonus on a 100% offer means it's essentially a 70x requirement. If you deposit €50 and get a €50 bonus for a total of €100, you will need to wager a massive €7,000 before that money will be available to withdraw.
Like all good online casinos, Spinaru has a lot of loyalty offers, including reload bonuses and Free Spins. These bonuses help to ensure that things stay interesting and that the bonuses don't end when you're no longer a new player.
More important, it follows on from highly-rated casinos like GunsBet by going big on the real money slot tournaments. These are free to enter, and you can collect all kinds of rewards just by joining them and playing the qualifying games.
Payment Options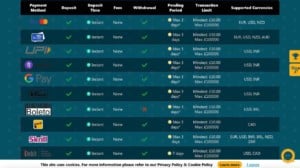 Spinaru has a large selection of payment methods. Not quite as large as MELbet and other "all-in" casinos, but there are enough payment methods here to cover all player types.
For instance, Spinaru accepts credit cards, debit cards, Google Pay, Interac, phone payments, eVouchers, bank transfers, web wallets (Skrill, Neteller, ecoPayz), and Neosurf. As you would expect from a site listed on the Coinbuzz best Bitcoin casino list, Spinaru also accepts Bitcoin.
The variety of payment options is definitely a huge positive here, but there are some negatives, as is so often the case. And just like many other new online casinos, those issues concern the speed of the withdrawals and the limits imposed on those withdrawals.
The pending period is fixed at between 1 day and 3 days. If you're using debit cards and bank transfers, you will need to wait for those initial 3 days to pass and then you could be waiting a further 3 to 5 days for the payment to clear.
In a sector where the best sites are moving toward instant payments, some sites are still lagging behind and Spinaru is definitely one of them. On the plus side, Bitcoin payments only have a pending period of 1 day and they are processed instantly once the casino triggers them, so if you want quick payments when you use Spinaru, make sure you stick with Bitcoin.
As for the limits, the "mindest" (I have no idea what that means either, but I'm assuming they mean the minimum) is typically fixed at the equivalent of €10 while the maximum is €10,000. You can't withdraw more than €10,000 a month, either, and this is the second issue that I have with the casino.
It's something I have discussed before and I won't get into it again, but needless to say, if you are a high roller this will definitely be an issue for you. If not, it doesn't really matter. The withdrawal limit shouldn't apply to progressive jackpot slots and so you'll be okay if you're a small or medium stakes player who strikes lucky.
Highlights
Lots of Games to Play
Over 20 Different Payment Options
Safe and Secure Gaming
Titles from Established Developers
Lots of Content to Explore
User Reviews and Customer Support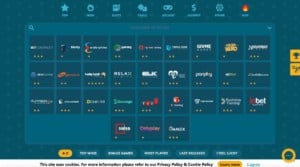 Spinaru has surprisingly few user reviews considering the site has been around for a couple of years at the point of this review. Still, that's not a huge issue as it's clearly a much smaller casino than the mighty Bitstarz and other casinos at the top of our list.
On the plus side, the user reviews are very positive and all of them seem to be genuine, which is something that I don't always get to say about casino reviews.
On the support side of things, Spinaru is very capable and professional and I experienced no issues in that regard. However, the timing is not great, as the Live Chat is only available from 9 to 5 Monday to Friday. It's good news for the majority of players but it's bad news for me and players like me.
I typically work until after midnight and if I have time to play casino games, it's in the early hours of the morning on weekdays or late evening on the weekend. I can't recall the last time that I played casino games during Spinaru's working hours, and that's coming from someone who works as a freelance writer and spends 50% of his time writing about casinos!
I know I am the exception, and I'm sure that most players will be happy with those times, but I find it a little odd. It's a time when most people are at work and the people who remain at home are too busy looking after kids or doing chores. It's a little frustrating, as it means the Live Chat feature is completely useless to me, but at least it's still there. I can always email them if I have an issue and that's what I did when testing the support.
FAQs
Can I Use Bitcoin?
Spinaru accepts Bitcoin for both deposits and withdrawals. However, at the time of writing (we will update this review if it changes) Bitcoin is the only cryptocurrency that Spinaru accepts. You can't use Litecoin, Ethereum, Dogecoin, or other popular cryptocurrencies just yet.
What Casinos are Like Spinaru?
We have not reviewed many casinos from the same operator as Spinaru, and so you won't find a lot of sites here that are similar. However, there are a few that offer the same level of aesthetic style, as well as stacks of games and features. For one example, check out our 7BitCasino review.
How Long Will it Take to Get My Money?
It depends on your chosen payment method, but it could take anywhere from 1 day to 7 days. The quickest options are cryptocurrencies, which have a fast processing time and a short pending time. If you opt for debit cards or bank transfers, though, then you could be waiting for up to a week.
What is the Withdrawal Limit?
All players are limited to withdrawals of no more than €10,000 a month. If you exceed this amount with a single withdrawal, it will simply be rolled over until the following month.
Is Spinaru Regulated?
Yes, Spinaru is regulated by the authorities of Curacao, a leading gambling authority that overseas operations at dozens of the best online casinos in the world.
Final Thoughts
Spinaru has a few niggling issues that prevent it from being a really great casino. The withdrawal limit is on par with some of the lowest out there (including the otherwise excellent Cadoola Casino), the withdrawal speeds are a little slow, the Live Chat is not 24/7 and there are some weird typos and grammatically issues. Most of these typos are small and you know what the site is trying to say, but others are beyond comprehension, as noted with the use of the word "Mindest" to mean "Minimum".
Still, if you can ignore these minor issues and focus of the many great games, the offers (the Welcome Offer is not the biggest but there are offers) and the varied selection of payment options and developers, you'll find a solid casino that is deserving of your time.
Spinaru Casino Review Details
Restricted Countries:
Africa
Asia
France
Iran
Iraq
Israel
Italy
Netherlands
Switzerland
UK
US
Languages:
Czech
English
French
German
Spanish