Pros
Nice Layout
Cool Aesthetic
Original Games
Sports Betting Also Available
Multiple Bonuses
Cons
Small Selection of Games
Poor Support
Stake is a Curacao licensed online casino that was founded back in 2017. It is owned and operated by a brand that doesn't seem to operate any other online casinos and it has a large and growing memberbase, as evidence by the amount of reviews that exist for this online casino.
In this Stake .com review, we'll see how this casino compares to other iGaming offers, considering its cryptocurrency payment options, its bonuses, its games, and everything else that a new player needs to know.
Basics
Stake is a proud member of the Crypto Gambling Foundation, but in all honesty, we have no idea what this is. On further inspection, the organisation has a website that doesn't load (at the time of writing, it has a database error) and a Twitter page that hasn't been updated in close to a year.
It seems like the organisation has the right goals at its core, but it also seems to be inactive, which makes it completely useless and doesn't bode well on casinos that advertise their inclusion. Still, don't let that distract you, as Stake.com is a fully paid up legitimate casino and it works with several major gambling brands.
Perhaps more reassuringly, Stake seems to be closely associated with PrimeDice, which many of you will have probably heard of. PrimeDice has a very good reputation in the online gambling industry and has been around since 2013. The parent name of these two companies is slightly different, but make no mistake about it, it's the same company, as the license number and address are identical.
PrimeDice, by the way, is also a proud member of the Crypto Gambling Foundation, but let's not go there again.
You can view the Stake website in a multitude of languages, including English, Russian, German, Spanish, Indonesian, Polish, and several others.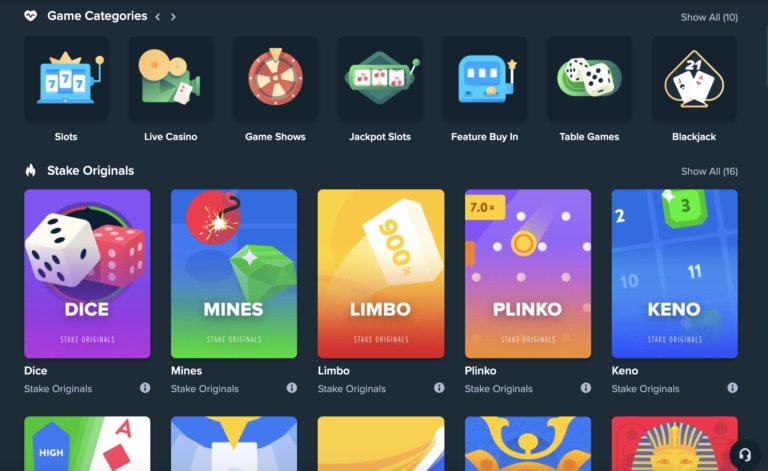 Bonuses
New Stake players are usually offered a sizeable Welcome Bonus and we have talked specifics in the past, but it's constantly changing and the best way to see what's on offer is just to click the link in the sidebar and pay them a visit.
As a loyal member, you can also collect Free Spins, take part in regular races, and secure free bets on the sports betting site, but you won't be offered the big 1 BTC to 5 BTC bonuses that you can find on sites like 7Bitcasino and BetChain Casino.
Stake is definitely a long-term casino, one that you join because you're looking for your new virtual home, as opposed to one you join simply to cash a big Welcome Bonus.
One of the great things about this online casino is that it has a somewhat generous Loyalty Scheme. The including of such a bonus is always a welcome sight, and something that we don't see often enough.
The Stake VIP Program is designed to provide perks and rewards to true VIPs, the players who deposit the most, bet the most, and make many wagers throughout the week.
As part of the Stake VIP Scheme, you will be given your very own dedicated VIP host, and can also collect weekly and monthly bonuses, as well as cashback offers, and more. You can't gain access to these programs if you're depositing and betting small amounts, but if you are a medium to high stakes player, you may receive an invite before long.
We're not sure what the exact range is, but you may get this information by speaking directly with the Stake customer support team, discussing your planned deposit amount, and asking them if this will be enough to become a member of the VIP scheme.
Games
Stake works with a small selection of premium iGaming developers and has a wealth of top slots from these creators. As with all online casinos, many of the games you see will be familiar to you, especially if you have played at a lot of online casinos in the past.
However, Stake avoids the constant feeling of déjà-vu by utilising unique thumbnails instead of the generic offerings provided by the developers.
It's a small touch, but it's one that works really well, and while it ultimately doesn't change the game or your chances of winning, it does make everything look more original.
We counted just over 200 slots in the Stake games room. It's a small selection and it's small because there are no prolific developers here. In place of the likes of Microgaming, Playtech, Betsoft, and NetEnt, you'll see creators like Bgaming, Thunderkick, Big Time Gaming, Relax Gaming, and No Limit City.
Evolution Gaming is arguably the biggest creator available here and this is where Stake gets all of its Live Casino titles, including the Lightning series, Deal or No Deal Live, Caribbean Stud Poker, Crazy Time, and Texas Hold'em Bonus Poker.
Get the most out of these slots by taking part in the regular races. You will receive pop-ups about these races when you are active on the Stake website. To join in, just opt-in, stake your money, and play the games. It's a great way to earn some extra points and prizes, and you'll also get all of the money that you win while participating in these tournaments, making it a win-win.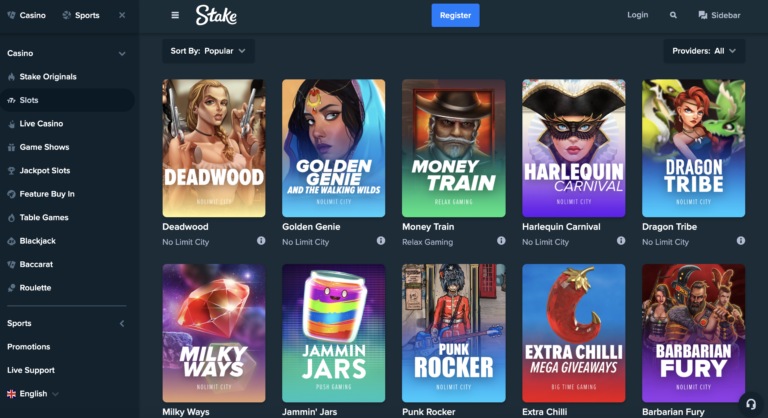 Originals
In addition to all of the above online casino games, Stake .com has its own selection of games. These "Stake originals" include an assortment of Dice and card games and there is a varied selection to choose from.
However, we recommend sticking with the games that you know from the developers that you like. This is nothing against Stake per se, we just have a natural aversion to proprietary games.
Many years ago, one of the biggest gambling sites in the UK was found to be inadvertently cheating its customers when it was discovered that one of the developers creating its games was cheating the system. These "cheats" came in the form of a "double or nothing" slot offer that was actually weighted nearly 80% in the casino's favour, even though the rules stated otherwise.
It wasn't quite proprietary software, but it was the next best thing (or the next worst thing, as the case may be) and if that can happen to a massive brand that has been around for close to half a century, it can happen to an online casino that has existed for a few years.
Highlights
Nice Aesthetic
Original Games
Multiple Promotions
Mobile and Desktop Friendly
Payment Options
Stake is a cryptocurrency only online casino and you can't use traditional currency payment options here. You can, however, take your pick of Bitcoin, Bitcoin Cash, Litecoin, Ethereum, Tron, and Ripple.
You don't need to worry about withdrawal limits and while there is a pending time, this is typically under an hour. This means that you should have your money as soon as you cash out.
If you find yourself depositing more money than you can afford to lose, and your feel that your gambling is getting out of hand, take advantage of the casino's responsible gaming tools. These include deposit limits, which are always recommend, regardless of whether you have a problem or not, and self-exclusions, which will force you to stay away for a pre-determined period of time.
User Reviews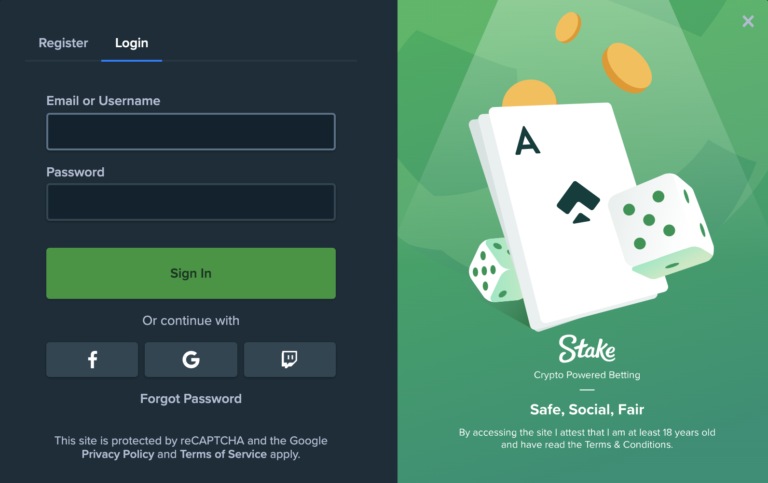 There are a few things about Stake that we don't like, a few things that need to be addressed and haven't been dealt with as we would have liked. It's because of these reasons that some people have labelled the casino as a scam, but the truth is, if you type the word "is [any casino name]" into Google, the term "a scam" will always appear high on the search results.
Players are naturally distrusting of this industry and they also get very angry and suspicious when they lose, leading them to label the site as a scam, and not fully understand that sometimes, luck just isn't on their side.
In the case of Stake .com, it is a fully licensed and legitimate online casino.
The main issue we have is the way that the casino deals with reviews. Its Trustpilot page has a score of 4.4 overall and these come from close to 150 reviews (at the time of writing). That's very promising for an online casino, but what's not promising is that only 16% of negative reviews have received a response.
Imagine having an issue with a casino, going to the extent of leaving a bad review to vent and voice your frustrations, and then having them ignore it. It's not good practice, it makes players angrier, and it doesn't look good to potential new members.
It's a similar story with reviews on other user-centric gambling sites. In the past, we're highlighted casinos like CryptoWild Casino and have noted how hard these guys try to impress and how much effort they put into responding to reviews and ensuring all customers' needs are met.
Only one person needs to be assigned to this role and for the sake of one person working a few hours a week, you can have a process that massively benefits players, turns unhappy members into satisfied ones, and encourages non-members to join.
Of course, 16% is not 0%, so they have responded to some bad reviews, but these responses are worse than nothing, quite frankly. In one instance, they seemed to blame a customer for not installing two-factor authentication and then tell everyone reading the review that the onus is one the player to keep their account safe.
This might be true, but that doesn't mean it's the right thing to say. If a customer leaves a 1-star review saying, "terrible casino. Didn't let me win anything and refused to give me money when I asked" you don't call them an idiot and move on. Again, it might be true, but that's not how you deal with customers. You thank them for their review, apologise profusely, even though they are the ones in the wrong, and tell them to contact you if they have an issue that needs to be resolved.
This is how the best casinos do it and it's how all casinos do it, but clearly Stake didn't get the memo.

Support
The customer support options leave a little to be desired at Stake. In fact, at the time of writing, the "Live Support" link, which is shown in the left sidebar at all times, didn't work. And the same was true when we tried the Live Chat icon in the bottom right of the screen.
We're assuming that these services were just down, as they only seem to operate during business hours, but it would make more sense if we were directed to an alternative operation or at least informed about the outage. We imagine it will be frustrating for players who actually have an issue that needs to be addressed, but we have confidence in the Stake crew that any issue will be resolved in a satisfactory manner.
FAQs
When Was it Founded?
The site launched in 2017 and has been going strong ever since.
Can I Use Bitcoins?
You can use BTC and several other cryptocurrencies.
Can I Use PayPal?
You cannot use PayPal or other web wallets to deposit at Stake.
Can I Play From the UK?
You cannot join Stake if you are in the United Kingdom. There are restrictions in other major gambling regions as well. Take a look at the table below this review for more info.
Conclusion
We highlighted some issues with Stake .com casino when discussing casino reviews. But these are minor and generally they are nothing to worry about. Nor should they distract you from all of the benefits that this casino provides and all of the great games and gambling experiences it offers.
Sure, there are minor problems, but that doesn't make it any less valid or worthwhile and if you like the look of this online casino, we recommend joining.
Remember to claim your Welcome Bonus when you do, and you can start your Stake gaming experience with a bang.
Stake.com Casino Review Details
Restricted Countries:
Czech Republic
Iran
Italy
Spain
Switzerland
UK
US
Languages:
Chinese
English
French
German
Indonesian
Portuguese
Russian
Spanish
Turkish