Pros
Fast Withdrawals
Established Creator
Fiat Currencies and Cryptocurrencies
Good Customer Support
Loyalty Scheme
Cons
Low Withdrawal Limit
Small Deposit Bonus
Lots of Country Restrictions
BetsEdge launched in 2019 and, like many online casinos, it experienced a bumper year in 2020. It is a stylish mobile-friendly casino that adopts a very simple and clean aesthetic, with an orange-on-white colour scheme and lots of purple and black accents.
This cryptocurrency online casino claims to have been founded by gambling enthusiasts and is part of the Direx N.V. group, which includes a variety of brilliant Bitcoin casinos, including some of our personal favourites. It is a massively accessible and feature-rich website. If you scroll down to the bottom of the site, you'll see this for yourself, as there are logos proudly displaying the names of some of the iGaming industry's best creators, as well as a variety of payment methods.
…a massively accessible and feature-rich website.
Licensed by the authorities of Curacao, BetsEdge is a dedicated casino that's filled to the brim with quality games and bonuses. In this BetsEdge review, we'll take a closer look at this selection and see if this is the casino for you.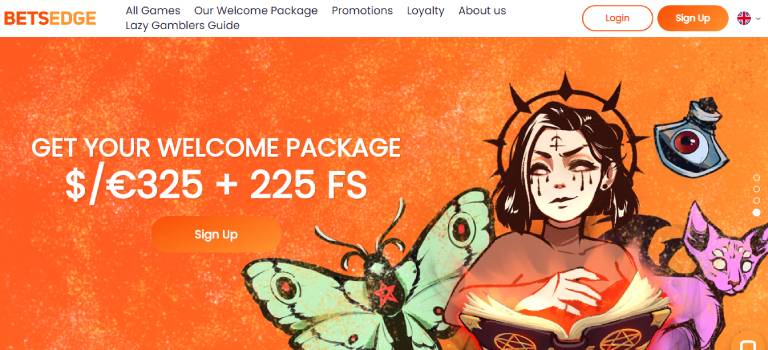 Bonuses
The BetsEdge Welcome Bonus offers €325 in total and this is spread across three deposits. It's a little disappointing and puts it on par with casinos like Red Ping Win. However, as noted in our Red Ping Win Casino Review, and when discussing many equally low deposit bonuses, it doesn't make a difference to players depositing less than the maximum.
Your first bonus awards you up to €100 in the form of a 100% Matched Deposit bonus. Deposit €50, for instance, and you'll get a total of €100 to play with. Any deposit higher than €100 will give you the maximum €100 bonus. You'll also get 100 Free Spins, and these are fixed to the Book of Dead and Booming Bananas slots.
It's not a bad bonus, and the Free Spins certainly help. They may be limited to just a couple of games, but one of those, Book of Dead, happens to be one of the most popular real money slots online, so we can't complain.
Your second deposit bonus offers 50 Free Spins, with a 50% match up to €150, and for your third, you'll get a massive 200% match up to €75, as well as 75 Free Spins. The slots change from deposit to deposit, but they are all fixed to popular titles, including Starburst and Avalon.
Reload bonuses are also available.
At the time of writing, BetsEdge offers all players a chance to "Juice Up" their balance from Tuesday to Friday. The graphic depicting this shows a syringe loaded with what seems to be orange juice. It's a straight-up steroid reference. We're not sure if we like that for being a little dark and unusual or if we're a bit perturbed by it.
But it definitely got our attention and we're sure most players will be none the wiser, so it's harmless. And if Syndicate Casino can get away with basing their entire premise around a mob-run enterprise that includes illegal gambling dens, automatic weapons, and moonshine, we suppose that anything is fair game.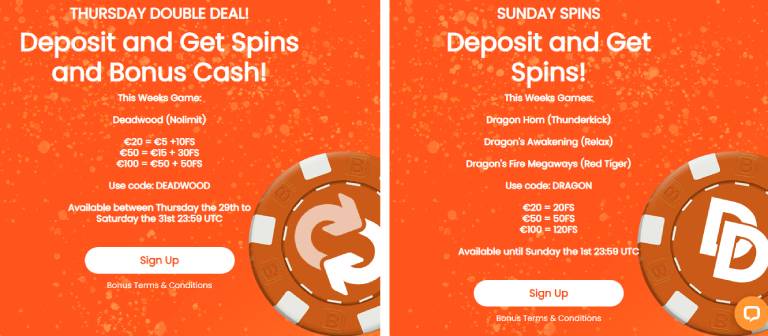 VIP Scheme
We love a good Loyalty Scheme and were glad to stumble into one on BetsEdge. It's a five-tier scheme and all players are invited to join, beginning at the Bronze level and advancing through Silver, Gold, Ruby, and then Diamond.
At each step, you'll get a unique series of bonuses. The Bronze is basically the Welcome Bonus, while the others provide the following:
Silver: A 50% Reload Bonus up to €300.
Gold: A 50% Reload Bonus up to €300 plus exclusive raffles.
Ruby: A 50% Reload Bonus up to €300 plus exclusive raffles, faster withdrawals, and a dedicated account manager. 7% Cashback is also provided for players at this level.
Diamond: All of the above, but with a Cashback rate of 10%
All of these levels state that tournaments will be added soon. We're not sure how long this message has been there, but can confirm that it has been visible for at least a couple of weeks prior to writing this review. What's more, we wrote this review over a year after the casino was launched.
Still, we have no reason to disbelieve the casino as many other Direx online casinos have tournaments and they all work really well, including the ones you can find over at Gunsbet Online Casino.
Games
BetsEdge is home to a plethora of top casino developers. Some of these are restricted based on your location, as developers, just like casinos, need to be licensed to operate in certain regions. However, there are enough developers here to keep you busy even if a few are restricted.
Some of the biggest names include Microgaming, Habanero, Play'n GO, and NetEnt, but these are just scratching the surface. You'll find Megaways titles owned and licensed by Big Time Gaming, and there are features like Rolling Reels, Avalanche, Locked Wilds, Wild Reels, and a glut of bonus rounds. Check the gaming lobby for more information and play these titles on mobile and on desktop.
They look great wherever you play them and on whatever platform you use. In addition to classic slots, table games, and Live Casino titles, BetsEdge is home to virtual scratch cards and video poker games, many of which are provided by Microgaming, as well as lottery games. In fact, while most casinos have at least a few of these titles, BetsEdge offers several dozen.
We like a good lottery title or scratch card every now and then and we were glad to see that so many of these games were available.
Payment Options
Process deposits and withdrawals in both fiat currencies and cryptocurrencies. You won't be charged a penny for these transactions and can process as much as €4,000 in fiat currencies. If you look at the payment page on the BetsEdge website, it states that there are no deposit limits for Bitcoins and that the withdrawal limits are 10 BTC.
That's very generous, we're sure you will agree, but it's also wrong.
Direx seem to use a standard format for these pages and you need to dig through the Terms and Conditions to get the truth. Once you do, you'll see that the withdrawal limits are actually fixed at just €7,500 per week and no more than €15,00 per month. If you withdraw more than this in Bitcoins or any other currency, it will be rolled over until the next week or month.
It's disappointing to see these limits in place, even if they are large enough for most players, and it's also infuriating that different parts of the site say different things. But we've come to expect that from Direx and, if we're honest, it's one of their few flaws, so we'll give them a pass.
Take a look at the info on the bottom of this BetsEdge review for a full list of accepted currencies and payment methods.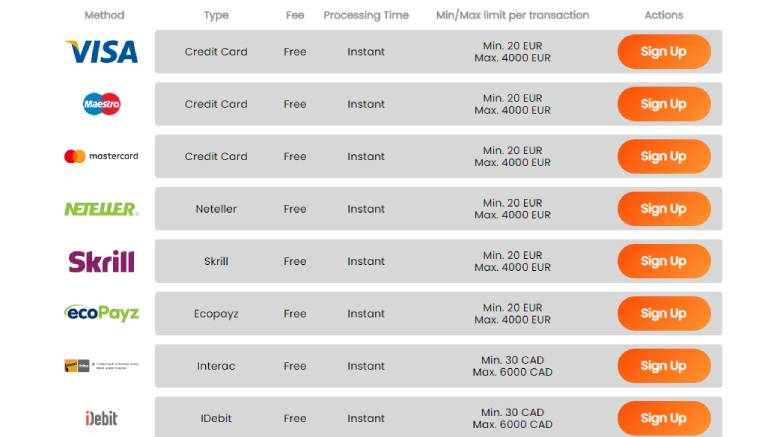 Highlights
Very Fast Withdrawals
Lots of Payment Options
Great Games
A Direx Casino
Mobile Friendly
Live Chat Support
Restrictions
BetsEdge is available in Canada, Australia, New Zealand, Russia, and parts of Northern Europe, with the exception of Sweden, the United Kingdom, and the Netherlands. It is also restricted in Albania, Spain, Switzerland, the United States, France, Italy, and Serbia. It's pretty much as you would expect from a Curacao-licensed casino and is more bad news for players in these regions who want to play top Bitcoin casinos.
In the UK, for instance, players have free rein when it comes to gambling sites. Some of the biggest sports books, poker sites, bingo sites, and online casinos operate here and many of them are exclusive or semi-exclusive to the UK market. But once you introduce cryptocurrencies to the equation, the UK Gambling Commission gets antsy.
It means that players in the UK and other major gambling regions can't enjoy top sites like Bitstarz. Still, there are many more players who can, and the bulk of BetsEdge's members seem to reside in Canada and Australia. These countries are smaller than the UK in terms of population, but they are just as dedicated to online gambling. In fact, Australians spend more on this activity than any other nationality, so it's no wonder that they have taken to BetsEdge and other Direx online casinos.
User Reviews
We had to do a lot of digging to find any bad reviews for BetsEdge. However, we couldn't help but notice that the majority of the positive reviews posted this year were posted on the same date. Although there could be many reasons for this, it's always a little suspicious and it's best that you ignore reviews like this and dig a little deeper.
That's exactly what we did. We picked apart some reviews that were definitely genuine and were a mixture of good, average, and bad, albeit not terrible.
Of the negative points mentioned, most could be dismissed without issue. Many of these players complained that they didn't win enough money or that they won and then lost. We say it all of the time, but these reviews are common. Many players expect that they will win. We don't know why, but it's so often the case and when things don't go their way, they get frustrated.
We have had some terrible losing streaks at some of the world's most legitimate online casino. In fact, we recently hit a big losing streak on a UK casino and sports book that's often said to be the biggest in the world. Does that mean it's somehow fake or rigged? Of course not.
A day later, we played at a lesser known casino, one that we have actually reviewed here (see our review of Cleopatra Casino) and won. Does that mean it's more legitimate and that it's somehow fairer? Not at all. In fact, on both occasions, we played the same games!
It's just the luck of the draw. You might feel that you have more luck on one casino than you do on another. We've been there, so we get it. But the longer you gamble, the more sites you join and the more games you play, you realise that they're all the same. The house edge is always there no matter what; sometimes you win big, other times you break even, the rest of the time you lose.
That's the way it is.
Almost as ubiquitous as these negative comments are the reviews that complain about verification. It's something we have touched upon many times before and we won't repeat ourselves here. Needless to say, however, you will be asked to verify your account at some point if you make a lot of withdrawals.
It's not because the casino somehow has it in for you and it's not because they're hoping you will quit, nor do they want to waste your time. They do it because the law makes them do it. And while this process can finalise in just a day or two, other times it will take a few days, as is the case with BetsEdge.
It's nothing to worry about. It's nothing out of the usual. And it's definitely not going to affect our review of BetsEdge Casino.
These minor issues and a few bonus problems aside (all seemingly stemming from players not reading Terms and Conditions or misunderstanding offers) the reviews don't highlight anything concerning.
Of course, some players don't like the look of the casino. Others don't like the bonuses or just prefer another site. But these are minor problems and are nothing to worry about. What's more, BetsEdge makes an effort to respond to all reviews, both good and bad. This is always a welcome sight as it shows that they care about their customers.
FAQs
What is the Withdrawal Limit?
You are limited to €15,000 a month at BetsEdge.
What is the Theme at BetsEdge?
There isn't one, not really. If you are looking for a theme, check out our Slotman Casino review instead.
Can I Play BetsEdge in the UK?
Your options as a UK player are pretty slim where Bitcoins are concerned. Lots of sites, BetsEdge included, just aren't available here.
Can I Use Bitcoins at BetsEdge?
Of course! Bitcoins is one of the most popular and preferred payment methods here.
What Other Cryptocurrencies Are Available?
You can use Dogecoin, Ethereum, Litecoin, and a number of other cryptocurrencies at BetsEdge.
Conclusion
BetsEdge is a simple, streamlined online casino that doesn't try to do too much with its aesthetic and looks great for it. It works well on all platforms and is backed by the highly respected Direx N.V. casino operator. You'll find a relatively small Welcome Bonus, but it also has a big Loyalty Scheme, many reload bonuses, and a glut of online casino games.
There's a lot to like here. Of course, the withdrawal limit is a little off-putting, and high rollers won't find much to their liking, but for the majority of players, BetsEdge is top notch.
If you like what you see here, take a look at some of our other online casino reviews, including the Bitcoin-friendly RooBet. If you click onto our Reviews tab in the top menu, you'll be taken to many other great casinos as well, all of which accept cryptocurrencies.
BetsEdge Casino Review Details
Restricted Countries:
Albania
Bosnia and Herzegovina
France
Iran
Iraq
Italy
Kosovo
Montenegro
Netherlands
Serbia
Spain
Sweden
Switzerland
UK
US
Currencies:
AUD
BTC
CAD
DOGE
ETH
EUR
LTE
NOK
RUB
USD