Pros
Great Design
Top Tier Developers
Lots of Games
Lots of Banking Options
Fast Payouts
Mobile-Friendly
Cons
Limited Live Chat
Low Withdrawal Limits
Casoo launched in 2019 and is operated by the Curacao-licensed SG International N.V. It targets its services primarily toward players across Canada, Australia, Finland, Russia, New Zealand, Norway, and a few other regions. There is no support for players in the United Kingdom, Sweden, or the United States.
You can access this site in half a dozen languages, including English, Finnish, Danish, and Spanish, and you can choose from a variety of payment methods, including traditional currencies and cryptocurrencies.
There is no support for players in the United Kingdom, Sweden, or the United States.
There's a lot to like about this online casino, and there were a few big positives that immediately stood out to us. In this Casoo Casino review, we take a deeper dive and see if the site has the bonuses, banking options, games, and customer support needed to be ranked as one of our best-rated BTC casinos.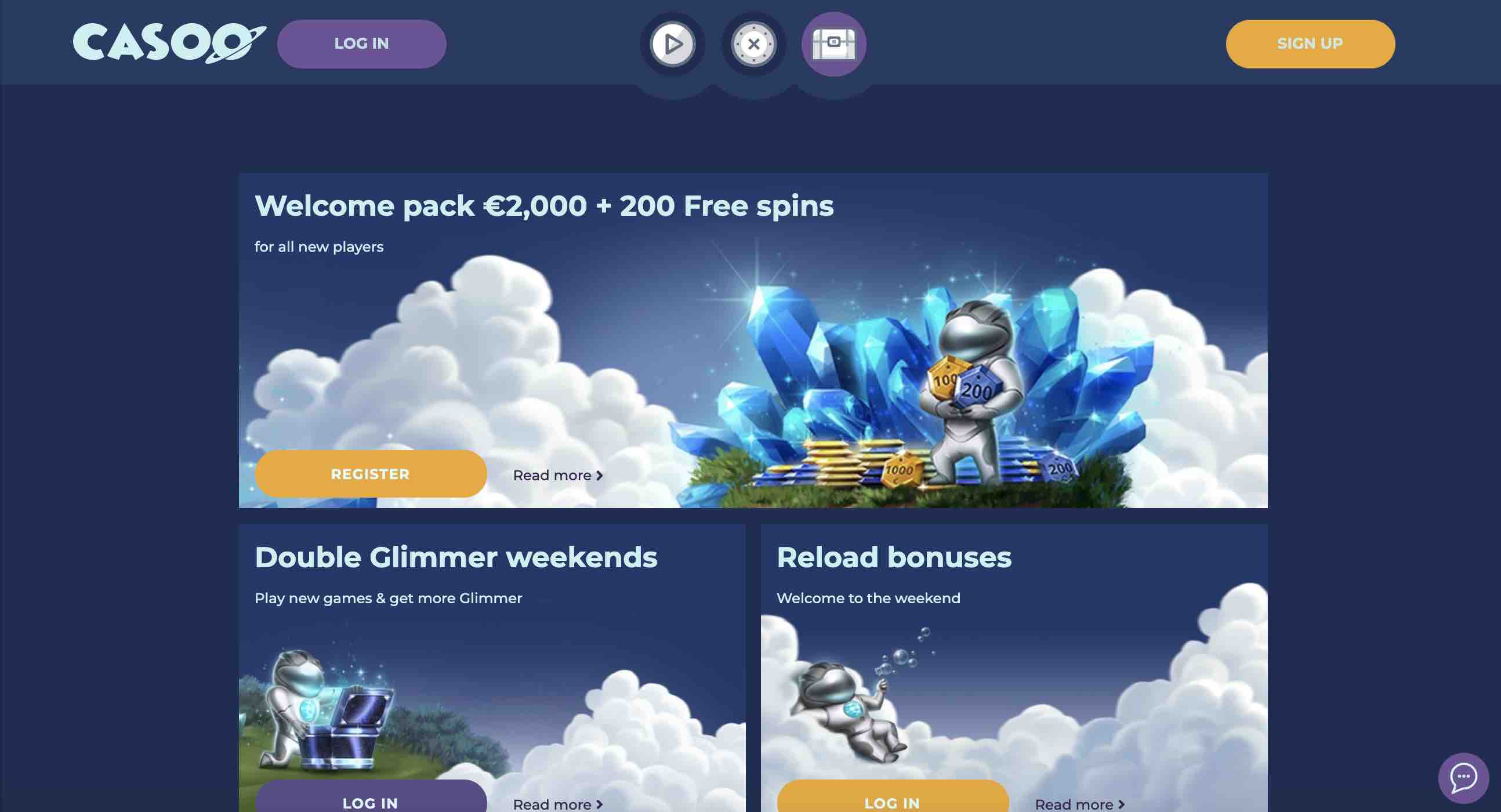 Basics
Casoo describes itself as "Intergalactic" and invites players on a journey to find the "eternal crystal". Based on that alone, you could be forgiven for thinking this was a video game or an animated TV show. But it's actually an online casino.
When we first read that About Us page, we were impressed and worried in equal measures. On the one hand, it is well-written, and that's actually rare in this industry. You only need to look at our WCasino Review to see just how bad things can get and how frustrated this makes us.
The worry stemmed from the fact that it was positioning itself as a casino with some kind of grand, glorious, and unique theme, and 99% of the times that we see this, the result is a half-assed mess.
Imagine, for instance, that your friend runs a corner shop that sells newspapers, cigarettes, and a few food items. When you ask them about it, they tell you that it's called, "The Kingdom of Obi", and tell you that it's all about a monster called Obi who searches for a lost planet and meets loads of characters on the way.
Impressed, and a little confused, you decide to pay it a visit, only to discover that the "story" amounts to little more than a sloppily painted banner above the till and an insistence on playing music that is tenuously connected to the cosmos.
You'll no doubt wonder just what the hell they were thinking and why they needed a theme at all.
That's a position that we often find ourselves in when it comes to online casinos.
Now imagine that your friend takes things a step further. The shop assistant is dressed up as an intergalactic being, the store sells lots of weird and wonderful items, and there are lights, colours, banners, and cardboard cut-outs that tell a story as you walk through the shop. At this point, not only does it make sense, but it's kinda cool and interesting.
That latter category is sparsely occupied in the online gambling sector.
It's a category where you will find casinos like King Billy, themed around a medieval dynasty, and a small number of other sites. It's also one to which we can add Casoo, because while it seems odd at first, that develops into something much better.
The general layout and aesthetic, along with the bonuses and even the games, all have a cosmic vibe that ties into the story that Casoo is trying to tell. It's still just a casino and not a video game, so don't expect to enter a world akin to Mass Effect or Halo, but it adds a nice spin to things.
Software
Casoo features soft, warm, ambient colours. It's not the deep blacks and stark whites that many online casinos adopt. Some of these black-and-white aesthetics actually work, and we've highlighted a few such instances in the past, including Drift Casino, which offsets the headache-inducing visuals by using off-whites and greys instead of bright whites.
But as helpful as those visuals can be, we much prefer it when casinos adopt blues, purples, oranges, and other warming colours. It sets the scene, it's inviting, and when you're trying to position your casino as being set in some weird and wonderful alien world, it helps!
The position of the site's menu options and icons seems to be very mobile orientated and it does look very good on smartphones and tablets. However, it also works on desktop and there are no complaints from us in that department.
Instead of clicking the big "Promotions" and "Games" sections, you'll need to look for the three little icons at the top, with the Play button directing you toward the "Games", the Poker Chip take you to the "Live Casino", and the Treasure Chest opening the "Promotions" page.
The main pages are just as neatly arranged. There are no annoying pop-ups or notifications getting in the way. It doesn't even use a sidebar, and while this usually frustrates us, they have managed to make it work. In fact, many of the casinos we have reviewed in the past could learn from Casoo.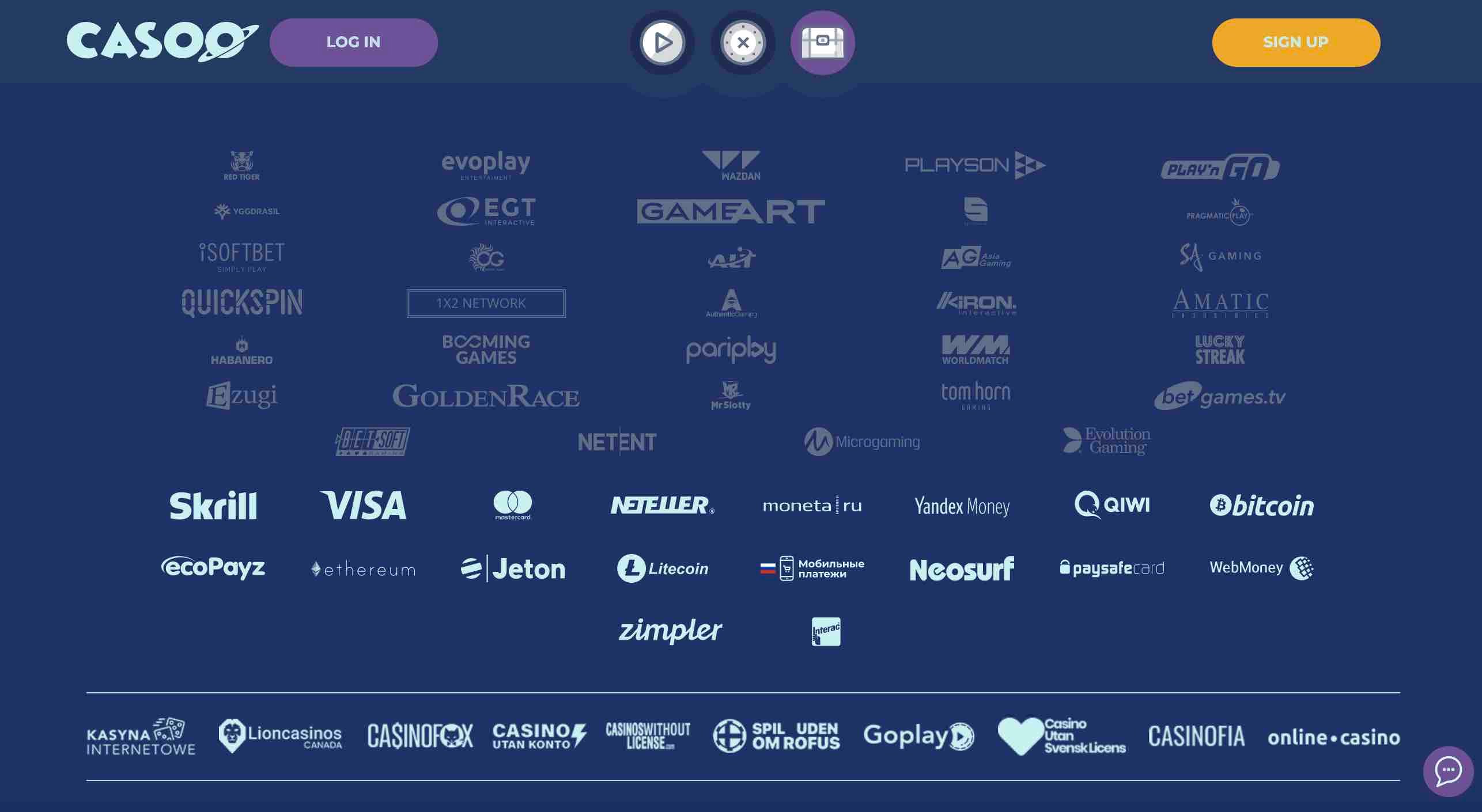 Games
You can browse a multitude of top-tier developers at Casoo, including some of our favourite creators in the business. There are hundreds of games in total and these span many different varieties, including many searchable categories:
As you can see below, these categories look a little different to what you might be used to. However, once you big beneath the surface they are pretty much the same thing:
Goodies: The Goodies section is the first one listed in the Casoo game's room but it is also the strangest. Based on the name, we expected a list of the best slots as chosen by the casino, but in actual fact, it just seems to be an amalgamation of the other sections, and merely opens a new series of menus.
New and Shiny: The newest slots on the casino are all added to this section. If you're like us and feel like you've played all there is to play and are constantly looking for new and exciting titles, we recommend clicking onto this section and seeing what it has to offer.
Super Hot: The hottest titles of the moment—these are the games you should play if you're not sure where to begin. The slots in this section include the immensely popular Book of Dead, which has been played millions of times and has featured on thousands of online casinos. Razor Shark, Jammin' Jars, Hotline, Mustang Gold, and Hidden Valley are also here.
Win Huge: If you're looking for big jackpot games, click onto this section and see what's available. Some of the games listed here include Reactoonz, Fat Santa, Mighty Africa, and many others.
Recommended: This section is reserved for the casino's best titles, as far as we can gather. You can find titles such as Ice Joker, Gem Splitter, Christmas Party, Big Bad Wolf, and many more. This section changes over time and the biggest changes occur seasonally, with Xmas-themed slots toward the end of the year and Easter-themed slots around Easter.
All Games: Not sure which category is right for you or which games you should be playing? Take a look at this section instead. It covers all of the games that you can find in the Casoo games room. Surprisingly, they don't seem to be listed in alphabetical order, but as far as we can tell, they are listed in terms of release date or the date they were added to the site, which is even better. Just scroll through until you find something that catches your eye. It seems like a long-winded way to find your chosen slots, but that's how we do it.
You'll find a similar series of categories for the casino's table games and Live Casino games, including Blackjack, Roulette, Premium, and Table Games. We feel like this is one job they didn't give to the same copywriter who wrote the About Us page, and one job that clearly needed to go to that copywriter.
"Blackjacks"? Come on. Not only that, but the "Table Games" section is a little redundant and confusing, considering all of the other categories are table games as well.
Bonuses
Casoo invites all new players to collect a Welcome Bonus of up to €2.000, along with 200 Free Spins. This promotion is spread across your first four deposits, and is structured as follows:
First Deposit Offer – 100% up to €300 + 100 Free Spins
Second Deposit Offer – 50% up to €300 + 100 Free Spins
Third Deposit Offer – 40% up to €400
Fourth Deposit Offer – 100% up to €1,000
Reload bonuses and Loyalty Bonuses are also available, and the casino fully incentivises players to keep those deposits flowing.
One of our favourite things about this casino is its slot tournaments. As we noted on our GunsBet Casino Review these tournaments are always a welcome sight. They are run every single day on Casoo and players can scoop Free Spins and cash when they participate.
You just need to opt-in, play the relevant games, and keep racking-up those points. At the time of writing this review, there are daily tournaments with prize pools of either €2.000 or €5.000. Obviously, the more you stake, the better your chance of success will be, but if you're a medium stake player or a high roller, it's worth participating in these tournaments.
Participation won't cost you anything and you get to keep all of your winnings, so you literally have nothing to lose!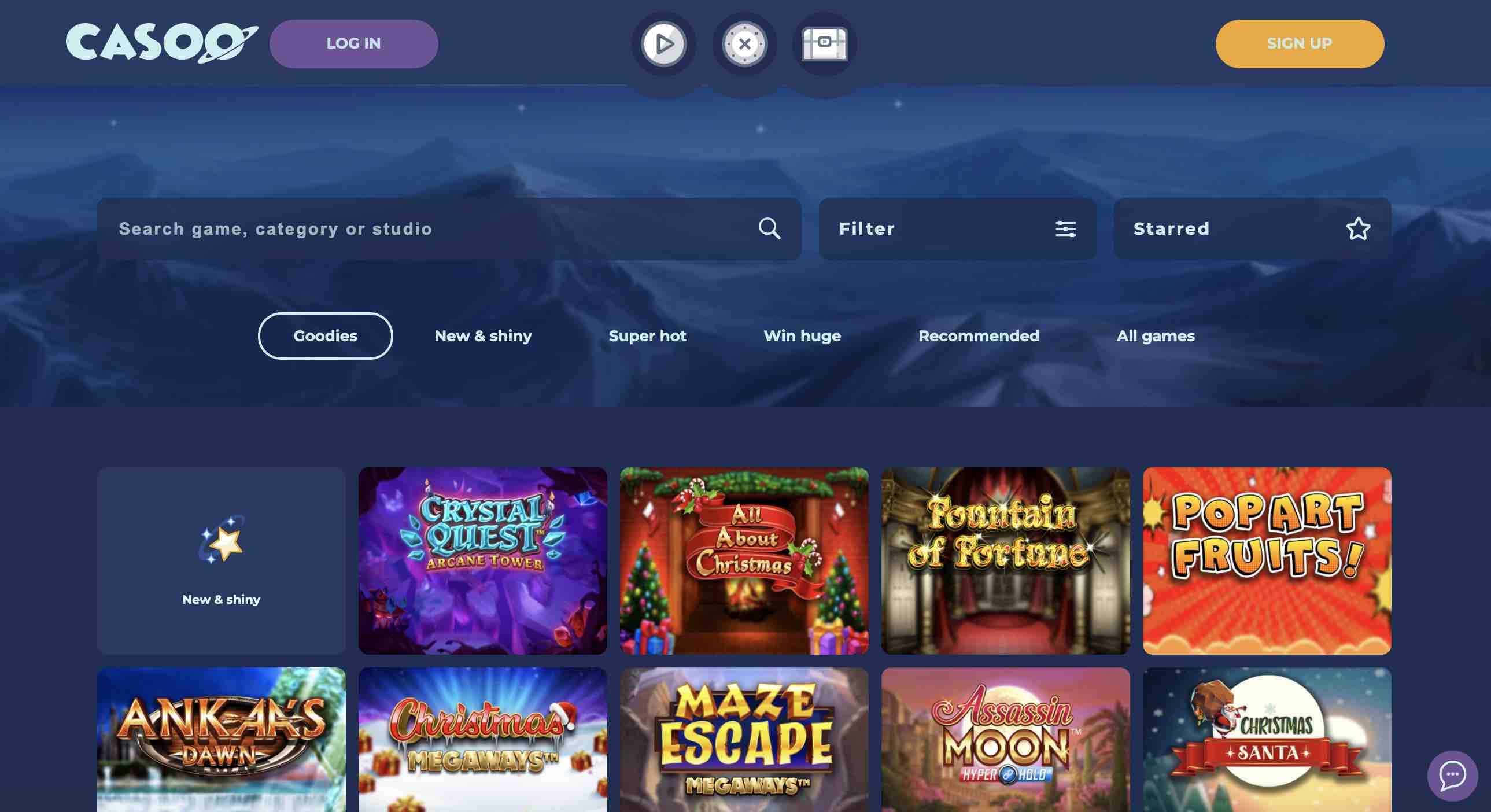 Banking Options
Many traditional and cryptocurrency payment methods are available at Casoo, including Visa, MasterCard, Skrill, Neteller, Litecoin, Ethereum, and Bitcoin. These methods are free to use and they have generous limits with regards to the deposits.
That's not the same for the withdrawals, however. Regardless of your chosen payment method, you are limited to withdrawals of no more than €2.000 a day, €5.000 a week, and €10.000 a month. Initially, these limits don't seem that bad, especially when you compare them to the €500 a day at Rabona Casino and other Araxio Development sites.
But while the daily limits are a little more generous, the same can't be said for the monthly ones. In fact, they are the same as the aforementioned Rabona and its sister sites.
To make matters worse, Casoo also restricts you to a maximum of €50.000 per year, which is an unusual and frustrating addition. If you're lucky enough to scoop a €1 million prize, it will take you 20 years to collect your cash.
Of course, that's an extreme example. You could argue that no one is going to win that amount, but millions have been won on other casinos, so why not? Casinos pay 7-figure prizes all of the time. It's every player's dream, and at Casoo, it's a dream that can never be realised.
We can't stress enough how frustrating these limits are.
On a personal level, we don't deposit more than €200 at a time and rarely play for more than €1 per spin. We have encountered issues with withdrawal limits before, and if they can affect us, we can't imagine how difficult things would be for a high roller.
FAQs
What Other Casinos Should I Check Out?
Is There a Withdrawal Limit?
Yes, there is a withdrawal limit here. You cannot withdraw more than €10.000 a month or €50.000 a year. It's okay for small stake players but it's bad news for everyone else.
Can I Use Bitcoin?
Not only can you use Bitcoin to deposit and withdraw, but it is also listed as a currency option, which isn't always the case.
Is BTC The Only Currency?
BTC is not the only currency here and there are several others available. Take a look at the info panel below this review for more information.
How Old is Casoo Casino?
Highlights
Choose from Lots of Great Games
Fiat Currencies and Traditional Currencies
Safe and Secure
Lots of Bonuses
Big Welcome Bonus
Very Smartly Designed
Play on Mobile and Desktop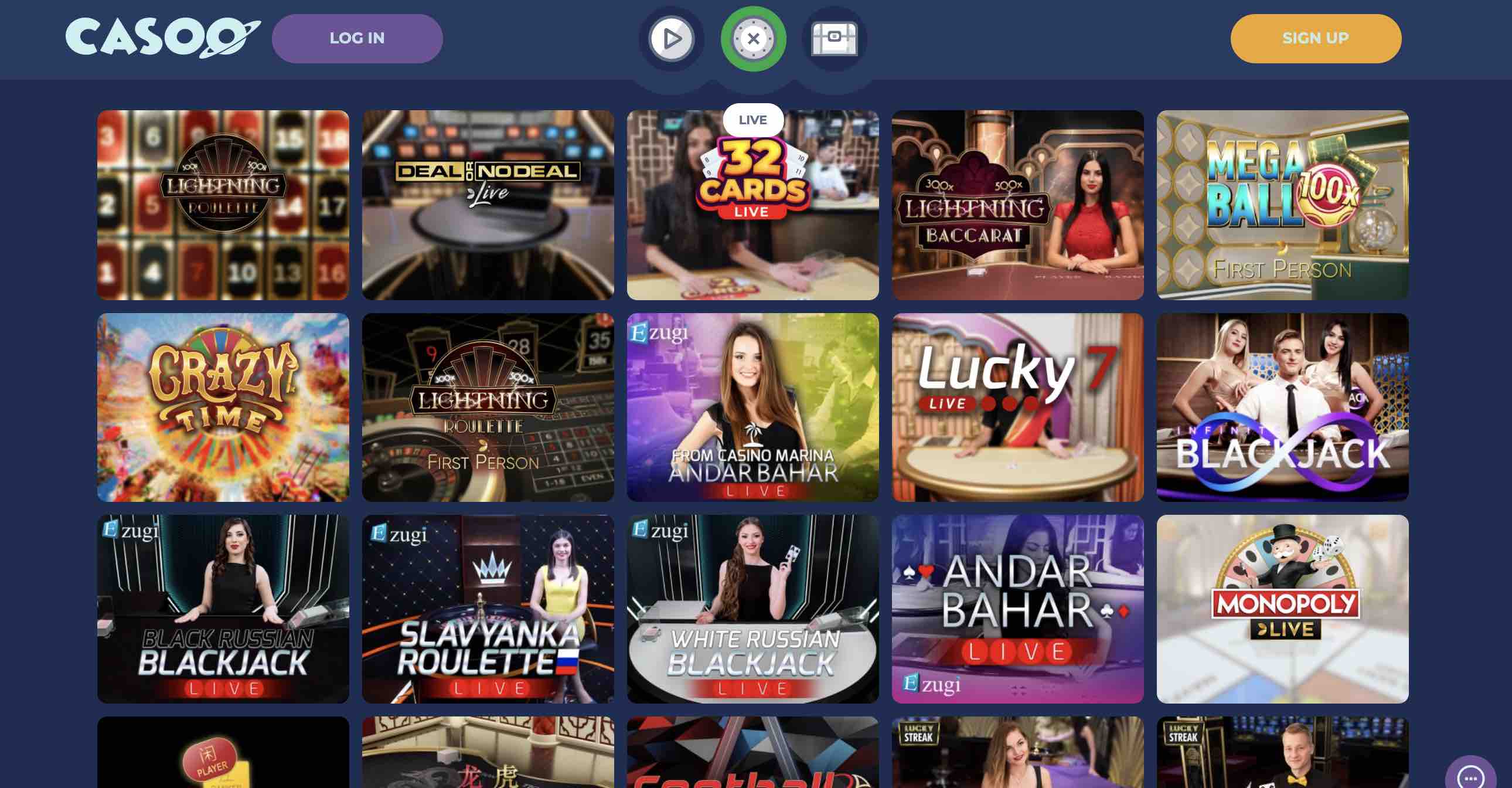 Final Word
We found Casoo's Live Chat to be a little slow and were disappointed to discover that it wasn't available throughout the day, but this is less of a major issue for us.
After all, not only are we conducting this review during the end of 2020, when many companies can be forgiven for being a little slow, but the company is fairly adept at responding to emails and so Live Chat limitations aren't much of an issue.
What we can't forgive, however, is the withdrawal limit, which is incredibly restrictive. You can't withdraw more than €10.000 a month or €50.000 a year and while this is not a major issue for most small stake and medium stake players, it's terrible news for high rollers.
If you're a high roller who gambles thousands of dollars at a time, you'll need to take your services elsewhere. In such cases, we recommend taking a look at sites like Anonymous Casino, which are a little more relaxed when it comes to withdrawal limits.
If you're not, this won't be a big issue and you should be able to enjoy Casoo Casino without issue.
Casoo Casino Review Details
Restricted Countries:
Estonia
France
Italy
Latvia
Lithuania
Netherlands
Spain
Sweden
UK
Ukraine
US
Languages:
Danish
English
Finnish
Norwegian
Russian
Spanish
Currencies:
AUD
BTC
CAD
DKK
ETH
EUR
NOK
NZD