Pros
Lots of Games
Loyalty Scheme
Mobile-Friendly
Big Brand
Top Developers
Many Payment Options
Cons
Confusing Design
Annoying Bonus Terms
Withdrawal Limit
Slow Withdrawals
Gioo Casino launched in 2021 with a license from the Malta Gaming Authority and iGaming greatness in its sights. Some of the biggest online casinos around operate under license from the MGA and that, combined with its experienced operator and quality software partnerships, has helped it to stand out from the crowd somewhat.
The question is, does Gioo Casino actually live up to those expectations and does it have the features that modern casino players are looking for, or is it a flop barely worthy of a second-glance?
Let's find out.
Basics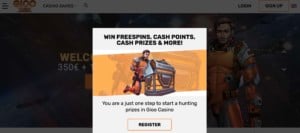 The layout of Gioo Casino is a little odd. The About Us (which is surprisingly well written considering my recent issues with Universal Slots Casino and other such sites) seems to suggest that it's an extra-terrestrial thing. It talks about venturing into the cosmos on a mission to find treasure. The logo, however, wouldn't look out of place advertising an ancient Egyptian-themed a lot.
As for the name, well, I'm still trying to work that one out. Answers on a postcard, please.
Gioo Casino is owned and operated by a company known as N1 Interactive. If that name sounds familiar, it's probably because N1 is responsible for a slew of top gambling sites, many of which offer slot gambling and have been featured here on Coinbuzz in the past.
BetChan Casino is a great example and one that I reviewed back in 2020, during the year we'd all like to forget. Ironically, I've pretty much forgotten everything about the casino, but that's not necessarily a bad thing, as it's usually the terrible ones that I remember the most.
Generally speaking, N1 is a consistent brand known for producing quality online casinos, and that's something you can't always say about iGaming operators.
Software and Games
Gioo Casino works with a multitude of top iGaming developers to ensure there is a ready supply of great slots, table games, and Live Casino games.
The developers include Playtech, NetEnt, Pragmatic Play, Red Tiger Gaming, Thunderkick, Big Time Gaming, Wazdan, and Quickspin, to name just a few.
It means you can explore everything from progressive jackpot slots and Megaways slots to the latest table games, video poker titles, and more.
All of these games can be played on mobile, as well a desktop, and the gaming roster is constantly being updated to ensure that there's always something new when you drop by.
Bonuses and Promotions
Gioo Casino has decent but flawed Welcome Bonus. It is spread across three deposits and it invites players to collect up to €350 and 100 Free Spins. The first issue with this bonus is that it's far from the biggest and is actually on par with some of the smallest online casino bonuses we have covered.
Still, it's a hefty sum if you're a small stakes player and if you're only depositing up to €50 at a time, there's really no difference between a cap of €50 and a cap of €5,000. The fact that it is spread across three deposits also gives you three cracks of the whip, and means that someone depositing €50 each time would get a total of €100 in bonus credits for their €150 combined deposit (100%, 50%, and 50%), along with the 100 spins.
The main issue I have with this bonus, and the first big issue I have with Gioo Casino in general, are the terms and conditions.
Frustrating terms and conditions exist for all bonuses, but these are more frustrating than most.
Firstly, you need to deposit at least €20 to qualify. Not a huge issue, but not ideal for super-small stake players, especially when you consider that other sites allow deposits of just €10. Secondly, there is a wagering requirement of 50x, which is massive and applies to both the bonus and the Free Spins.
On the plus side, it only counts for the bonus amount and not the deposit, but it's still on the high side.
Finally, there is a winnings cap.
Personally, I can overlook high minimum deposits and high wagering requirements, as I have an all-or-nothing approach to bonuses. I see a Welcome Bonus as a chance to win huge sums of money and then try to hold onto it through the wagering requirements. But a winnings cap prevents me from doing that—even if I do hold onto those winnings, they will disappear when the wagering requirements have been met.
The bonus limit is 35x, which is not too bad (it means that you can win as much as €350 from a €10 bonus) but the Free Spins have a cap of €50.
I should remind you that there are 100 Free Spins in total, which means the winnings are capped at the equivalent of just €0.50 each. You can still win more than this, but you can't withdraw it.
If you are lucky enough to turn a €100 bonus into a win of €10,000 after the wagering requirements (which, admittedly, is rare) then you will lose €6,500 of that money when you withdraw.
Gioo Casino has weekly promotions as well. There are only two of these active at the time of writing, but they give players a chance to collect bonus credits every Wednesday and Free Spins every Saturday and it's a good incentive to stick around and keep depositing.
Just make sure you check the terms and conditions before you opt-in to a Gioo Casino bonus.
VIP Club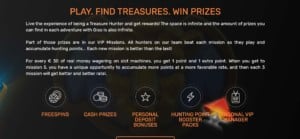 VIP Schemes are not as common as they should be. They incentivise players to stay beyond the Welcome Bonus and yet they are very rare.
Thankfully, Gioo Casino doesn't suffer from that issue and has a generous VIP Scheme. It's not quite on par with King Billy Online Casino, which looks great and offers lots of rewards, but it's still generous and it's definitely worth the sign up.
You can collect Free Spins, cash prizes, personalised bonuses, booster packs, and your very own personal VIP manager. The VIP levels are structured like weapons and jewellery, beginning with Anubis Weapons and then moving onto amulets and heads. After Anubis, it switches to Tutancamun, tomes, and then an Egyptian Treasure chest.
The treasure chest is actually written as "Egypt Trasure", which is worrying for a major online casino, but what's even more worrying is that it seems to be confused as to whether it's an Egyptian-themed casino or a space-themed casino.
It really needs to pick a side and go with it, because it's confusing as hell.
The best sites are the ones with completely cohesive themes, including the excellent Kingdom Casino. Gioo Casino does not fit that mould. It's almost as if it was made by two different teams who never consulted with each other during any point of the process.
Payment Options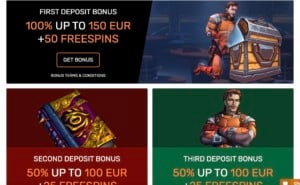 Gioo Casino accepts a multitude of payment options and you can take your pick from most popular methods. Take a look at the table below this Gioo Casino review for a full list.
The options might be good, but the way that they are processed is not.
Gioo Casino has a pending period of up to 72 hours, which is just not excusable in this day and age. On the plus side, that pending time drops when you are an active player and have made a lot of transactions, but even new players shouldn't need to wait that long.
There is also a withdrawal limit, which is another issue that I have with this casino. It's minor, but it means that Gioo Casino won't be right for you if you are a high roller.
The withdrawal limit is fixed at €7,500 a week and €15,000 a month—again, it's fine for most players but will exclude the big spenders.
Highlights
Three-Tier Welcome Bonus for New Players
Loyalty Club
Reload Offers and Free Spins
Ancient Egypt-in-Space Theme (I Think)
Mobile-Friendly
Lots of Great Games
FAQs
When Was Gioo Casino Founded?
Gioo Casino launched in 2021 and the above review was compiled just a few weeks later. However, as with all of our reviews, we check back on a regular basis to ensure it stays updated.
What Does Gioo Stand For?
I really don't know. I couldn't even tell you how it is supposed to be pronounced. I think there are so many casinos out there and so many new ones being released that operators are just settling on any combination of letters that looks like it could make sense. It's a saturated industry, and when every good name has been taken, it's time to just slap the keyboard and see what comes up.
Of course, I could be doing the operators a disservice. Maybe it actually has a reason for being and maybe it makes perfect sense. But as they don't explain it, I can't possibly know. As I have said many times before, if you're going to have a weird name, at least tell me why, otherwise, I'm just going to assume you're making it up as you go.
Can You Play in the UK?
Although Gioo Casino has a license from the MGA, allowing it to operate in many European countries, that doesn't extend to the United Kingdom. You will need to look elsewhere if you're in the UK, unfortunately. I recommend checking out 32Red Casino if you're in the UK and looking for a new site.
How Do I Join the Loyalty Program?
All players are given access to the Gioo Casino Loyalty Club as soon as they join. You don't need to do anything—just keep depositing and playing, and make sure you check your point's balance every now and then.
Can I Play on Mobile?
Yes! You can play Gioo Casino on Android and iOS and it works directly through your web browser, with support for most browsers.
Final Thoughts
I have reviewed hundreds of online casinos in the last couple of years and I can count on one hand how many times I have made it through a review without moaning. If you want to see an example, take a look at my review of PokerStars Casino.
The problem is not that these sites are bad. If that was the case, the reviews wouldn't even be published on this site. It's that I'm a little over-critical, especially when sites get so close to perfection and then trip up.
Imagine that your friend invites you over for a dinner party. Their house is massive, the décor is elegant, and they have the best chefs, are serving the best foods, and have charming servers catering to your every whim and a sommelier selecting your wine. You're served a delicious starter and mains, dishes that are worthy of the best Michelin-starred restaurants, but when it comes time for dessert, they give you a soggy, broken Hobnob and a cup of vending machine coffee.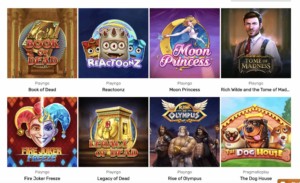 It takes the shine off a little bit. You could argue that everything else is so perfect that you can ignore that minor issue. But I guarantee that when you go home, that tasteless coffee and oaty mess of a biscuit is the only thing that you will remember.
That's not true for everyone, of course. Maybe you like cheap coffee and wet Hobnobs. Maybe you're so drunk by that point that you literally don't remember any of it. But it's a dealbreaker for many others.
Take Gioo Casino as an example. Yes, it has a lot going for it. But it also has ridiculous bonus terms and a low withdrawal limit, and so players who bet with a lot of money or pay attention to bonus terms, those issues are the soggy biscuit at the end of the meal.
It's still a great site, don't get me wrong, and I recommend checking it out, spending a few days or weeks here, and seeing what it has to offer, and sticking around if you like what you see. But it's probably not going to be your new number 1 casino and many years from now, the only thing you will remember about it is the things that disappointed you—the things that could have made it great, as opposed to the things that actually made it good.
Gioo Casino Review Details
Restricted Countries:
Australia
Belgium
Cyprus
Estonia
France
Iran
Iraq
Israel
Italy
Lithuania
Netherlands
Poland
Slovakia
Slovenia
Spain
Sweden
Switzerland
Turkey
UK
US
Languages:
English
Finnish
German
Norwegian
Polish
Russian