Pros
Established Brand
Great Slots
Lots of Jackpots
Good Support
Sportsbook
Cons
Small Welcome Offer
Limited in Some Areas
The Betfred brand was launched in the late-1960s. It's one of the longest-running sports betting brands in the United Kingdom and grew from a single betting shop created by Fred Done. Fred actually financed the operation with the winnings from a bet he made on England to win the World Cup. If not for that bet, he may have missed out on a company that is now worth millions and has a turnover that is said to be over £10 billion.
I play at all of the casinos that I review here at Coinbuzz, but some of my experiences are shorter than others. With sites like Oshi Casino, I only spend a few hours browsing, playing, and tinkering. With some UK-licensed casinos and sportsbooks, however, I use them on a regular basis and have been using them for years.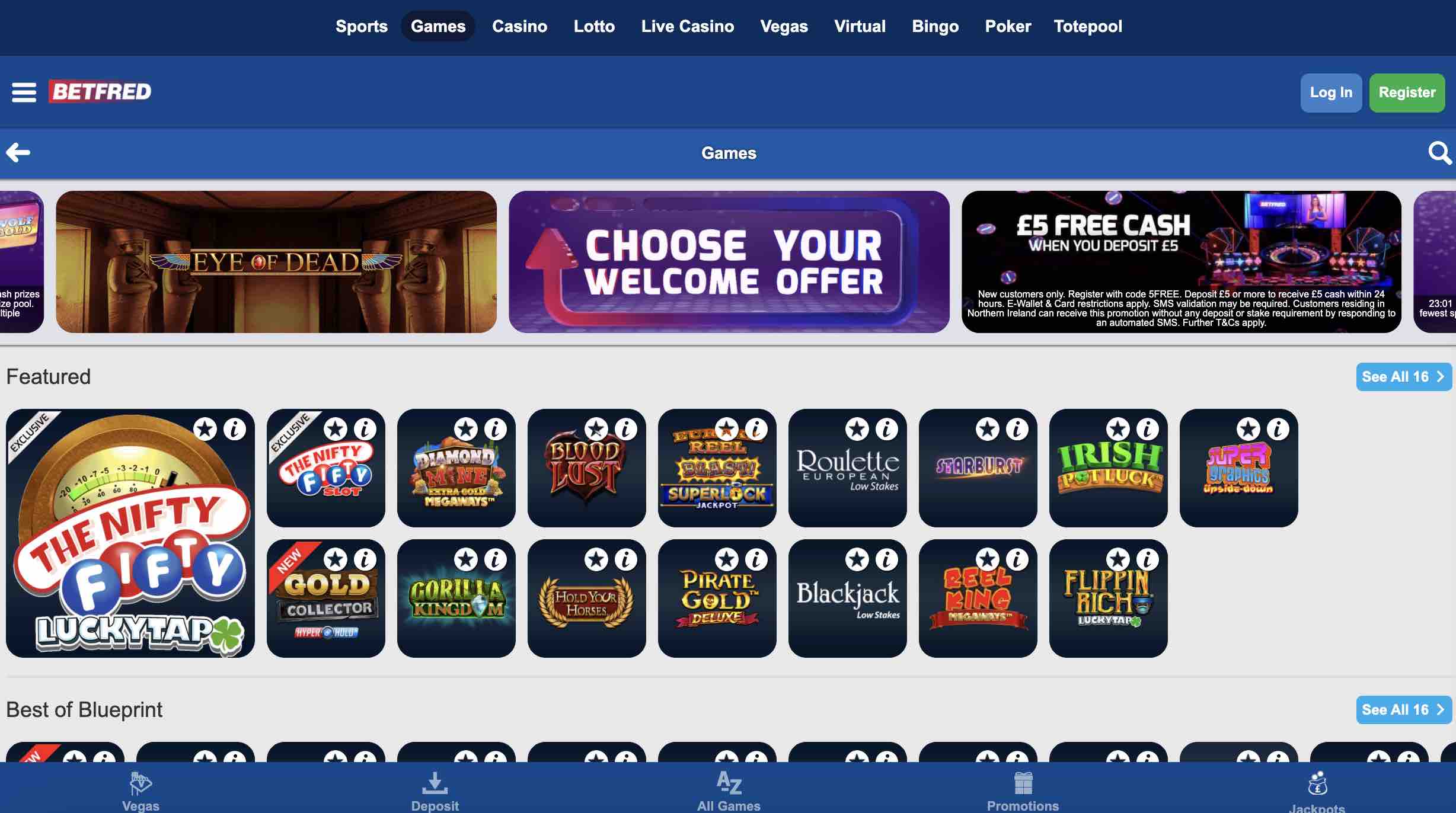 Betfred is not one of those sites, but I did use it briefly many years ago and as noted in my review below, I have made a few return visits since then.
My Experiences
About 6 months ago, I received an email from Betfred that came out of the blue. They informed me that I had £85+ in my account and it had been there for a long time.
Now…I'm not a high roller, so that's a lot of money to me. I have no idea how I forgot about it, but my guess is that I had placed a bet that I assumed was a loss (or they settled incorrectly) and I closed to the site down before checking.
In any case, when they informed me, I returned to the site and spent some time there. I also spoke a little with the customer support team.
I didn't spend long there and eventually withdrew the money, but my experience was very positive. The support staff were great, the site had improved, and I was ultimately very happy with what I saw, and with their helpful reminder.
It's because of that experience that I decided to review Betfred. I was eager to return to the site, deposit a little more cash, and see how things were going.
Slots and Table Games
There are a few different developers supplying games to the Betfred casino. The main one seems to be Playtech, but you will also find top titles from the likes of Blueprint Gaming, IGT, Realistic Games, and Red Tiger Gaming. It's a good selection and one that includes plenty of jackpot titles. After all, Playtech and Blueprint are two of the biggest names when it comes to jackpot games, with series like Kingdoms Rise, Jackpot Kings, and Age of the Gods.
All of the games at Betfred are available on mobile and desktop and there is support for a variety of platforms, including iOS and Android.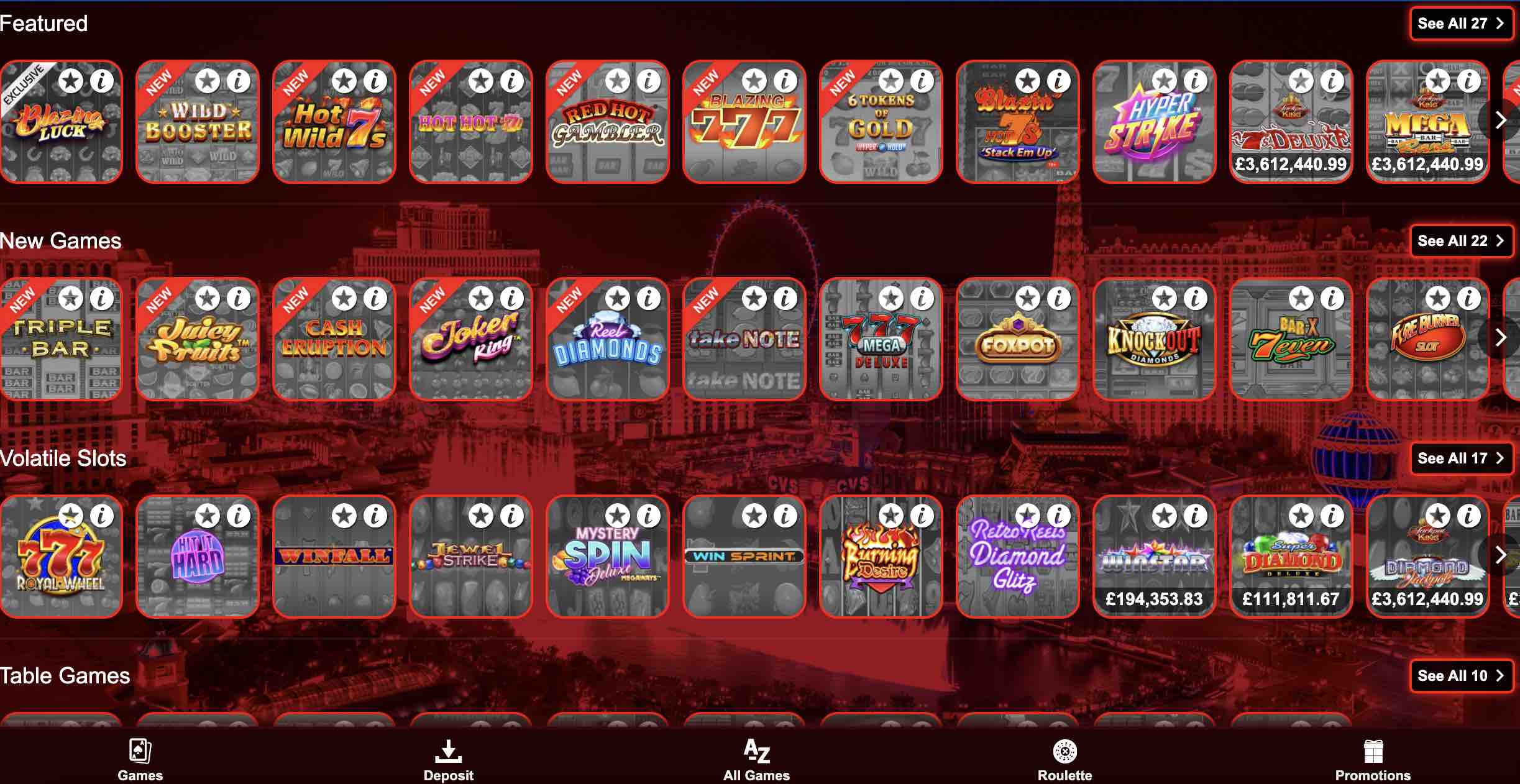 If you visit the games room, you will see all of the jackpots highlighted and can see how much is available at that moment. You won't find any Betsoft games here and it's nowhere near as big as MELbet and other expansive sites, but if you're looking for quality over quantity and you tend to make a beeline for jackpot games, then you can't go much wrong with Betfred.
Betfred made a name for itself as a sportsbook. The casino wasn't exactly an afterthought, but it certainly wasn't the priority and the sportsbook remains one of the biggest and best parts of the Betfred website.
The sportsbook is well structured and has a very fresh and bright feel to it. It's not overcluttered like any other UK-based sportsbooks and it doesn't look like an exact copy of every other site out there, either. It adopts a blue and black aesthetic similar to what you'll see at William Hill, but I actually like it a little more.
The betting selection is extensive as well. It tends to focus more on football than anything else, as is so often the case in the United Kingdom (and in general) but there is lots of other coverage. In fact, Betfred is a great option for betting on snooker, which likely stems from the fact that Betfred sponsors a wealth of top snooker tournaments, including the Masters. It also sponsors some rugby league events and, as a result, has a little more coverage than the average sportsbook with these events.
If you like either of these sports and you find that you're often frustrated by the lack of markets, Betfred is a good option to have. You can place bets pre-game and in-play, and there are options to cash out as well.
One of the frustrating things about Betfred is that the cash out option isn't always available and seems to be omitted from the majority of sports and events. It's not unusual to see this, as the same is true for a glut of other top sites, including otherwise great sites like Unibet, but it is frustrating. It's one of the things that stops Betfred from being a true giant in this industry.
In this day and age, you really need to give players the option to cash out on all of their bets. The technology is certainly there, as it's a feature adopted by bet365 and the Betfair exchange, and yet it's so frequently overlooked.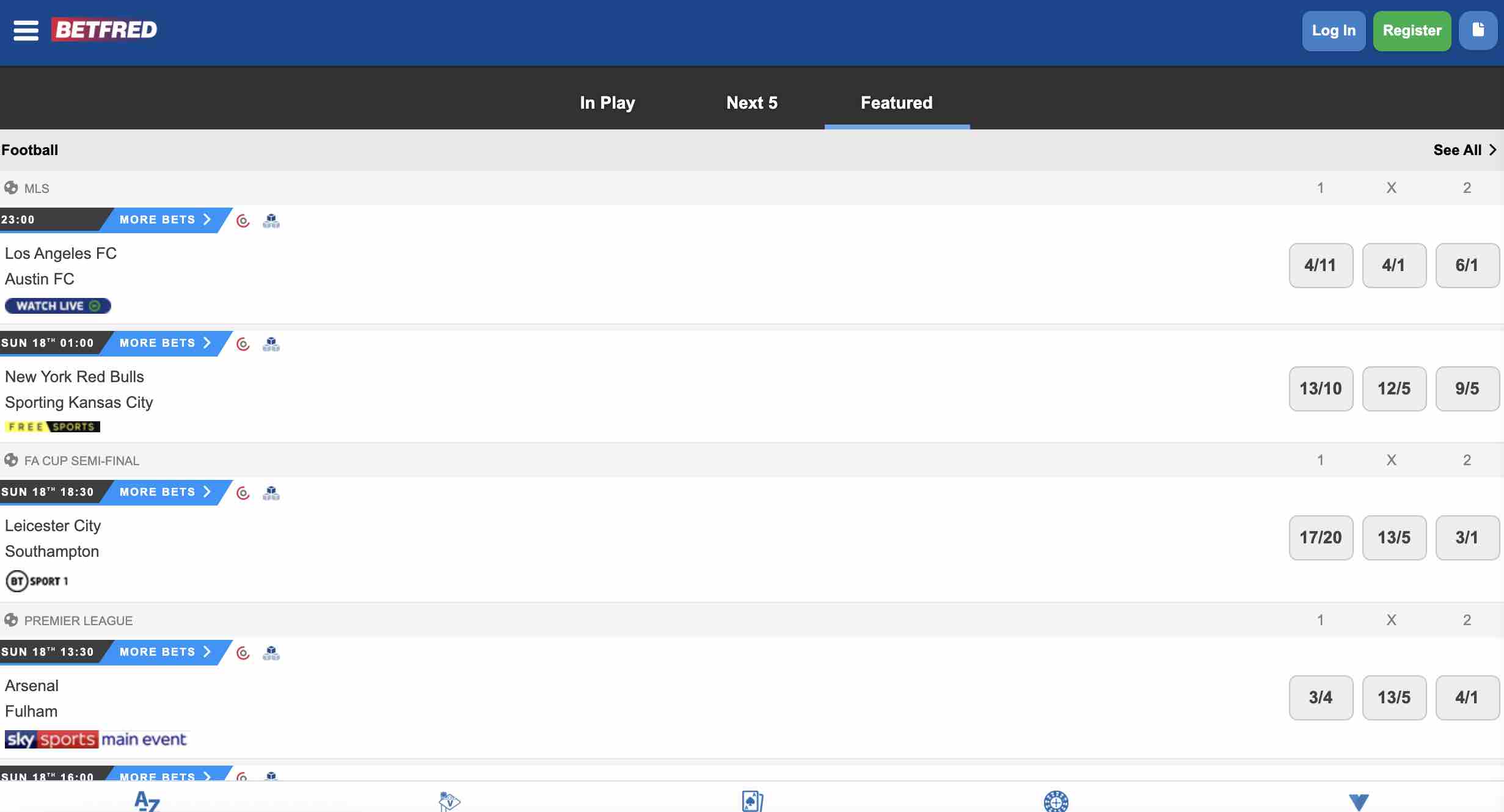 Welcome Bonus
Stake £10 and get 50 Free Spins. That's the main Betfred Welcome Offer and it is every bit as unimpressive as it seems. On the plus side, there are no wagering requirements so the money you win will be moved to your account and can be withdrawn if required.
It's not a massive Welcome Bonus and pales in comparison to the offers you will find on FezBet and other top sites, but it still has something to offer casual players. After all, 50 spins could net you some big winnings and you'll be able to withdraw it if you do.
There are other offers, as well, including a Games Welcome Bonus that offers 25 Free Spins when you deposit just £5. There are a handful of other offers available as well, including Reload bonuses and ones that are tailored toward sports bettors. These actually seem a little more generous and interesting, which is rare as it's usually the other way around.
Deposits, Withdrawals, Limits
You cannot use Bitcoin on Betfred and it doesn't accept other cryptocurrencies, either. That's the bad news. The good news is that it does accept PayPal and you can take your pick of many other popular payment methods, as well. These methods include Mastercard, Visa, Bank Transfers, Paysafecard, Skrill, Neteller, and Maestro.
If you live by a Betfred betting shop, you can also drop by there and make a cash deposit. That will then be transferred into your Betfred online account. It is a neat little feature and is useful for anyone who is not comfortable with using debit cards and other online payment methods, but it's not unique to Betfred. The same feature is available on several other top betting brands, including the fantastic William Hill.
As Betfred is a major UK gambling brand, you don't have to worry about low withdrawal limits and win limits. I have complained a lot about these limits in the past as they are often fixed at a measly £10,000 or so every month. It makes life very difficult for high rollers as they may exceed those limits every time they withdraw. At Betfred, however, there are no such issues and the site is open to players of all levels and budgets.
Tips for New Users
Click the Link at the Top of this Review
Make Sure You Opt-in to the Bonus
Double Check to Confirm that Your Payment Method Qualifies for the Bonus
Pay Attention to the Wagering Requirements
Find Your Favourite Games
Start Playing!
What Customers are Saying
There are some negative experience reports from Betfred users, and some of these suggest that the casino has terrible customer support and slow withdrawals, but they are in the minority. I know what it's like to deal with bad customer support. I have been on a number of bad casinos over the years and have had some shocking experiences, so I understand where this anger comes from.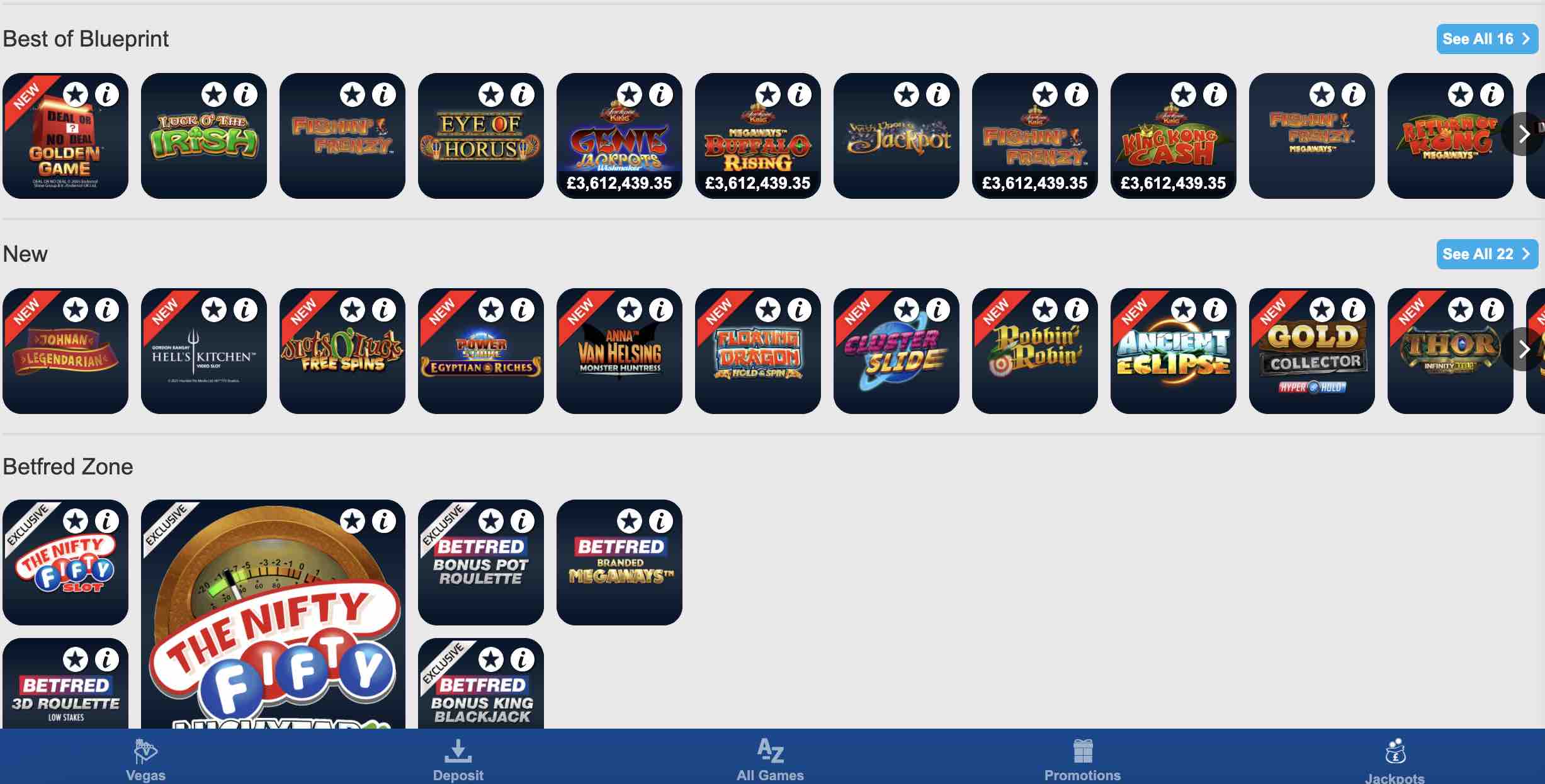 But it's important to understand when you're dealing with an isolated incident and when you're dealing with an issue that runs through the heart of the company. At Betfred, they are definitely in the former category and there are no major issues here.
Some of the other complaints revolve around the casino games not being fair, but those games are created and audited by major developers and not by Betfred. They are vetted 100% and even if there was an issue (which is unlikely) it wouldn't be the casino's fault. Just because you hit a bad run of luck doesn't mean that the site is at fault, that's just how the cookie crumbles!
FAQs
Is Betfred Legit?
Of course! We're talking about a brand that has been around since the 1960s and has a turnover in the billions. It is regulated, certified, and as safe as you're going to find.
Can I Play in the United States?
You cannot join this casino in the United States and the same is true for many others like it. The laws are pretty strict for US gamblers and you can learn more about them in our review of Bovada.
Who is the Fred in Betfred?
"Fred" is the owner, Fred Done. As noted at the outset of this Betfred review, he launched the company after winning a bet on the World Cup. Unlike a few other old-school founders in this industry, Fred is still alive and well.
Is Betfred Worth It?
It is not the best site out there, at least not in my opinion, but if we all just joined the best site then there would be no need for all of the reviews on this site. I personally play half a dozen different casinos/betting sites on a regular basis and I am always looking to join new ones. You can collect bonuses, experience something new, and try a few things out. So, it's not the best, but it's definitely worth your time.
Is Betfred Regulated?
Betfred is licensed by the UK Gambling Commission, one of the strictest and most demanding regulators in the world.
Betfred Summary
I have to be honest, Betfred has never been one of my go-to casinos or sportsbooks. That may not sound like a significant statement, but I have been gambling online for over 20 years and I have joined and played at most sites in that time. I have accounts with all of them and regularly cycle between 6 or 7, all of which have been reviewed here on Coinbuzz (including the very loyal PokerStars Casino). The fact that Betfred has never made it into that cycle, therefore, is a surprise, but it's not really the site's fault.
In the early days, I never really liked Betfred all that much. It didn't have the best reputation outside of its sportsbook and there very a few minor issues that scared me away. I also wasn't very impressed with how the site looked. Perhaps more importantly, it flew under the radar somewhat, because it didn't advertise as extensively as brands like bet365.
But it's not all bad news, as Betfred has undergone some massive changes in recent years and the site now looks a lot better than it did. The software is slicker and more varied, the bonuses are more generous, and it seems that Betfred really has pushed the boat out.
Betfred has a lot to offer these days. It might not be the biggest or the best, and there are certainly some areas in which it fails to meet the standards set by its competitors, but it's still worth signing up and grabbing a bonus or two.
Betfred Casino Review Details
Restricted Countries:
Non-UK Countries (Few Exceptions)