Pros
Huge Number of Games
Top Operator
Good Theme
Mobile-Friendly
Selection Bonuses
High Roller Bonus
Cons
Not Great on Desktop
Withdrawal Limit
Small Standard Welcome Bonus
Spin Samurai is one of the many top online casinos that launched in 2020, keen to take advantage of the surge in activity that occurred during this tumultuous year. It is licensed by the authorities of Curacao and is available to players all over the world, paying particular attention to those in Australia (everywhere except for New South Wales, where online gambling rules are much stricter) New Zealand, Canada, South Africa, Norway, and Poland.
…licensed by the authorities of Curacao and is available to players all over the world…
The site was launched by DAMA N.V. a casino operator that is not afraid to go all-out when it comes to slots and other casino games. If you recognise the name, it may be because this is the brand behind GetSlots Casino, which we reviewed shortly after it was launched.
That's not all, either, as DAMA has launched several sites in the last few years, and unlike other top operators, which seem to take their foot off the gas and get increasingly worse, DAMA has improved.
In our Spin Samurai review, we'll see how this site compares to its sister sites and to other top online casinos.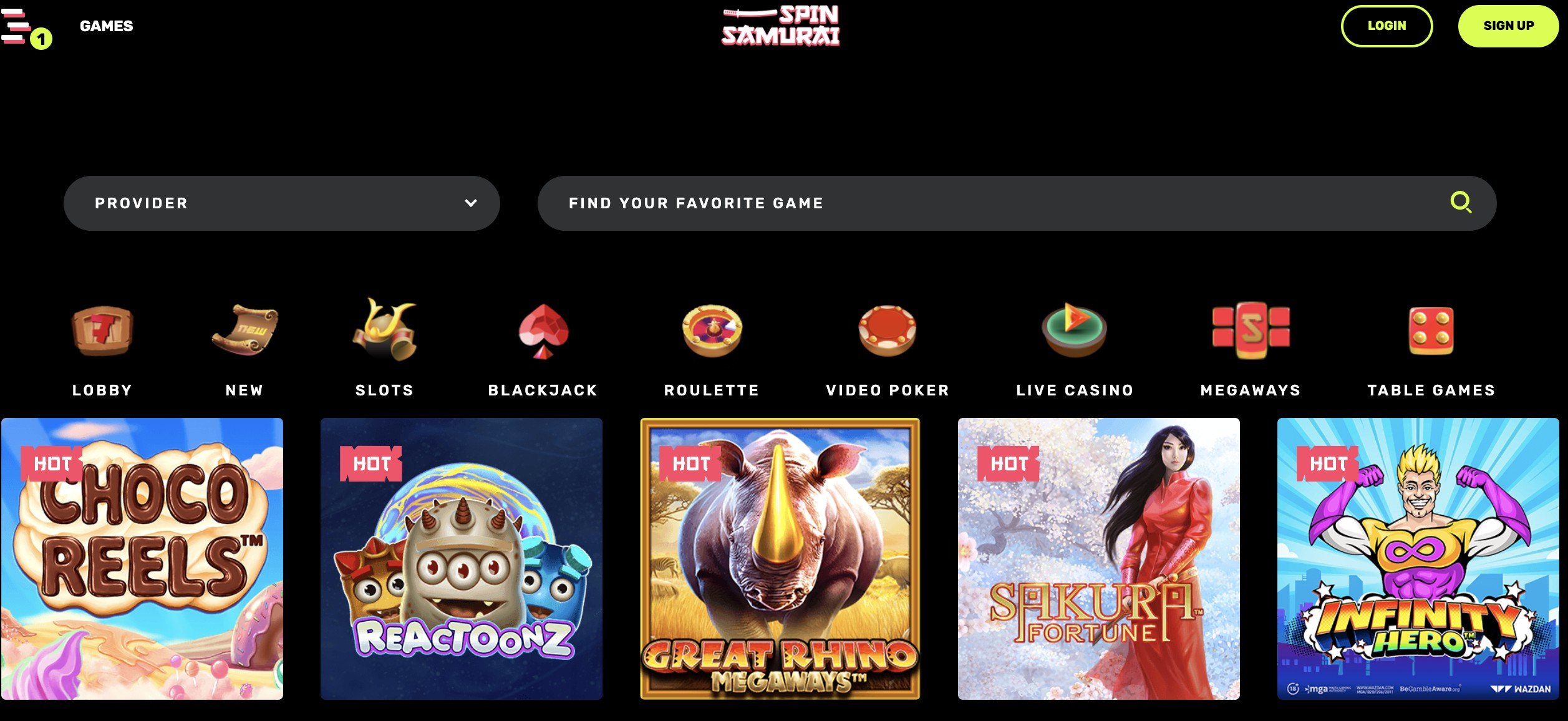 Basics
We've said it a million times, but it is always worth repeating: Themed casinos are brilliant. They don't always work, and can be confusing when they don't, as evidenced by CasinoChan, which we're still trying to work out to this day. But they look fantastic when they work and Spin Samurai is proof of that.
This casino takes players on a trip to feudal Japan, a beautiful, epic time in the history of this great nation. It incorporates stylish Japanese architecture, along with Samurai warriors clad in full Karuta armour. You'll see these designs throughout the site and on the site's logo, and the games room also seems to highlight slots with ancient-warrior themes and oriental themes.
The casino is available on desktop and mobile. To play the latter, you will need to download the app. Just open the sidebar, scroll down, and click the "Install App" option. It is compatible with most mobile platforms and as we'll discuss in this review, it's very slick and easy to use.
Games
We've seen many players complaining that the online casino industry isn't as innovative as it used to be. They argue that it has barely moved a muscle within the last 5 years. Go back a little further, and you have massive developments like instant play casinos, progressive jackpot slots, and mobile casinos.
But there have been lots of developments, they just haven't been as obvious. One of the biggest, and our personal favourites, is the shift towards bigger and better games rooms. If you go back 10 years or so, you'll enter an age where the biggest and best online casinos had around 500 games, and many smaller ones had just half that.
These days, the average is over 1,000 and many casinos have gone above and beyond. Spin Samurai is one such casino, offering more than 3,700 games and growing all of the time.
It's on par with some of the biggest sites out there, including the massive MELbet, which we often refer to when talking about sites that go above and beyond. Of those nearly 4,000 games, you will find everything from classic arcade slots, 3D slots, and progressive jackpot slots to table games, Live Casino games, and a great deal more.
All of these titles can be accessed on a variety of platforms and with any number of currencies. There are sections like "New", "Slots", "Blackjack", and "Video Poker", to help you narrow things down and you can also browse by provider, including all of the following:
Quickspin
Pragmatic Play
Betsoft
Red Tiger Gaming
Wazdan
Yggdrasil
Playtech
Spinomenal
And so many more…
One of our favourite creators is Blueprint Gaming, a British-based developer responsible for the Jackpot Kings progressive jackpot series. Blueprint Gaming has mastered beautifully rendered licensed slots, including Top Gun, The Goonies, and Rick and Morty. It has exploded in popularity during 2019 and 2020, turning it from a relatively obscure developer into one of the biggest and most exciting creators in the iGaming industry.
Big Time Gaming is another top developer listed here. BTG is the developer responsible for the Megaways mechanic, which is easily one of the most popular mechanics in the industry. If you've played Megaways slots, you'll understand why. If not, you're in for a treat. These games allow you to spin over 100,000 paylines at once, and all those lines are randomised every time you play.
For a full list of all the slots available at Spin Samurai, browse to the bottom of this review.
Bonuses
The Spin Samurai promotions page claims to offer $2,000 and 100 Free Spins, and it does, but it's not for everyone. In fact, this is the casino's High Roller bonus. It is spread over 2 deposits and requires a minimum deposit of $1,000 each time. That's a lot of money and while it's great news for high rollers, it's out of the question for most other players.
If you can't meet those terms, you'll need to stick with the Half Full Glass promotion, which has a minimum of $50 and offers a 125% match up to $200 or the Half Empty Glass, where the match is 60%, the minimum is $10, and the cap is $200. Second and third deposit bonuses are also available, offer $150 and $100 respectively.
This means that the standard Welcome Bonus offers up to $450 over three deposits.
Loyalty Bonuses are also available at Spin Samurai (see below) and the casino has tournaments as well. At the time of writing, however, these tournaments have either not yet launched or are not offered around the clock, as there is a sign declaring that they will "start soon".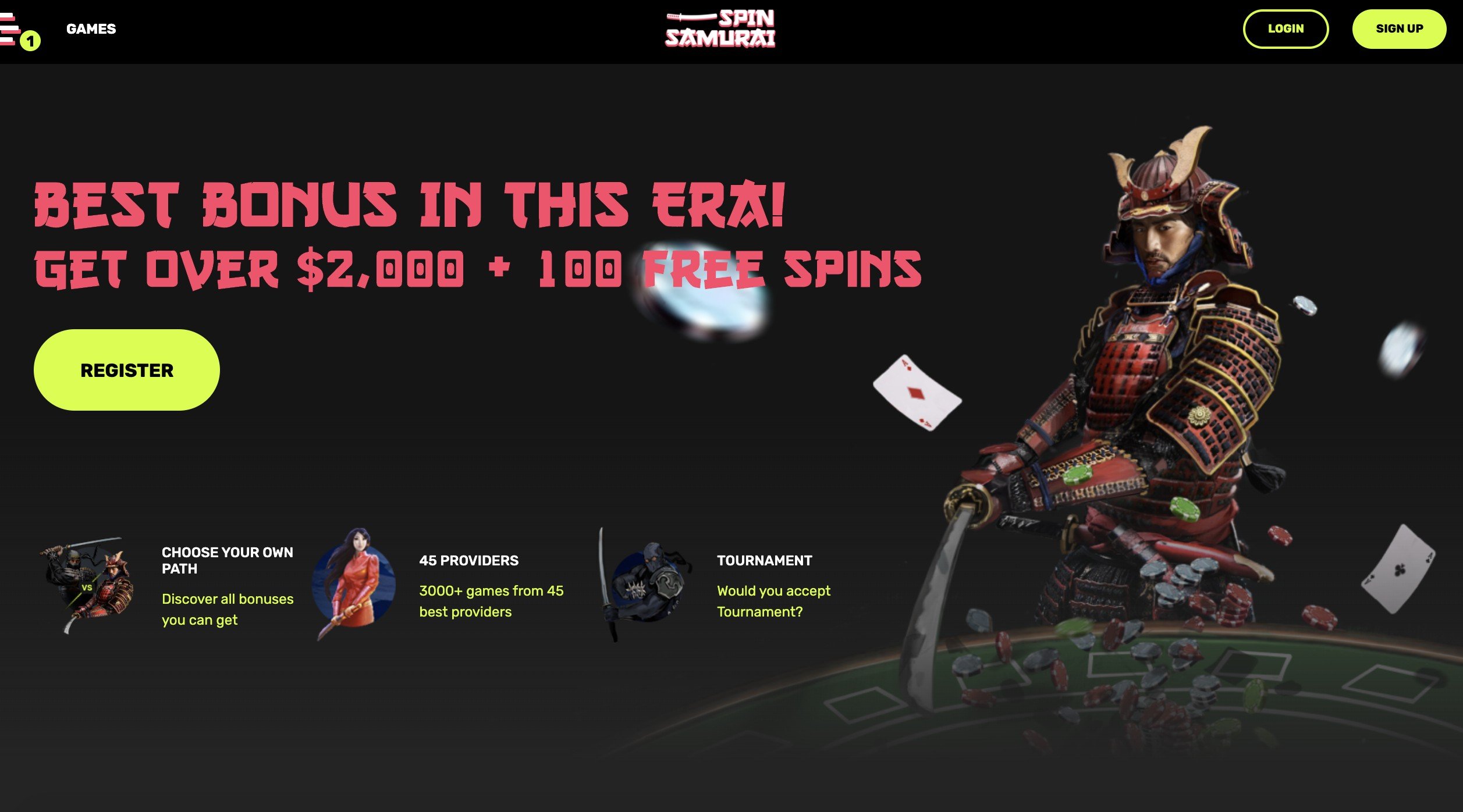 VIP Scheme
We can't help but admire a casino that blends its theme with its bonuses and Loyalty Scheme. One of the first casinos we reviewed was King Billy, and we haven't stopped talking about it since. The King Billy Loyalty Scheme takes you on a journey from peasant to king, and you unlock all kinds of perks and bonuses along the way.
We've only seen a couple of casinos that have achieved the same goal, and thanks to Spin Samurai, we can add another one to the list. The site begins by asking you to choose one of two paths: Samurai or Ninja. The path you choose will dictate the sort of bonuses you receive and the perks you unlock. One gives you more cashback while the other is more about the reload offers.
You use a slider to make your selection. As with many other aspects of this casino, the slider is clearly made with touchscreens and mobile users in mind, but we're happy to forgive this minor annoyance as it's a great feature all round.
The Loyalty Scheme uses a series of levels based on weapons and as you advance, you'll collect different bonuses. Points are released with every wager that you make and the higher you are, the more points you'll earn, and the faster those rewards will come.
Desktop and Mobile
During our initial review of an online casino, we always use a desktop. Downloadable casinos are never on our agenda, but we like to check the instant play side of things and see if there are any differences between Chrome, Safari, and Firefox (surprisingly, despite being the most popular browser, there seem to be more issues with Chrome than the other browsers).
Every now and then, we land on a casino that clearly wasn't built for desktop users and Spin Samurai is one such casino. It is very obviously a mobile-first online casino. That's not necessarily a bad thing, but it's not great either and means you may encounter some issues if you use desktop.
The menu icon gives it away. On desktop, the menu options are typically available in a sidebar that remains a constant presence. On mobile, the tabs are activated via three horizontal lines. These lines are often referred to as the "hamburger icon", although in this case, it looks more like a Big Mac that's about to meet with disaster, as the middle line is bulging outwards.
You can't scroll up or down the main page when the menu is open and this, along with a few other niggling issues, means that Spin Samurai works best on mobile.
For example, we're not huge fans of how the menu icon works. We're nit-picking, and we don't mean to sound petty, but let's be honest, anything that causes frustration and slows your browsing or gaming experience is worth noting. This is 2020, and we wouldn't expect clicking issues for the same reason we wouldn't expect a site to take more than a split-second to load.
We'd still recommend taking a look if you prefer playing on desktop, but if you're used to desktop casinos being a certain way, you better prepare for a frustrating gaming experience.
Payment Options
Spin Samurai has a withdrawal limit, which was a massive disappointment to us. It's something we have complained about extensively and something we noted during our Zen Betting Casino review. The limit here is not as low as some other sites, but at $7,500 a week and $15,000 a month, it's still not ideal. It pretty much rules out high rollers, which is a shame, as there is a very tempting High Roller Bonus to lure them in!
There are some big positives here, though. Firstly, all winnings are processed in just a couple of hours, so your winnings should land fairly quickly after you confirm the withdrawal. Secondly, the verification process is incredibly quick.
Previously, we've noted how many players get frustrated when verification takes 2 or 3 days, even though we are relatively happy with this (we began playing online casinos when verification took up to 2 weeks, so we have a high tolerance). The fact that Spin Samurai can verify websites in just an hour or two is brilliant. Of course, not everyone will be verified this quickly, but most will.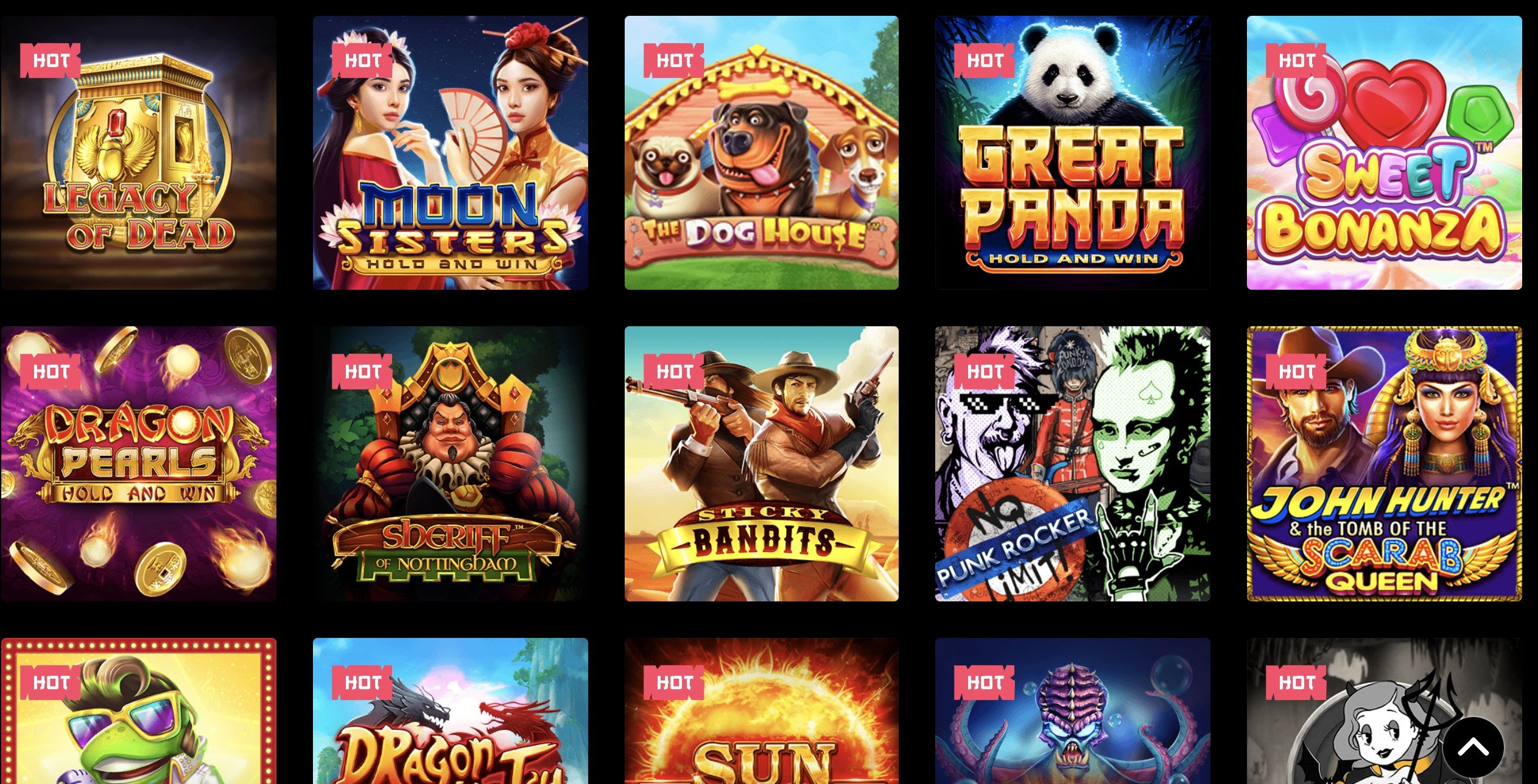 Highlights
Great Theme
Selection of Bonuses
Loyalty Scheme
Over 3.700 Games
Mobile-Friendly
Lots of Payment Options
User Reviews
At the time of writing, just a few months after Spin Samurai launched, there aren't a great deal of reviews. On the plus side, the reviews that do exist are fairly positive and there are no signs that players are having a bad time with this casino. Many of the negative comments are minor at best, and they highlight some of the issues we discussed above, including the issues with desktop browsing.
We would have preferred to see Spin Samurai respond to some of the reviews, even though they are listed on third-party sites and are mostly positive. This is something that the best casinos always commit to, but something that many sites fail to do, including the recently reviewed Champagne Spins.
Maybe this will change as the casino grows and more players leave reviews. If not, it means you have fewer options as a player if something goes wrong. Usually, when you have a complaint that the casino won't acknowledge, you can leave a negative review and a dedicated team will get in touch and find a solution. Without that option, you'll have to persist with the casino's support team and go through the regulator if that fails to generate a response.
FAQs
Should I Join Spin Samurai?
It is entirely up to you, but there is certainly a lot to like about this online casino. The theme is great and there are also some big bonuses and great games to play.
Can I Use BTC?
You can use BTC and other cryptocurrencies at Spin Samurai, including Litecoin. These options are also available as site currencies, along with several fiat currencies.
Does Spin Samurai Have a Withdrawal Limit?
Yes, you are limited to withdrawals of no more than €15,000 a month. As soon as you meet this limit, your withdrawals need to roll over to the following month.
Can I Use PayPal?
There are many different payment options available at Spin Samurai, but PayPal is not one of them. Take a look at the table below this review for a full list.
What is the Welcome Bonus at Spin Samurai?
You can get up to $450 as a new player at Spin Samurai. There are requirements though, and you can learn more about these in our review above.
How Many Games Does Spin Samurai Have?
There are over 3,700 games available at Spin Samurai, which should keep you content for many months to come and will ensure you never grow bored.
Final Word
Spin Samurai draws you in with the warrior theme and the stylish mobile-friendly layout, and it makes sure you stick around by offering stacks of bonuses and a massive selection of games. In many ways, it reminds us of Wild Tornado Casino, a site that also impressed us immensely and one that has an equally sizeable games room.
It is not a Bitcoin-only casino. It isn't even a Bitcoin-focused site. But there are still plenty of options for cryptocurrency players. In fact, many different types of players are catered for and that makes this a winner in our eyes.
For more information on Spin Samurai, take a look at the details below this review, including currencies, payment options, gaming providers, and more. To join, deposit, and start playing, click the links on this page. We have listed the very best bonus being offered right now and if you join via our link and make the qualifying deposit, those funds will be credited straightaway.
Spin Samurai Casino Review Details
Restricted Countries:
France
Israel
Italy
Lithuania
Netherlands
Spain
Sweden
Switzerland
UK
US
Currencies:
AUD
BTC
CAD
EUR
JPY
LTE
NOK
NZD
USD