Pros
Established Creator
Lots of Games
Multiple Promotions
Promising New Casino
Mobile-Friendly
Fast Withdrawals
Cons
No 24/7 Live Chat
Withdrawal Limits
The KatsuBet name may not sound familiar and the site probably doesn't look familiar, either. However, believe it or not, we've been here before.
KatsuBet Casino was once known as Mars Casino, before it switched to its current form, seemingly as a result of a change of ownership. The site is now operated by DAMA N.V, the same operators behind Konung Casino and countless other highly-rated online casinos.
KatsuBet Casino was once known as Mars Casino.
We loved Mars Casino and we have linked to it and referred to it many times here on CoinBuzz. It was one of the few casino themes that was intelligently used and it backed this up with a multitude of bonuses and great games. We're disappointed to see it go, but to make sure we keep you up to date, we quickly opened an account with KatsuBet and spent some time playing through the site.
The following review details our experience. Keep reading to determine if KatsuBet is worthy of being placed in the same regard as its processor or if this is a flop that fails to impress.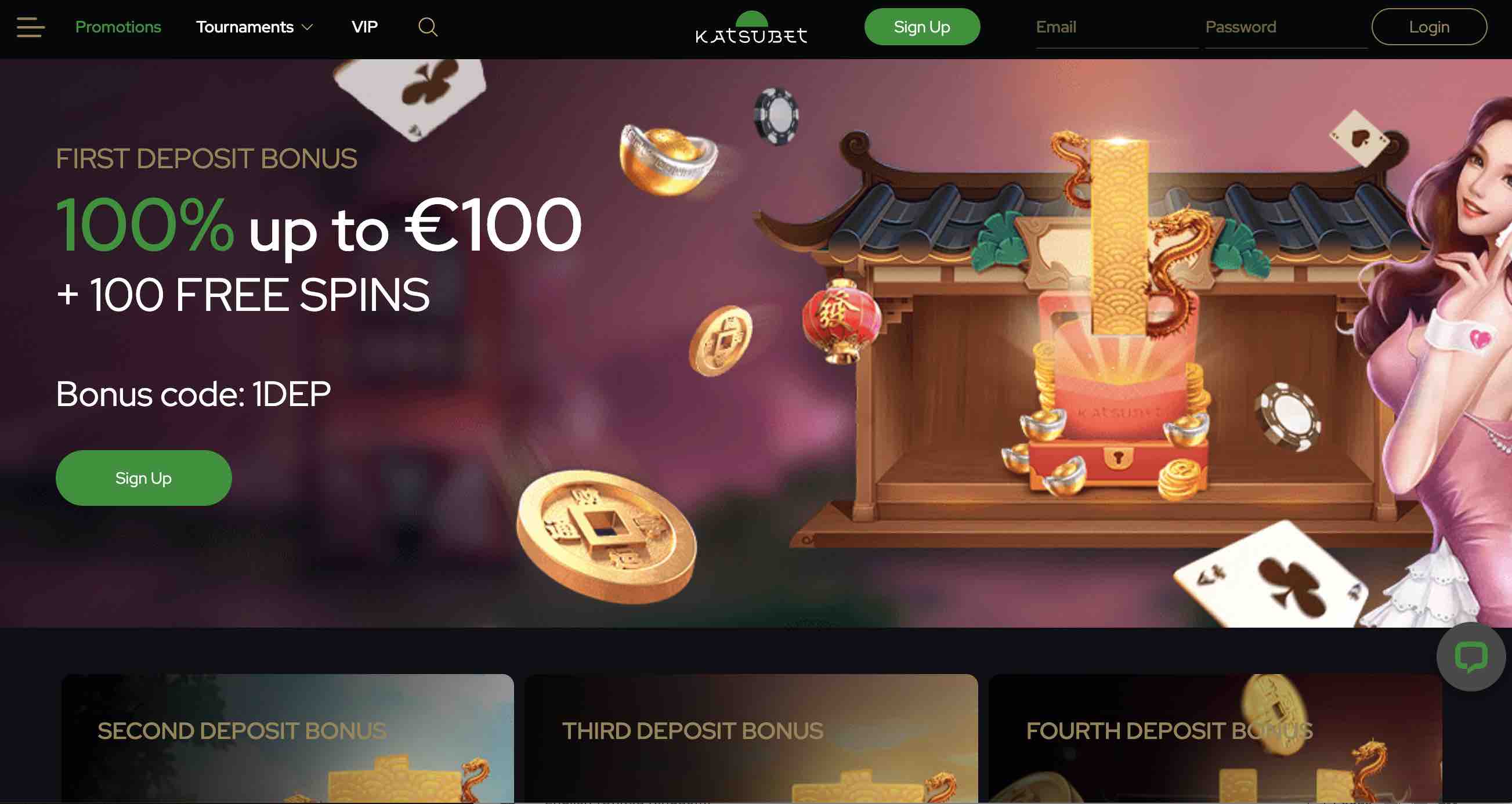 Bonuses
In the western world, and the UK in particular, the word "Katsu", is best-known as a type of Japanese marinade, one that's often added to chicken and used in dishes like Katsu Chicken Curry.
This was also our understanding of the word, but we're sure that Katsubet had no intention of naming their casino after what is essentially Japanese fried chicken. Our Japanese isn't up to much, but the word seems to mean "Victory" or "Success", which makes more sense.
The "Bet" part of the name makes less sense. Usually, as you can see with sites like Rabona Bet, this suffix means that the site offers sports betting, as well as online casino games. At Katsubet, there is no sports book in site, but we're anticipating that one will be added in the near future.
The casino launched during the height of the second-wave, toward the end of 2020. It's a time of uncertainty where sport and gaming are concerned, and we understand why an online gambling site might be a little apprehensive about launching a sports book during this time. We're guessing, however, that one will be added some time in 2021, at which point that name will make a little more sense.
Of course, a bet is a bet whether it's placed on a game of football or a spin of Roulette, but let's not get into the semantics here. In the casino industry, if you use the word "Bet", players expect sports bets.
Games
KatsuBet Casino, just likes its predecessor, is very easy to navigate. Everything is neatly laid out and very stylishly designed.
In the past, we have complained about desktop casino sites that use the three-line mobile menu and insist on a sidebar that pops-out and doesn't remain on the screen at all times. It's something you see on mobile casinos as it's a format needed to conserve space. It's not necessary on desktop casinos and that's what frustrates us, but with KatsuBet, it works.
The sidebar is not sluggish to open and it's not sparsely occupied, like it is on so many other sites. Once it pops out, you will be able to choose from options like, "Promotions" and "Tournaments", while also switching between English and Russian, the only two site languages.
The site goes all-out when it comes to iGaming developers. You can take your pick of top games from dozens of creators, putting KatsuBet on par with the likes of MELbet, one of the biggest casinos we have seen when it comes to games.
All of our favourites are here (Betsoft, NetEnt, Yggdrasil) and as there is such a wide selection of developers on show, we're show that your favourites will also be here.
Of the countless hundreds of games on show, some of our personal favourites can be found in the Jackpots section, where it's possible to win a life-changing sum of money with a single spin. Let's be honest, most gamers are not out there betting €10 in the hope that they can withdraw €15 or €20.
They want to take a shot at winning big, and they'll take that chance even if it means leaving with a 100% loss. There are Mega Moolah games, Betsoft jackpots, NetEnt jackpots, and more.
There is a Bonus Buy section, where you can purchase the bonus and don't need to wait for it to unlock, and a section tailored exclusively to BTC Games.
Last but not least, KatsuBet has a Live Casino and this is stocked by creators such as Ezugi and Evolution Gaming, ensuring there is a large and varied selection to choose from.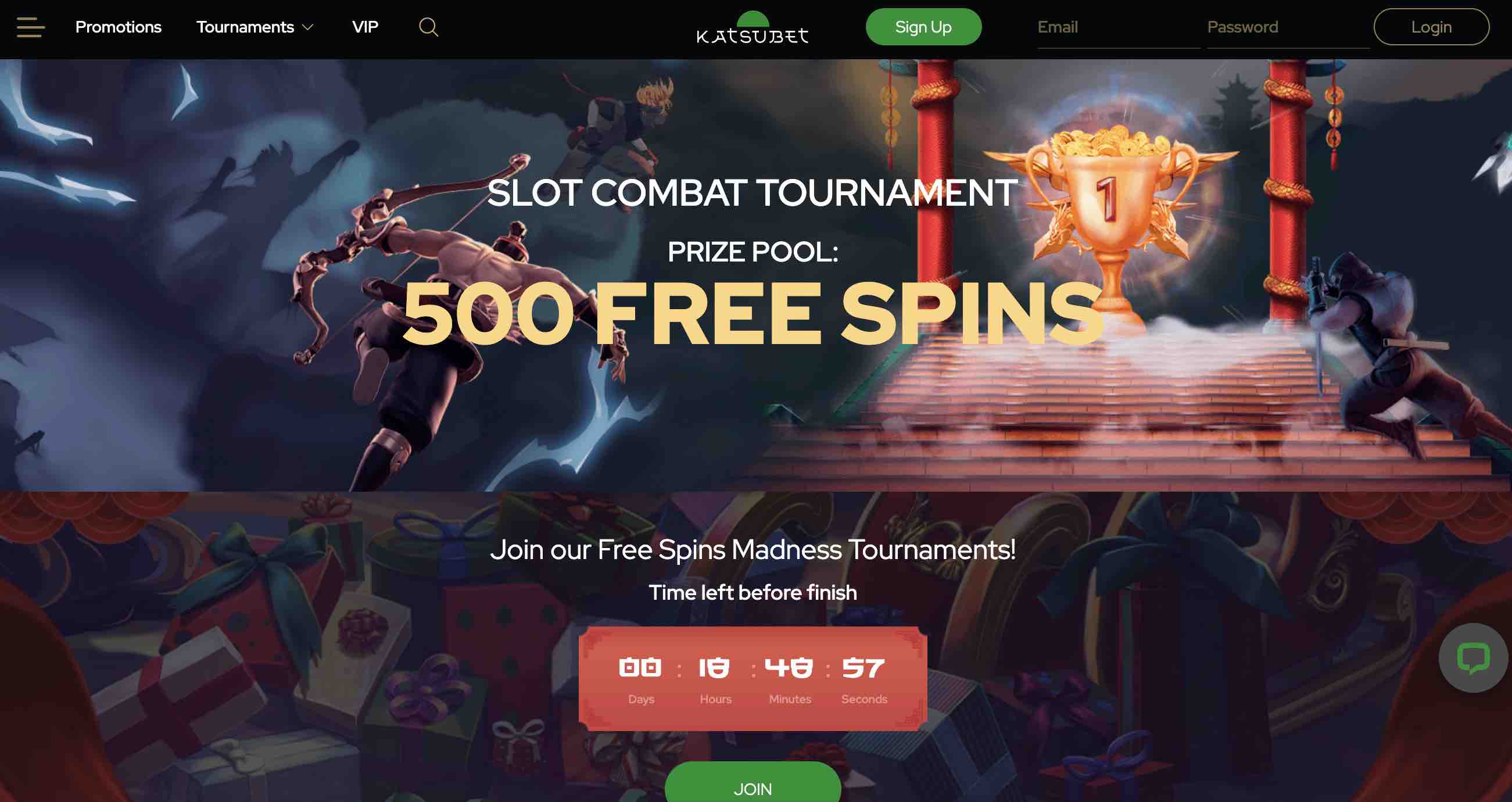 Bonuses
The KatsuBet Welcome Bonus has four tiers, and you can qualify for as many of these as you want. In the first instance, you'll get up to €100 in the form of a 100% Matched Deposit Bonus, along with 100 Free Spins.
You'll get the same 100% up to €100 offer with your four deposit, albeit without the 100 Free Spins. As for the second and third, these offer 75% up to €100 and 50% up to €200 respectively.
That's a total of €500 and 100 Free Spins, making this a solid bonus overall. It's not quite up there with casinos like Bitstarz, where you can get several Bitcoins worth thousands of Euros, but it's ideal for small stake players. Not only can they get up to €500 in bonus credits, but the fact that it is spread across multiple deposits means they can take their time and don't need to force themselves to deposit more than they usually would.
Reload bonuses and Free Spin bonuses are available as well. One of the things we like the most about KatsuBet is the inclusion of real money tournaments, known as Slot Combat Tournaments.
These tournaments run every few hours and offer stacks of prizes to the players who finish in the highest places, including a number of Free Spins.
If that's not enough to get your attention, consider the VIP bonus, which most definitely should. There are 8 levels to this VIP scheme, beginning at the Jade Talisman level and advancing to Kabuto.
As soon as you make it to the 8th level you'll be given 20% Cashback. But you don't need to make it this far to get cashback, as it begins at the first level with an offer of just 3%.
Banking Options
There is a lot to like about this casino and we have discussed many of those positives above. You can also add fast withdrawals to the mix, as it takes just a few minutes to get your money when using most payment options. In fact, with a pending time of less than an hour, all e-wallets and cryptocurrencies should be processed in the same day.
However, this is where the benefits stop as far as payment methods are concerned. Most of the issues that we have with KatsuBet concern its payment methods.
Firstly, there are fees for all credit card and debit card payments. We get why these fees are there, as the casino needs to pay the same money to the merchant and they are just covering the cost, but many sites choose to absorb those costs for the benefit of their players.
The 2.5% fee for MasterCard, Visa, and Maestro applies to deposits and withdrawals, but this is a cryptocurrencies review site, so most of you will probably stick with Bitcoins, Litecoins, and Tether, all of which are free to use.
The second issue we have with KatsuBet payments is that there is a cap and it's fixed to just €4,000 or 0.4 BTC for both deposits and withdrawals. It's more than enough for the average player and will cover all of your needs as a small stake player, but it's not ideal for medium-stake and high-stake players and essentially renders this casino useless to them.
It also creates problems with jackpots wins. What happens when you scoop a win of €400,000, do you need to wait 400 weeks to get your money? Or is the money released by the developer? Usually it's the latter, but that's not always the case and there are many stories of big wins being promised in monthly instalments of just €5,000 or €10,000 due to a restrictive withdrawal limit.
If you're going to use KatsuBet, we recommend sticking with Bitcoin, Litecoin, or ecoPayz. Not only are these methods quick and easy, but you'll also avoid paying any unnecessary fees and can benefit from the highest withdrawal limits, as there are some methods thats are restricted even more.
For instance, if you opt for a bank transfer withdrawal, not only is there a maximum limit of €4,000, but you need to withdraw at least €200 and could also be hit with fees from your bank.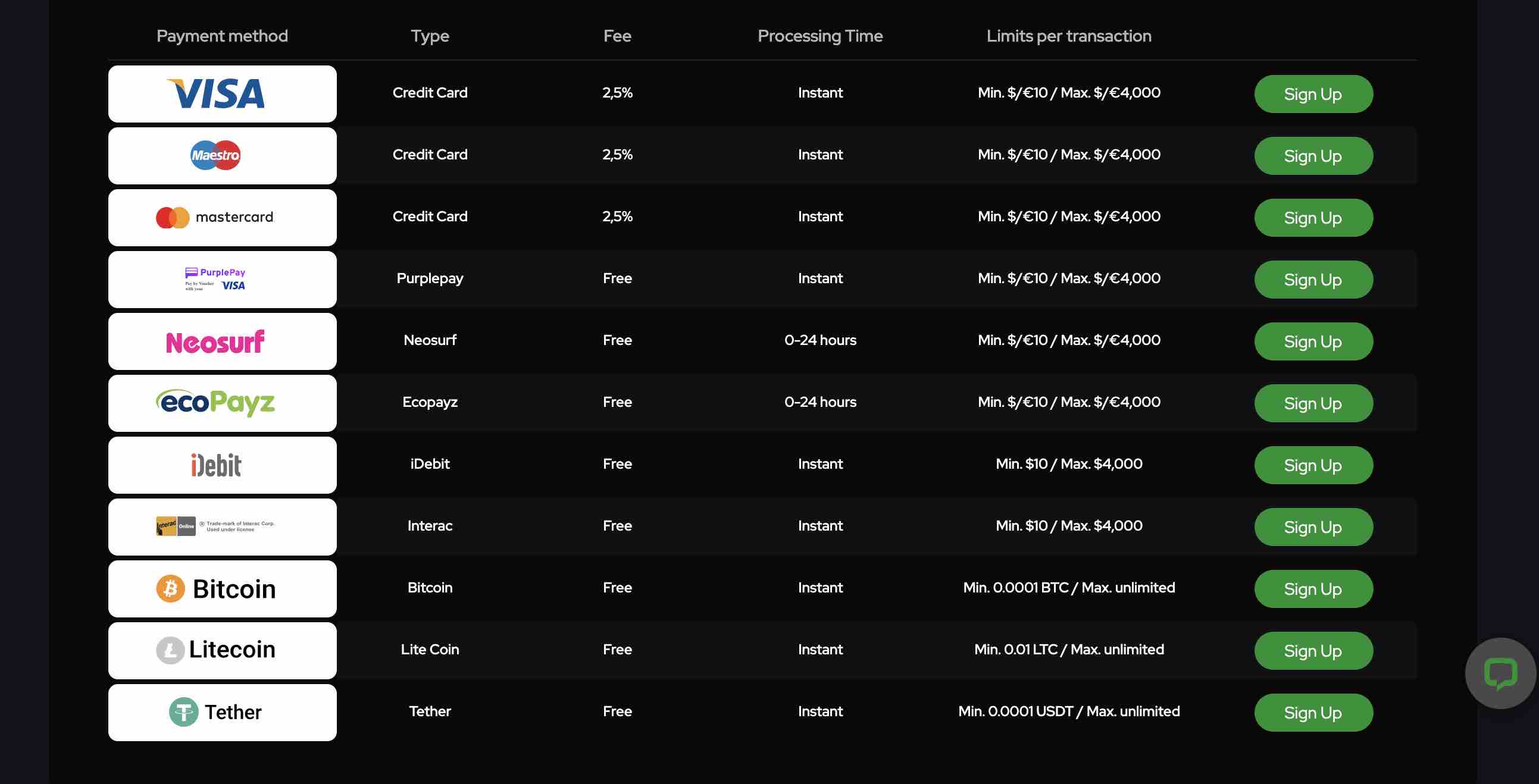 Highlights
Top-Tier Creators
Established Operator
Huge Selection of Games
Varied Payment Options
Fast Withdrawals
Reviews and Support
At the time of writing, KatsuBet has only existed for a few weeks, so there isn't a great deal of user reviews. The ones that do exist are very positive and have only good things to report, but it's too early to tell.
On the plus side, there's no doubt about this casino's heritage. It is owned by the mighty DAMA N.V., a brand responsible for many top online Bitcoin casinos. In addition, it works with only the most trusted and established developers and payment methods, so there's generally nothing to worry about in that regard.
FAQs
What is the Withdrawal Limit?
The casino has a withdrawal limit of €5,000 a week. If you go over this amount, your withdrawal will be rolled over to the following period.
Who Owns the Site?
The website is owned and operated by DAMA N.V, one of the biggest and highest-rated names in the Bitcoin gambling sector and one that we have a lot of respect for.
Can I Play in Australia?
Yes, you are free to play here if you are in Australia. In fact, Aussies seem to be one of the groups that the sites target more than any others.
What are the Currencies Accepted?
You can use a multitude of currencies. We have listed all of them in the table below this review.
What are the Languages I Can Use?
While the currency options are plentiful, the same can't be said for the languages. At the time of writing, only English and Russian can be used.
What Other Sites Were Released at the Same Time?
The excellent Savarona Casino was launched a short time after Katsubet and has a lot of the same benefits and features. It is worth checking out if you're looking for another top site.
Final Word
Katsubet makes no mention of Mars Casino on its About Us page. We were almost a little disappointed at that, as we liked Mars Casino and were hoping that some kind of homage would be paid to it. However, we completely understand why that might be the case, especially if the rebrand was a result of a change of ownership.
If any of the casino's operators are reading this KatsuBet review, they might be a little frustrated with our insistence on mentioning Mars Casino and comparing the two sites. If so, they'll be even more annoyed by our next statement:
We preferred Mars Casino.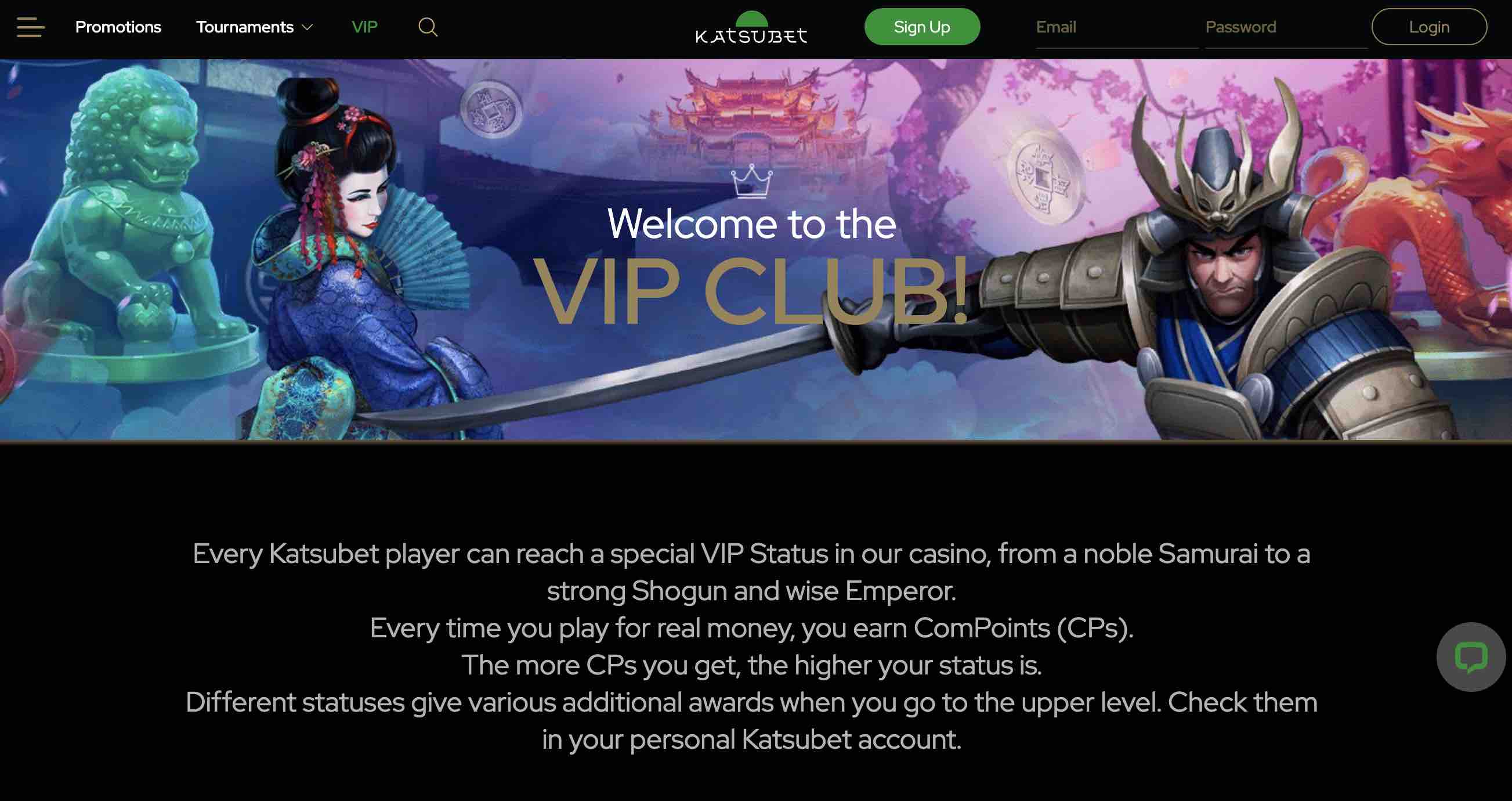 Don't get us wrong, KatsuBet isn't bad. In fact, it's a very well-made, beautifully designed, and stylish casino that gets a lot of things right. However, we just don't feel that it's on the same level as its predecessor.
On the one hand, it's probably one of the best casinos that we have reviewed this year and would easily scrape into the top 30 (although that doesn't sound impressive, it's worth noting that we have reviewed hundreds of sites). The problem is, Mars Casino was in the top 10.
So, where does KatsuBet fall short? Well, for one thing, it's bonuses are not as high, nor are they as focused on Bitcoin players. Mars Casino felt like a casino that was targeting Bitcoin players, putting it on par with the likes of Oshi Casino. KatsuBet feels more like it's offering Bitcoins as an afterthought.
Secondly, we don't really like the theme, as we're not sure that one exists. It's okay if you want to loosely build your site around a theme, even if that theme is as loosely defined as "Japanese". But when you're replacing a site that had a strong and unique theme, it stands out and looks poor by definition.
It's like when a film company decides to do a reboot of a classic. When the original film has a huge following, people are expecting you to excel and if you make any missteps or allow the original to outshine the reboot in any way, you're going to get a lot of hate. You set the bar high, and now you have to clear it.
Of course, Mars Casino isn't like Ghostbusters or Jumanji. It's far from a classic. But the idea still applies and KatsuBet still had a lot to live up to.
On the plus side, KatsuBet is very quick and smooth, it has a huge selection of games and while its bonuses aren't fantastic, they are still well worth a look.
KatsuBet Casino Review Details
Restricted Countries:
Australia
Estonia
France
Israel
Italy
Lithuania
Netherlands
Slovakia
Spain
Sweden
Switzerland
UK
Ukraine
US
Currencies:
BTC
CAD
CZK
EUR
LTE
NOK
RUB
USD