Pros
Long-Running Casino
Clean Design
Lots of Games
Poker Room
Sports Betting
Fast Email Support
Cons
Poor Welcome Bonus
Dated in Places
RedStar Casino might not be a name you are familiar with, at least not to the same level as established Bitcoin casinos like Bitstarz. However, this brand has been around since 2005, making it older than the majority of online casinos we have reviewed.
The site is owned by a company named RSP Entertainment, which is licensed in Curacao. Surprisingly, for a site that has been around since 2005, RedStar Casino doesn't have any sister casinos and we couldn't find any other gambling domains owned by RSP.
That's not necessarily a bad thing, but if you're looking for a casino owned by an active and prolific brand, this is not it.
…making it older than the majority of online casinos we have reviewed.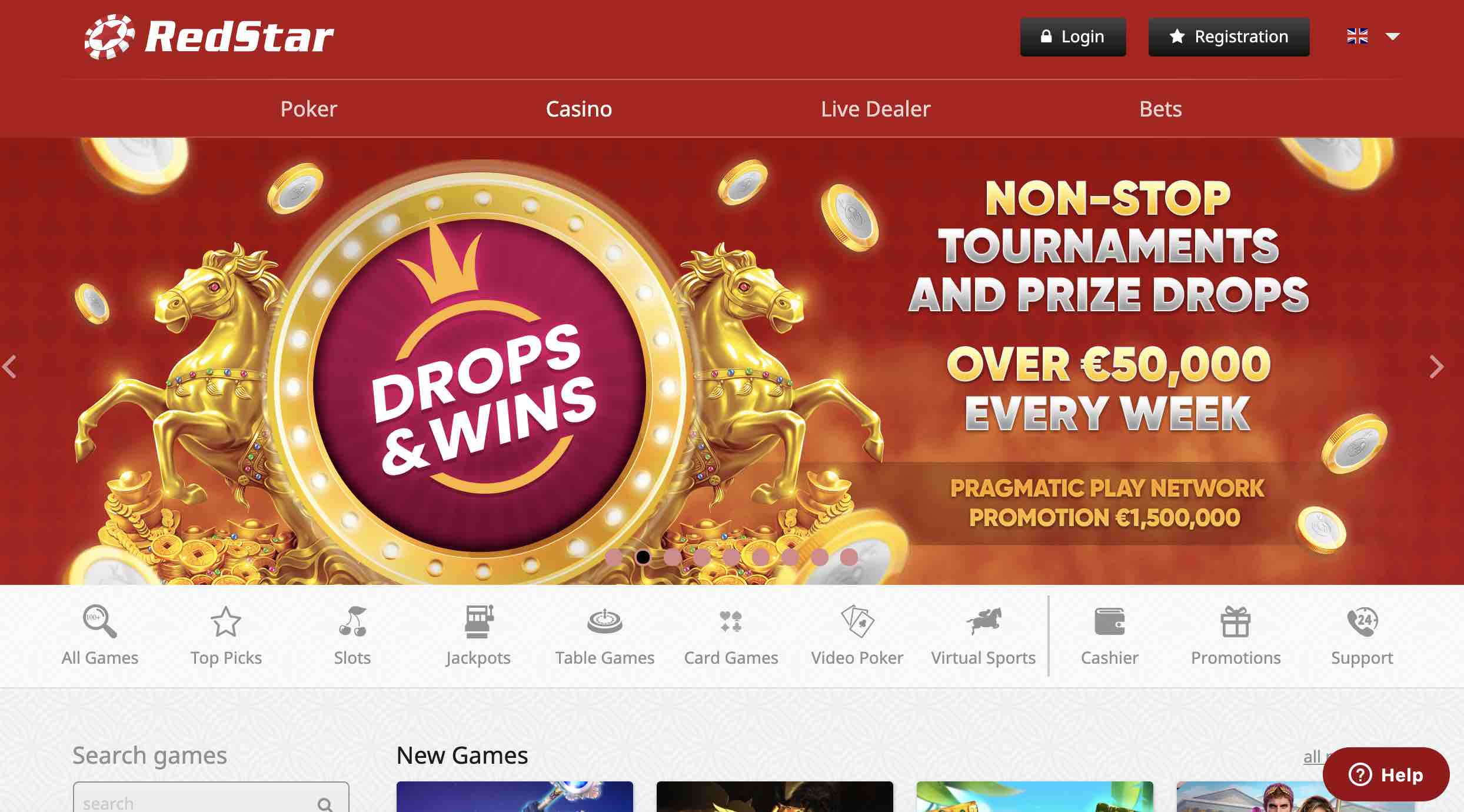 Bonuses
RedStar Casino seems to primarily target players in major parts of Eastern and Northern Europe, including Norway, Russia, and Germany. Surprisingly, it doesn't seem to be available in Australia, where many Curacao casinos focus their efforts, but we were able to access the site using a VPN set to Canada.
If the site blocks access to you, don't worry, as there are many other great Bitcoin casinos out there and a number of these will likely be available in your region. Just click the link, take a look at our reviews, and see which casinos are most suitable.
RedStar Casino is available on desktop and mobile and is instant play on both of them.
Software
At first glance, RedStar Casino doesn't look like an online casino.
That's a strange comment to make, we know, but it looks like the website designers have intentionally tried to create something different or have no experience of online casinos. Our money is on the former, but either way, the end product is pretty solid.
It's far from the best-looking online casino we have seen and has a long way to go before it can be compared to the likes of Cadabrus, but it looks good, it's nicely laid out, and that's really all that matters.
It has somewhat of an old-school vibe. All of the menus are plastered along the top, which is quite unusual to see in this industry (usually, "Payment Options", "Support", and other such options are tucked away in the footer or at the bottom of a sidebar). There is a repeating swirly pattern in the background and the games are displayed in the centre of the screen for easy access.
Something about the simplistic red banner, the black/grey/white colour scheme, and the use of images reminds us of a newspaper. That's probably what they were going for, but that's the impression that we get.
Maybe we're just odd. In any case, the only thing that matters is that it looks good, nothing is squished to the side and there are no annoying pop-ups or poorly-implemented menus. If the missive was for a casino that was simple and easy to navigate without looking plain and boring, then we hope the design team got a bonus.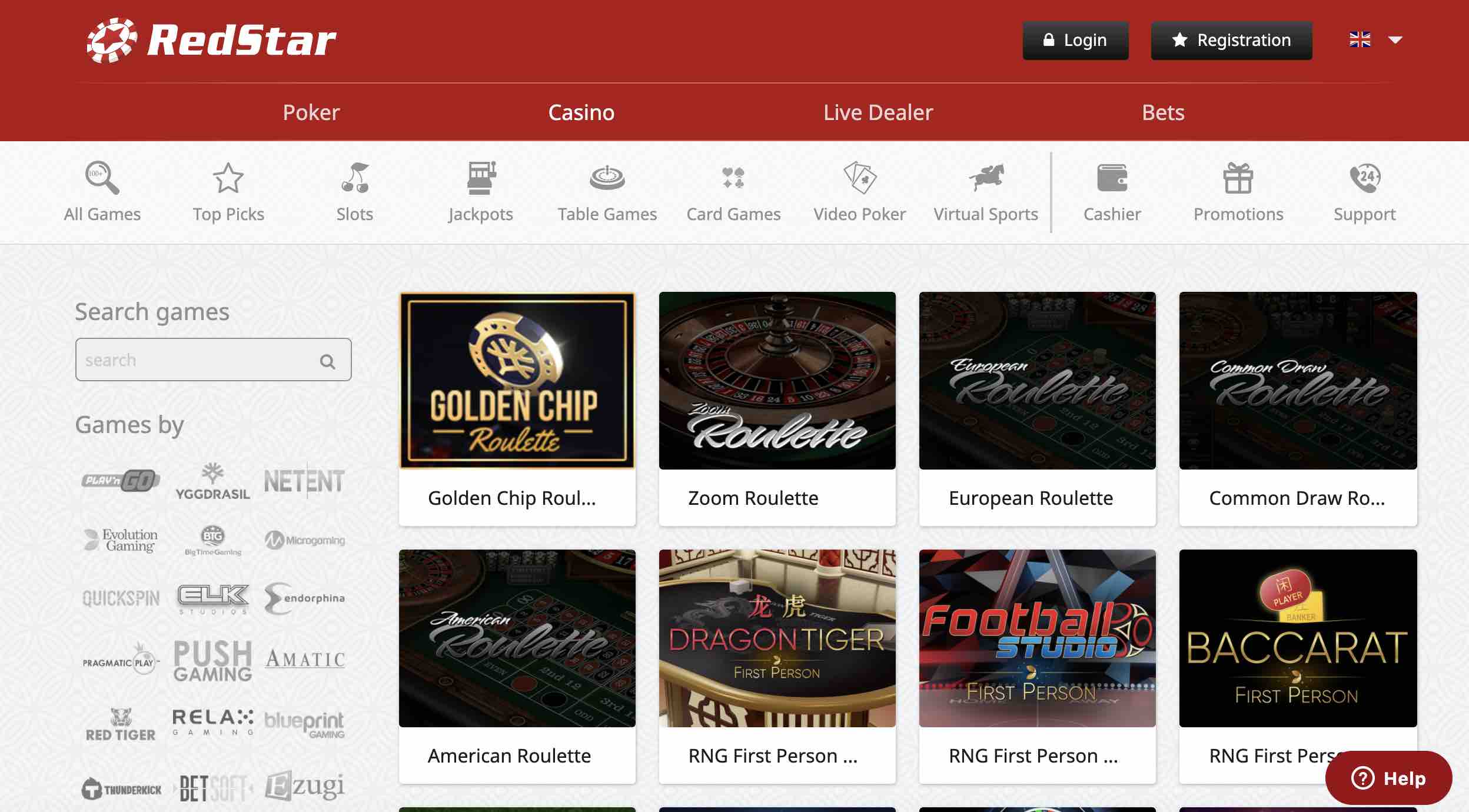 Games
RedStar Casino has a wide selection of games from a number of top providers, and you can choose from slots, jackpot games, table games, and a selection of other interactive titles.
As regular readers can attest; we love virtual sports. We praised these games on Rabona Bet and other sportsbook casinos and they are also available at RedStar Casino. That's not the only similarity, either, as RedStar Casino also has a sports book.
You can bet on a wide selection of markets, from football and rugby to snooker, boxing, UFC, and more. It's a complete and dedicated sports book and it invites you inside with a selection of promotions that are exclusive to this part of the site.
There is also a Poker room. You can either download it on Android and Windows or play through your browser. The lack of Apple support is a little frustrating but it is not entirely uncommon. In fact, very few poker networks have provided support for Mac. It's a frustrating issue and one that we understand all too well as Mac users. However, the fact that you can play through your browser helps to fix this issue.
Bonuses
Bonuses are where RedStar Casino falls short. It has ticked a lot of boxes up to this point, but its bonuses simply don't company to casinos like Wild Tornado and many of the other sites we have reviewed.
As a new player, you can collect 520 Free Spins, which is an impressive amount, but you need to make 5 deposits to get this bonus.
One of the problems with Free Spin bonuses is that they sound better than they are. It's easy to get excited by an offer of 520 Free Spins. It's a huge number, after all, and it will keep you busy for up to an hour. What's more, by the time you use those spins, you will have earned some bonus credits that will prolong your sessions and even allow for a withdrawal.
However, like so many Free Spin bonuses, all of these spins are fixed at the minimum bet amount on the chosen game. The games in this bonus include Starburst, Book of Dead, Sticky Bandits, Jack and the Beanstalk, and Reactoonz, where the minimum bets range from €0.10 to €0.20.
If we assume an average of €0.15 per spin, those 520 spins equate to a cash amount of just €78, which makes this one of the lowest bonuses that we have covered, with only sites like Stake (which doesn't offer a traditional bonus) lagging behind.
You have 10 days to use your Free Spins and you need to clear a wagering requirement of 20x, all while not betting more than €3 per spin. In addition, this bonus is not available to players from a handful of regions: Poland, Finland, Mexico, and Slovenia.
This is not the only bonus available at RedStar Casino and there are many other offers provided once you finish with the Welcome Bonus. However, a Welcome Bonus is supposed to be the biggest and the best; it's supposed to set you up for what's to come, and it just doesn't do that here.
It's rare to find a reputable, highly-rated Bitcoin casino that offers less than €300, let alone one that offers less than €80. It's a shame, but with a few tweaks, such as the addition of a €100 Matched Deposit Bonus for each of those 5 deposits, we'd be very happy.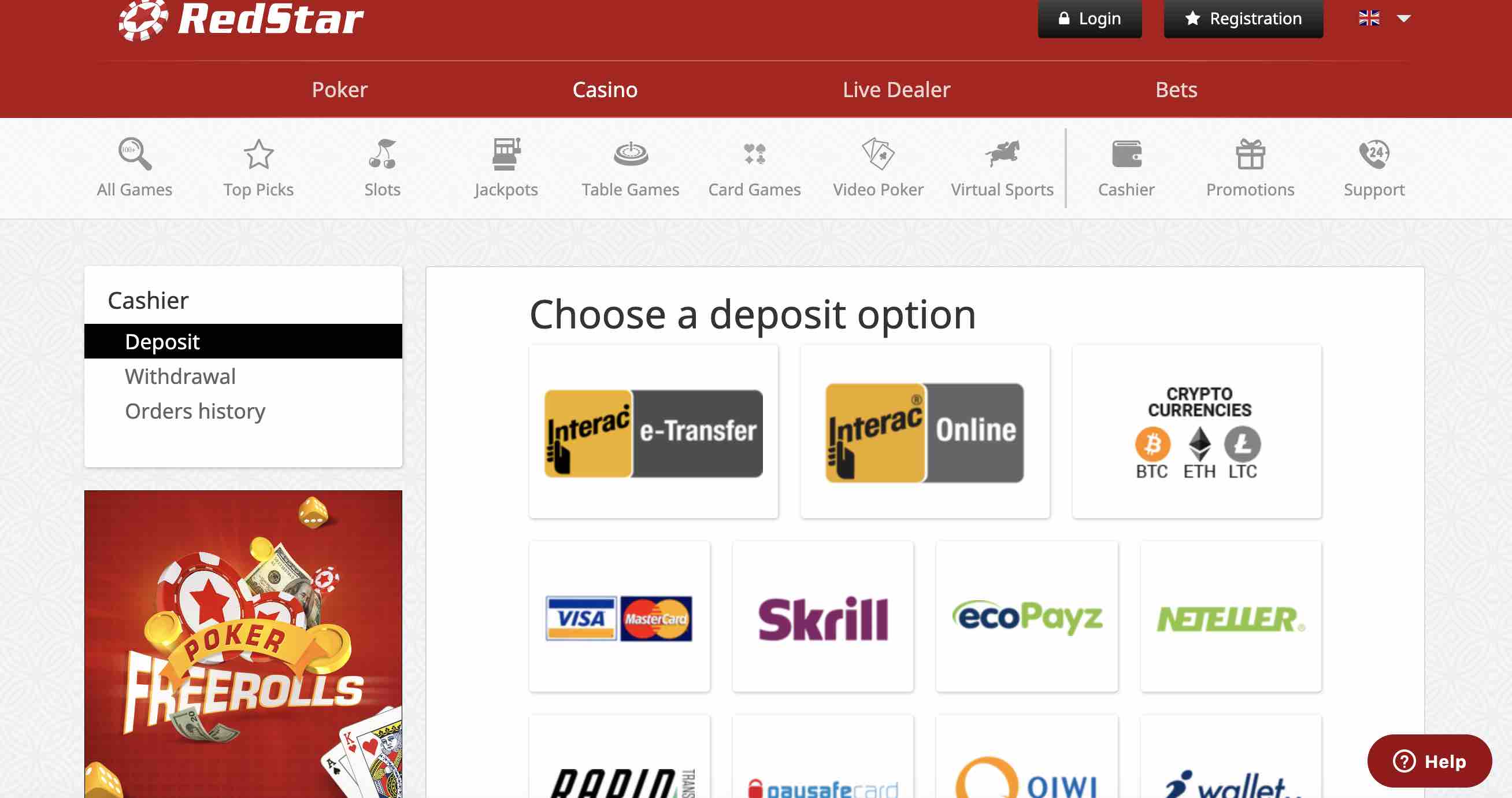 Banking Options
RedStar Casino accepts three cryptocurrencies: Bitcoin, Ethereum, and Litecoin. These are available for deposits and withdrawals and are probably the best methods to use.
The reason we say that is because there are some issues with many of the other methods that RedStar Casino accepts. For instance, there is a hefty fee for withdrawals made through bank transfers, costing €90 for a transfer of €1,000. And it needs to be at least €1,000, as that's the minimum amount accepted for this particular method.
There are also fees charged for credit/debit cards, and these can get costly when you consider that the casino has a withdrawal cap of €250. As far as we can tell, there is no strict withdrawal limit and you are free to withdraw up to €45,000 a month, but when you're using most standard methods you can't withdraw more than €250 at a time.
If you have €1,000 to withdraw, there is nothing stopping you from withdrawing €250 five times, but this is not 1995 and there should be no need for such highly restrictive withdrawal rules.
Another issue that we have is that it doesn't accept Skrill or Neteller for withdrawals. You are free to use these e-wallets to make a deposit, but you can't use them to collect your winnings.
Of course, none of this matters to the majority of players reading this RedStar Casino review. There is a good chance you're here because you're a cryptocurrency user, in which case the strict deposit and withdrawal restrictions don't apply.
Some casinos place additional limits on cryptocurrency users, such as the fixed deposit limit at Slotsheaven. Others give them the same freedom as traditional methods but allow for higher limits. RedStar Casino is definitely in the latter category—the perfect excuse to use Bitcoins.
Highlights
Lots of Games
Sports Book Attached
Poker Room Attached
Established in 2005
Reviews and Support
RedStar Casino has been around for a long time, so there is no shortage of user reviews out there.
As always, we did some digging and found as many negative reviews as we could. These will exist for all established gambling sites, especially when they are over 15 years old. Many players get angry when they lose money, others get angry when they don't read or misunderstand the bonus rules, and this angry occasionally translates into a bad review.
Think about how many times have you left a great review for a site that you enjoyed. Now think about how many negative reviews you left when you had a bad experience. The truth is, most consumers expect the best to happen and so they will only leave a review when the worst happens.
You can ignore all these nonsense reviews and focus on the legitimate ones. When you do, there are a few things of note, but nothing overly serious.
Some players have complained about being suspended from the casino's poker room, with RedStar Casino telling them that they were using bots, which is against the Terms of Service. No proof was provided, and this (understandably) made many players angry.
It's worth noting, however, that this is a PvP poker room. So, while it's easy to jump into a conspiracy theory about how the casino is banning successful players so it can earn more money, that doesn't hold water. They don't care who wins or loses, only who plays, and so it wouldn't make sense to reduce player numbers for no reason.
Our guess is that some of these were abusing the Ts & Cs and just didn't take too kindly to getting caught. As for the others, they were probably the victim of dodgy fraud detection software. Mistakes happen, and they happen across most poker networks.
Of the other concerning bad reviews, many highlight the high fees that RedStar Casino charges for some of its payment methods, including credit cards and bank transfers. These methods are usually expensive so we feel that many players expect those fees, but they are perhaps a little higher than they should be.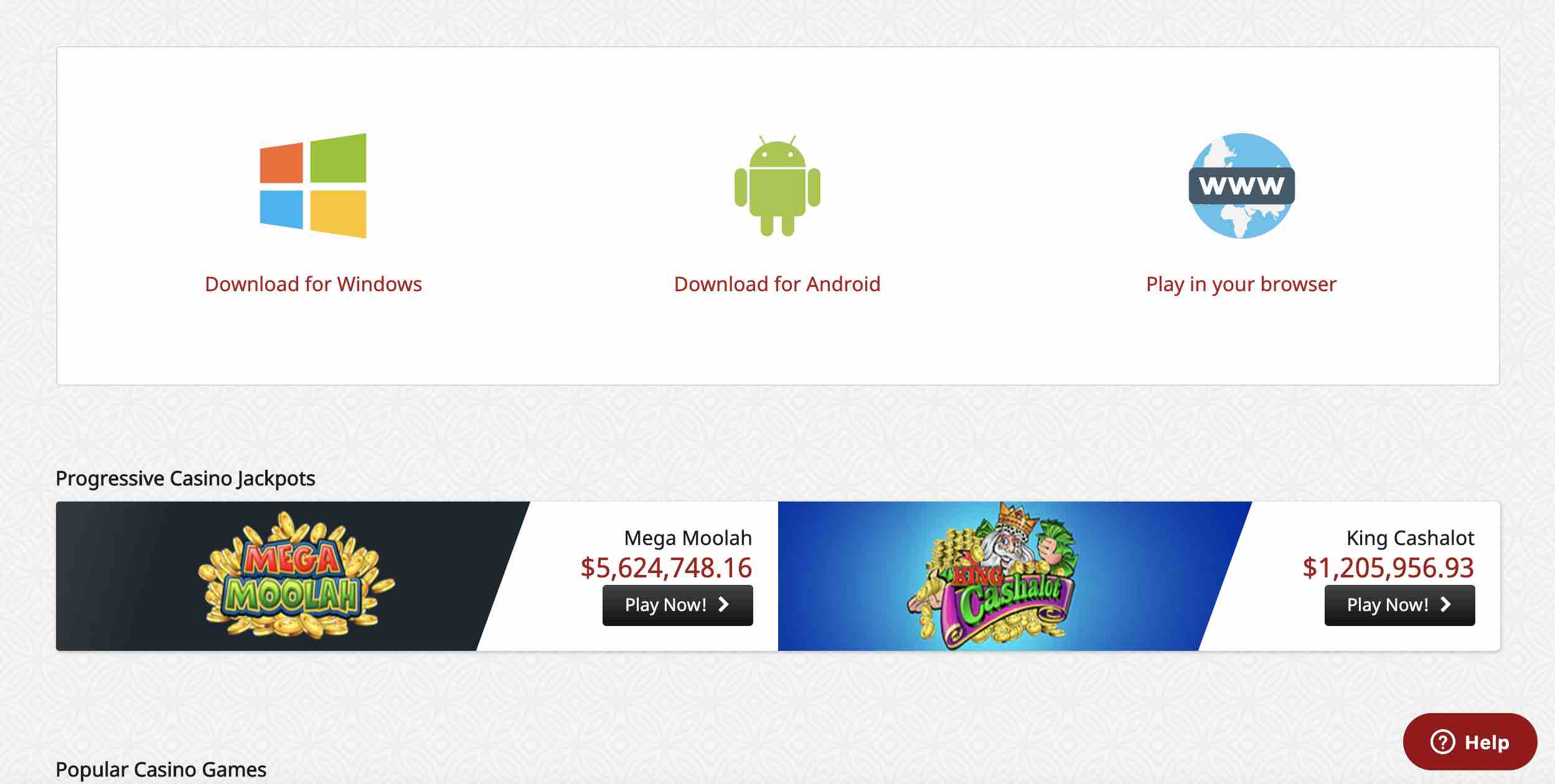 Customer Support
As far as customer service is concerned, RedStar Casino is excellent. We're not big fans of Live Chat and while we tend to use it when conducting our reviews, it's something we try to avoid when playing on our own time. We find that the support staff are often very slow and this makes the process painfully tedious. It's something people often use to save time, only to end up wasting 20 minutes of their day.
That's why we prefer good old-fashioned email. You can quickly write a message, explain your issue, and then wait for a reply once they have remedied the issue. You don't have to field countless, "Thank you for your patience" messages and if it's done properly, you can also avoid copy/paste replies.
The problem with email is that some companies take several days to respond. Thankfully, RedStar Casino is not one of those companies.
The first time we emailed them we received a response within 20 minutes. Assuming that this was a one-off, we tried again the next day and they replied within 5 minutes.
In total, we emailed them 6 times with varying (fake) issues and from several addresses. The longest time they took to respond was just under an hour, and that was only when we messaged them as a non-member asking a stupid question.
This is always good to see as it's something that the big casinos often overlook.
FAQs
How Old is RedStar Casino?
RedStar Casino has been around since 2005, which is a very long time in the online casino sector.
Where is it Licensed?
RedStar Casino has a license from Curacao, a jurisdiction that oversees a number of top Bitcoin-friendly casinos that we have reviewed on this site.
Can I Use BTCs?
You can deposit using Bitcoin at RedStar Casino but you cannot set the site currency to BTC or mBTC. The default option is USD and it seems to be the only option available at the time of writing.
What is the Withdrawal Limit?
As noted above, all players are limited to withdrawals of no more than €250 at a time on RedStar Casino.
What are the Languages Accepted Here?
Below this RedStar Casino review, you will find a full list of all the languages that are available here.
Final Word
RedStar Casino is a complete website that packs a lot of quality into a relatively small space, but it does this without creating a messy clutter that is difficult to navigate. It's not the best-looking casino and we wouldn't put it on the same level as Nomini and similar sites, but it's far from ugly and it does everything you need it to do, so there are no complaints from us.
There are a few major issues, however. The biggest one is the fact that the Welcome Bonus is very small and can't compete with some of the other sites we have covered. And then you have the banking limitations, which are sure to drive many high-stake players around the bend.
If we ignore these issues, RedStar Casino is a very solid site and one that's well worth your time and money. Take a look, sign up, collect the Welcome Bonus, and see if this site is a good fit for you.
RedStar Casino Review Details
Restricted Countries:
Australia
Cyprus
Estonia
France
Italy
Netherlands
Spain
Sweden
Switzerland
UK
US
Languages:
Dutch
German
Norwegian
Russian
Ukrainian