Pros
Lots of Payment Options
Over 2,500 Games
Great Aesthetic
Very Well Designed
Safe and Secure
Multiple Bonuses
Cons
Very Low Withdrawal Limit
Limited Jackpot Games
VesperCasino is a cryptocurrency online casino that launched in 2020. It has the look and feel of a huge online casino created by the likes of Direx and DAMA, so we were very surprised to see that it was developed by FairGame G.P N.V, a brand that we have yet to encounter and one that doesn't seem to have any other online casinos.
In the past, brands that operate very few casinos tend to be hit and miss. They are either excellent, or they are subpar, and we have encountered many casinos like this that just didn't make the grade and were not included on our list.
But at the same time, we made some of the same comments about Cadabrus Casino, which is owned by Romix Ltd, a brand that was just as small at the time but has since grown into one of the biggest, best, and most promising online casino brands in the world.
…one of the biggest, best, and most promising online casino brands in the world
If FairGame and VesperCasino can follow in those footsteps, we'll be very happy with the outcome and are sure that many of you will be, as well. With that said, take a look at our VesperCasino review.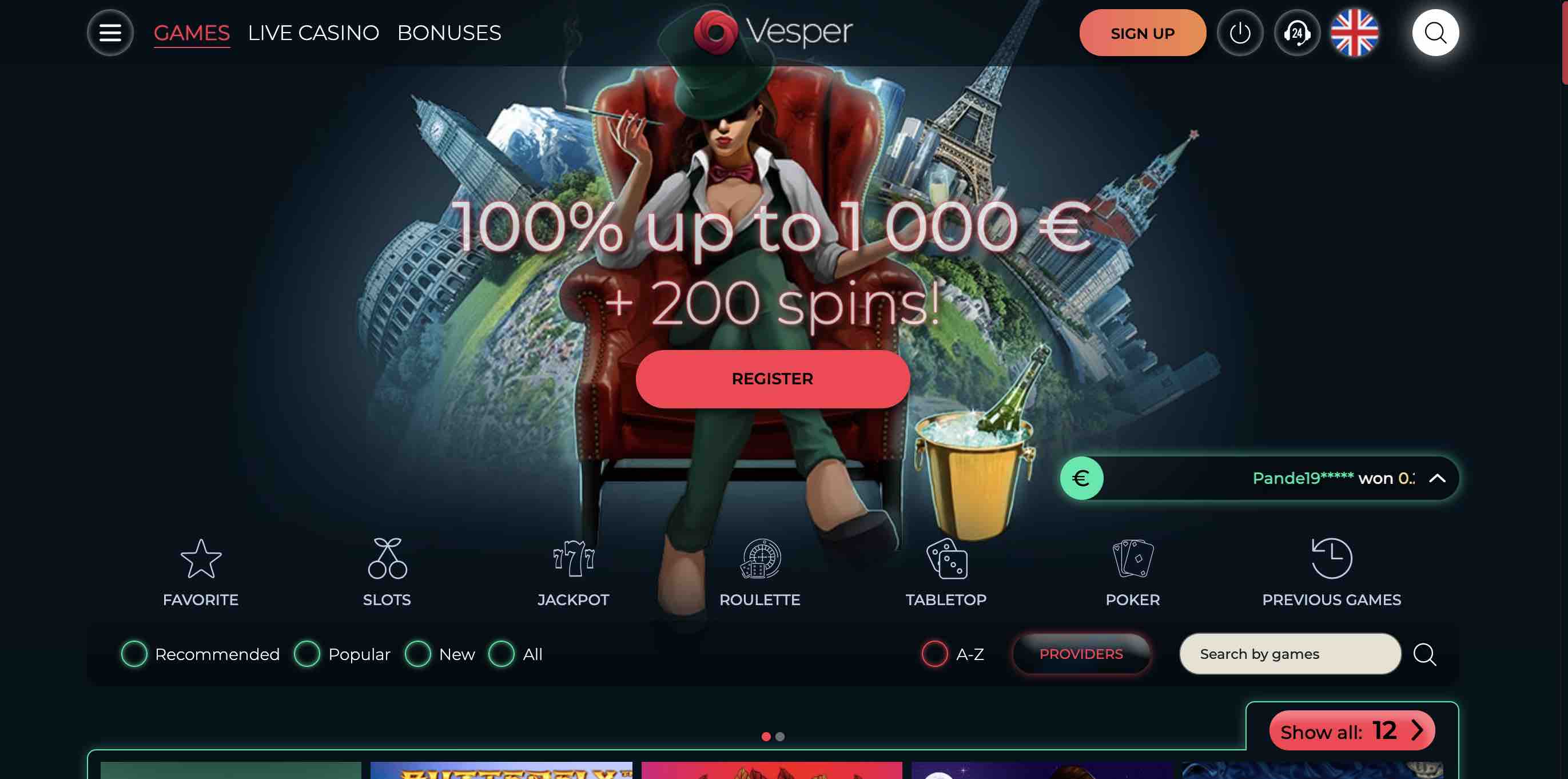 Basics
In Latin, the word "Vesper" roughly translates as "Evening". It's also a type of cocktail and a Roman demigod. Usually, this would be the point that we say VesperCasino's aesthetic doesn't suit the name and doesn't make any sense, similar to BetSofa Casino, but we actually quite like the look of this one and it makes some sense.
The aesthetic is very dark and the mascot is a shadowy female clad in a green suit with a hat pulled over her eyes. It's very well-designed and is one of the best-looking sites that we have come across this year, which came across as a pleasant surprise.
We feel like we spent 2020 complaining about shoddy designs and half-assed themes, so it's nice to find a casino that bucks this trend in early 2021.
As noted several other times, we're not big fans of the mobile menu icon—the three little lines that open the menu. As desktop players, this feature usually bugs us, as it feels like the developers have focused on mobile players first and considered desktop players as an afterthought. There is more than enough room for a fixed menu when looking at a desktop homepage, so we don't need this hidden sidebar.
However, the VesperCasino website has actually used this feature in a way that we don't find annoying. It works, and we would go as far as to say that it might work better than a fixed menu.
Needless to say, if more sites looked like this, we'd have decidedly fewer complaints!
Software and Games
VesperCasino has over 2,500 games from a hand-picked selection of developers. It includes games from Microgaming, Betsoft, and Pragmatic Play, as well as a few others.
At the time of writing, there are no games from Big Time Gaming, NetEnt, Red Tiger Gaming, Next Gen Gaming, and Yggdrasil Gaming in the "Provider" list, but the logos from all of these are displayed on the bottom of the homepage.
We also found these games listed in the Bonus section of the website, so it seems to be just a minor glitch and maybe it was isolated to us or just happened to be active at the time of our review.
For a site that has developers such as Microgaming, NetEnt, and Betsoft, it has a fairly limited selection of jackpot games and we didn't see Mega Moolah among them. Again, this might be an issue with the site at the time of our review, as they certainly have the means of hosting many jackpot games, but we can only review what we see, and we just aren't seeing them!
What we do like about VesperCasino is that it's not afraid to showcase a variety of video poker games. We feel like these games rarely get the attention they deserve, and even when the casino has video poker creators (including Microgaming) they tend to overlook them.
There are over 100 games in the VesperCasino poker section, suggesting that they definitely haven't forgotten about these little gems. The person who created the categories seems to be a little confused and has included some Blackjack games among them and listed the total number as over 140, but even when you take those games away and focus purely on poker, the real number still hits triple figures.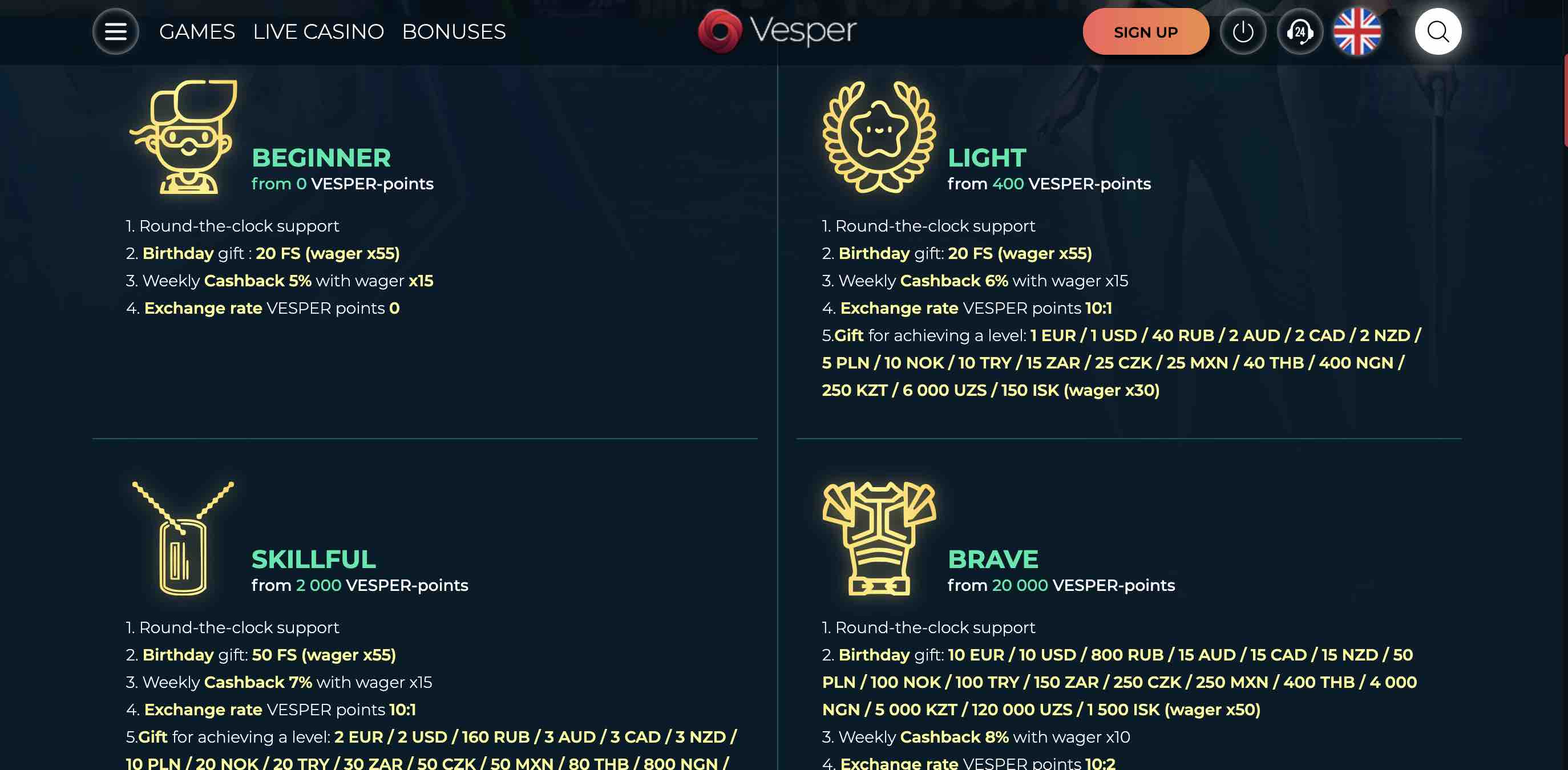 On a final note about the games at VesperCasino, we really like what the casino has done with regards to the "Latest Winners" section. Usually, this section looks shoddy and cheap. But they've found a way to make it look original and slick without deviating from the overall theme.
It's not perfect, though.
There are two big mistakes that casinos make when using this feature. The first is quite rare and thankfully, it's not a mistake that VesperCasino makes.
That mistake entails posting all of the player's name, as opposed to using asterisks to block all or some of it. We've spoken about this before, including in our Syndicate Casino Review, and noted how it can go horribly wrong as some players use their email addresses as usernames.
Imagine being a very secretive player who wins $50,000, doesn't plan on telling anyone, and then realises that your win is being broadcast on a casino homepage alongside your email address!
Thankfully, VesperCasino doesn't do this.
However, it does insist on showcasing all wins, no matter how small. At the time of writing, it's announcing to us that a player has just won €0.40, followed by the same player winning €1.20, and then €5.60, and then €0.80. It's the same player for every one, because it's showcasing every single win!
Not only does this waste time, but it tells prospective players that you're a small and insignificant site, because if that weren't true, why would you be highlighting such small amounts and seemingly giving a running commentary on every player's payouts?
Of course, it's not small and it's not insignificant, but these minor wins suggest otherwise.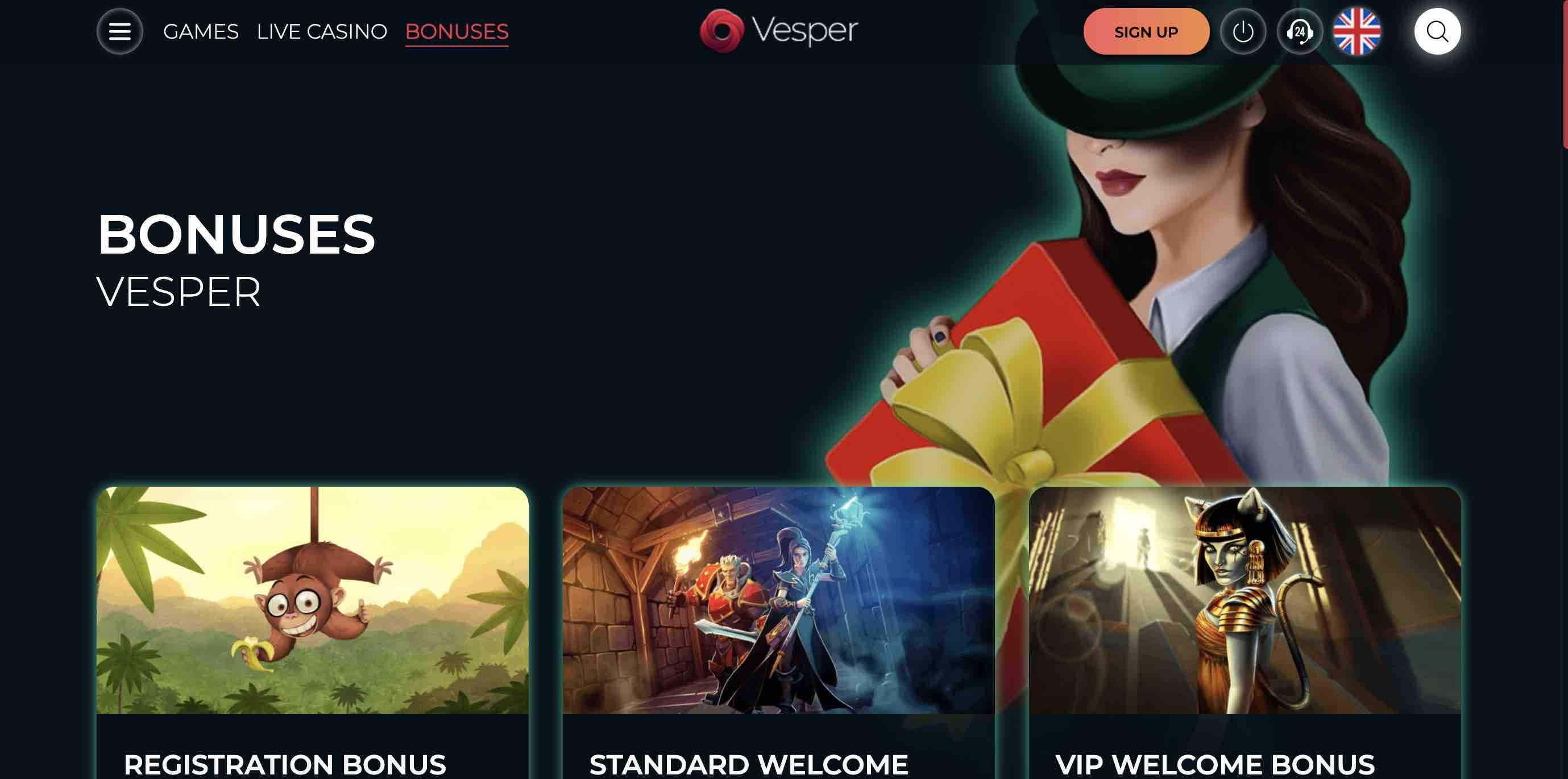 Bonuses and Promotions
The main Welcome Bonus at VesperCasino is spread across your first 5 deposits and offers a total of up to €500 and 200 Free Spins—not bad, and a great way to introduce yourself to this online casino. You only need to deposit €10 to qualify for this offer and as the first deposit bonus is a 150% matched offer with 100 Free Spins, that €10 will take you pretty far.
We often complain that modern casinos don't do enough to cater for high rollers. After all, while a Deposit Bonus that's capped at €100 or so is great for most players, it won't do anything for someone who deposits thousands of dollars at a time.
VesperCasino doesn't make the same mistake and has a very good high roller alternative for those who deposit a little more cash.
If you deposit a minimum of €200, you can collect up to €4,000 in total, along with 400 Free Spins. The biggest of these bonuses is released with your first deposit and is a 100% matched offer with 200 Free Spins.
On top of all this, VesperCasino also has lots of regular Reload bonuses and a very impressive Loyalty Scheme. It's up there with the VIP schemes available at Kingdom Casino and lots of other Loyalty Schemes that we have praised highly in the past.
Payment Options
VesperCasino processes withdrawals from Monday to Friday, which means your winnings should appear quickly, providing you don't withdraw on the weekend or a holiday, in which case it will take a little longer. There are no fees for this process and you can choose from a wealth of different options, including a number of cryptocurrencies (Bitcoin, Litecoin, Dash, Ethereum) and traditional currencies (Visa, Neteller, ecoPayz).
All of this is fine and well, but the same can't be said for the VesperCasino withdrawal limit, which is one of the smallest we have ever seen.
We've lost count of how many times we've complained about sites like Cadoola Casino limiting players to €500 a day. But at least those sites extend their limits to €10,000 a month. At VesperCasino, players are limited to just €2,000 a month, which is incredibly low and very frustrating.
If you're a high roller, there is nothing for you here.
Imagine how frustrating that limit would be if you deposited €5,000+ at a time and went through €20,000+ a month. Sure, you'd be in a rare category of players, but if you chose at play at VesperCasino, it would also take you 20 months to get 1 month's deposit back.
Medium stake players also have an issue. Anyone who deposits upwards of €500 at a time will easily pass this amount following a half-decent session, and even if you deposit €100 to €200, as we do, you'll still edge very close to it.
It's off-putting, to say the least, and it means that VesperCasino will only really work for players who deposit €50 or less at a time, as well as those who deposit €500 or less but stick with very low house edge games and short sessions.
Highlights
Lots of Payment Options
Many Top-Tier Developers
Very Good-Looking Casino
Looks Great on Mobile and Desktop
Stacks of Great Games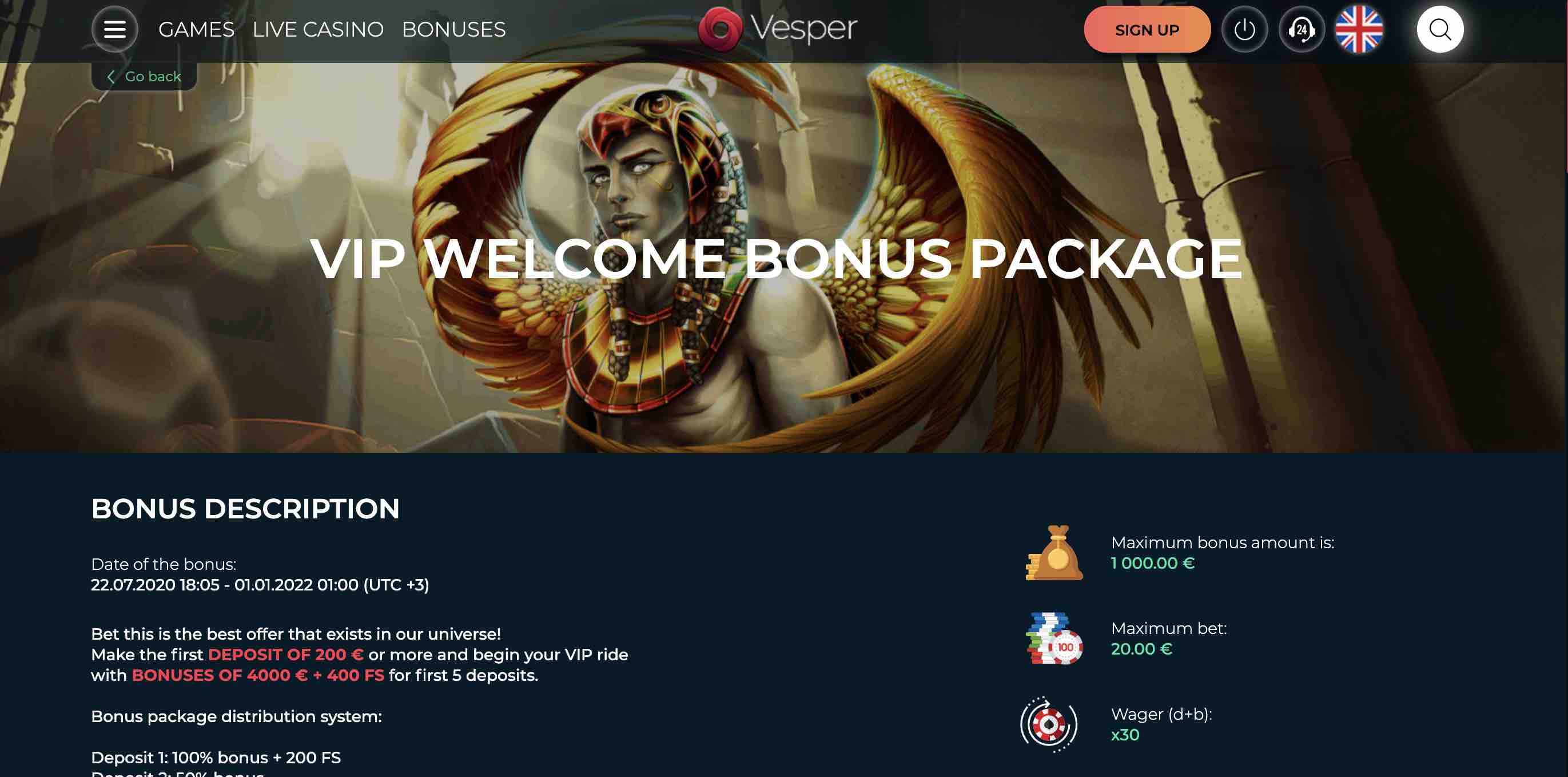 User Reviews
We reviewed VesperCasino just a couple of months after it was released. At this time, it has received quite a lot of reviews from players and the vast majority of these are positive. Usually, we would be wary of these reviews, as anyone can fake them and many sites do just that. However, they all seem genuine and VesperCasino is actually good enough and big enough to warrant these great reviews, so there is no reason to suspect that they aren't genuine.
What's more, VesperCasino has taken the time to respond to all of them, thanking reviewers for taking the time and apologising for any minor issues that they raise. There's nothing to see here—it's pretty much exactly what we ask for in online casinos and everything that we like!
As noted in our reviews for sites like the somewhat limited WooCasino, we really like it when casinos respond to customer reviews and complaints, as it shows that they care and are willing to do what it takes to keep players happy.
There is a certain arrogance to casinos (and other sites) that receive a torrent of bad reviews and don't care enough to apologise or seek a solution.
FAQs
Can I Play VesperCasino in the UK?
We were able to access the VesperCasino homepage from the United Kingdom, which is unusual, but as it does not have the necessary licenses, you will not be able to play here. Very few online BTC casinos are available in the United Kingdom although you might have a little more luck with SlotsHeaven.
Can I Play VesperCasino in the US?
As with the UK, you might be able to access the VesperCasino homepage if you are in the United States but that doesn't mean that you will be able to join. The Curacao license does not allow a casino to operate in the United States.
When Did VesperCasino Launch?
Judging by the date of the casino's reviews, it seems to have launched toward the tail end of 2020, if not at the beginning of 2021. The site data states that the website was registered way back in September 2019, which means there was quite a long wait before it eventually appeared.
Maybe that's why it looks so good, as opposed to some of the other sites we have come across, which could have been thrown together in a few days.
How Can I Contact VesperCasino?
The best way to get in touch is to use the Live Chat facility, which you can access from the VesperCasino website at all times. Just click the little headphone icon with the "24" inside.
Does VesperCasino Accept Bitcoin?
You can use both Bitcoin and Bitcoin Cash at VesperCasino, along with a few other cryptocurrencies, including Ethereum, Dash, and Litecoin.
Final Thoughts
VesperCasino surprised us many times. Most of those surprises were positive, as we really didn't expect the aesthetic to be so good, the theme to be so coherent, or the bonuses to be so impressive. But others were disappointing, because when you get all of those big things right, you really shouldn't be tripping up on the small things, such as the choice of jackpot games and the small-scale winners list.
As most of the issues are minor, we are happy to overlook them, but when you get to the withdrawals, the minor problems become major and this is ultimately why VesperCasino doesn't get top marks.
Withdrawals are fast for the most part, but can be very slow if you withdraw on a weekend or a public holiday, and then you have the withdrawal limit, which is one of the lowest we have ever seen.
We spent most of 2020 complaining about Araxio and DAMA casinos that limit players to just €10,000 a month. It felt like we complained about withdrawal limits more than anything else, and while we often tried to justify them on otherwise good casinos, noting how they didn't really mean much to small and medium stake players, it's hard to do the same here.
€2,000 is ridiculously low and makes for a very disappointing conclusion.
There is still a lot to like here and VesperCasino gets a good score from us, but it could have been so much better!
VesperCasino Review Details
Restricted Countries:
Estonia
Italy
Japan
Netherlands
Spain
Sweden
Switzerland
UK
US
Languages:
English
Finnish
Polish
Portuguese
Russian
Currencies:
AUD
CAD
CHF
EUR
ISK
NOK
NZD
RAND
RUB
TRY