Pros
Great Games Good Support Fast Withdrawals Mobile Friendly Clean Design
Cons
No 24/7 Live Chat Withdrawal Limit
Gudar Casino proudly claims itself to be the "Best Nordic Casino". It's a pretty bold statement to make when you consider the wealth of competition, but it certainly seems to work with the best developers and payment providers.
…proudly claims itself to be the "Best Nordic Casino"
In this Gudar Casino review, we'll see if we agree with that statement or not by looking at the casino's games, banking options, bonuses, accessibility, support, and more. This is a complete review for Gudar Casino and it applies to players across Canada, Australia, and large parts of Europe and Asia, as well as Scandinavia.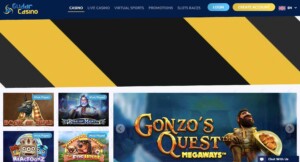 Bonuses
The Mirage Corporation is the owner and operator of Gudar Casino. This is the same brand behind Space Lilly, an odd, confusing, and oftentimes frustrating online casino that achieved mediocre marks from our review team.
It's also the same team behind some other casinos we have reviewed, and our opinions on these have pretty much been split down the middle. Some have been very good and, but for a few niggling issues, are worthy of inclusion on any casino top list. Others have been poor and have received a lot of criticism from us.
Some of the biggest issues we have with Mirage casinos concerns the way they are presented. We have seen sites riddled with typos that even a basic spellcheck would have spotted, as well as mistakes that no player or team member will fail to notice. We have also seen inconsistent themes that were seemingly pieced together from random images and ideas.
But at the same time, we had a lot of positives things to say about one or two Mirage casinos that adopted themes based on ancient history and fantasy.
In other words, unlike brands like Direx (the owners of some of the best Bitcoin casinos we have reviewed) Mirage is very inconsistent.
Gudar Casino is a little better equipped and designed, so we won't be reporting on any major issues here. There are still a few minor problems concerning the casino's terms and features, but there are a lot of positives to report as well.
Games
Gudar Casino is easy to navigate and has a wide selection of games for you to choose from. The casino claims to have a theme, one that takes place in a "galactic environment". In fact, the "About Us" states that it is a "100% themed casino", but this actually flew over our heads. It's subtle at best, but it looks good, and that's really all that matters.
The casino is home to real money slots from some of our personal favourite developers, ones that we are always happy to see in a games room. These include NetEnt, Betsoft, Microgaming, GameArt, Habanero, Blueprint Gaming, Wazdan, and Yggdrasil Gaming.
You can search by provider and game type. We actually really like the way that this search is conducted. You'll see a list of all providers and when you select the one you want, the logo next to it will light up. Click it again and it will disappear. It's a simple touch, but it works really well, and makes for a nice change from the clunky, awkward, and slow features you'll find elsewhere.
As for the game categories, some of the options you can choose include:
Video Slots: Hundreds of games, hundreds of themes, and countless features. Take your pick from creations like Golden Glyph and It's a Joker. It's by far the biggest category on Gudar Casino.
Table Games: From first-person Craps to European Roulette and Atlantic City Blackjack, these games are vast and varied. The table games at Gudar Casino have been developed by some of the best names in the business and all features, mechanics, and side bets you can think of are explored here.
Scratch Cards: All of these games give you a chance to win big with a single scratch. They include titles like Break the Ice, Balloons, and Diamond 100.000 Strike. These games work just like the scratch cards you can buy from your local newsagents, but without the mess!
Jackpots: A host of titles that have high fixed jackpots and progressive jackpots, all giving you the opportunity to win a lifechanging sum with a single spin.
Video Poker: Aces and Faces, Jacks or Better, Deuces Wild—play all of these great video poker games and more. The majority of these games are provided by Microgaming and while a few of them are old, they all offer fast and seamless poker action. Some of them even have jackpots that release when you get a Royal Flush, the best possible hand in a game of poker.
Virtual Games: Besides Crown & Anchor and Sic Bo, there isn't a great deal here to interest us, but you might react differently. This is where the casino places interactive games that don't quite fit into the other categories. You can find games like Football Manager, for instance, a title that sounds much more promising than it actually is, promising strategic decisions and in-game action and delivering a simplistic numbers game.
Video Bingo: In addition to games of video bingo, this section contains keno titles. Again, nothing amazing, but it adds a little variety. Keno allows you to choose how many numbers you want to play and then bet on the outcome, potentially winning huge sums. It's like a lottery hot picks game, and it is played all over the world.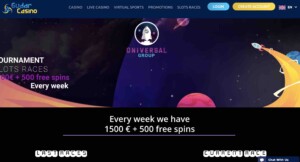 Bonuses
Gudar Casino has a three-tier welcome bonus and delivers a total of €750 and 300 Free Spins. The bonus is structured as follows:
First Deposit: 100% up to €150 + 100 Free Spins
Second Deposit: 50% up to €300 + 100 Free Spins
Third Deposit: 50% up to €300 + 100 Free Spins
The minimum deposit is €25 and there is a wagering requirement of 40x, which applies to both the bonus amount and the deposit amount. You have 15 days to clear this bonus and need to play slots, as Live Casino games won't count.
The bonus Terms and Conditions also state that "tablet games" don't count. We can only assume this is a typo (no judgment from us, as it's a mistake we've probably made in the past) in which case it's best to stick with slots. Of course, with a hefty 40x wagering requirement to clear for the deposit and the bonus, you will need to stick with high-RTP games in particular.
Banking Options
Gudar Casino accepts payments through a range of cryptocurrencies and traditional currencies, including everything from Visa and Neteller to ecoPayz and Bitcoin. There is no charge for making a deposit, but it will need to be at least €20 or 0.001 BTC, with a maximum of €1.000.
All deposits are instant and all withdrawals are processed in just a few hours, with no cost and a minimum requirement of €25. The only time you will be charged is when you make a wire transfer, in which case the charge will stem from your bank and you will be tasked with initiating a withdrawal of at least €100.
You may be asked to go through the verification process before you make a withdrawal. However, we've read a few customer reviews and checked the Terms and Conditions, and it seems that this process is relatively quick and painless. It may take a couple of days, but more often than not, it will be over before you know it.
If there is an issue, just bide your time and speak with the customer support team. As discussed a little further down, they are very quick and helpful.
Limits
And here we are again. The thing that frustrates us more than anything else, and yet it's something that seems to be ubiquitous on modern online casinos: The withdrawal limit.
We have encountered some shockers in our time, including the ones listed on Araxio Development casinos, where players are limited to transactions of no more than €500 at a time and €10,000 a month.
Thankfully, Gudar Casino isn't that bad but there is a limit in place and this restricts players to withdrawals of no more than €15.000 a month. This applies to most payment methods, including Bitcoins. As far as we can tell, the only exceptions are for Litecoin, Ripple, and Ethereum, all of which are tied to specific amounts in their respective currencies. Still, even then, those amounts are around €15.000.
You can process as much as €1.000 a day through your chosen method. This isn't as bad as the aforementioned €500 limit, but it's still quite restrictive and will only appeal to small and small-to-medium stake players.
If you typically deposit €500 or more at a time, this probably isn't the site for you. In fact, we typically deposit around €100 to €200 at a time, and even we have our doubts.
After all, what happens if you scoop a win of just 100x? It's an amount that most players have won at some point and it's far from rare. But with a €200 deposit, that's a €20.000 withdrawal, and one you will need to wait nearly 5 weeks to process.

Highlights
Helpful Support Team
Many Casino Games
A Good, Clean Design
A Dedicated Online Casino
Safe and Fair
Mobile Friendly
Many Payment Options to Choose From
Reviews and Support
We recently reviewed All Reels casino and discussed the right way and the wrong way to reply to customer reviews left on third-party websites.
Firstly, this is something we believe all casinos should do, as it shows a certain level of competency and commitment, suggesting that the casino cares and is devoted to its players.
Secondly, the replies need to be friendly and apologetic, even when it's clear that the customer is wrong. This is difficult in the online gambling industry, as customers often complain when they lose or when they miss out on a bonus because they don't understand the rules. However, a good support team will know how to reply to these messages.
Those replies will be succinct, carefully considered, and will let the player know that the casino cares, preferably while offering a solution, a bonus/goodwill gesture, or telling them to send a message for more information.
Many casinos fail with these basic things, but Gudar Casino nails them perfectly. It doesn't respond to all reviews, which is definitely not ideal, but the succinct and helpful way that it deals with negative reviews shows that it cares and is more than competent.
Other casinos can learn a lot from these guys.
In fact, the Gudar Casino support team is very helpful in general. You can't contact them 24/7, which is a shame, but we're compiling this review towards the end of 2020. It's during the second wave, when casinos are short-staffed, businesses are struggling, and resources are hard to come by. The gambling industry in particular has been hit hard, with a greater demand and lower staff numbers.
In other words, we can't judge as we don't know whether or not this issue is temporary.
FAQs
What Sites are Similar?
Is it a Good Site for High Rollers?
It's not ideal, as the withdrawal limit essentially rules high rollers out of the equation. It really depends on how much you are depositing.
Is it a Good Site for Small Stake Players?
It was made for casual players and small stake players.
What is the Welcome Bonus?
The Welcome Bonus on offer right now gives players up to €750 + 300 Free Spins when they join for the first time and make an initial qualifying deposit. This bonus is subject to change, but if you visit via the links on this page, you will always get the best bonus available at that point.
What are the Currencies and Languages Accepted Here?
We have listed all of the available options at the bottom of this review. Scroll down to see these for yourself.
Final Word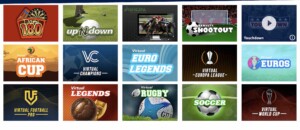 Gudar Casino was clearly designed with the Scandinavian gambling market in mind. However, the lack of a Swedish gaming license means it misses out on one of the biggest gambling countries in the region. Even stranger, Google Translate informs us that the word "Gudar" is actually Swedish and means "Gods" or "The Lords", although Swedish is very similar to Norwegian, and we're not informed enough to state whether it's one or the other!
What we do know is that the casino has a very clean and stylish design, which actually came as a surprise considering this is the same developer behind WCasino. We didn't expect much from this site but we thoroughly enjoyed our time here.
If not for a few minor issues, including the limiting withdrawal restrictions, this would be a top-notch casino deserving of a very high placement on our "best-rated" list.
As it is, Gudar Casino is still a good option for small stake players, and one we would recommend to anyone depositing less than €100 at a time.
Gudar Casino Review Details
Restricted Countries:
Afghanistan
Albania
Algeria
Czech Republic
Estonia
France
Hungary
Iran
Iraq
Israel
Italy
Netherlands
Romania
Singapore
Slovakia
Spain
Sweden
Switzerland
UK
US