Pros
Huge Number of Games
Nearly 40 Payment Methods
Over 60 Languages
Vast Online Casino
Big Bonuses
Cons
A Little Messy
Many Country Restrictions
Responsible Gaming Issues
We spend a lot of time reviewing DAMA, Araxio, and Direx casinos on this website. It's not necessarily that we prefer those sites, but that they have a dominant share of the cryptocurrency gambling sector.
In fact, if you take a look at our list of the best BTC casinos, you'll see a staggering number of sites owned by these operators.
Every now and then, a site will appear that isn't owned by any of these creators or any other big name, and it will impress us just as much as all of them. It's rare, but some of our favourite sites in 2020 and 2021 fit this description and JV Spin could be another one to add to the list.
This site has all the hallmarks of a classic. It gets a lot of things right, offers a massive number of accessibility options and features, and at first glance, it's comparable to some of the best sites we have reviewed.
In this JV Spin review, we'll see if that quality is more than surface deep and will compare this Curacao-licensed casino to other top sites.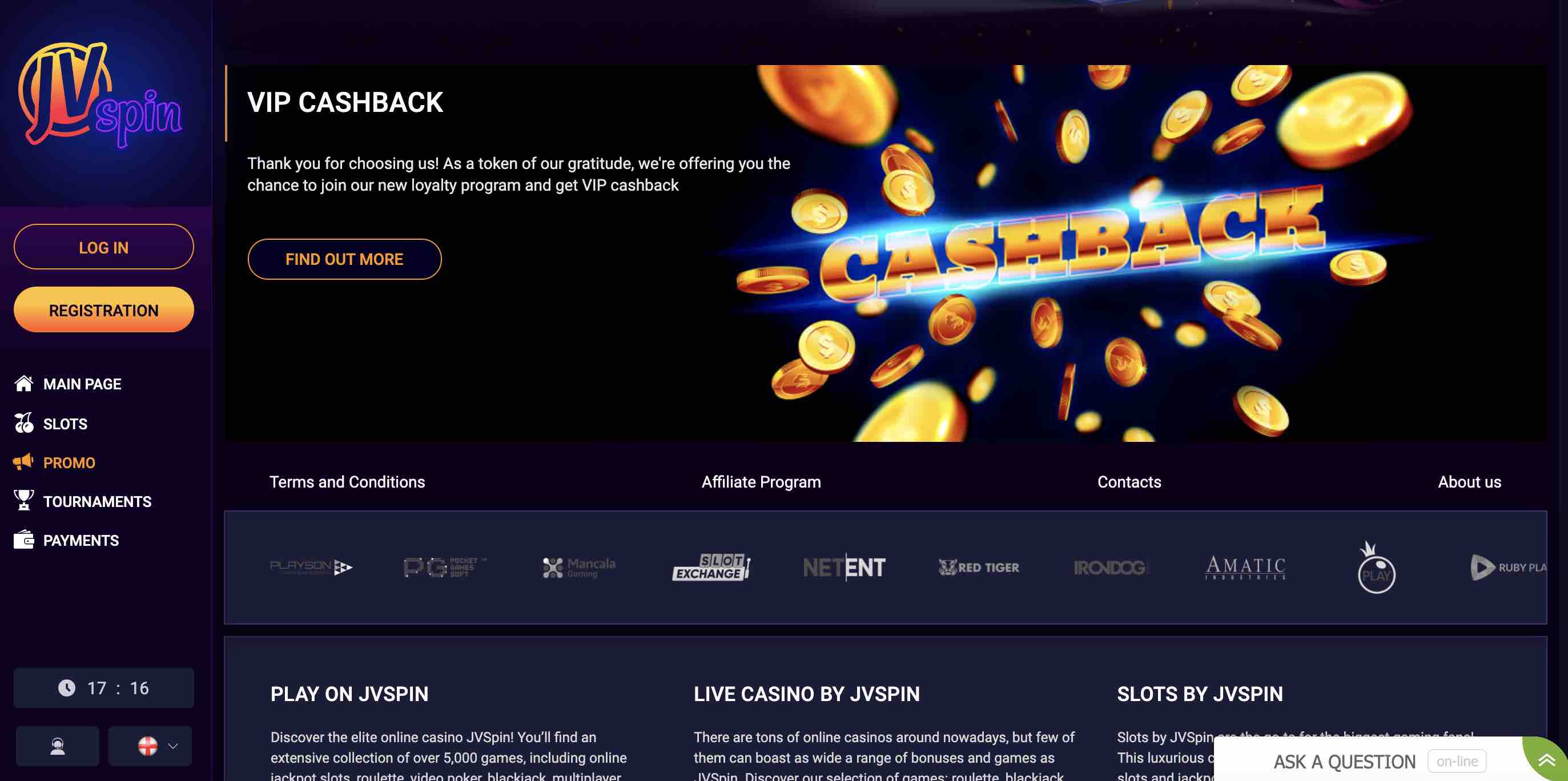 Basics
Sites like BetandYou are leagues above the standard online casinos that you encounter every day. They aren't always better and they definitely aren't cleaner, but they are so much bigger. The first time we encountered one such site, we were simply blown away by how many options it offered players with regards to everything from languages and currencies to payment options and more.
Why is this relevant, you ask? Because JV Spin is in the same category. In fact, in many ways, it is a carbon copy of those sites, with just as many options and a site that is open to just as many players.
The average online casino offers half a dozen payment options and a few languages. Some even stick with a single language and currency. Sites that fall into the "big" category have a dozen or so options and stand out from the ordinary.
And then you have sites like JV Spin. "Vast" would be an understatement. At the time of writing, it offers a total of 42 deposit options and 39 withdrawal options, and we'll get to those shortly. It also has over 60 languages, suggesting that it is keen to cater for all players. If you reside in a country where JV Spin is available, there's a good chance that your native language will be on this list.
The currency options are just as plentiful, so much so that we lost count trying to get through them all. In fact, if we were to list all of them, alongside the many languages, payment options, and other basic details, the info panels at the bottom of this review would run for several pages.
One of the impressive things about JV Spin is that it manages to find room for all of these options without looking overly cluttered or "busy". One of our favourite sites, MELbet, definitely makes this mistake. It's huge (bigger than JV Spin, in fact, due to the addition of a sportsbook) and it's great, but it's incredibly messy and can be a nightmare to navigate.
JV Spin is not the best-looking site that we have seen, but when you consider how much content it has to deal with and how many options it offers, it does a pretty good job.
Software and Games
The JV Spin games room is vast and includes brilliant creators like NetEnt, Red Tiger Gaming, Betsoft, Wazdan, Quickspin, Habanero, and many more. You can filter your search by provider or you can search by game type, with options for specific categories of card games, number games, jackpots, and more. You can even opt for "Buy Bonus" games, which literally let you purchase the bonus features instead of taking hundreds of spins and trying to unlock them organically.
There are over 5,000 games to choose from, the bulk of which are slot machines, and most of them are available on mobile, as well as desktop.
If you click on the "Games" section, you'll also find a variety of unique creations, including scratch cards, games of keno/bingo, and more.
Last but not least, JV Spin has a Live Casino, and unlike the other Live Casinos populated entirely by one or two creators, this one has games from several different developers, including Evolution Gaming, Pragmatic Play Live, Lucky Streak, and VIVO Gaming.
The best way to play these games is through the casino's Tournaments, where you can win thousands of Euros and a bunch of other prizes. These games favour high rollers more than we would like, but that's often the case and there isn't much you can do about it.
Simply put, you just need opt-in and play the qualifying games. You collect points every time you place a wager and these points help you to scale the leaderboard. The players who finish in the highest positions on this leaderboard walk away with cash prizes and other rewards.
These tournaments can differ with regard to everything from the type of games you need to play to the qualifying stake amounts. Even the way that you earn points can differ, so it's important that you read the Terms and Conditions before you make a deposit and start spinning.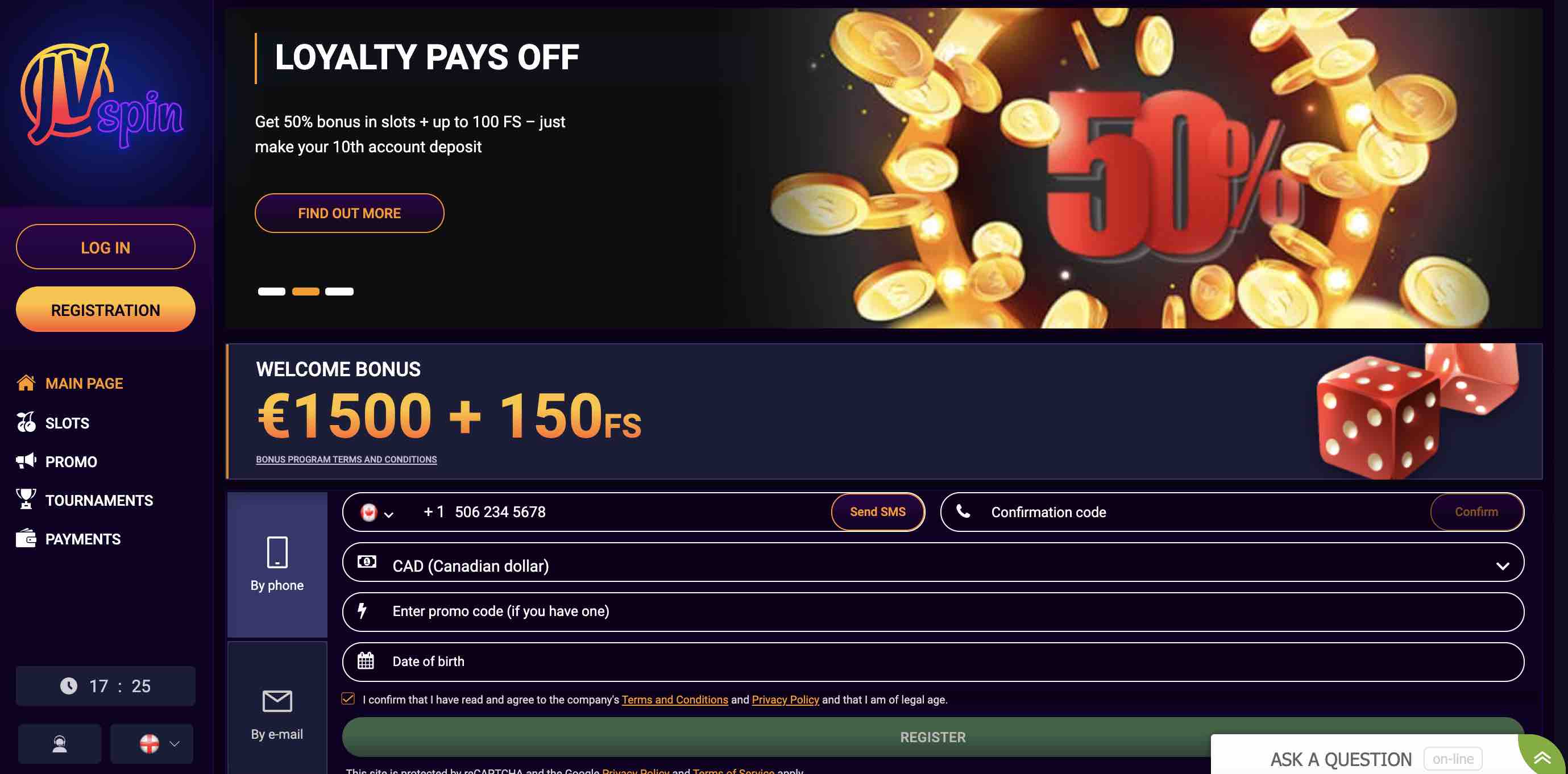 Bonuses and Promotions
As a new player at JV Spin, you are entitled to a Welcome Bonus of up to €1,500, along with 150 Free Spins. It pales in comparison to the bonuses offered by Cloudbet and a few other Bitcoin online casinos, but it's a lot of money and it will be enough for the vast majority of players, so we're certainly not complaining.
There are four deposit bonuses in total:
Up to €300 as a 100% Matched Deposit Bonus (+30 Free Spins)
Up to €350 as a 50% Matched Deposit Bonus (+35 Free Spins)
Up to €400 as a 25% Matched Deposit Bonus (+40 Free Spins)
Up to €450 as a 25% Matched Deposit Bonus (+45 Free Spins)
For the first deposit, you need to fund your account with a minimum of €10. For the second, third, and fourth, you'll need to bump that up to €15.
All of these bonuses have a wagering requirement of 35x and this must be completed within 7 days of collecting the bonus. It applies only to the bonus amount and not the deposit, so it's quite a low wagering requirement, but you will be restricted to a maximum bet of €5 throughout this time. You are also restricted with regards to the slots that you can spin while this bonus is active.
JV Spin has other bonuses available, as well, including a VIP Cashback bonus that gives you money back on some of your losses, and a 50% deposit bonus that applies to your 10th deposit with the casino. It's an odd gesture, but it means that you are incentivised to make at least 10 deposits, although the games, accessibility options, and other features are just as much of an incentive.
Payment Options
The JV Spin payments screen will look familiar to anyone who has played at MELbet Casino and a handful of similar sites. It uses the same software and it offers the same options, which is great, as those options are some of the best and the most varied in the online casino sector. The number of options that you have will differ depending on where you are located, but the average is around 40, and there are usually a few more deposit options than withdrawal options.
The bulk of these are cryptocurrencies, including Bitcoin, Litecoin, Ethereum, Dogecoin, Monero, and Dash. It's a good variety and there are no fees for using any of them.
Surprisingly, there are no withdrawal limits, either. The vast majority of online casinos have withdrawal limits these days and we're constantly finding casinos that we love, only to discover that they have a withdrawal limit that immediately changes our opinion.
Take our VesperCasino review for example. We spent most of the review praising the site for its aesthetics, games, bonuses, and more, only to find that our opinion was trashed by the casino's €2,000 a month withdrawal limit. It's one of the lowest that we have seen, but it's certainly not the only limit that we have seen.
The fact that JV Spin doesn't have such a limit is unusual and fantastic. However, we have a feeling that such a limit might appear if you suddenly start withdrawing huge sums of money.
Withdrawals are also very quick, and you shouldn't need to wait more than an hour or two. Of course, that wait will extend to up to 5 days if you are withdrawing using a debit card, but for cryptocurrencies and web wallets, it's more or less instant.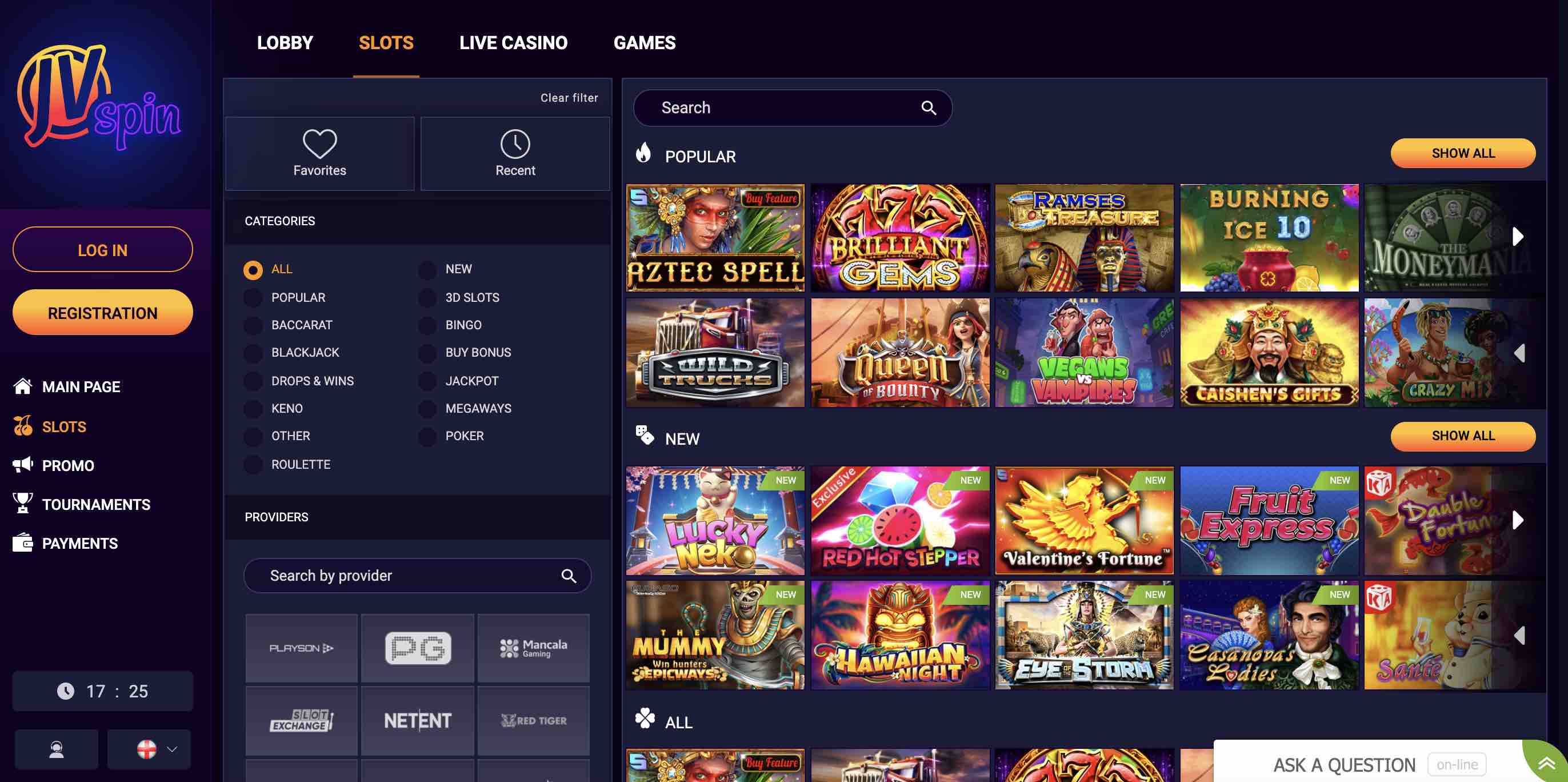 Highlights
Choose from Many Different Languages and Currencies
Cryptocurrencies and Fiat Currencies Accepted
Dozens of Payment Methods
Thousands of Great Games
Multiple Top-Tier Developers
Very Fast Withdrawals
User Reviews
JV Spin launched in 2020, so it hasn't had long to generate reviews, but there are a few reviews out there and the majority of these are positive. The positive reviews basically just highlight the points that we have outlined in this review, so let's skip those and get straight to the negative stuff.
Let's be honest, that's exactly what most of you will do as well.
Once you ignore the complaints about bad losing streaks, which exist for all sites and are not the casino's fault, the negative reviews boil down to a couple of complaints.
The first of these concerns the stability of the site, with some customers suggesting that it is prone to lagging and crashing. We didn't experience any of these issues ourselves, which is why we didn't mention them, but there are enough reports to suggest that this is a valid complaint.
The second issue is a little more obvious and is something that we can confirm. It concerns the responsible gambling features, or the lack thereof. In one player review, the reviewer noted that there was a complete lack of responsible gambling features, suggesting that there was no way for them to block their account. The casino responded by stating that they need to send an email to a certain address if they wanted to block/delete their account.
We can understand why this system is in place and in any other industry, it would make sense, but in the online gambling sector it just doesn't work and if you have any experience of problem gambling, or understand how it works, you'd know why.
A problem gambler acts on impulse. In a moment of clarity and frustration, they might block their account, which means that they can't make a rash deposit when that moment passes. It's why the best online casinos offer a one-click exclusion feature.
When you require the player to send an email, and potentially respond to that email with further details, you're prolonging all of that and greatly increasing the risk. By the time you finally get around to closing their account, they might have ready gambled away their paycheck!
Maybe this will change in time. After all, JV Spin is still a relatively new online casino and one that is learning. The good news is that the JV Spin customer support team is quick to respond to all customer reviews and complaints and makes it clear that they are keen to improve and do what it takes to keep their customers happy.
This is always good to see. As noted many times before, including in our review for Space Lilly Casino, you can't expect a site to be flawless and can simply hope that it is aware of its imperfections and is trying to change them.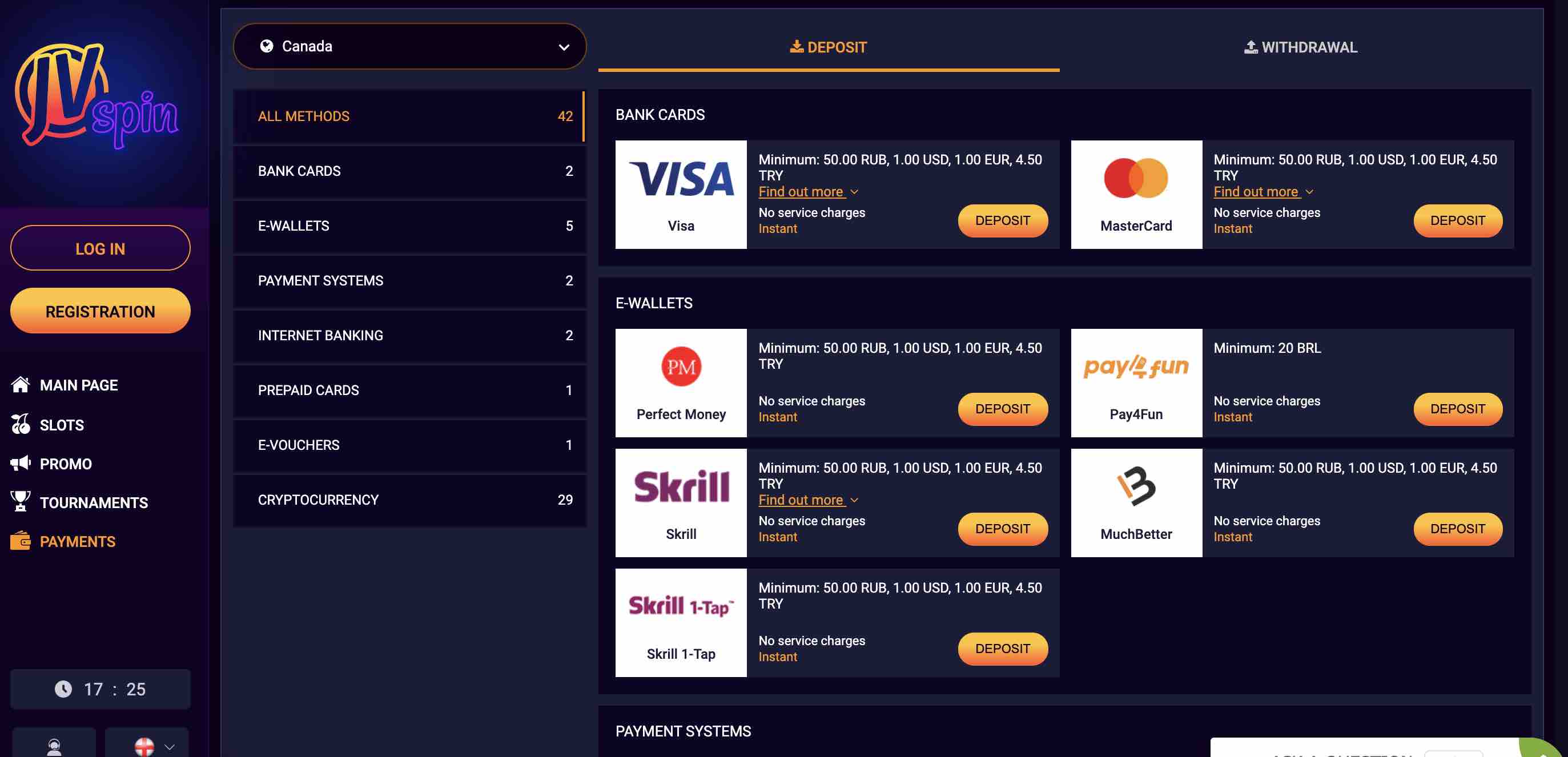 FAQs
Is JV Spin Available in the UK?
You can't access the site if you are in the United Kingdom. It blocks all players from restricted regions, so not only can't you join, but you can't even visit!
Why Won't JV Spin Work?
If you are seeing a "Restricted" page or the site simply won't load it could be that you are in a restricted county. If there are intermittent problems, it might be a temporary server issue. Give it time and it should resolve itself.
Can I Join JV Spin from the US?
Players in the USA are not allowed to join JV Spin. In fact, their options are pretty limited where online gambling is concerned. There are some players claiming that you can get around this by using VPNs, but it's not recommended as your account may be suspended.
Can I Play JV Spin on Mobile?
Of course! You can access the site directly using your mobile browser and you are free to play as many games as you want.
Can I Use Bitcoins at JV Spin?
JV Spin accepts over 20 cryptocurrencies, including Bitcoins and Bitcoin Cash. These are some of the quickest and safest methods to use at JV Spin.
Why Can't I See All Payment Methods/Games?
Some developers and payment options are region-restricted. This might be why you can't see them.
Final Thoughts
JV Spin is a top online casino that gets a lot of things right and has a lot of great features to offer its players. But in its effort to cater for all players, it feels a little excessive at times. It's almost like it's trying to do too much and, as a result, it overlooks a few basic things.
The good news is that the things it overlooks are minor and they are overshadowed by all of the things that it gets right. The bad news is that without these fixes, it falls short of being a 5/5 online casino.
Still, it gets pretty close to scoring top marks and is definitely one of the better casinos that we have reviewed in 2021.
JV Spin Casino Review Details
Restricted Countries:
Estonia
France
Italy
Netherlands
Spain
Sweden
Switzerland
UK
US
Languages:
Albanian
Arabic
Armenian
Azerbaijani
Bulgarian
Chinese
Croatia
Czech
Danish
Dutch
English
Estonian
Finnish
French
German
Greek
Hebrew
Hindi
Hungarian
Icelandic
Indonesian
Italian
Japanese
Korean
Malaysian
Norwegian
Polish
Portuguese
Russian
Spanish
Turkish
Currencies:
ALL
AUD
AZN
BGN
BRL
BTC
CAD
CHF
CNY
CZK
DKK
DOGE
DZD
ETH
EUR
GBP
HKD
INR
ISK
JPY
KWD
LTE
MXN
MYR
NOK
NZD
RAND
RON
RUB
SGD
TRY
USD
USDT
XRP